Navigating the world of meetings and events has never been more challenging and planners have had to learn whole new skillsets of strategies and technologies. As the world recovers from the pandemic and the industry moves back to face-to-face meetings at varying speeds, planners are keen to share information and discuss hot topics surrounding meeting design and experience as the industry evolves together.
Our new series Ask the Planner offers insight from meeting planners sharing their experience and expertise on a specific topic. In todays' conversation, we talk to Meaghan Carfrey, Director of Strategic Account Management at CADENCE®, and Melissa Holland, Event Manager CMP at Keystone Automotive Operations.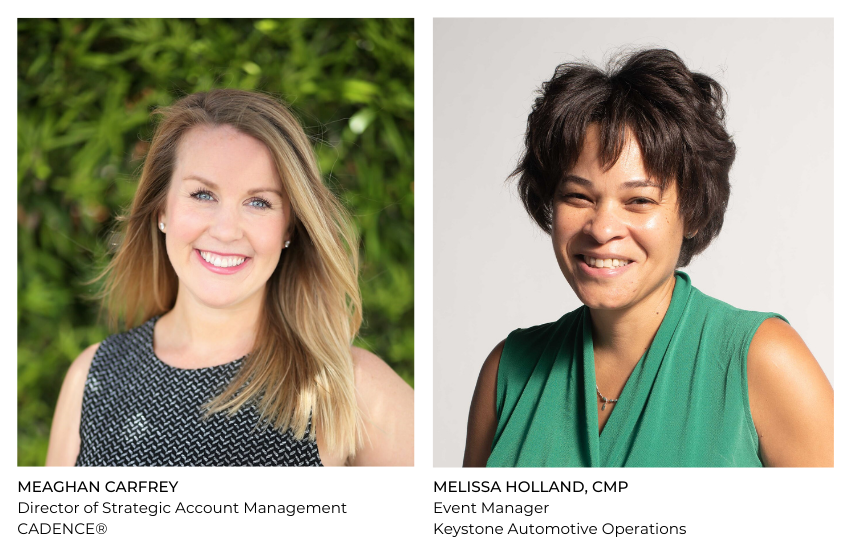 Q: What was your biggest learning from executing hybrid events?
Meaghan: When we first started the virtual and hybrid conversation, most people assumed that it would be much cheaper to the bottom line without accommodations, food and beverage, transportation, etc. But that was certainly not the reality. Tech has a cost, and that was difficult to sell at times because it seems so easy for all of us to just jump on Zoom. But hybrid events done well require a serious level of production, even more complicated than a traditional program. You are essentially producing two events-- one for those in the room and another for those attending virtually. One of the most immediate challenges was having that difficult budget conversation, because for the most part, our clients were planning on using pre-pandemic estimates similar to the in-person budgets of the past. But on the ground, we were seeing elements like production, virtual platform, audiovisual, internet and staffing costs increase dramatically. Thankfully, we've operated enough hybrid events now, which makes budgeting and estimating easier for us. We can share real case studies with our clients.
When discussing a hybrid event with our clients, we typically encourage them to start by defining their end goal.  Not just the content, but what does the experience look like to every attendee, those in-person and behind a screen? Will attendees be on camera? Will the virtual audience be able to see who is sitting in the live audience? Will the live audience be seeing and participating in the same chat as the virtual attendees? Do you have a captivating moderator? A hybrid event is complex, but extraordinary; you are catering to two different audiences with the goal to ensure all attendees walk away with an engaging experience. 
The same goes for the virtual platform used. We recommend thinking backwards before choosing the platform. Considering the travel and registration components, any internal platforms that may be used like Teams or Zoom, event components like breakouts, tradeshow components, or others must have structural pieces to the meeting. We created an extensive grid that we use to vet each virtual platform based on our client's wish list of nice-to-haves and must-haves. Having these strategy conversations where we define goals, the attendee experience and metrics of success helps save valuable time and resources, but also allows us to focus on implementing the right virtual platform.
A year later what we learned is that events of today require more agility, more adaptability and more creative solutions than ever before. Even with all of our collected experience, in so many ways, we're all kind of re-learning how to conduct events. There are all-new sets of challenges and problems that simply can't be assumed or planned for.  You can only react and respond in the moment. Because of the pandemic, I have so many more tools in my kit to use - both personally, and to support our clients and their events.
Three Quick Tips: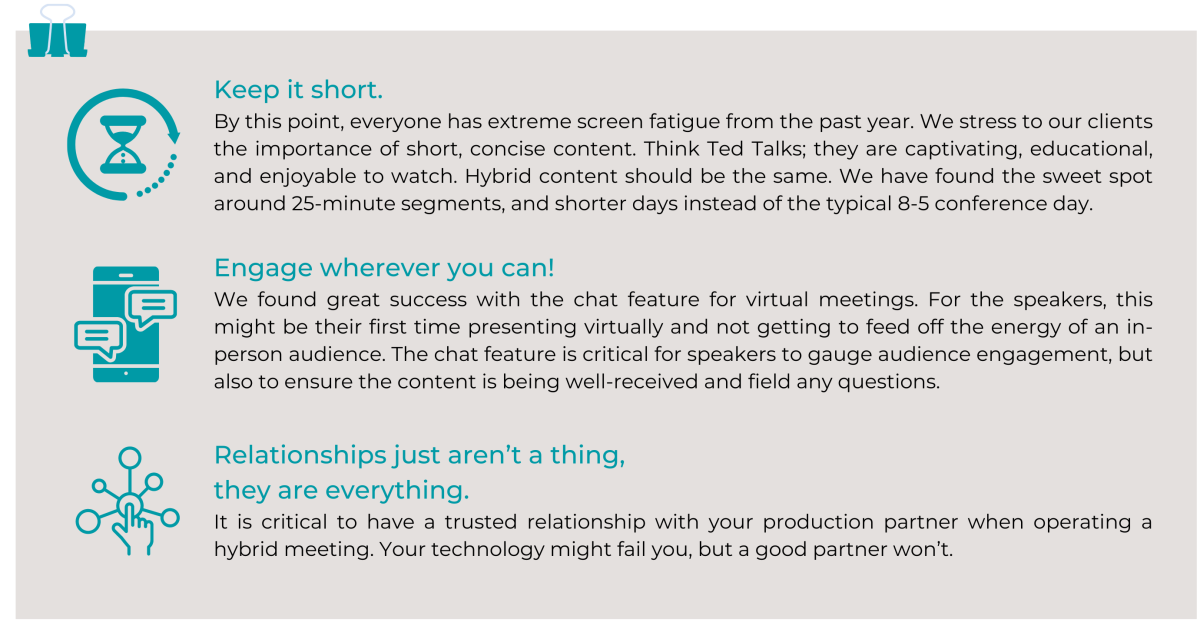 Melissa: I'm not sure I could pinpoint one biggest learning from executing hybrid events, however there are several key learnings: leadership buy-in, communication/set expectations, and my dream team.
To begin, luckily for the team and I, we had our senior leaders in our corner to execute on our hybrid events. We first decided how we wanted to implement the event / tradeshow and then agreed that we would conduct our event onsite the week prior to going virtual. This scenario truly set us up for success to reduce overall costs and allowed the current team to perform without adding additional staff/partners.  It allowed our international attendees (who were unable to travel) to participate and take advantage of the show offerings. As we all know as event managers, setting goals is key.
We researched and benchmarked with event managers and several virtual event providers. We attended several events that had a hybrid component. In the first ever go around with hybrid events, we also decided to keep the attendance lower than normal and cut the actual attendance by 50 to 70 percent. Communication was key to all involved both onsite and virtual. Setting attendees and exhibitor expectations is key as well as offering tutorials on how to navigate the virtual event. Overcommunicate if needed.
Q: How do you foresee the hybrid component being incorporated for events in the future?
Meaghan: If this past year taught us anything, it is how meaningful and impactful in-person connection is. Hybrid events are not replacing or substituting these important face-to-face meetings but are going to act as a marketing tool to expand reach. With hybrid events, we are seeing higher attendance, increased sponsorship opportunities, scalability, and repurposing of event content.  The return on engagement is a huge success story, so I don't think we'll be seeing hybrid meetings going away anytime soon.
Melissa: I do believe hybrid events are truly here to stay. They not only allow for a broader extended audience, but ensure you as the event manager have a contingency plan in place for anything that could potentially happen in the future. Consider a peer group, one where you can get several attendee types involved to contribute and/or provide input to make the next event spectacular.
For more information on how to host Safe Meetings, check our Safe Meetings Resource Guide.