New CDC Guidelines Allow Masks Off for Vaccinated Individuals
When ALHI organizers began planning the annual Leadership Summit during the height of the pandemic this past January, the U.S. was in a much different place. Vaccines were just becoming available and the Centers for Disease Control and Prevention (CDC) was still adhering to the strictest protocols when it came to masks and social distancing. Fast forward to May, and those rules began to ease as COVID cases nationwide plummeted, giving meeting planners a whole new playing field with regards to indoor and outdoor events.
ALHI was able to execute a 3-day program with guests from all over the U.S. allowing fully vaccinated individuals to forgo wearing masks, per the latest CDC guidelines. Read on for more detail.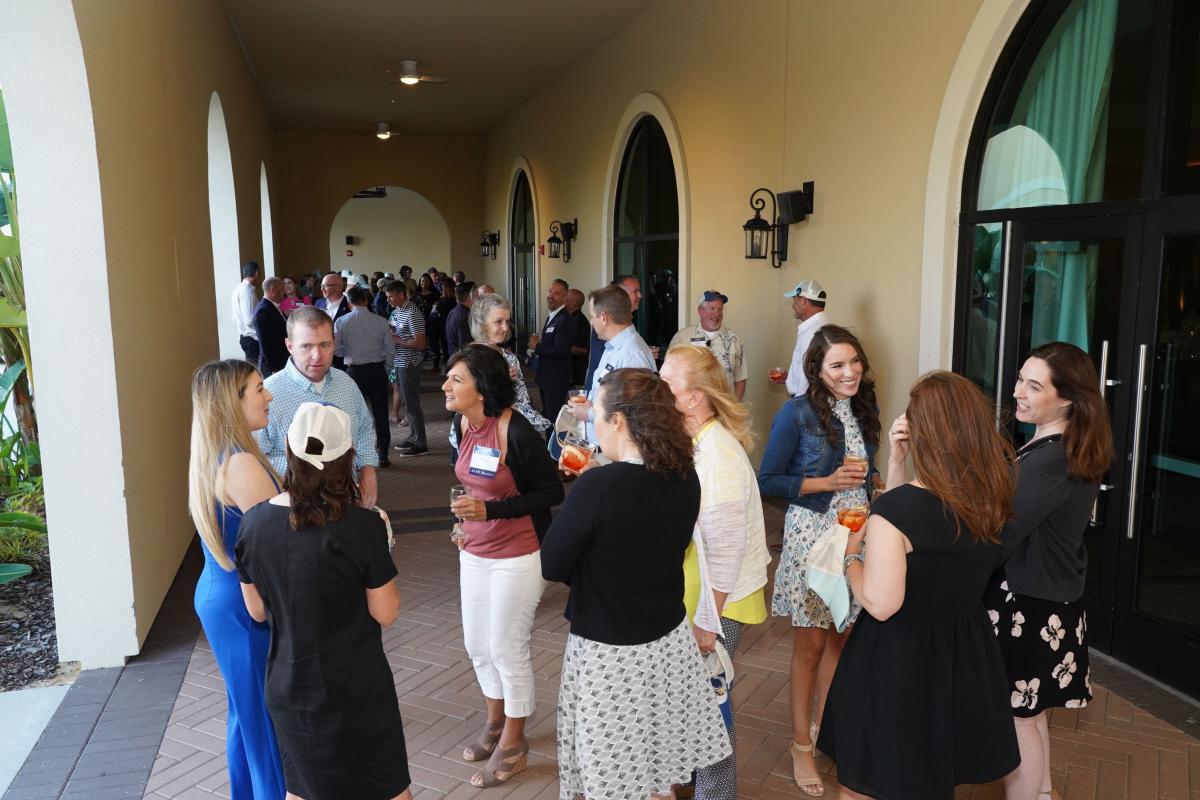 Photo Credit: Christie's Photographic Solutions
---
The Protocol Challenge: Mask-Optional Environments for Vaccinated Individuals 
The easing of mask mandates and social distancing recommendations by the CDC in May came into play with the ALHI Leadership Summit 2021 at the Omni ChampionsGate Orlando, held May 19-22, featuring three main sponsors -- Experience Kissimmee, Omni ChampionsGate and Delta Air Lines. It was ALHI's first in-person, mask-optional meeting.
The Leadership Summit, an annual executive level meeting for ALHI that brings together hotel members and strategic partners, and connects them with meeting professionals and planners, was a sellout. Eighty people were in attendance, including customers, hotel members, partners, sponsors, staff and speakers. 
One of the biggest challenges in organizing the meeting was staying on top of the ever-changing CDC rules and recommendations as far as masks and social distancing. Prior to this event, ALHI had executed 25 face-to-face meetings adhering to strict safe meeting protocols, as advised by the CDC.
In the beginning stages of organizing the meeting, ALHI was set to enforce a mask mandate as per CDC recommendations at the time, according to Katie Bohrer, Vice President, Meeting Design & Experience for ALHI.
"We worked with the host property to determine what our program code of conduct was going to be, and although Orlando and Florida did not have a mask mandate we decided in the initial planning stages to have a code of conduct and protocol for a mask mandate because that was ALHI's standard for our events."
The event app originally had instructed attendees the following under its COVID Precautions:
We are very much looking forward to welcoming you and have taken necessary precautions to ensure your safety while at the venue. The Omni Orlando Resort at ChampionsGate and ALHI will enforce a mask mandate throughout the event. Please review the code of conduct for details on our shared commitment to safety.
"We had a preconference call about all the protocols and guidelines about a week and a half before the event, but then that changed nine days later when the new CDC rules came out," said Bohrer, referring to the CDC's May 13 announcement that masks were no longer needed outdoors or in most indoor settings for fully vaccinated people. "The rules changed May 13, and we talked to the hotel and stakeholders and decided to follow that guideline since everything we've done is to follow the CDC. May 14 we updated, going with the new protocol."
---
Following the CDC announcement, ALHI sent a Know Before You Go email to attendees stating the following:
With the CDC's latest announcement advising that fully vaccinated people are no longer required to wear masks indoors in groups of any size; we are updating our code of conduct for the ALHI Leadership Summit next week. The CDC has now shared that fully vaccinated people no longer need to wear a mask or physically distance in any setting, except where required by federal, state, local, tribal, or territorial laws, rules, and regulations, including local business and workplace guidance.
We will now be leaving the decision to wear a mask indoors up to the individual to evaluate. Understanding that masks are still being advised for those that may have additional health conditions or that have not been able or approved to be vaccinated we want to ensure that each attendee feels empowered to assess their own personal circumstances and comfort level
We will increase our rounds to 72 inch rounds of 6 people both indoors and outdoors
Currently the Omni Hotel Staff is continuing to wear masks, and they are evaluating that decision on a corporate level and we will advise if anything changes
We are still committed to contact tracing as a layer of additional communication and in order to demonstrate this technology for the group
When will we ask all of the group to wear masks?

On your flight and in the airport, masks are still required by TSA and Delta Air Lines
In your transfer with Meeting Movers, we will ask passengers and drivers to wear their masks
Stakeholder Support
Prior to sending the Know Before You Go announcement with the mask policy change, the email communication was shared with every partner, vendor and key stakeholder for alignment and approval. "We wanted to make sure the entire team--from transportation to the hotel to programming-- was on board," Bohrer said. She added that there was overwhelming support and appreciation from attendees after the email, and zero reluctance communicated about the revised protocols. There were also no cancellations because of the change.
The Know Before You Go email for attendees was sent five days prior to arrivals. Since the meeting was originally designed with strict protocols, easing the restrictions was easier for the organizers than if they would have had to tighten restrictions, according to Bohrer. "It's much easier to relax restrictions than to tighten them at the last minute. Plan for your meeting to follow current CDC Guidelines; if they relax as you get closer to event day, then adjust."
Examples of adjustments included things like removing mask-reminder slides from the general session Powerpoint deck.  ALHI also revised the event code of conduct, which was placed at every seat. The decision was also made to run the meeting on the honor system when it came to guests being vaccinated. The meeting implemented contact tracing from provider, Eurofins.
"We didn't ask proof for vaccination and COVID testing was not required," Bohrer said. "The contact tracing system was planned all along, as a layer of risk management for the event, and we decided to keep it to ensure we still had the data in the event of an attendee testing positive. As of June 5-- 15 days after the event-- we have no reported cases."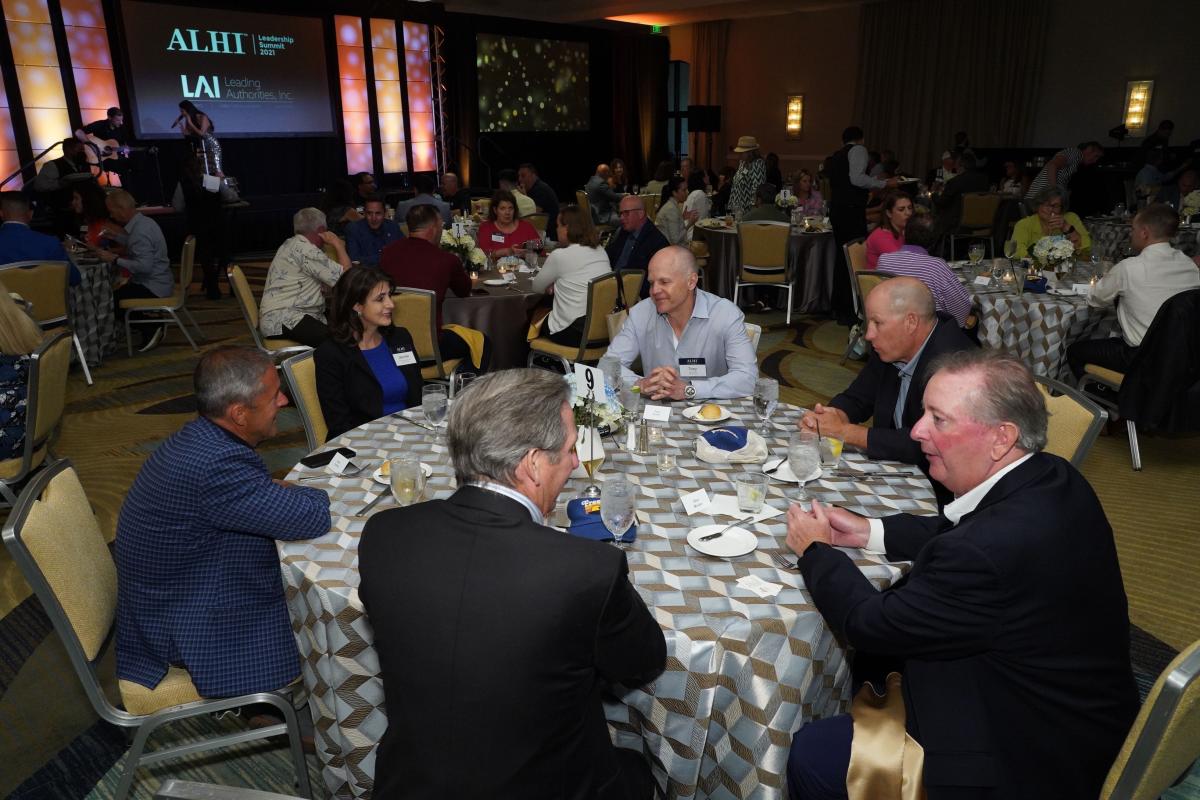 Photo Credit: Christie's Photographic Solutions
---
Going Mask-less: How Did it Feel?
For vaccinated attendees, it was their first mask-less meeting.
"When I first walked into the opening reception, which was held outside, it took me a moment to realize that I was the only one wearing a mask," recalled John Annicchiarico, Vice President Sales Operations, Benchmark. "I felt way overdressed and removed it."
It was also the first in-person meeting sans mask requirements for Rebecca Lanphear, Director, Meetings & Events, Raymond James Financial, Inc, which she saw as a positive change. "ALHI changed their mask policy to be in line with the CDC, which was greatly appreciated by those of us who have been fully vaccinated.
"I would have paused if masks remained required after the CDC changed the mandate.  As leaders in the meetings industry, we have to show others that we can meet safely once vaccinated."
According to Lanphear, other attendees felt the same."I was pleasantly surprised by how comfortable the group felt convening," she said.  "As professionals whose livelihoods depend on the gathering of people, I was confident that the attendees of this group were all well-informed and responsible in their interactions.  Discussions occurred about vaccines and, of those with whom I spoke, all were fully vaccinated."
Barbara A. Myers, CEO, IMN Solutions also attended and felt comfortable with the new policies. "Everyone seemed genuinely excited and relieved to be at a live meeting."
Annicchiarico was surprised how smoothly the meeting ran with the new mask-free protocol. "It was not an issue for me as I have been vaccinated for some time, but I did not really expect that the entire attendee list would embrace it so enthusiastically. It was a great conversation starter! I was surprised by how many people were just so ready to embrace the change."
Respect for Local Rules
Omni Hotels & Resorts' policy was for staff to still wear masks, and there were signs inside the hotel encouraging guests to do the same, though it was not required.
"It was interesting to note that the overall hotel signs relating to COVID encouraged mask wearing in all public areas, and as I saw event attendees through out the hotel they complied with these signs," Annicchiarico said. "But in our own areas within the meeting space it was a much more relaxed environment. This felt a bit incongruous but in hindsight it really was just a way for the group to do what it felt comfortable with while allowing the other hotel guests to feel comfortable and safe.  I think our attendees respected those boundaries."
Lanphear concurred. "When I entered the hotel for check in, I wore a mask feeling hesitant of not doing so and probably because it became a habit.  Seeing the signs that masks were strongly encouraged by the hotel, I wore mine out of respect for the front desk agent. We discussed it and he let me know he too had been vaccinated so I took it off and have yet to put it back on unless required to do so."   
There was some discussion among attendees at the Summit about their strategies going forward for planning meetings and events.
"From my perspective working with hotels that span the country, it has been difficult and continues to be challenging to manage through the changes," Annicchiarico said. "So many of the guidelines are driven off of the CDC guidelines, but then local ordinances or orders may be either more lenient or stricter than what the CDC is calling for. The ever-changing nature of the problem makes it not only difficult to adhere to the guidelines but also to set guest expectations.  If a guest is traveling from an area with relatively relaxed local guidelines to an area with very tight guidelines, or vice versa it can quickly devolve into a guest service issue."
There was also some discussion among attendees about vaccination policies at their own future meetings. Should proof of vaccination be required? According to Annicchiarico, the feeling seemed to be split. 
"Some planners felt it was impractical and potentially created legal challenges while others who either work for or know of companies who are already requiring vaccinations to return to work were in support of both vaccinations and/or testing."
Lanphear's advice for others who may not be as comfortable as she was with the new CDC protocols, "Don't attend until you're ready." She was ready. "It really just gave me the comfort level to be around people again."
"The meeting environment is quite complex as the rules from the CDC and individual states continue to change rather quickly," said ALHI President & CEO MichaelDominguez. "We have focused on not just the CDC guidance throughout the pandemic, but the 'fine print' that often gets overlooked.  The CDC reminds us that their guidance is to supplement not supersede local, regional, and state recommendations and protocols.  We landed on our decision by continuing to follow guidance and respecting our attendees to be adults and follow the guidance and their individual comfort level."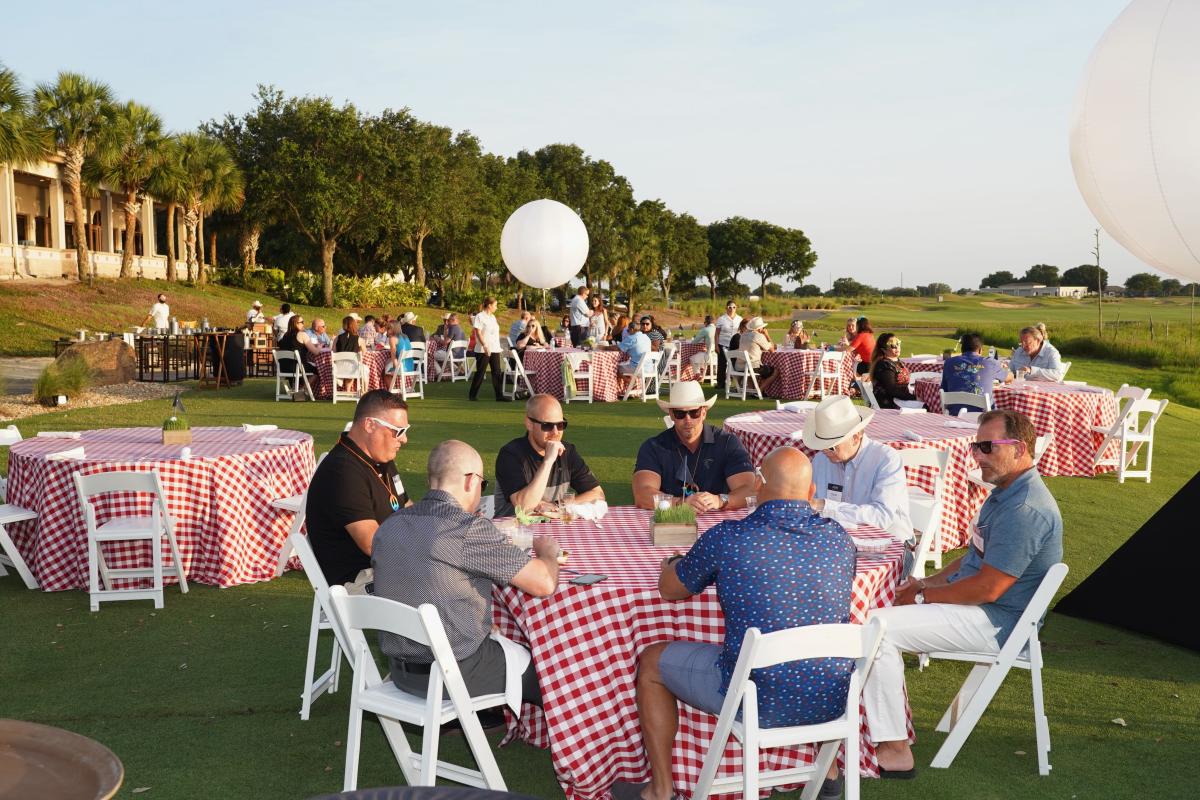 Photo Credit: Christie's Photographic Solutions
---
5 Tips from ALHI for Meeting Planning As We Exit the Pandemic
Have a conversation with the hotel staff about their mask policies in public spaces and include those rules in the event code of conduct
Consider how the event staff is going to ensure attendees' compliance with any of the hotel's policies that may differ from the rules inside the event space
Don't let up on cleanliness. Assigned sanctuary seats (returning to the same seat after a break), hand sanitzer stations, and frequent cleaning by the hotel staff provides a peace of mind for everyone involved
As the lead planner, ask the hotel staff if they'd prefer that the event staff wear masks during close interactions. Lead with respect and consider that the event team and the hotel staff work closely enough together while on site that this communication is important.
Attendee comfort levels are still a high priority; if you have the ability to design a space with distance, or leverage smart seating solutions, it can support the psychological impact on individuals whio are still acclimating into more relaxed environments and allow enjoyment of the experience without worry.