At ALHI's annual staff meeting in January, 50 attendees gathered for two days of informational sessions at the Fairmont Hotel in Austin, TX. In addition to maintaining CDC guidelines such as physical distancing, mask wearing and hand sanitizing stations, our Vice President of Meeting Design and Experience, Katie Bohrer, partnered with Volan Technology to test their new contact tracing software.
The information below is a simulation of the occurrence of a positive case to demonstrate effectively leveraging contact tracing technology for meetings and events. The simulation assumes that our Vice President of Administration, Angelique Aubry, came down with COVID after the meeting and reported it back to ALHI leadership.
How does Volan contact tracing work?
Volan's contact tracing technology allows a meeting planner to receive valuable data that assesses every attendee's risk of exposure with the infected attendee. Risk is ranked by an algorithm that calculates interaction with the sick person by frequency, proximity and duration--criteria established by the CDC for risk assessment. 
How do I implement contact tracing into my program?
Two weeks prior to the meeting, Bohrer held ALHI's standard "Know Before You Go" pre-event call to review safety protocols, go over the attendee code of conduct defined by the Events Industry Council and explain the Volan technology implementation. 
One day prior to attendee arrivals, Volan Shields (small beacons) were discreetly placed in the meeting rooms and social areas, creating wireless geofences for data tracking. 
Upon arrival, attendees picked up their Volan sensors (a credit card sized device fastened to a lanyard) along with their registration materials and wore them for the duration of the event. 
Post event, pertinent, data-specific contact tracing information was provided to Bohrer in order to effectively communicate with attendees, tailoring the messaging to the individual's level of exposure of the simulated COVID case.
In this simulation, the lead meeting planner was quickly able to determine post-event communication based on both CDC guidelines and the company's own human resources recommendation.
What are the key insights and benefits to using contact tracing technology?
"Utilizing this type of technology can create a higher level of attendee confidence," said Bohrer. "Because they know if they were within close contact with a sick person during the event that they will be informed." 
Confirming that every precaution possible has been taken to keep attendees safe and to ensure they feel comfortable attending in-person events is vital, too, she added.
"After planning a number of events amidst the pandemic our priority continues to be providing layers of risk management through event design, meeting protocols, communication and technology," said Bohrer. "When we had positive cases reported at two previous events we could only communicate with attendees in a very general, unsure way. Volan's Technology has given us a tool to add to the pandemic planning toolbox, one that protects my attendees at a higher level."
Contact Tracing Quick Tips
Utilizing contact tracing technology can create a higher level of attendee confidence. 
Inform attendees in advance about all safety protocols that will be in place at your event, as well as the privacy protections in place.
Communicate the areas that are geo-fenced for data tracking.
Get familiar with CDC Guidelines for Public Health Guidance for Community-Related exposure, as well as any guidance from human resources, legal or risk management policies for entities involved.
Remind attendees of their responsibility for adherence to the code of conduct protocols for distancing and wearing masks in their interactions at all times, especially when interacting outside of the geofenced spaces. 
Sample of analytics from Volan based on the simulated COVID case for Angelique Aubry: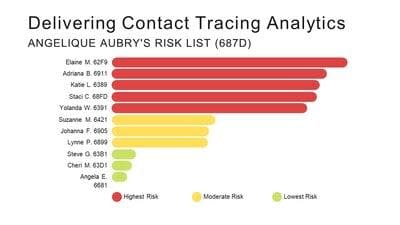 Above: this graph reflects the level of risk for attendees that came in to contact with Aubry.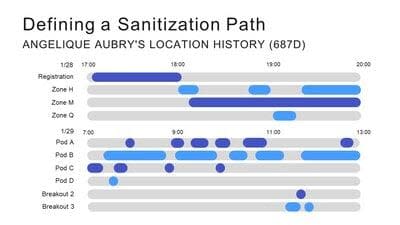 Above: this graph shows Aubry's location history, thus informing where advanced sanitation is needed.