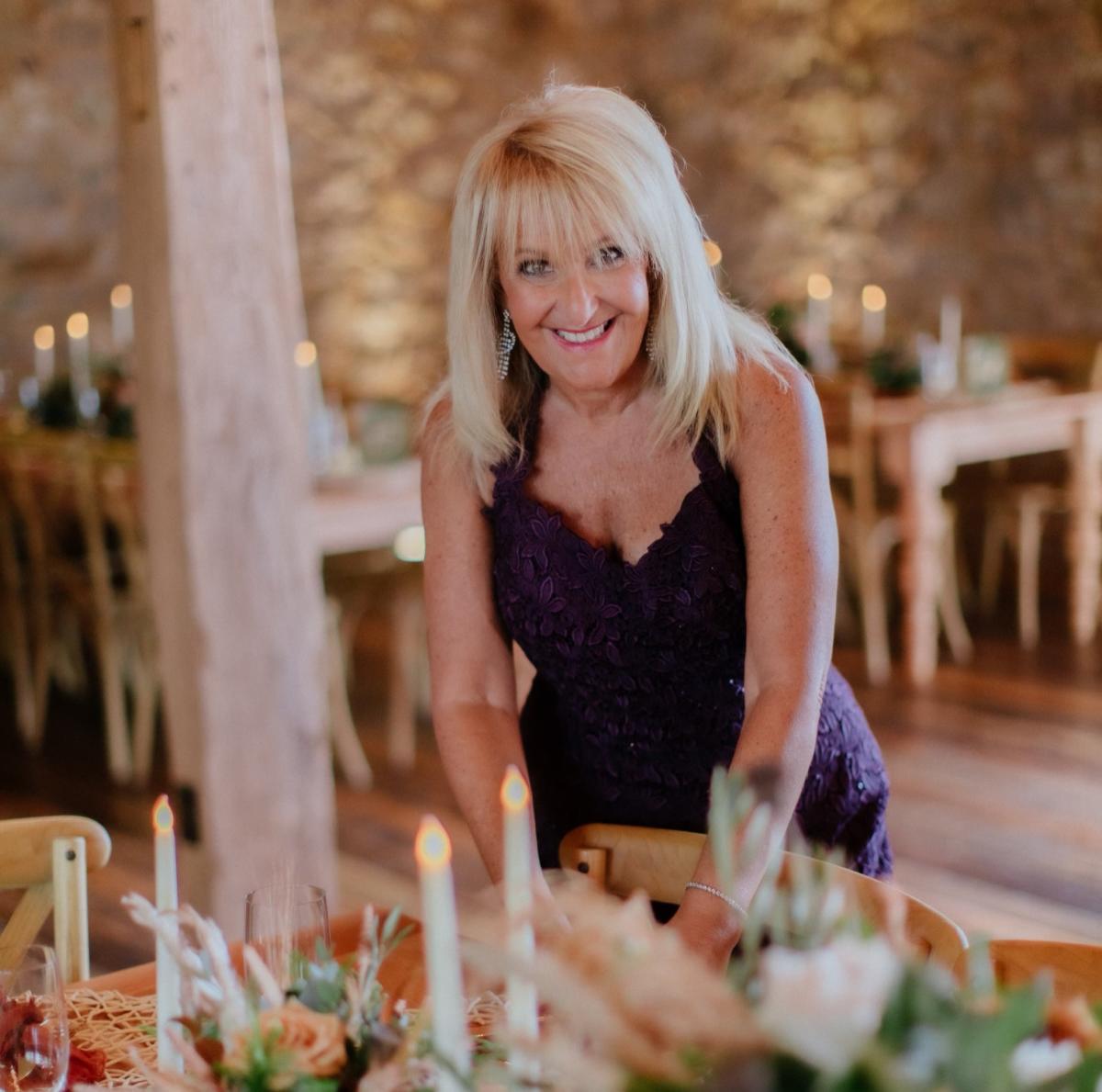 Meet JoAnn Gregoli, founder of Elegant Occasions by JoAnn Gregoli. She is a highly sought-after speaker, author and one of the top wedding planners in the world—she recently planned Robin Roberts' wedding—but first and foremost she is a mother and a grandmother.  
Destination Weddings by ALHI invited JoAnn to share her story with wedding planners as part of our Vendor Spotlight Series. Not only has JoAnn planned events for some of the biggest names on the planet, but she's as real as they get. She's admirable, relatable and honest, and her journey is one of inspiration and motivation. The morning we sat down to do this interview, she had just been featured on Good Morning America because she was one week out from planning the wedding of GMA anchor Robin Roberts and Amber Laign. 
JoAnn met Roberts in 2020, when she was interviewed on Good Morning America. JoAnn founded Front Line Sewing Angels during the COVID-19 pandemic, recruiting mothers across the country to make masks for frontline workers across the nation. The story was picked up by GMA and Roberts interviewed JoAnn. Roberts never forgot JoAnn so when she started planning her wedding, she knew JoAnn was the planner for her. 
For the Roberts-Laign wedding, the couple chose their colors white, blush, pink and a little bit of green, going for an ethereal vibe.  
"When they came to me back in January, we were just talking about where it was going to take place and what their vision was, and they kept using keywords, ethereal, romantic, Midsummer's Night dream," JoAnn said. "They wanted the actual ceremony to be small and intimate, so they only invited immediate family members to the ceremony." 

The Early Days 
The oldest of four children, JoAnn always loved to plan birthday parties for her siblings. When she found herself planning showers and other events for her teachers as early as sixth grade, JoAnn knew what her destiny was. Earning a degree in Public Relations and Marketing, she embarked on a successful career of planning corporate events for major pharmaceutical companies and was an integral part of the team that conceptualized and built the Liberty Science Center in New Jersey, an experience she said "undoubtedly stands out as the most gratifying chapter" of her corporate career.  
Transition to Weddings 
The daughter of a travel agent, JoAnn was privy to that world from an early age and traveling has always something she's enjoyed. It was during one of her many vacations that she realized how enamored she was with weddings. If she saw a wedding taking place on a beach, she made sure she had a front-row seat to witness strangers' love stories unfold.  
She combined her passion for events and turned it into the successful destination wedding planning company that she runs today, but it wasn't always easy.  
After 25 years of marriage, JoAnn unexpectedly became a single mother of six young children. Her business was flourishing and up to that point she had a partner in life and in the business along with the help of several au pairs, but that all changed from one day to the next. Many might have panicked, thrown in the towel or closed up shop. But not JoAnn. Not only did she continue to grow her business, but she was also a mom first. 
"The struggle of being a single working mom is real," she said. "You just keep putting one foot in front of the other." 

Mother's Intuition 
JoAnn shared a story of the time she was about to board a flight to Costa Rica on a discovery trip. Boarding pass in hand and about to step on the plane, something told her to stop. Her mother's intuition kicked in. She had to check on her pregnant daughter, who lived in San Francisco. As fate would have it, her daughter found herself in the hospital, battling complications. She offered JoAnn reassurance, insisting that everything would turn out fine, and urged her to "get on that plane." JoAnn vowed to get on a plane, but the destination was San Francisco, not Costa Rica, an example where throughout her career, JoAnn juggled and struggled and somehow made it all work.  
Her advice to wedding planners who might be feeling overwhelmed with work is putting yourself first. She underscores how being present is key and how important it is to appreciate the small things. With wedding/event planners consistently ranking as one of the top 5% most stressful jobs in the world, this is definitely easier said than done. 
"Setting boundaries with clients from the start is very important," she said. She also recommended "planning out your calendar as to not miss important dates in your family life." She encouraged people to "focus on their strengths and outsource their weaknesses. If you are not great at math, hire an accountant, if you don't have time for social media, hire a social media person." 

Advice for New Wedding Planners 
For those who are just starting out, "dream big, start small", she said. "You never know everything and must take your time to test the market. Don't launch too quickly or you will not be able to meet the demand and will lose the confidence of your customers." 
She offered a kind reminder that "success does not happen overnight. Make sure to set goals but be realistic about your expectations." 
"I would never recommend quitting your day job until you have an established client base," she said, adding "starting a new business requires patience and a lot of effort. Knowledge is power and networking is key. You should always be learning." 
For those wanting to get into the destination side of things, "you have to have knowledge of travel," she said, suggesting partnering with another planner based in the destination you are trying to break into. 
"Collaboration is the key to success. Replace 'I' and 'me' with 'we,'" she said. 
The idea of collaboration doesn't stop once you make it big. JoAnn has been in the industry for more than 30 years and she partners with seasoned planners all the time, citing the importance of networking and attending conferences.  
While she thinks having a "niche" is important, she also said not to put all your eggs in one basket.  

Forging Ahead 
JoAnn doesn't show any signs of wanting to slow down, something astonishing in this business. She truly loves what she does and finds passion in every job she takes on. I asked her what her next step would be should she ever be ready to retire. Her answer was simple: "Travel the world for pleasure and continue to share experiences with my six kids and six grandbabies." 
But before she's ready to call it a day, she has high hopes of planning a wedding in Australia someday. She also went on to tell me how much she also loves Morocco, drawing inspiration from the Zen of the country and the exotic nature of its landscape.  
Her final words of wisdom? 
"If you find your passion in life, you'll be successful." 

Learn more about Destination Weddings by ALHI.