From the moment you begin your approach to Loews Portofino Bay Hotel at Universal Orlando, you'll realize you're somewhere special. The winding road evokes a drive through Italy's wine region foreshadowing your stay at a property that's not just inspired by, but precisely modeled after one of the Mediterranean's most glamorous resort towns, Portofino.
You can draw endless comparisons between the fanciful Florida hotel and the Italian Riviera hideaway, starting with the boat dock that's positioned in the Loews' harbor just as it is in the village of Portofino—but with water taxis bobbing in the water instead of the glitzy mega-yachts. Loews Portofino Bay Hotel also features elaborate trompe l'oeil, or "deceive the eye," paintings on the building exteriors, replicating the artistic process in Portofino. Colorful buildings and an open piazza further capture the essence of summer in Italy.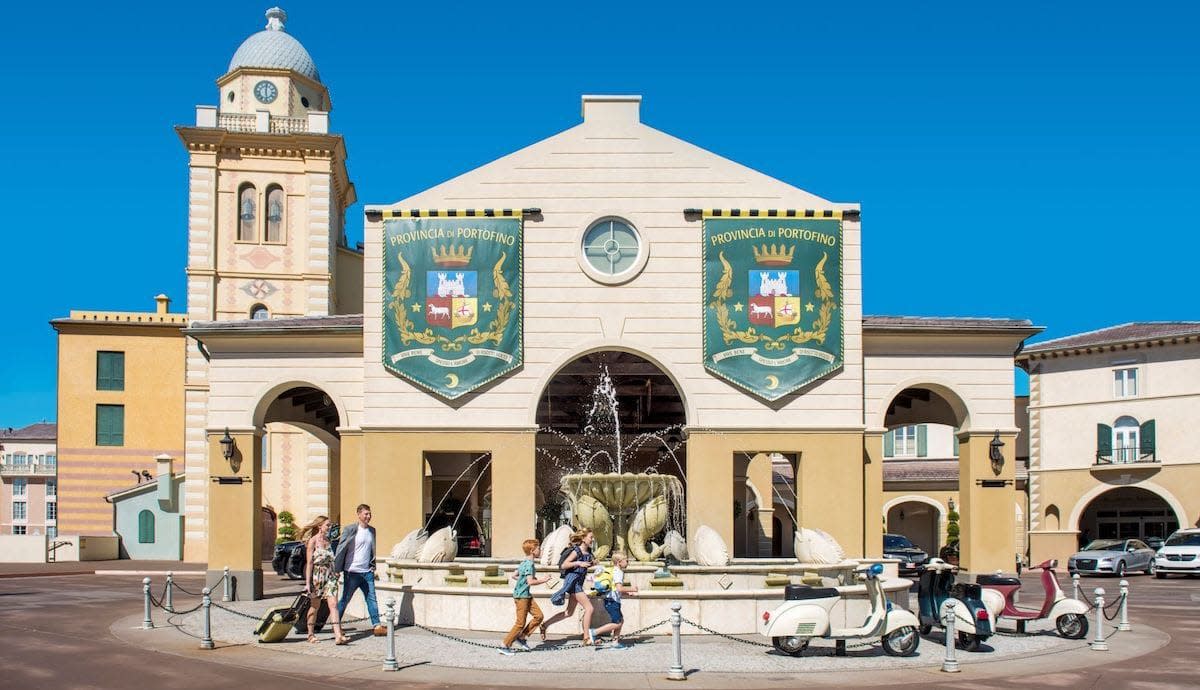 Loews Portofino Bay Hotel is a superb example of a "destination within a destination," a place where you can quite literally get the best of both worlds—one near, one far. Meeting and leisure guests can enjoy the artful replica of Portofino, complete with cobblestone piazzas, Italian cuisine, outdoor cafes and a nightly opera performance. But they also have easy access to Universal Studios Florida and Universal's Islands of Adventure by water taxi or shuttle.
Loews Portofino Bay Hotel is one of five ALHI properties featured in this installment of "destinations within a destination." Also showcased are The Chase Park Plaza Royal Sonesta Hotel in St. Louis, Missouri; Margaritaville Lake Resort, Lake Conroe, Texas; Nobu Hotel Barcelona in Barcelona, Spain; and Terranea Resort in Rancho Palos Verdes, California.
As travel returns, and does so with gumption, there's no better time to indulge in places where it feels like you're in two destinations within one, a property transports you to another time period, but with modern comforts.
For Loews Portofino Bay Hotel, the theme came together after Steven Spielberg, a consultant for Universal's Islands of Adventure, suggested an authentic re-creation of the Italian seaside village.
"Universal's Creative Team walked the streets of Portofino, Italy, to taste the foods, breathe in the seaside air, and get inspired by the culture and design of the town's buildings," said Russ Dagon, Senior Vice President of Resort Development at Universal Orlando Resort. "We brought those inspirations and ideas back to Universal Orlando and created a property and experience that transports guests into the heart of that beautiful resort town environment."
To solidify the Italian feel, artwork was commissioned from the Studio Lucifero School of Arts in Rome and the property named its poolside bar and grill after the famous Hotel Splendido. Universal's design team also worked with Italian artisans to handcraft elements, artwork, tiles, and custom chandeliers in addition to importing building materials from Italy for the 750-room hotel that also has 42,000 square-feet of meeting and event space.
Ahead, four more ALHI properties that feature a destination within a destination.

The outdoor swimming at The Chase Park Plaza Royal Sonesta Hotel is a Mediterranean masterpiece with columns and curvaceous archways, surrounded by fountains and stone-carved porticoes. But not only does this St. Louis hotel transport you to another place, it's also imbued with old-world glamour and has hosted movie stars and presidents. Set in an Art Deco building that dates to the Roaring 20s, The Chase Park Plaza Royal Sonesta Hotel has modern conveniences but preserves the building's rich architectural elements. The hotel also boasts more than 65,000 square feet of meeting and event space, including rooftop ballrooms and the Khorassan Ballroom that features soaring ceilings and Art Deco-style lighting. Did we mention this St. Louis hotel is outfitted with a historic five-screen movie theater, flower shop and barbershop?

Step into the lobby at Margaritaville Lake Resort, Lake Conroe, Texas, and you'll notice a chandelier made entirely from margarita glasses as well as colorful images of parrots and other beach scenes that sync up with the iconic lyrics of Jimmy Buffett songs. When it's time to get down to business, meeting guests can retreat to a state-of-the-art conference center and purpose-built event space. Then, it's back to embracing escapism whether that's in a lake view suite (some of which have glass light fixtures with a "message in a bottle" scroll inside) or at Margaritaville-inspired restaurants that serve up Caribbean classics like fish tacos, shrimp ceviche, key lime pie, and, of course, tropical cocktails.

Nobu Hotel Barcelona in Barcelona, Spain: Japanese design meets European style
Nobu Hotel Barcelona captures the essence of the famous European city, but also exudes a Japanese edge that's synonymous with the brand. Guests notice this unique fusion when they arrive at the hotel: The entrance is inspired by Shinto temple gates, which traditionally represent the transition from the mortal world to the spiritual one. With tall bamboo trees, the lobby and reception area is a quiet, zen oasis in the middle of a bustling metropolis. Rooms are minimalist but luxurious, with traditional Japanese millwork, organic materials, and a neutral color scheme, with some suites featuring wooden onsen-style soaking tubs and hand dyed wall hangings inspired by the traditional Japanese shibori technique. On the 23rd floor, Nobu Restaurant and Bar provides panoramic views of Barcelona and a unique design inspired by the craft of Kintsugi, which is the art of repairing broken pottery with gold to create eye-catching ceilings, room separators and a statement central column. The design-forward hotel has six chic and versatile event spaces, an auditorium with capacity of 90 people and two dining venues with private terraces and Nobu custom menus.

Terranea Resort in Rancho Palos Verdes, California: A Mediterranean-meets-California Escape
With terra-cotta adorned rooftops, colorful tiled walkways, lush landscapes and a craggy coastline that collides with the Pacific Ocean, Terranea Resort is where Mediterranean design meets Southern California landscapes. The resort boasts 102 acres of natural habitat and a private cove, and has a commanding presence on the scenic bluffs of Palos Verdes Peninsula. It almost feels as though you're on a European vacation here—yet no passport is needed at this heavenly retreat that's just 16 miles from Los Angeles International Airport. The resort leans into that "far away without traveling far away" feeling and draws locals for staycations as well as meeting guests looking for a serene setting. Amenities include a nine-hole golf course, award-winning oceanfront spa, four swimming pools, 135,000 square feet of indoor and outdoor meeting spaces. Terranea also has nine restaurants where menus showcase dishes made with bounty from the resort's herb and vegetable gardens, as well as its lemon groves and Sea Salt Conservatory.
Editor's note: This is the first of a two-part series showcasing thoughtfully themed hotels within the ALHI portfolio that are destinations within destinations—the kinds of properties that as soon as you step foot on them, you're transported to another time or place. These distinctly defined spaces make for the best kind of "two-for-one" meeting experiences. They're properties where guests can immerse themselves in the actual destination, but through artful design and creative programming, also get a feel for another destination or era. These kinds of bonus experiences? They're what meeting planners and attendees are clamoring for as travel makes its mighty comeback.