Editor's note: This article first published in the June 2023 State of the Industry Special Edition of Beyond the Meeting Room, ALHI's printed magazine, a luxury lifestyle publication focused on sharing compelling, inspirational and educational stories from beyond the four walls of a meeting room. Follow along as we join Debbie Stazak, CMP, Manager of Corporate Events and Trade Shows for Mölnlycke, in a day in the life of an event planner as she travels from her home in Atlanta to an event in Philadelphia.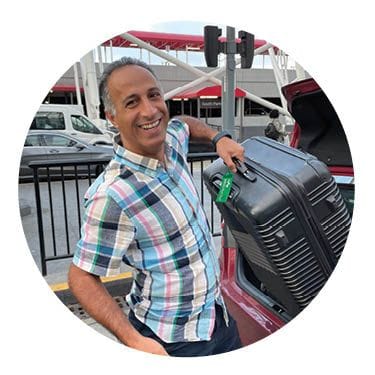 7:27 a.m.
Picked up at my house by Uber driver Mahid. An Uber driver for four years, he recently moved to Atlanta from Las Vegas. There was surprisingly little traffic headed to the airport.
8:07 a.m.
Arrived at the Atlanta International Airport. Mahid laughed at the amount of luggage we had.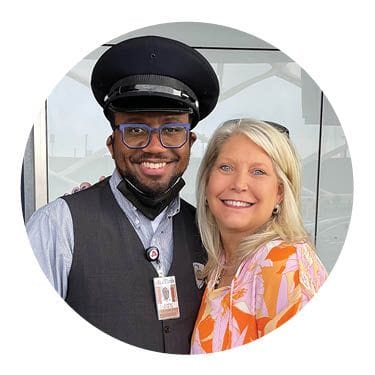 8:12 a.m.
After waiting a few minutes for an available skycap, I met Delta contractor Desmond. He was engaging, and said he likes what he does because he gets to meet a lot of fun people.
8:15 a.m.
Wow, the airport was exceptionally busy on a Sunday morning. It's good to have Clear and TSA PreCheck to breeze through security.
8:28 a.m.
The Atlanta Plane Train was packed! We all squeezed into the train to take us to the different terminals.
8:35 a.m.
I was excited to see the grab-and-go area of the Delta Sky Club in Terminal B. What a great concept. Often, there isn't enough time to go through a buffet line and sit down. This is a great addition. Way to go Delta.
8:38 a.m.
Fritz Octavian welcomed me to the Delta Sky Club as I placed my boarding pass onto the scanner. Fritz thanked me for being a platinum medallion member. ?"Let me fix my hair really quick," he said when I asked for permission to take his photo.
8:40 a.m.
I made my way over to the bar and introduced myself to Stephanie, a staple at the Sky Club bar who I recognized from previous travels. She has worked at the Sky Club since 1988. She started at JFK, then moved to Atlanta in 2015 to continue her Delta journey.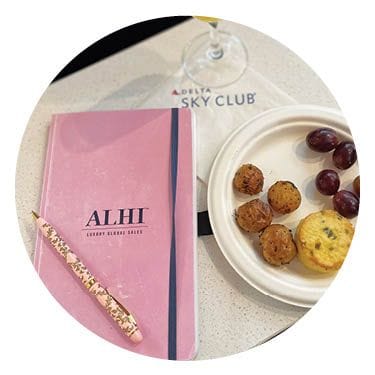 8:45 a.m.
I fixed a plate from the Sky Club buffet, which has a varied menu to accommodate all palates. The egg bites are a protein for me! Chef Theodor Figaro takes pride in his food stations, making sure they're full, clean and appealing.
8:48 a.m.
My co-worker Jeanne Cook received a call from our exhibit house manager about the graphics for our booth at the trade show we were traveling to in Philadelphia. It's Sunday morning, and we are working. We do not know weekends in this industry!
8:57 a.m.
Fritz came by and introduced us to Kehsia Savery, a Delta Red Coat who has been with the airline for 13 years. Delta Red Coats are like superheroes—jumping in to make things right. If you haven't needed a Red Coat, that's great. But if you do need one, rest assured your situation will be resolved.
9:09 a.m.
Checked in with Will to board my flight. Upon boarding, the lead flight attendant, Axel, was welcoming passengers on the intercom. He's worked for Delta for six years. He was very entertaining.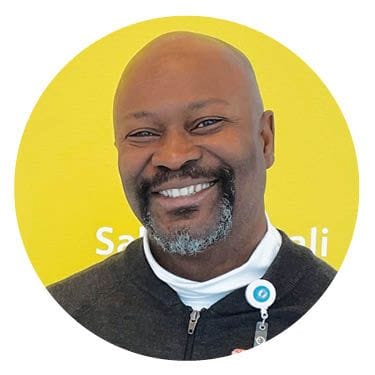 9:13 a.m.
I had a quick conversation with another flight attendant, Yoni. Yoni is learning the ropes and happy with his new career path. He has only been with Delta for three months.
9:17 a.m.
I'm at a window seat on the left side of the plane (my go-to seat because I am a lefty and gives me more room to work inflight), and I chuckle to myself that as a platinum medallion member, I am so far down the upgrade list. Seems like everyone in Atlanta has status with Delta.
12:12 p.m.
After I collected my bags from baggage claim, I followed signs to the taxi stand. I met Baindu, who asked if I was looking for a taxi. Baindu, a Philadelphia native, works for Parkway Airport Service. She made a quick request on her walkie-talkie and immediately a taxi pulled up.
12:18 p.m.
In the taxi headed downtown. The weather is beautiful. The driver had all the windows down, and it was refreshing and relaxing. Zelalem Accagme pointed out different landmarks and sites as he navigated the city streets. He was excited for business to pick up with the trade show coming into town.
12:37 p.m.
Brad, the bellman, opened our doors and got our luggage out of the taxi. He enjoyed talking about his story: He has been a bellman for eight years, and before that, he worked in the defense industry in radio communications. He's been in Philadelphia since 1968 (with a brief time spent in Florida). He has a child in college as well as a grandbaby.
12:39 p.m.
Checked in at the hotel, which is across the street from the convention center. Diana Cooper was the front desk agent. She had such a pleasant attitude and terrific smile. At the hotel for about seven months, she said it's the first job that she has genuinely loved. She gave us a brief background on the historic property and walked us to the shortcut to the convention center.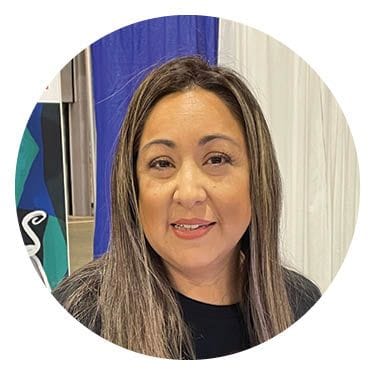 1:15 p.m.
We made our way to the convention center and checked in at the exhibitor counter to get our badges. Maribel works for the association where our company was exhibiting for this show. She travels to different cities when the association has conferences.
1:20 p.m.
Headed to see how the booth build is coming. Only exhibitors are allowed on the show floor, so you must show your exhibitor badge to security. Jamal works for the convention center as a badge checker. He is very new to the convention scene. It was his fourth day on the job.
1:30 p.m.
The electricity to the chandelier is connected. I introduced myself to Tom, who was guiding the boom truck. He didn't have time to talk and said he couldn't have his picture taken.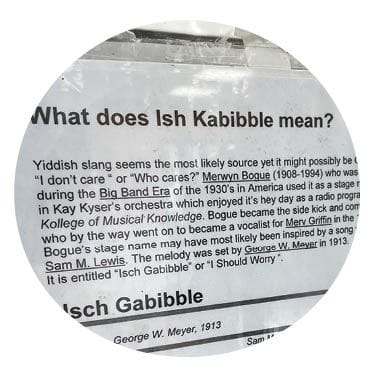 1:50 p.m.
Time to visit one of the more popular Philly cheesesteak places: Ishkabibble's, where the locals eat. It's been serving Philadelphia since 1979 and is well known for cheesesteaks as well as the Gremlin (half lemonade, half grape juice). Diana took our order at the counter-service restaurant. She has worked at this location for six months.
3 p.m.
Darren Carr, the shop steward for the Laborers union, delivered a pallet to the booth. With Philadelphia being a union city, staff such as Darren are responsible for delivering items to the exhibitors. In this case, he was delivering a medical bed. Then, the people from the medical equipment company assembled it. There are a lot of people doing small parts of the job before it's completed.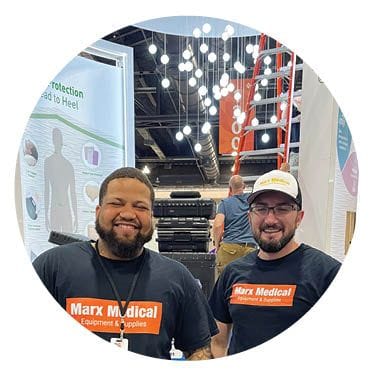 3:10 p.m.
Time to put the bed together. Miguel Vasquez and Xhelal Mucogllava from Marx Medical Equipment typically make deliveries of medical equipment to homes for home health care. They have collectively worked for the company for 13 years.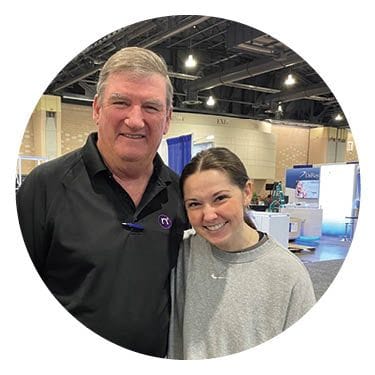 The exhibit hall in the convention center is managed by Nth Degree, the company contracted to support the show. Marty Rafferty is the Philadelphia City Manager. Marty manages the union crews who put up the exhibitor booths. He has been doing this for 35 years.
Caroline Daves is our Account Manager with Exhibitus. She comes to our large shows and helps with show services, such as graphics layout, getting our shipments, inventory, electricity, etc. Caroline was there for the installation and then headed to her next show.
3:55 p.m.
We use a lead-generation system to collect information from the attendees who visit our booth. Kevin McMahon works for Maritz Global Events, and he is part of the trade show's event services team. He lives in Maryland and travels to different shows. His favorite parts of the job are traveling, meeting new people and seeing familiar faces. He's been in the industry for 11 years.
8:15 p.m.
Finally, time to grab some dinner after a long day. We decided to sit at the bar and order food. The bartender, Amanda Miller, shared that she's been bartending for four years in Philadelphia but grew up in Edison, Georgia. She is currently in law school to be a corporate lawyer. She likes the bartending gig, especially because of her co-workers and meeting cool people every day. Plus, "the money is great."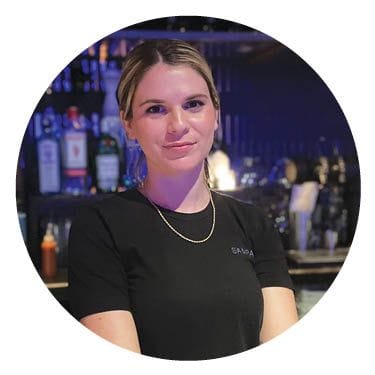 11:07 p.m.
It's time to call it a night. Catching up on the evening news and getting the forecast for tomorrow. Tomorrow is another busy day.