Hotels Engage Guests with Carefully Curated Art Collections
In synergy with the architecture and design of a hotel, art programming can go far in setting the vibe for guests and establishing that all-important first impression. Starting with the lobby and check-in area, strategically placed artwork makes an eye-catching statement about the hotel's identity, personality, values and sensibilities. 
Communicating a sense of style, place and atmosphere, art also connects on a deeper level. Scientific research has conclusively proven that viewing art lowers stress and stimulates the pleasure pathways of the brain. In other words, art elevates the consciousness and state of well-being.
"When you observe a profound piece of art," wrote Culture Collective founder Jacob Devaney in a 2019 Natural Health News article, "you are potentially firing the same neurons as the artist did when they created it thus making new neural pathways and stimulating a state of inspiration." 
Across the global ALHI portfolio member hotels have invested in thoughtfully crafted and curated indoor and outdoor art programs that deliver high return on experience and truly "mindful" meetings.
Art Sets the Scene
Of his 200-plus hotel projects, Morris Lapidus, the self-described "architect of the American Dream", found his apotheosis in the Fontainebleau Miami Beach. With its flamboyant curves and other convention-busting elements, the 1954 Miami Modernist landmark horrified critics, but as Lapidus intended, delighted guests.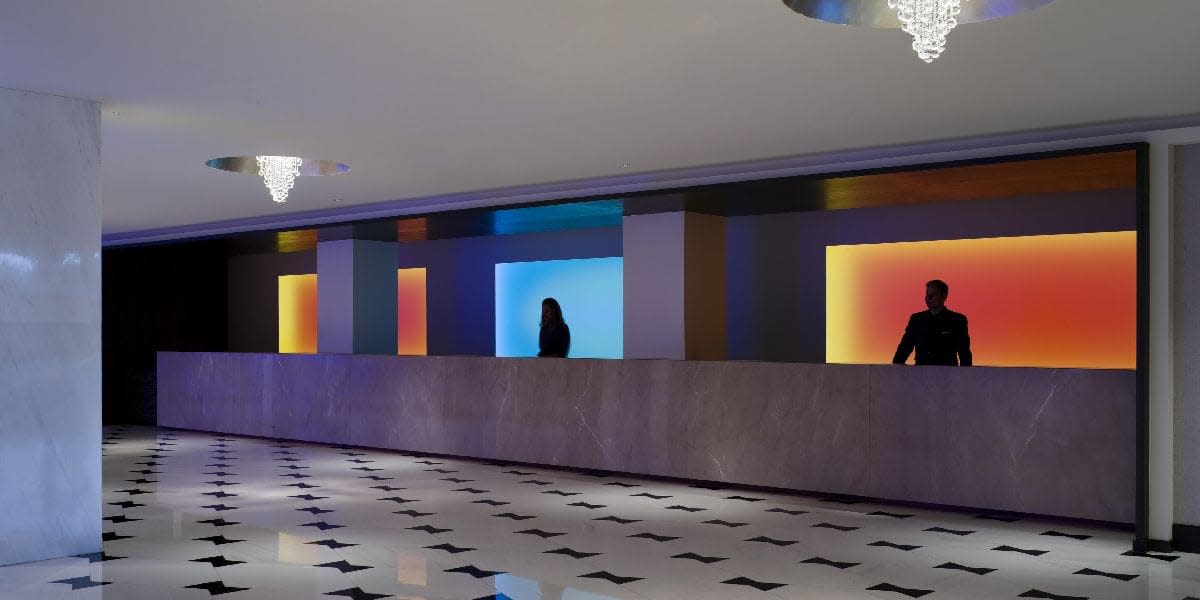 "Third Eye" installation at the Chateau Front Desk, James Turrell, Fontainebleau Miami Beach
---
"If you create the stage setting and it is grand," Lapidus once said, "everyone who enters will play their part."
Upholding his radical philosophy, the hotel today features a curated collection of original, unique, and site-specific "cool and hot" works from leading contemporary artists including "Light and Space" movement leader James Turrell and British conceptual provocateur Damien Hirst. Integrated into the Fontainebleau's architecture, the installations define and shape the guest experience.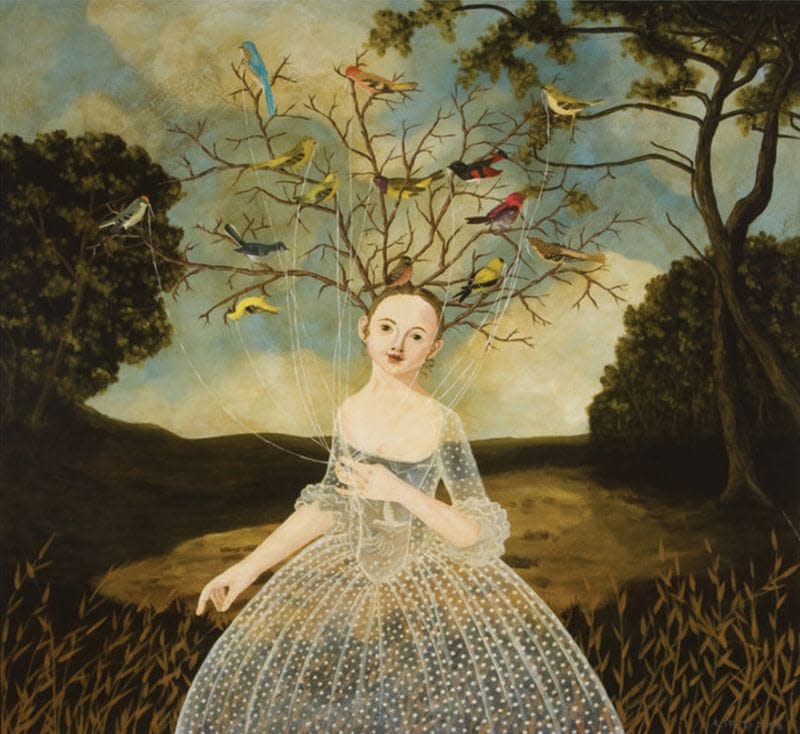 "Roost II", Anne Siems, Terranea, Rancho Palos Verdes, Calif.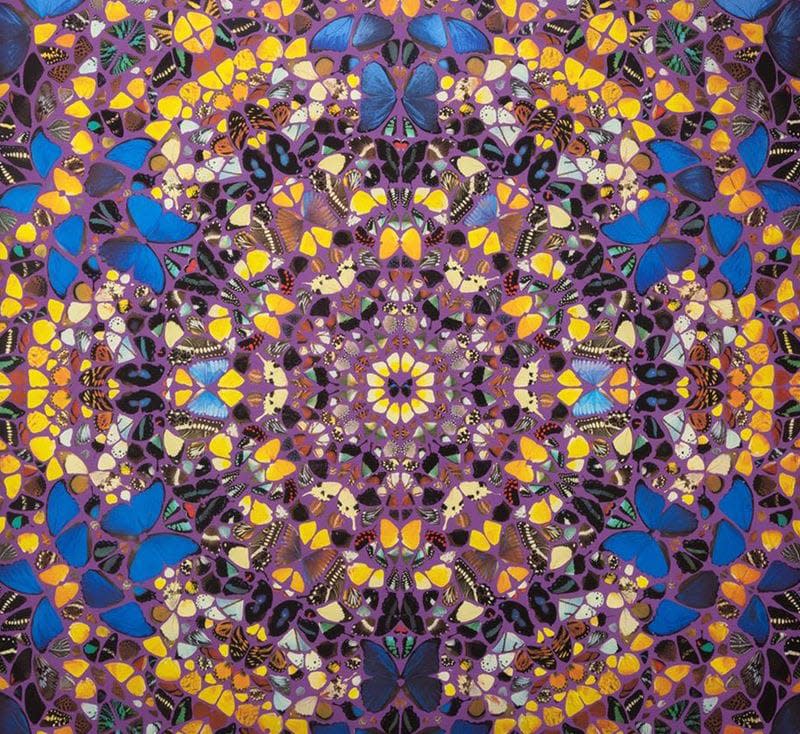 "Cathedral Print, Notre Dame", Damien Hirst, Saint Kate Arts Hotel, Milwaukee
Complementing its location on Southern California's spectacular Palos Verdes Peninsula, the art program at Terranea departs from the ordinary and expected with carefully curated works by local and internationally recognized artists "whose subjects mirror the beautiful complexities of their surroundings," as stated by property representatives.
Hirst is also a featured artist at Milwaukee's boutique Saint Kate Arts Hotel. "Guests can experience artwork that subverts our expectations, challenges perspectives and encourages dialogue," explained lead curator Samantha Timm, who oversees the hotel's revolving exhibitions and exclusive art engagements and programming for visitors and guests. "The hotel's art is a backdrop for making people feel welcome, inspired and curious," said Timm, adding that "the installations in our meeting and breakout spaces invite guests to explore and discover something new."
Illuminating the downtown Miami skyline each night with its famed dancing silhouettes and other vivid imagery, the 200-foot-tall exterior digital canvas covering two sides of InterContinental Miami is seen by millions of residents and visitors each year. The digital art space, along with pop-up installations, extends to the lobby, which was famously designed around the largest of legendary British sculptor Sir Henry Moore's "Spindle" works. Installed by helicopter in 1981, the 18-foot twisting marble and granite monolith weighs 70 tons.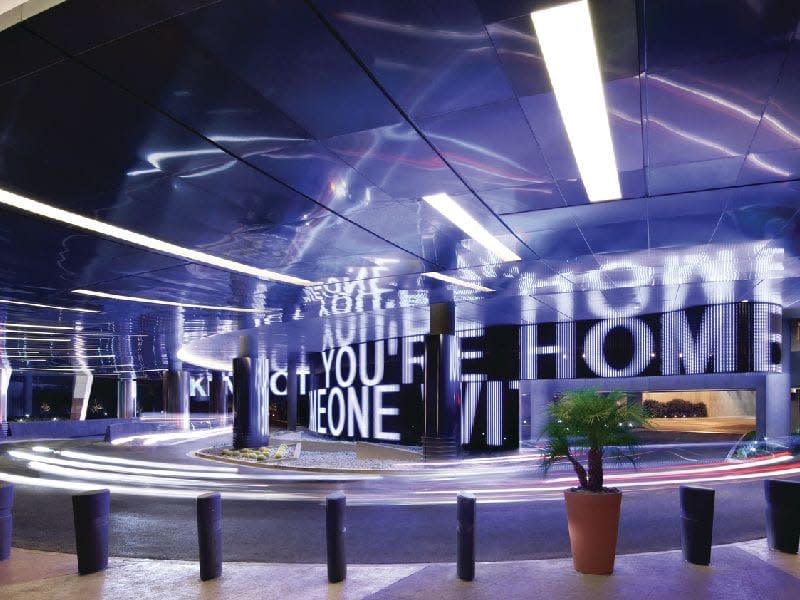 "VEGAS", Jenny Holzer, ARIA Resort & Casino, Las Vegas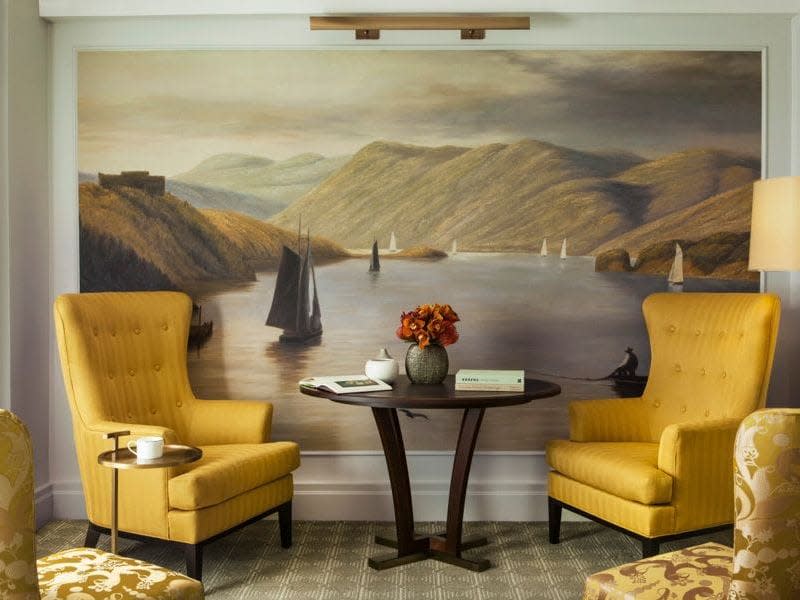 Hudson River School-style mural, InterContinental New York Barclay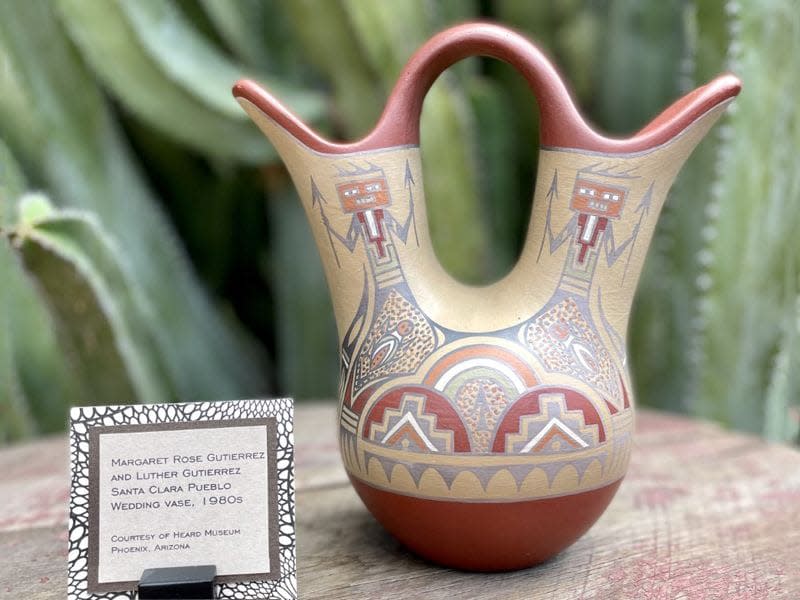 Pueblo wedding vase, Margaret & Luther Gutierrez, The Wigwam, Phoenix
Moore is among the featured artists comprising the campus-wide Fine Art collection at ARIA Resort & Casino in Las Vegas. Representing the first permanent exhibition of art in Vegas to be integrated into a public space, the indoor and outdoor pieces are "strategically placed around the hotel to captivate and educate guests." 
View more hotel artwork gallery spaces: 
Selectively displayed at locations around the world, Hard Rock International's brand-signifying collection of 86,000-plus guitars, costumes and other A-list music memorabilia is the quintessence of the art-driven guest experience. At Hard Rock Hotel San Diego, nearly 60 conversation starters include a Bob Mackie-designed outfit worn by Elton John. Groups can take memorabilia tours, with a Jimi Hendrix guitar and Elvis Presley shirt among the visual wows in the meeting spaces.
Opened in 1929, The Wigwam, in the West Valley of Phoenix, is one of Arizona's most historic resorts. The heritage appeal extends to an exhibition of rare American Indian art pieces on private loan from Phoenix's prestigious Heard Museum. Representing the untold story of American Indian artists, the collection of Navajo rugs, woven baskets, Hopi sculptures, Pueblo figurines and other unique handcrafted pieces is popular with attendees on meeting breaks. The resort also hosts the annual three-day Wigwam Festival of Fine Art. 
Arizona's capital city is also home to Kimpton Hotel Palomar Phoenix, where groups can host events and watch and engage with working local artists in the fully functional ARTLAB pop-up studio and gallery, powered by Artlink.  
In 1825, the nature-focused Hudson River School became America's first major art movement. To make these iconic Catskills, Adirondacks and other landscapes part of the guest experience, InterContinental New York Barclay in Midtown Manhattan digitized Hudson River School images and antique maps on vinyl for guest-room wallcoverings. Connecting all meeting spaces, the Gallery Foyer features a White House-inspired crystal chandelier and corridors lined with portraits and still-lifes.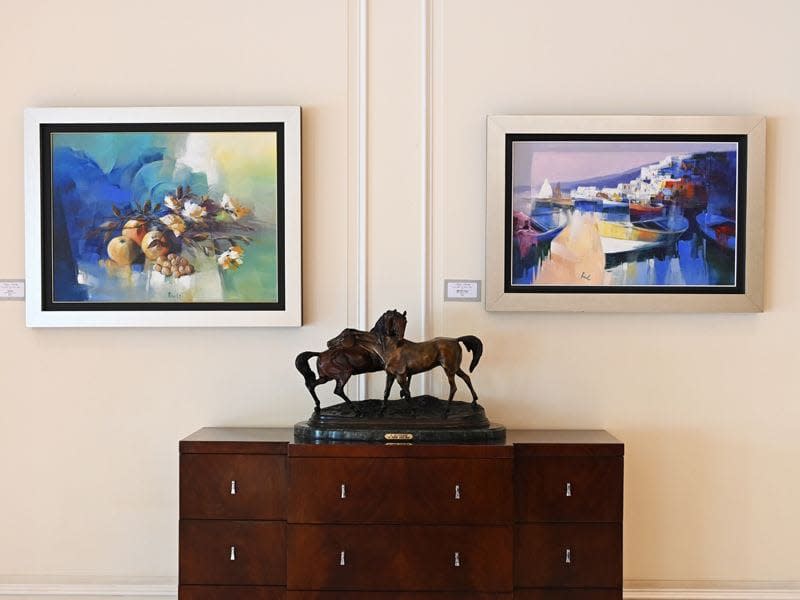 Local art curated by Mary Martin, The Charleston Place, S.C.
Art connects guests at The Charleston Place to the fabled South Carolina city's rich culture and heritage. Hand-selected in collaboration with local curator Mary Martin, custom and unique works create an immersive sensory experience throughout the public spaces, private Club Level, guest rooms and corridors. Highlights include the photographs of notable Charlestonians that greet delegates on their way to the second-floor meeting rooms.
View more hotel sculpture and art installations:
The Hardy family, owners of Nemacolin Woodlands Resort in Pennsylvania's bucolic Laurel Highlands, are art connoisseurs.  Comprising more than 1,000 paintings, sculptures, antiques, vintage automobiles and other global treasures, their multimillion-dollar collection forms its own neural network of inspiration throughout the property (shown in our lead photo above). Attendees can also immerse themselves in art classes and workshops.
A Stage for Local Art and Artists
Bringing local, regional or even national artists into a property is a common theme at several ALHI member hotels.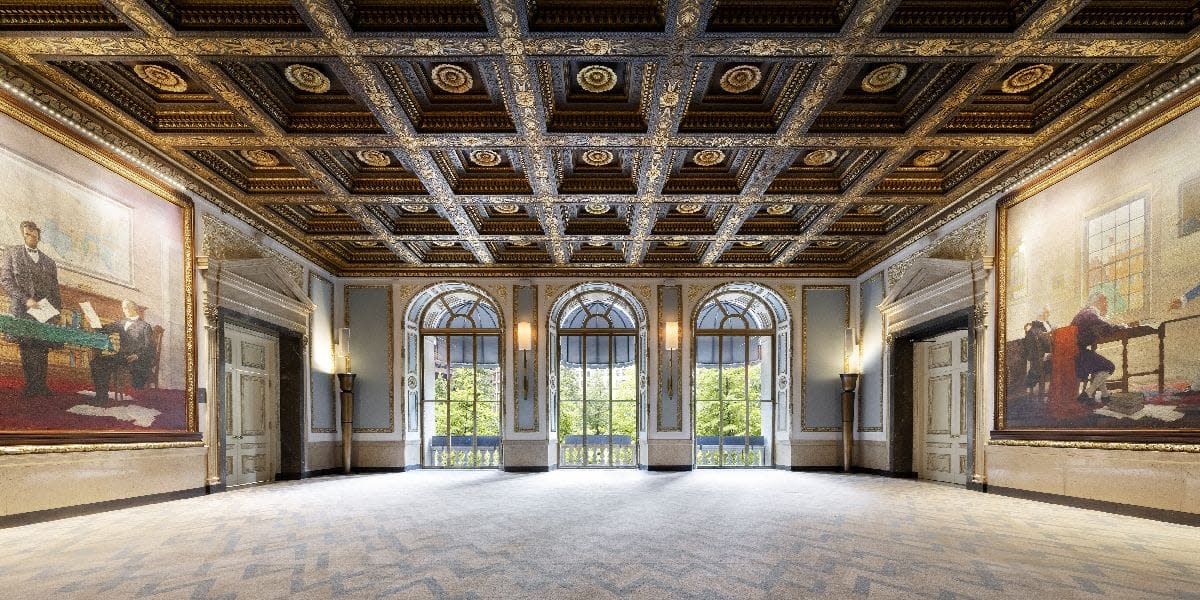 Art collection curated by Richmond International, The Langham, Boston
---
Unveiled in June 2021, the $200 million renovation of The Langham, Boston included a new art collection that pays homage to the building's heritage as the former Federal Reserve Bank of Boston in 1922. Nearly half of the 268 total works, of which 60 were specially commissioned, have a local Boston connection. These include 77 works from Boston-based artists in collaboration with The Copley Society, America's oldest artistic nonprofit. An overview of the art is included in a complimentary daily Heritage Tour. Guests will also be able to take a self-guided audio tour of the collection, much of it narrated by the artists themselves.
Famed for his portraits of the stock male comic in French pantomime, known as a "Pierrot", the late Dutch artist George van Herwaarde was a friend of the historic Grand Hotel Huis ter Duin on Holland's western coast. Homages include the Van Herwaarde Lounge. Designed in his painting style, the space features his self-portrait as a Pierrot, one of 42 Van Herwaarde Pierrots throughout the property. Those in the guest rooms are cutouts of larger compositions with references to details about the hotel, including the Michelin-starred Restaurant Latour.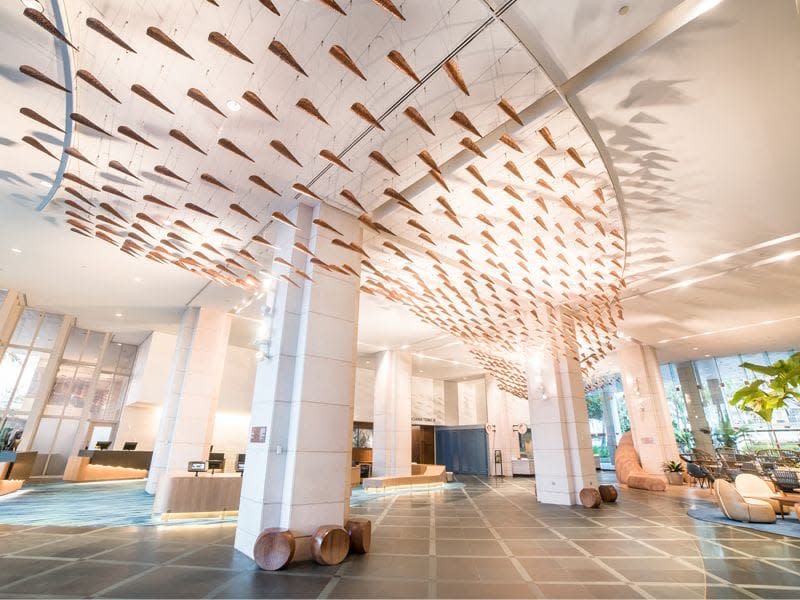 "Hulali i ka lã" by Kaili Chun, Prince Waikiki, Hawaii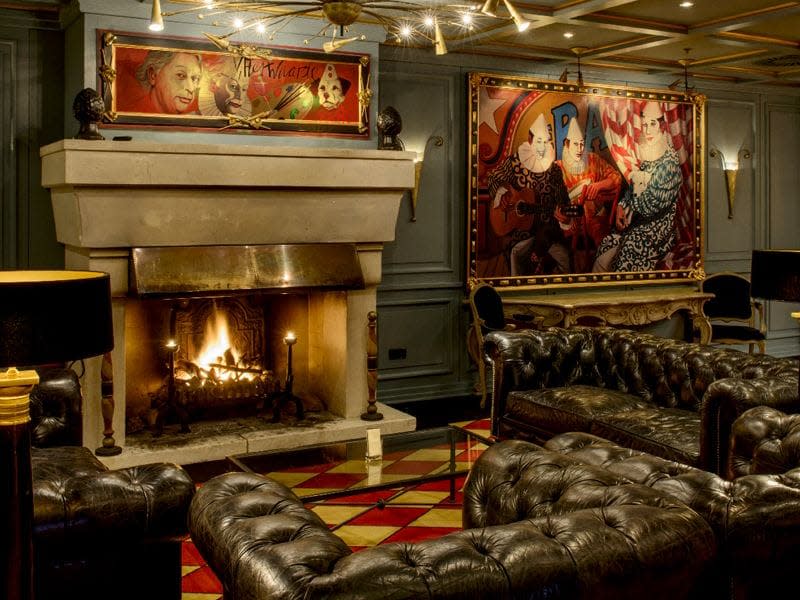 Van Herwaarde Lounge, Grand Hotel Huis ter Duin, Holland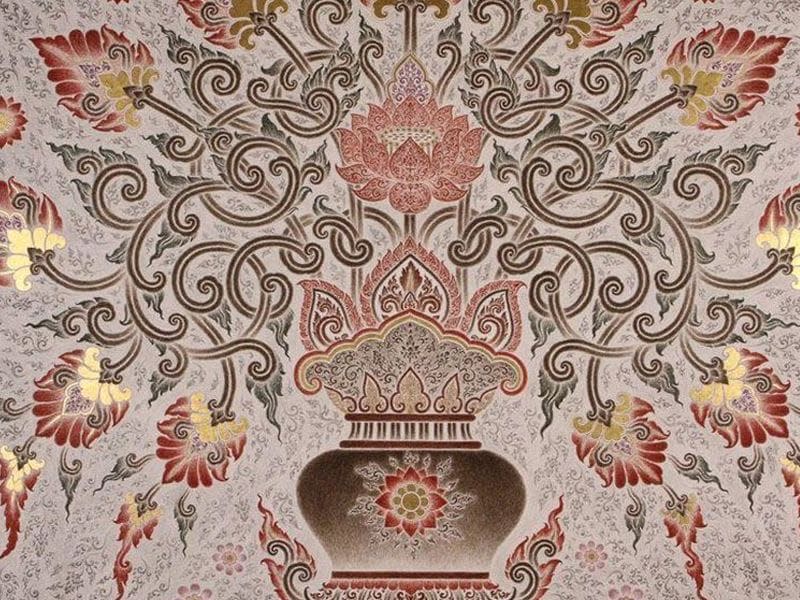 Buranakata (flowerpot), Songdej Thipthong, Siam Kempinski Hotel Bangkok
Since 2011, Fairmont Dallas has hosted an artist-in-residence program. Living on-property for three months at a time, breakthrough local and regional artists have use of the hotel's onsite studio. Their works are then selectively displayed in the Fairmont's public areas and themed Arts District Suite, or sold to benefit philanthropic efforts.
Honolulu's oceanfront Prince Waikiki hotel is home to a preeminent collection of contemporary works by Hawaiian artists. Signature pieces include acclaimed local artist Kaili Chun's "Hulali i ka lã". Translated as "Glistening in the Sun," this ceiling installation of 800 copper pieces spans the lobby and is based on the area's prominence as a gathering place.
Committed to celebrating the creative talent of Thailand, Siam Kempinski Hotel Bangkok features 2,000-plus works from Thai artists in its public areas, guest rooms and function spaces. Kempinski Hotel Corvinus Budapest is also nationally focused. Since opening in 1992, Hungary's first five-star luxury hotel has amassed a collection of hundreds of Hungarian paintings and sculptures. The hotel has also collaborated with the Gábor Kovács Art Foundation to exhibit select works in Hungary and in Berlin.
What began as a photography hobby for Joe Ness, executive director of entertainment, electronics and media (EEM) at Peppermill Resort Spa Casino in Reno, Nev., became a $25 million-plus investment in a singularly arresting "living art" project. Traveling to 50-plus countries on all seven continents, Ness and his team filmed videos of exotic lands, local scenery, nature and wildlife using 8K cameras. Displayed on 4,600-plus video screens resort-wide and in-room TV channels, their cinema-quality "Windows of the World" delivers an unprecedented visual experience for guests.  
---
Four Artful Plein Air Venues
Like fashion, outdoor art has "an enduring imagery that define(s) a sensibility and a style" with the power to "transform, at least for a moment, how we think about where we live and who we are." That statement is attributed to Josephine Burns, executive chair of Manchester-based Without Walls, a U.K. consortium of festivals, organizations and artists dedicated to "excellence and innovation" in the outdoor arts. 
With that in mind, here are four artful plein air venues for expanded thinking and inspiration.
Complementing the numerous art pieces in the ballroom and meeting spaces, the hotel's prized collection includes Taiwanese sculptor Ju Ming's bronze statue "The Gentlemen". Located in the plaza, his work is a focal point of intimate outdoor events.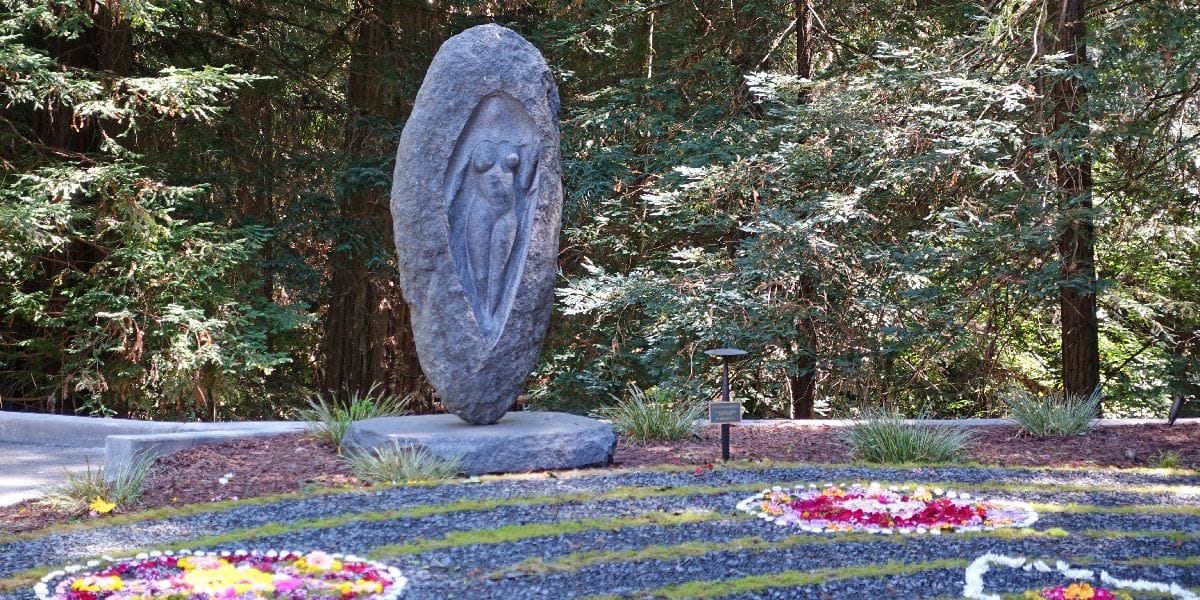 Named for the 1,440 minutes we live each day, this group-capable nonprofit philanthropic campus and learning destination in California's Santa Cruz Mountains invites attendees to discover art and sculptural installations along forested trails and in gathering spaces.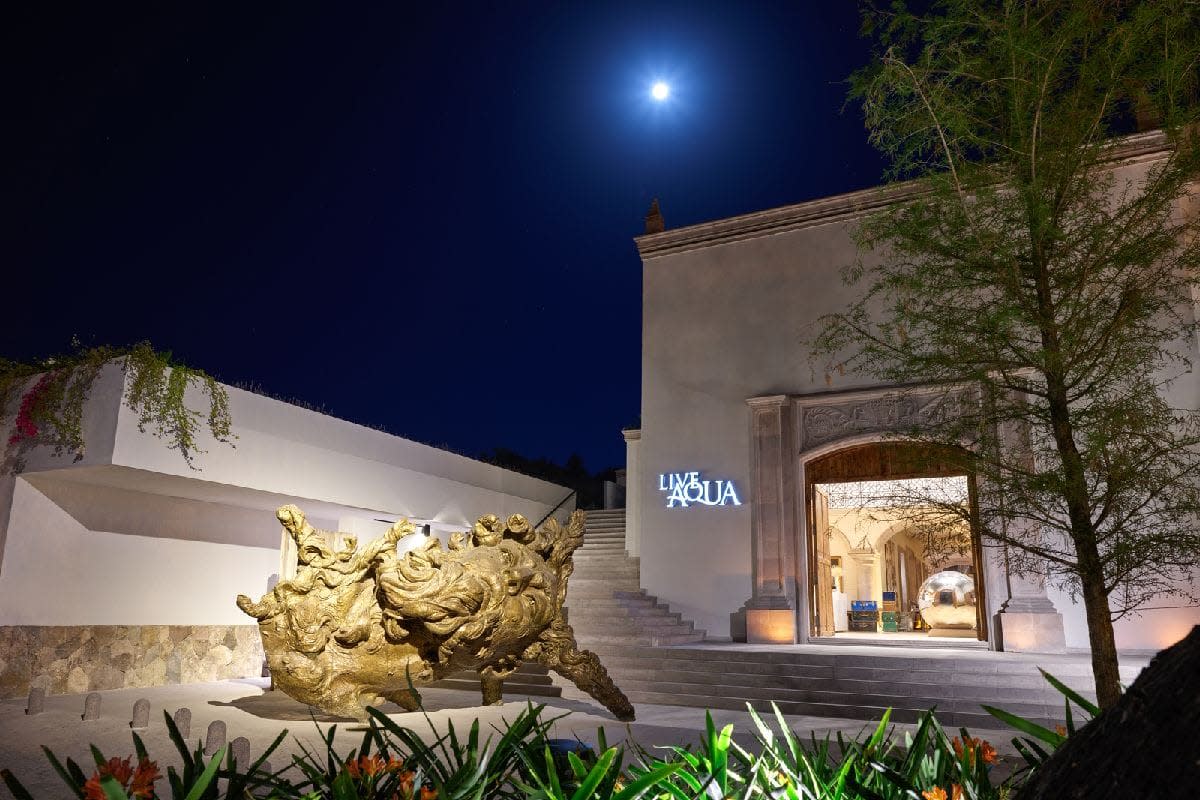 From 2008 to 2017, Mexican artist Javier Marin's three sculptural heads traveled to different cities in the U.S., Europe and Mexico. Following the sculpture's whirlwind tour, his "Cabeza Vainilla" ("Vanilla Head") now calls the hotel's outdoor plaza home.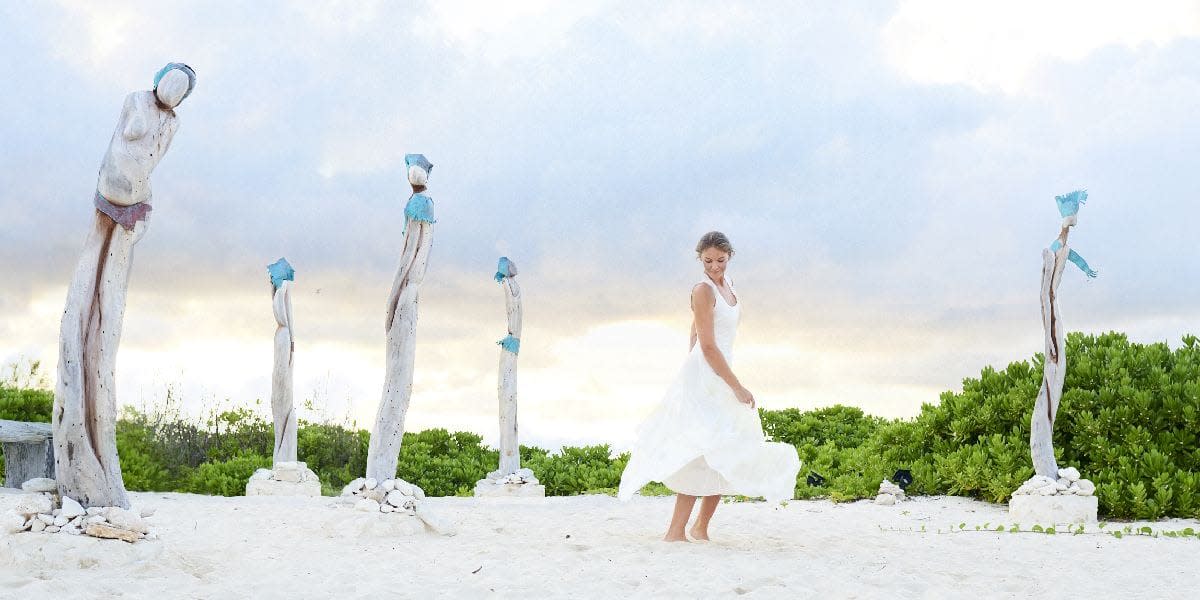 Featuring seven dancing women sculpted from local Madeira trees, legendary Bahamian artist Antonius Roberts' "Sacred Space", located on the tip of the Cove Beach peninsula, exemplifies the symbolic artwork found throughout the resort.