Several luxury resorts situated in the serene Sonoran desert, plus a contemporary art scene and chef-driven restaurants make the Phoenix-Scottsdale area the consummate host for meeting planners. Business travelers will probably want to tack on a couple of extra days for post-conference R&R because the area is renowned for its spas, pools and colorful sunsets. With more than 300 days of sunshine, hotels here, along with the state-of-the-art Phoenix Convention Center, offer flexible meeting spaces ideal for hosting indoor-outdoor events. Plus, with nearly 200 golf courses in the area, Phoenix and Scottsdale have established themselves as known golf destinations.
Why Greater Phoenix?
Year-round sunny weather and plenty of outdoor meeting spaces.
Sky Harbor, which has been recognized as "America's Friendliest Airport" is the main airport and serves more than 120 domestic and international destinations.
A wide variety of hotels, with resort amenities, can match your group's meeting needs.
Valley Metro Rail, pedal cabs and Grid Bike make getting around downtown easy.
The Phoenix Convention Center boasts nearly 100 meeting and breakout rooms, plus three ballrooms and a performance hall and has been recognized for its sustainable design.
What's New in Greater Phoenix?
Sky Harbor's Terminal 3, which serves several airlines, recently underwent a $590 million update and now houses local restaurants, art, a nursing room and is more energy efficient.
The Phoenix Convention Center recently received The GBAC STAR certification, which is the meetings' industry standard for cleaning protocols and staff training.
Frank Lloyd Wright's Taliesin West in Scottsdale is an esteemed newcomer to the UNESCO World Heritage list of sites.
Surrounded by desert landscape, Phoenix's Papago Golf Course got a new mid-century modern-inspired clubhouse with plenty of outdoor space at Lou's Bar & Grill.
---
See
---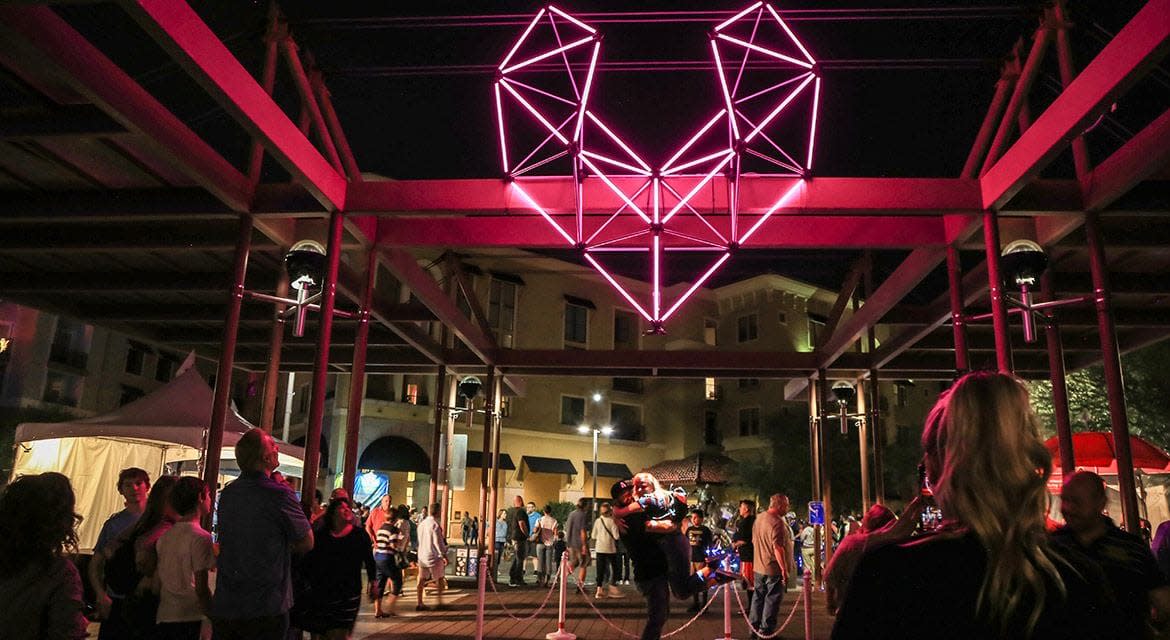 photo credit Scottsdale Arts
Scottsdale Art District
Scottsdale has made an impressive commitment to public art, and the city is sprinkled with sculptures and murals. The public art pieces are a mix of temporary and permanent installations, but a must-see on your self-guided tour is Robert Indiana's iconic LOVE statue that's in Scottsdale Civic Center.
Heard Museum
Showcasing the history and art of the region's American Indian cultures, the Heard Museum has more than 40,000 works of fine art, including jewelry, pottery, bead work, fashion, baskets and more. The museum offers private group tours.
McDowell Sonoran Preserve
Hike or bike in the saguaro-studded McDowell Sonoran Preserve, which is the largest urban preserve in the country with more than 30,500 acres in the desert. Outdoors lovers can also kayak in the nearby Salt River. 
For more activities and ideas ask your ALHI GSO about working with Global DMC Partners
---
Do
---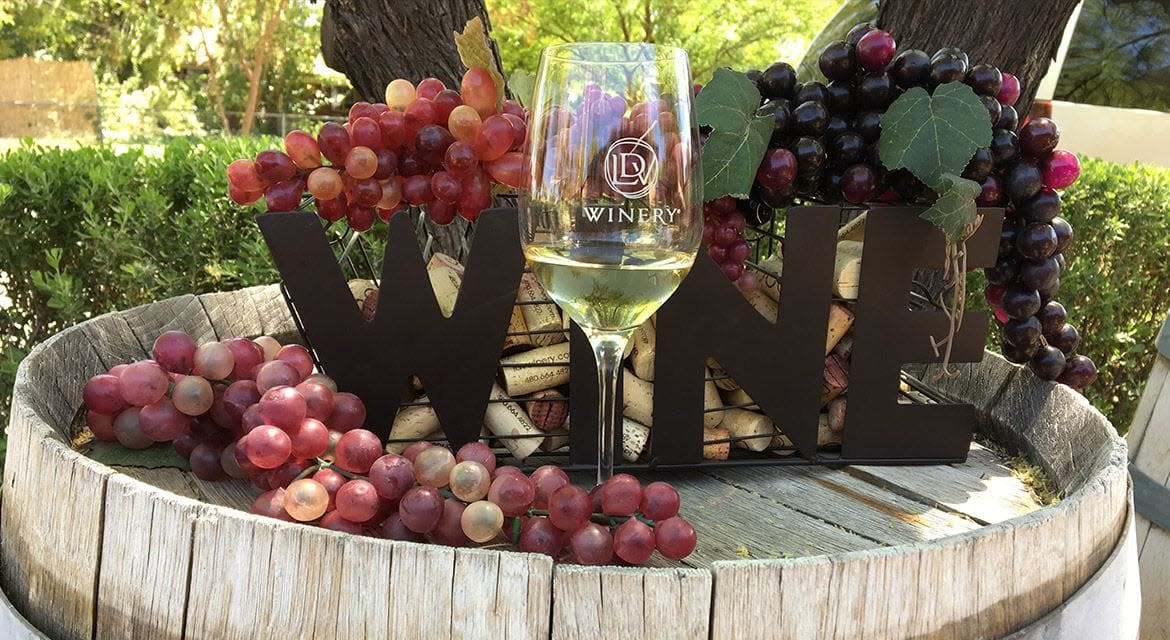 photo credit Experience Scottsdale
Explore the Scottsdale Wine Trail
Five Arizona wineries have tasting rooms within walking distance of another in Scottsdale. Merkin Vineyards does group catering, and, in addition to wines, the tasting room sells housemade gelati and artisan cheese boards.
Desert Botanical Gardens
The gardens have several guided events and tours for large groups, including a mocktail hour and tour; afternoon tea and tour; and a collaboration with the Heard Museum that explores native cultures and southwestern plants. With an expansive collection of more than 50,000 desert plants, the Desert Botanical Gardens also does unique programming, including concerts and art exhibits.
Jeep or Hummer Tour of the Sonoran Desert
Go deeper in the desert with a naturalist captaining a Jeep or Hummer on this adventure. During the tour, you can learn more about the unique geological, archaeological and botanical history of the desert.
For more activities and ideas ask your ALHI GSO about working with Global DMC Partners
---
Eat
---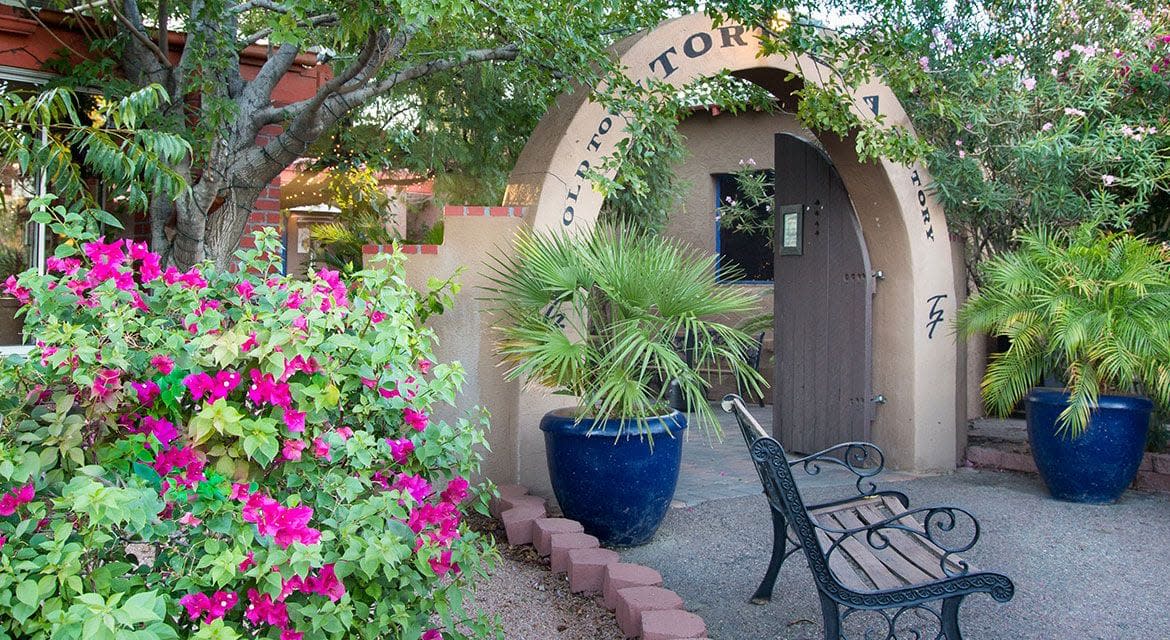 photo credit Debby Wolvos for Experience Scottsdale
Old Tortilla Factory
The Old Tortilla Factory's spacious 1,400-square-foot flagstone patio shaded by century-old pecan trees is the perfect place to sip a margarita and enjoy tacos. This iconic establishment in the heart of old town can host corporate gatherings for up to 300 people.
Chase Field
Chase Field, the home field for the Arizona Diamondbacks, is a unique venue for large groups, serving plated lunches on the field for up to 2,000 people or group dinners in the third base lounge for 300 attendees, followed up with batting practice.
Stratta Kitchen
James Beard Award-winning chef Alex Stratta recently debuted Stratta Kitchen, a casual counter service restaurant that serves seasonal, veggie-forward Mediterranean dishes for lunch and dinner.
For more activities and ideas ask your ALHI GSO about working with Global DMC Partners
---
Stay / Meet
---
The peaceful Sonoran desert, mountain views and brilliant sunsets are among the amenities guests to the Phoenix and Scottsdale area experience. Luxury hotels here are all uniquely inspired by the desert aesthetic.  The Wigwam, Arizona Grand Resort and Spa and the Fairmont Scottsdale Princess have renowned golf courses with desert landscapes serving as picture-perfect backdrops. The Omni Scottsdale Resort & Spa at Montelucia was designed as a Spanish-style retreat with the commanding presence of Camelback Mountain. In Scottsdale, The Scott Resort & Spa is a contemporary oasis close imbued with old Havana charm and that's within close proximity of Old Town's restaurants, shops and art galleries. In downtown Phoenix, Kimpton Hotel Palomar Phoenix rooftop shows off mountain and cityscape views. One thing this collection of Southwestern hotels all do in their own way is expertly make use of their outdoor space for events.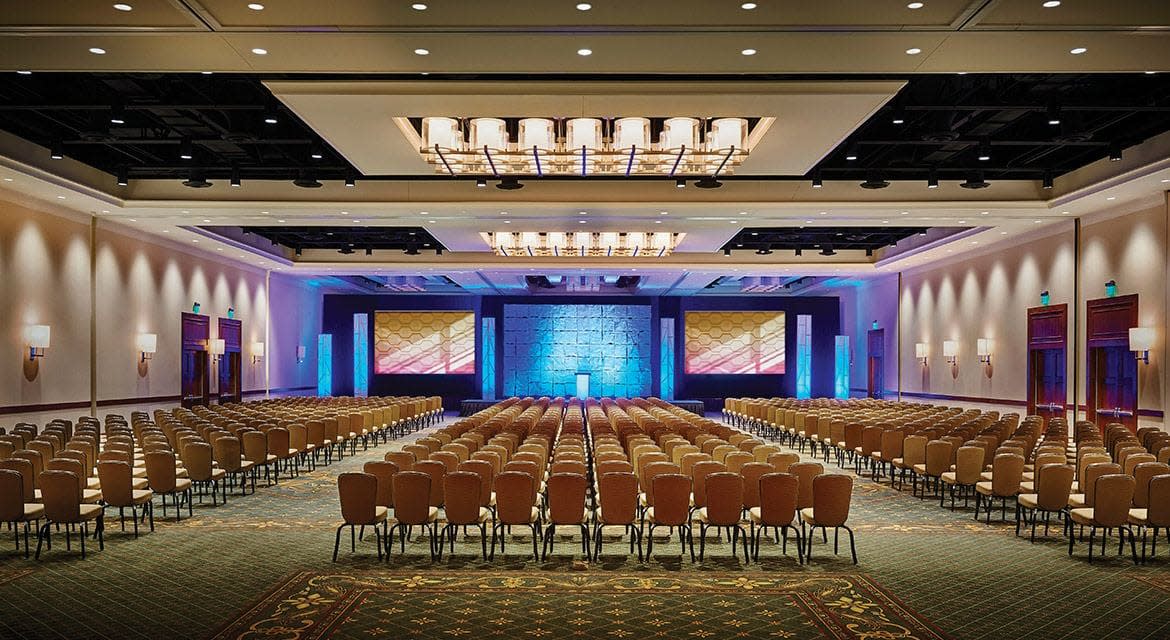 photo credit: courtesy of Arizona Grand Resort and Spa
An all-suite luxury hotel, Arizona Grand Resort and Spa has standout amenities such as hiking trails, 7-acre Oasis Water Park and a challenging golf course with mountain vistas in the background. A $13 million renovation gave the resort a "home away from home" feel to the suites and villas. The hotel is a premier meeting destination, with more than 120,000 square feet of flexible indoor and outdoor meeting space.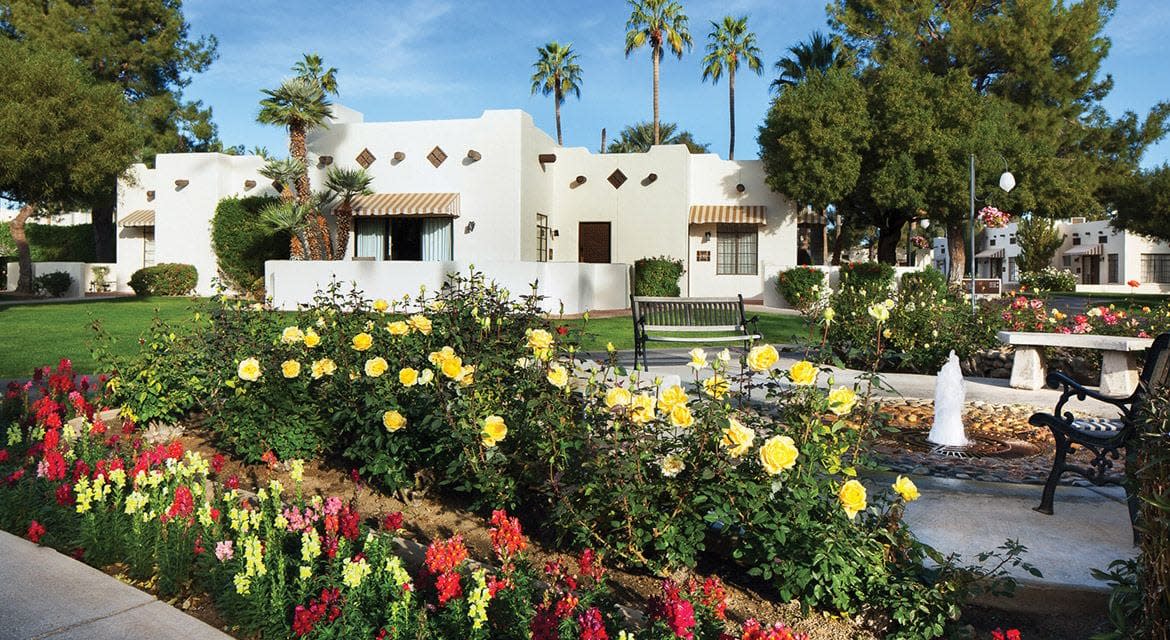 photo credit: courtesy of The Wigwam
Striking an ideal balance of historic charm with modern luxury, the Wigwam is a 440-acre resort with exclusive amenities, including 54 holes of championship golf, nine tennis courts, the LeMonds Aveda Salon and a trio of pools. The Litchfield Park resort has 30,000 square feet of meeting space, including 26 meeting rooms.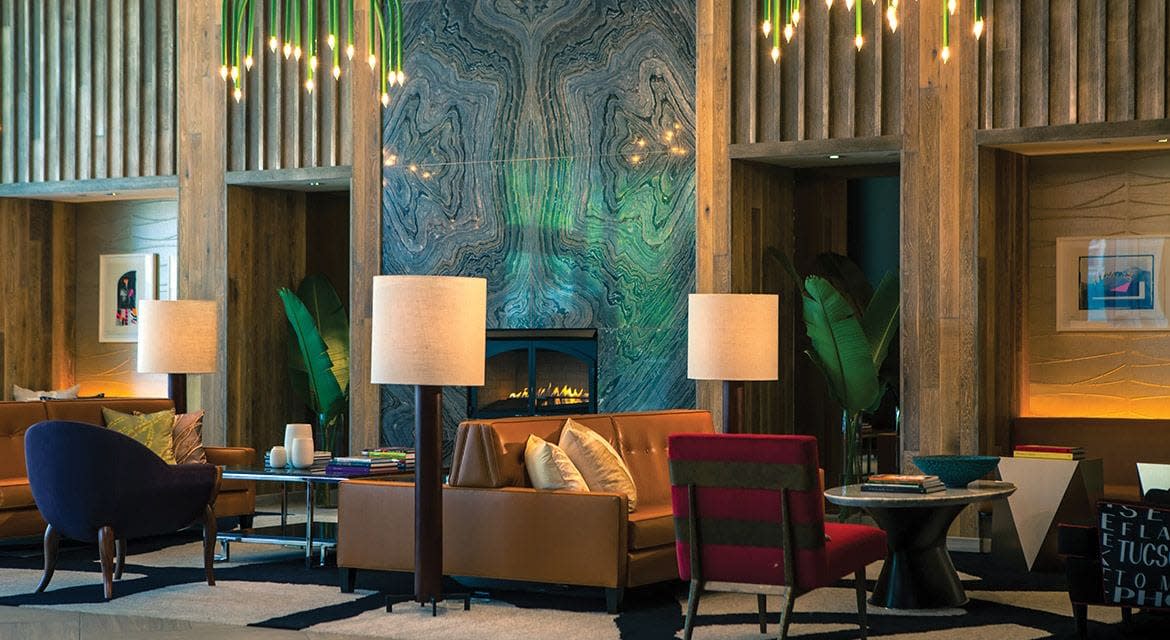 photo credit: courtesy of Kimpton Hotel Palomar Phoenix
A modern, urban retreat, Kimpton Hotel Palomar Phoenix has a prime location at CityScape, which is a downtown hub for shopping, dining and entertainment. Guests here can soak up the sun on a rooftop pool, enjoy a pop-up art studio and will find Gaiam yoga mats in their rooms along with on-demand yoga and pilates programming. The 242-room boutique hotel has 10,000 square feet of meeting space.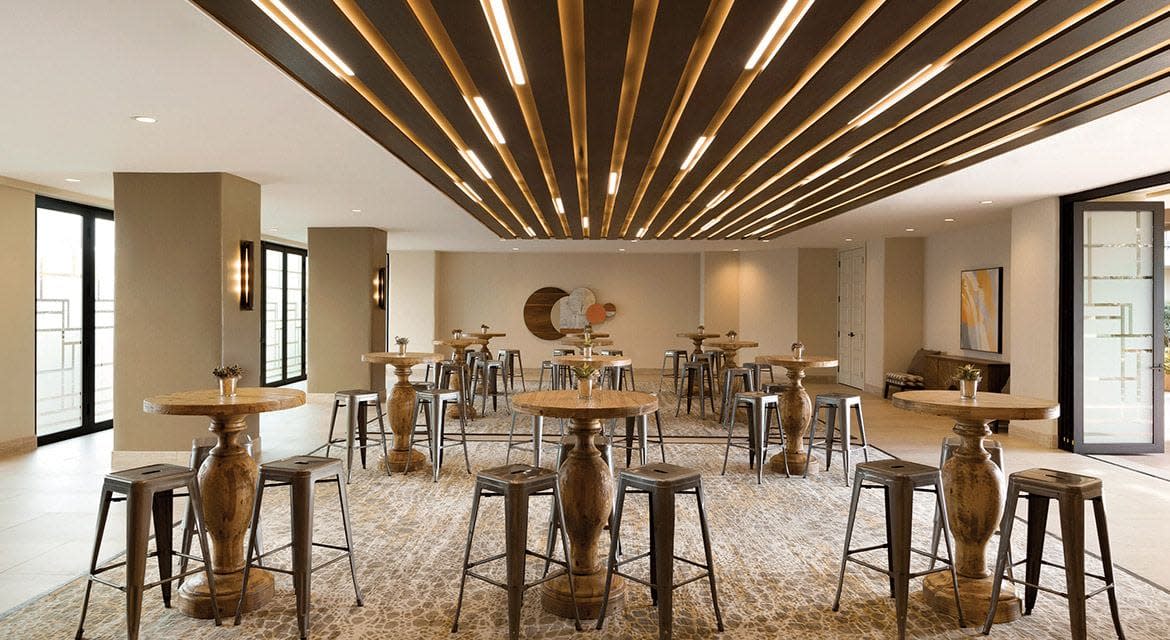 photo credit: courtesy of Fairmont Scottsdale Princess
Retreat to a luxe desert wonderland at the Fairmont Scottsdale Princess, with thoughtful, state-of-the-art amenities throughout the resort, including stunning pools and private cabanas, two 18-hole championship golf courses, and an award-winning spa. The resort has 206,000 square feet of meeting space, with 49 meeting rooms, plus a Fed Ex Business Center.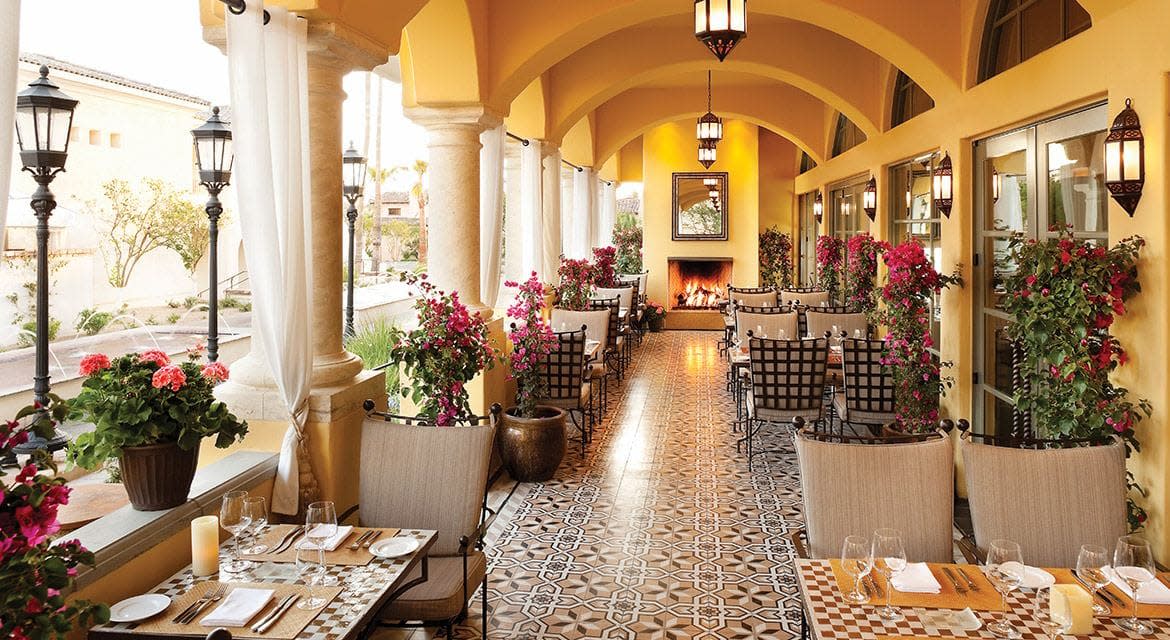 photo credit: courtesy of Omni Scottsdale Resort & Spa at Montelucia
With a prime location nestled up against the base of Camelback Mountain, the Omni Scottsdale Resort & Spa at Montelucia is a Spanish-style retreat with mountain-view rooms. Pools, cabanas, a 24-hour fitness center and the Joya Spa and Salon will help guests get some R&R. The resort has 22,000 square feet of meeting space and 22 meeting rooms.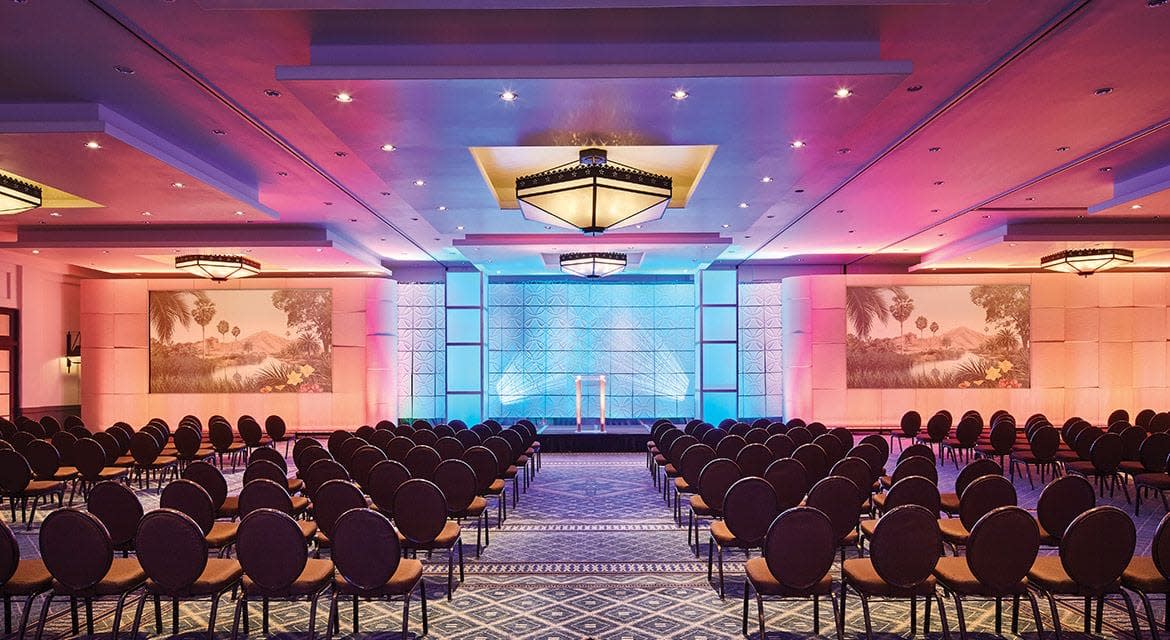 photo credit: courtesy of The Scott Resort & Spa
Steps from downtown Scottsdale, an old Havana theme is thoughtfully thread throughout The Scott Resort & Spa, a newly reinvented hotel with an abundance of natural light and greenery. The resort has two sprawling pools set in lush gardens and seasonal spa treatments offered at La Vidorra. The resort boasts 14,500 square feet of meeting space and 14 meeting rooms.
For more activities and ideas ask your ALHI GSO about working with Global DMC Partners