Fort Worth's Cultural District is a true Texas treasure. World-class museums are located within this compact, walkable neighborhood, including the Kimbell Art Museum, which is home to Michelangelo's first-ever painting and the famed artist's only piece in the Western Hemisphere that's on display. Over at the Modern Art Museum of Fort Worth, Andy Warhol's pop art graces the walls, and the district's National Cowgirl Museum and Hall of Fame is an ode to Annie Oakley and other women who shaped the Wild West.
"Fort Worth is known as the museum capital of the Southwest," said Terran Fleenor, senior manager of public relations with Visit Fort Worth. Previously, though, she said, visitors would stay downtown and travel into the cultural district to see all of the sights and explore all of the cultural offerings. Now, the district's rich arts and culture scene extends to a new luxury hotel: The Crescent Hotel, Fort Worth, which opened its doors in November, allows visitors and meeting guests to stay in the heart of the neighborhood, surrounded by cultural landmarks.
A welcome arrival for art lovers and culture connoisseurs, and an inspiring destination for meetings and groups, the beautiful, art-filled The Crescent Hotel, Fort Worth has more than 20 works of original art that were inspired by the neighboring museums and that span a variety of mediums.
The hotel is helping Fort Worth solidify its reputation as an elevated and modern Western destination—a place where you can two-step, shop for cowboy hats and boots, watch a cattle drive, explore the Fort Worth Stockyards, all while immersing yourself in a remarkable, world-renowned arts scene and enjoying a luxury stay during a meeting or incentive trip.
Read on to find out why Fort Worth is poised to be a top meeting destination in 2024, and how The Crescent Hotel, Fort Worth is becoming the arty living room of the destination.
Meeting At The Crescent Hotel, Fort Worth
---
Step foot in the hotel and guests are welcomed with floor-to-ceiling windows and glass doors in an architecturally beautiful, light-filled space. OZ Architecture designed the five-story hotel to blend in seamlessly with the Cultural District. Interiors—a balance of stone, wood, concrete, and locally sourced bricks—were designed by Rottet Studio.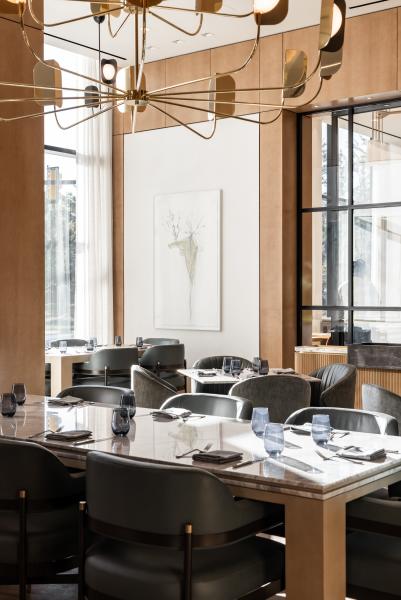 The hotel features 200 guest rooms and a dozen luxury suites, which feature local artwork, mini bars, lounge seating and ample workstations. At The Crescent Hotel. Fort Worth, meeting planners have their pick of 10 sophisticated and unique venues, which includes a nice mix of indoor and outdoor spaces that inspire creativity and productivity.
The pièce de résistance? A lush, 8,000 square-foot courtyard. With a custom, climate-controlled tent, the courtyard is available for year-round, outdoor events including galas and weddings.
Some other areas that set the hotel's meeting spaces apart include the Crescent Ballroom, which has floor-to-ceiling windows that open to an outdoor space, and an exclusive rooftop bar with sweeping views of Fort Worth. The hotel also has state-of-the-art boardrooms and breakout spaces.
Emilia's is The Crescent Hotel, Fort Worth's signature restaurant, serving Mediterranean fare with a menu curated by Chef Preston Paine of Food Network's "Ciao House." Chef Paine has worked with top purveyors and farmers in Texas to craft the menu, which draws inspiration from the Mediterranean and Adriatic Sea.
The Crescent Hotel, Fort Worth's Impressive Art Collection
---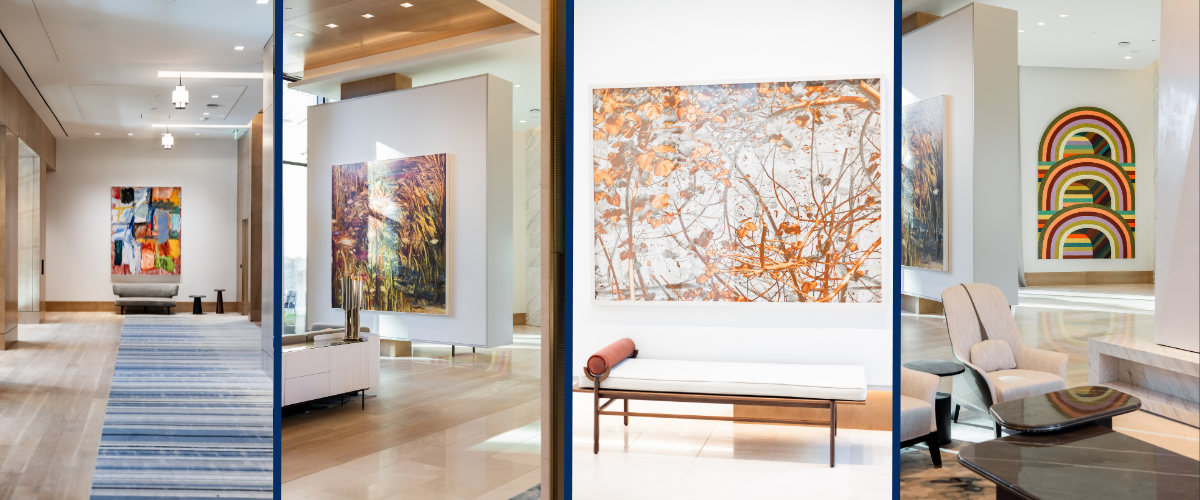 In a way, The Crescent Hotel, Fort Worth doubles as an art gallery. The hotel commissioned several pieces of art and obtained others to put on display throughout the hotel, The Circle Bar, and Emilia's restaurant
When The Crescent Hotel, Fort Worth was curating its own art collection, it looked to some of Fort Worth's world-renowned cultural institutions including the Kimbell and the Modern Art Museum of Fort Worth as well as the Amon Carter Museum of American Art, which spans 200 years with its collection.
The Crescent Hotel, Fort Worth's collection includes work from national and international artists who have created pieces through a number of mediums. Some collection highlights include a 9-foot-tallstone and boulder sculpture in the hotel courtyard created by Mexican sculptor and trained architect, Jose Dávila. His work is intended to explore perceptions of balance and the relationship between tension and stillness. Bordering on the abstract, Madeline Peckenpaugh's rich painting peers into a dreamy landscape.
Artist Matt Kleberg's colorful and cheerful piece is a nod to the notable arches at the Kimbell Art Museum that was designed by famous architect Louis Kahn. The hotel's collection also includes a trio of oil paintings of horses from Los Angeles artist Andy Woll and a colorful four-piece abstract series from German artist CorneliaBalts.
Why Fort Worth in 2024?
---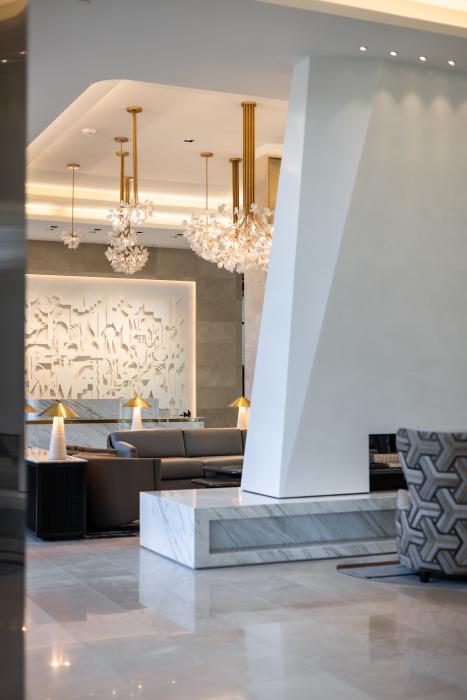 With the arrival of The Crescent Hotel, Fort Worth, the city makes for a one-of-a-kind meeting destination. The urban center has rodeos and cowboy culture, plus world-class museums and a lively downtown with twice-daily cattle drives.
Fort Worth is certainly a memorable destination for meetings and incentive groups. It's also a convenient meeting destination. A short drive from the Dallas-Fort Worth Airport, and easily reachable on the TEXRail, getting to Fort Worth is seamless for groups with travelers flying in from different parts of the country. The region is also well-equipped to handle large groups. For example, Dickies Arena can host large trade shows and exhibitions, as well as concerts and sporting events.
Suffice it to say, there's no shortage of things to see and do while meeting at The Crescent Hotel, Fort Worth, from taking in the hotel's art to exploring the nearby attractions. The hotel's location in the heart of the Cultural District also gives way to unique partnerships with renowned local museums and attractions. At The Crescent Hotel, Fort Worth, groups can enjoy an inspiring stay.