Groups Booking Experiences at Dolphin Cay Help Fund the Nonprofit Atlantis Blue Project Foundation
When Manny-T the manatee was rescued in The Bahamas a few years ago, he was in dire straits. Weighing in at a scant 365 pounds, less than half the healthy weight for a manatee his size, he was in immediate need of help. The wild Florida manatee, one of about 3,000 male Florida manatees left in the world, was placed in the care of the marine mammal team at Atlantis Paradise Island resort, the only full-service resort in The Bahamas with a medical laboratory, research center and holding capacity of an independent marine life facility.
Manny-T Rescue and Release
---
Manny-T spent three months under the watch of Atlantis' marine mammal specialists and veterinarians at the resort's Dolphin Cay, and with the help of local and international research partners was rehabilitated and released back to the wild weighing 840 pounds.
The 14-acre Dolphin Cay is one of the world's largest and most sophisticated marine mammal habitats and home to the Caribbean's top marine animal rehabilitation facility. The first residents were 17 stranded dolphins and 10 sea lions whose home in Gulfport, Miss., was destroyed by Hurricane Katrina.
Groups booking aquatic life encounters at Dolphin Cay are directly helping rescue efforts like Manny-T. Part of the revenue helps fund the Atlantis Blue Project Foundation, a nonprofit dedicated to sustaining and protecting marine life, coral reefs and the surrounding oceans. Founded in 2005, the Atlantis Blue Project Foundation collaborates with a variety of conservation organizations to help rescue and rehabilitate marine life and get them the help they need, according to Michelle Liu, Senior Vice President of Marine and Water Park Operations at the resort. 
"The foundation is funded is through our guest's participation in marine programs," Liu said. "A portion of every program a guest participates in goes to funding the Blue Project Foundation." Groups can also donate directly to the foundation.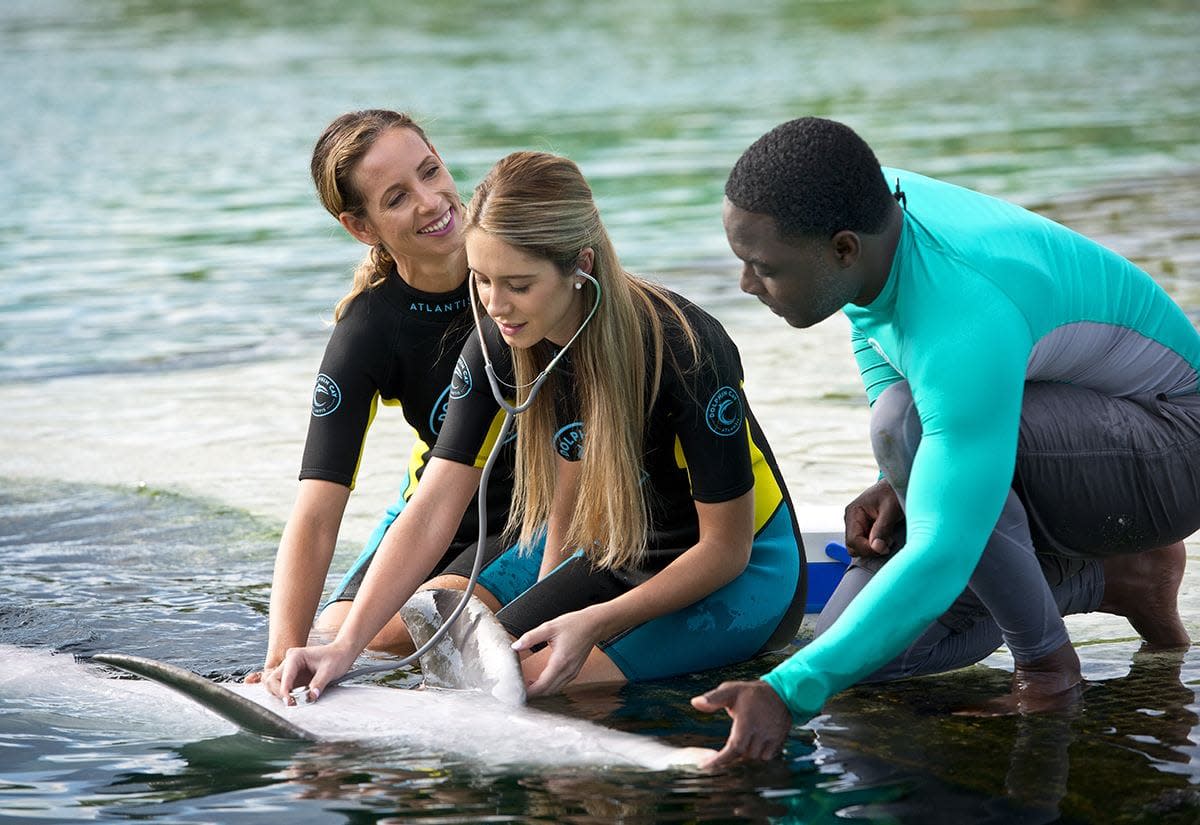 Trainer For A Day
---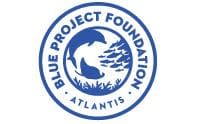 The foundation supports programs designed to preserve and enhance global marine ecosystems through scientific research, education and community outreach. Emphasis is on marine protected areas, coral reef conservation, cetacean conservation, and research in The Bahamas and the surrounding Caribbean seas.
"The whole idea when the foundation was formed was really our way of giving back to the marine environment because there are a lot of challenges we face," Liu said. "We work a lot with other partners and environmental groups to carry out these projects."
The first project was habitat protection and restoration on Andros Island, the largest island in The Bahamas. "We partnered with The Nature Conservancy to create a marine protected area of 875,000 acres. Several years later we were able to expand that park to 1.4 million protected acres. It's a really important nursery ground for endangered species, such as the smalltooth sawfish, sharks and green sea turtles that are now protected in The Bahamas."
The Atlantis Blue Project Foundation helps fund the conservation projects, and those funds are largely derived from the varied programs offered to the resort's groups and guests.
Programs at the resort vary from marine mammal encounters to behind-the-scenes tours.
"All of our programs have a huge educational message," Liu explained.
The sea lion program, for example, takes visitors behind the scenes where experts share how the resort feeds and cares for its family of sea lions. Visitors also have the opportunity to swim with a sea lion.
Private Group Experiences
Groups meeting at Atlantis Paradise Island can book private interactions at Dolphin Cay. One option includes spending time with dolphin behaviorists feeding, caring for, and learning about dolphins. These are usually 30-minute sessions, and there are also programs to swim with the dolphins.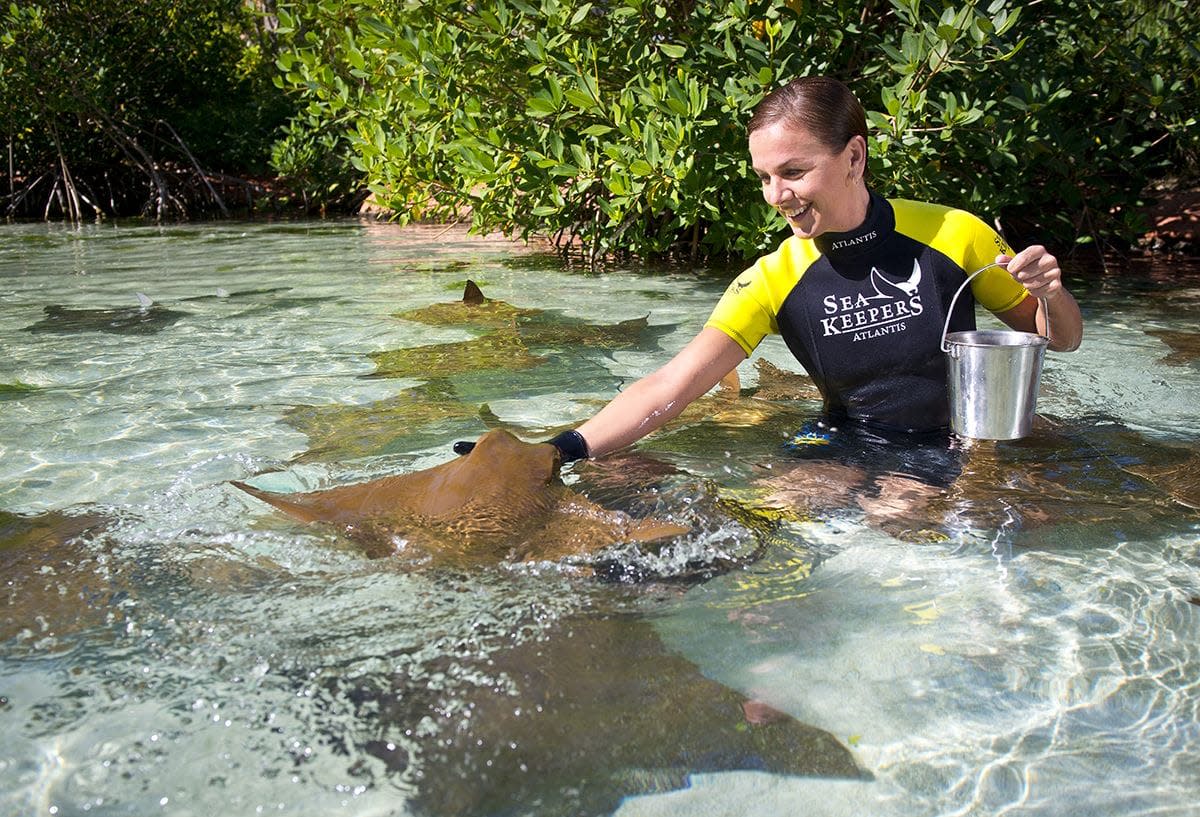 The Stingray Experience
---
Small groups can book The Stingray Experience, which entails a hands-on interaction with hundreds of Cownose stingrays and tropical fish. Attendees can feed the rays in the shallow Waters' Edge Lagoon and then snorkel alongside them. An aquarist first demonstrates the proper way to feed the rays and shares facts about the species.
Another hands-on group option is the expanded Ultimate Trainer for a Day. Participants feed, train, care for and interact with Atlantis marine animals alongside marine specialists. During the session, attendees can experience a customized dolphin interaction, feed nurse sharks and stingrays, snorkel in the Seagrapes Lagoon and take a behind-the-scenes tour of the animal hospital. The program includes lunch with a marine mammal specialist and aquarist.
There is also a sea turtle release program that smaller groups can book. Sea turtles that are born and bred at Atlantis are released as hatchlings, with 600 to 700 released on average per year.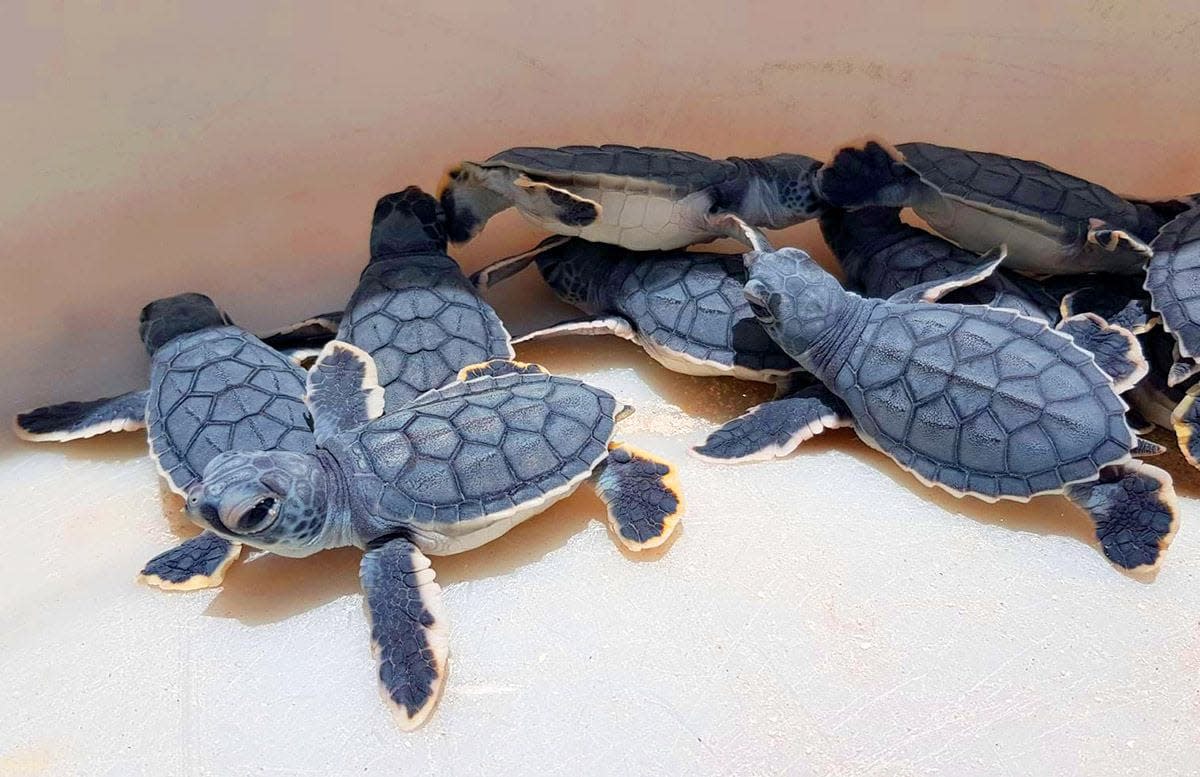 Sea Turtle Release Program
---
"Guests can participate in these releases," Liu said. "They go on a boat to release them and then can go snorkel with a population of turtles."
Groups can also organize teambuilding activities on property such as scavenger hunts that focus on marine life.
During breakout sessions, experts from the resort can talk with groups about the foundation and its initiatives, or groups that organize donation drives can use that time to present a check to the foundation, according to Liu.
For attendees visiting with their families, there is a touch tank for children, with starfish, sea cucumbers, baby sea turtles and horseshoe crabs, among other marine life.
New Marine Projects
Some of the current projects the Atlantis Blue Project Foundation is funding are studies on a disease sweeping through the coral reef system in the Bahamas--stony coral tissue loss disease (SCTLD). "It's a virus and it's killing a number of our reef-building species quickly," Liu said. "This is one of the big projects we are working on to come up with a solution, and Atlantis is playing a major role."
Liu also said there is an upcoming project working with the government for coral reef restoration. Atlantis has a coral nursery on property created by the Perry Institute for Marine Science (PIMS), the same organization that the foundation worked with funding The Bahamas' first Coral Report Card to track the health of the local coral reefs.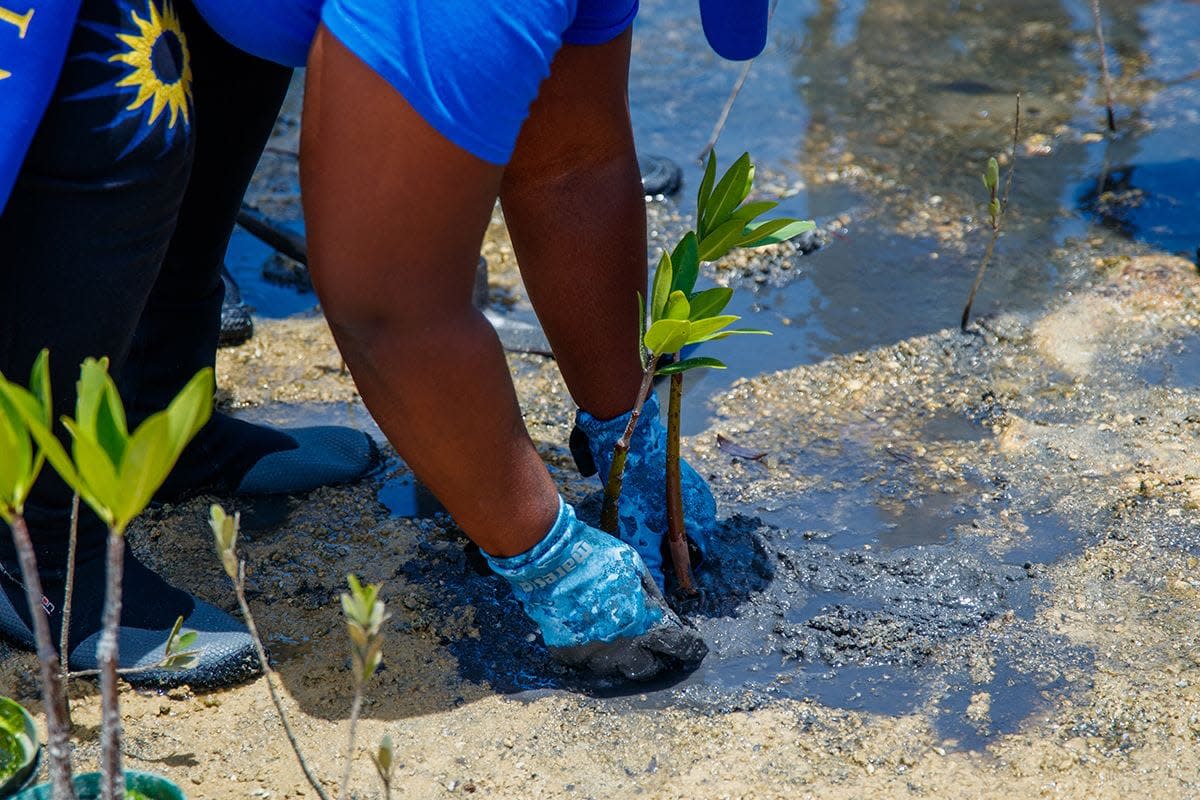 Planting Small Mangrove Trees
---
Mangrove and wetland restoration is also a priority. Atlantis grows hundreds of small mangrove trees and donates them to environmental groups to help restore local wetlands.
For groups booking an Atlantis Paradise Island meeting, up-close encounters with the resort's marine life directly support these initiatives.
---
Travel Requirements and More 
To learn more about travel requirements, visit https://www.bahamas.com/travelupdates. 
EDITOR'S NOTE: As of Jan. 1, 2022, the new room VAT throughout The Bahamas is changing from 12 percent to 10 percent.