Long before French settlers arrived in 1673, tall prairie grass and forests of spruce and poplar covered the land by Lake Michigan. Native Americans named this fertile earth "Chicagoua" after the wild garlic that still grows in the region. Redolent with history, Chicago today engages all five senses.
Birthplace of the skyscraper and seat of creative culture, this Midwest metropolis is a visual feast of architecture and art. Rooted in Chicago's ethnic and working-class heritage, deep-dish pizza, Chicago-style hot dogs, Italian beef sandwiches and other signature bites tantalize the nose and taste buds. From the blues to the roars of local sports fans, the city is vibrant with sound. Deep-seated local pride is the guiding touch behind every experience.
For groups, it is a fully flavored proposition.
Redeveloped and relaunched venues are transforming Chicago's group landscape, including Chicago's 1921-era Old Post Office, which after years sitting vacant now offers 10,000 square feet of meeting space. Group venues include the marbled grandeur of the historic 1,400-capacity lobby; Marquee Conference Center; and 3.5-acre Meadow rooftop park.
Royal Sonesta Ramp-Up
Since August 2020, Newton, Mass.-based Sonesta International Hotels Corp. has grown its seven-brand portfolio by approximately 350 percent. Driven by acquisitions and management transfers, the expansion is among the fastest in the nation and the largest in Sonesta's 80-plus year history. According to Smith Travel Research (STR), Sonesta finished 2021 as the 8th largest hotel company in the U.S.
Targeting key U.S. and international tourism destinations, the company recently unfurled three flags from its high-design, full-service Royal Sonesta line in Chicago. Under a mile and minutes by car from each other, The Allegro Royal Sonesta Hotel, The Royal Sonesta Downtown Chicago and The Royal Sonesta Chicago River North form a unique collection on either side of the Chicago River in downtown.
Each property offers a distinct sense of place and purpose.
The Allegro Royal Sonesta Hotel is an appointment with old-school Chicago. Rooted in history, this Art Deco gem offers evocative meeting spaces and other atmospheric trappings close to Randolph Street's "Restaurant Row" and the Chicago Theater District.
With a prime location by the Chicago River, Royal Sonesta Chicago is fresh off a $50 million renovation with an attractive new modern residential-style design and inspiring group venues including the 39th-floor Penthouse Ballroom.
Reflecting its location in the trendy River North neighborhood, The Royal Sonesta River North is an artful urban retreat for stylish indoor and outdoor gatherings with F&B offerings to match.
Common benefits include free Wi-Fi, 24-hour fitness centers, the rigorous Stay Safe with Sonesta health and safety program and dedicated meeting support.
"Each property offers a distinct location, style, and vibe suitable for wide range group programs of up to roughly 300 people and all feature crown jewel spaces that bring the energy of Chicago directly into the events," said David Almond, ALHI's Chicago-based Regional Vice President of Sales for the Midwest and Canada. "If planners haven't experienced Sonesta, Chicago is a great location to get familiar with the distinctive design and experiences the brand has to offer."
Staying One Step Ahead For Safety and Health
Despite the pandemic, Chicago has not been stuck singing the event recovery blues.
"We have taken health and safety seriously since the outset," said Dawn Young, Vice President, Hotel Sales at Choose Chicago. "City and state officials have remained consistent with their messaging and pandemic-related precautions, to positive effect. Several planners that recently brought large meetings here expressed that they and their clients were 'glad' to have come to Chicago because of our commitment to care."
Examples include a recent large medical convention which required vaccinations for all show labor. "Sensitive to specific client needs such as vaccinations, we were proud to deliver on that request," Young said.
Planner resources include Healthy Meetings Chicago, an interactive digital platform designed to highlight the advantageous health and safety steps taken by McCormick Place, Chicago's two airports, host hotels and hospitality industry overall.
The personal safety of planners and delegates is paramount, starting with the standard practice of notifying and briefing the Chicago Police Department (CPD) well in advance of when conventions and meetings are due in town.
"Chicago has not been immune from the increased crime coming out of the pandemic that cities around the country are facing," Young added. "We are working closely with the CPD, our partner hotels and McCormick Place to meet this unprecedented challenge. More than 12,000 men and women of the CPD actively patrol our streets and neighborhoods to provide a safe experience for visitors."
With the full in-person return this February of the 10-day Chicago Auto Show headlining a robust return to large-scale events, organizers are expressing unqualified confidence in these and other coordinated visitor safety measures.
"We are fully aware that like many major cities across the U.S., Chicago is facing concerning challenges in these extraordinary times," said Lance Fensterman, Global President of ReedPOP, the pop culture-focused offshoot of event titan Reed Exhibitions. "However, we have every assurance that Choose Chicago, along with McCormick Place and the Chicago Police Department, took (and takes) the necessary precautionary steps on behalf of our Chicago Comic & Entertainment Expo (C2E2) show. We had no reported safety-related issues at the 2021 show and can't wait to get back to Chicago and McCormick Place for our three-day Star Trek Mission Chicago 2022 event this April and three-day C2E2 2002 this August."
Mark Watson, executive director of the Radiological Society of North America (RSNA), is equally as assured.
"We host a large meeting at McCormick Place each year and work closely with Choose Chicago, McCormick Place and the Chicago Police Department to ensure we can conduct our meeting as safely as possible," Watson said. "The safety of our attendees is always a top priority. Last November, we hosted more than 20,000 attendees and exhibitors at the RSNA 2021 annual meeting in Chicago. We took all necessary precautionary steps, including orchestrating an advance call with the Chicago Department of Health and a campus-wide security meeting. With no reported safety-related issues, we look forward to Chicago serving as RSNA's host city in the coming years."
Count resolve and determination as other key resiliency factors. "We have learned how strong we are as a community, and how much we believe in meeting face-to-face and what we do," continued Young. "We know you cannot take anything for granted and I think that has helped us work smarter."
Choose Chicago is looking ahead with confidence. "We are excited to head into 2022 with an uptick in leads and several large corporate event confirmations for later this year and next," Young said.
Why Chicago?
Optimal accessibility. In a time when carriers are adjusting schedules, the large number of direct flights into Chicago's O'Hare and Midway International airports makes it easy for attendees to get here and minimize their time away from the office.

Impressive intellectual capital. Show organizers and meeting planners can tap into resources including 36 Fortune 500 companies, major universities, top hospitals and tech incubators.

From museums and theaters to live blues and shopping along the Magnificent Mile, Chicago's world-class culture and other diversions offer a wide range of agenda-boosting options.

Chicago's globally recognized dining scene is for all tastes, from Michelin-starred haute cuisine to iconic deep-dish pizza.
What's New?
City gateway since 1921, Chicago's long vacant Old Post Office was relaunched in November 2021 as a dynamic new commercial and event hub. The $800 million makeover of the three-block Art Deco landmark incorporates 10,000 square feet of meeting space.

In September 2021, O'Hare International Airport completed its 16-year, $6 billion Modernization Program. Improvements include doubling runways to eight, the most of any civilian airport in the world, reducing delays by 64 percent. The new Airport Transit System (ATS) is an automated "people mover" connecting passengers to the terminals, rental car and parking facilities, and public transportation.

The airport is continuing to expand capacity, connectivity, and efficiency through O'Hare 21, an $8.5 billion curb-to-gate transformation that includes replacing Terminal 2 with the new 2.25 million-square-foot O'Hare Global Terminal and expanding Terminal 5 by 10 new gates.

Completed in 2020, the Midway Modernization Program is the most significant capital program at Midway International Airport in nearly 20 years. Enhancements include a new 80,000-square-foot security pavilion. Combined with new TSA automated lanes, the facility has doubled the throughput of passengers to 5,000 per hour.
---
See
---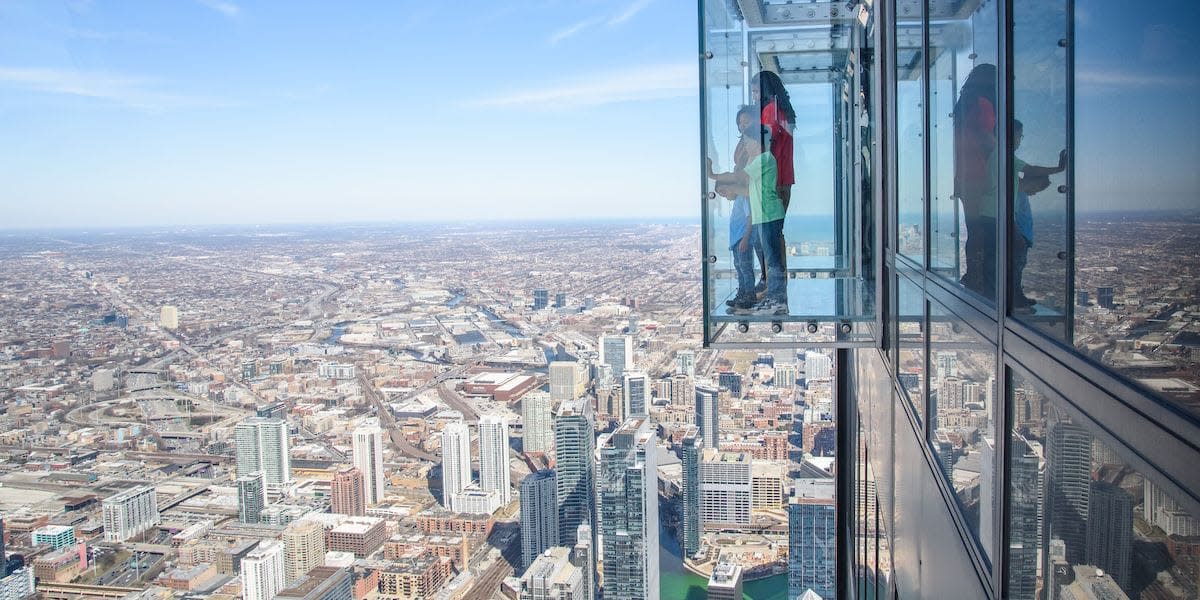 Sky-High Sensations
Groups booking the 99th-floor Willis Tower Skydeck get 50-mile views and flexible hosting for 300, plus VIP access to The Ledge on the 103rd floor, America's highest observation deck. Another vantage point, 360 Chicago, located on the 94th floor of 875 N Michigan (formerly the John Hancock Center), offers 360-degree city views and 550-capacity buyouts.
Buddy Guy's Legends
Influenced by Mississippi Delta musicians who came to Chicago in the early 1940s, Chicago's electrified blues is the bedrock of rock and roll. Arriving from Louisiana in 1957, Buddy Guy remains a vital link to that historic home-grown era. The master regularly plays at his club, which hosts 600-capacity events.
Chicago's Museum Campus
Set on a 57-acre park by Lake Michigan, the Adler Planetarium, Shedd Aquarium and Field Museum of Natural History offer a universe of exploration and event options for groups. The scenic campus is also home to event-capable Soldier Field, home of the NFL's Chicago Bears, and McCormick Place's multi-venue Lakeside Center.
For more activities and ideas, ask your ALHI GSO about working with Global DMC Partners.
---
Do
---

Millennium Park
Attracting 20 million visitors annually, this green expanse in the Loop is Chicago's downtown playground for the arts. Home to festivals, concerts and hundreds of free public programs, the Park integrates multiple venues for events large and small. Highlights include the acoustically superior Jay Pritzker Pavilion, Rooftop Terrace and tree-lined Chase Promenades.
Chicago Architecture Tours
Completed in 1885, the Home Insurance Building was the world's first steel-framed skyscraper. Today, downtown and Chicago's neighborhoods are a pantheon of high-rise and other landscape-defining landmarks. Guided walking and river tours from The Chicago Architecture Center (CAC) and partner First Lady Cruises bring their stories to life. The CAC also offers event rentals.
Chicago Theatre District
Historic marquees including the CIBC Theatre, James M. Nederlander Theatre, and Cadillac Palace Theatre headline Broadway in Chicago's world-class ensemble of stages in the Loop. With other downtown landmarks including the 1889 Auditorium Theatre, other gems include Tony Award-winning Chicago Shakespeare Theater at Navy Pier and Lincoln Park's Steppenwolf Theatre.
For more activities and ideas, ask your ALHI GSO about working with Global DMC Partners.
---
Eat
---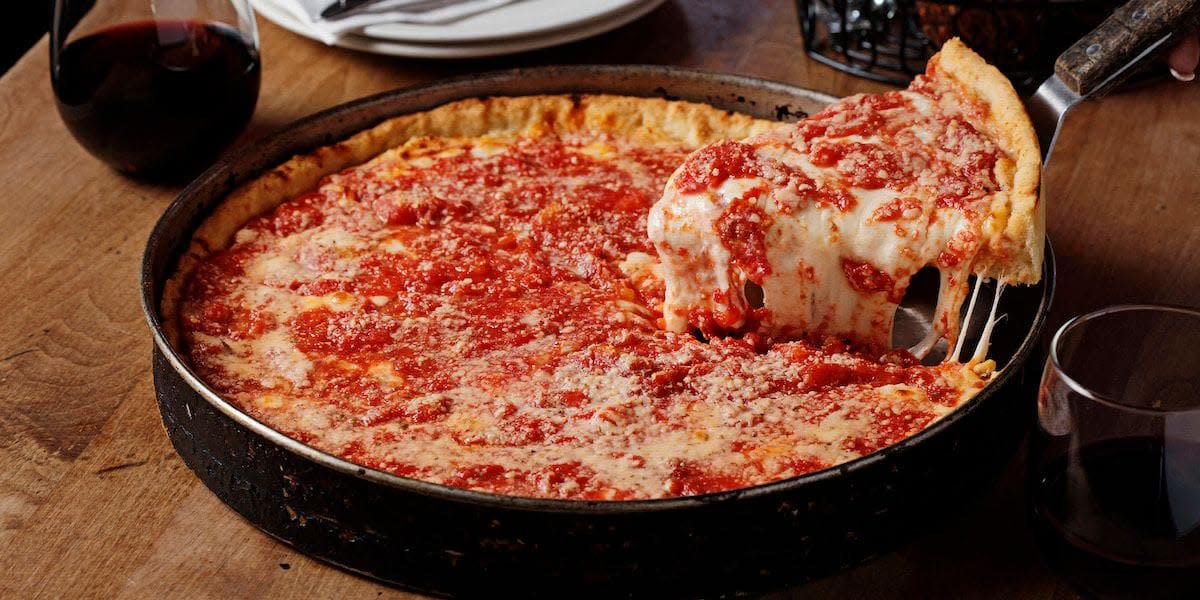 Deep-Dish Pizza Tour
Founder of award-winning Lip Smacking Foodie Tours in Las Vegas, native Chicagoan Donald Contursi brings his concept home with self-guided tours of three deep-dish pizza landmarks. The two-hour VIP experience includes immediate seating and service in 10 minutes instead of the typical 45. Plus, they offer an innovative virtual guide to each restaurant and leftovers to go.
West Loop
In 2021, Michelin awarded 24 Chicago restaurants with one- two- and three-star honors, along with 58 Bib Gourmand recommendations. City-wide culinary constellations include the West Loop. Epicenter of Chicago's produce and meatpacking industries in the 1800's, this vibrant district is for private dining and events at venues such as Sepia, Oriole, Rose Mary and Time Out Market Chicago.
Gibsons Bar & Steakhouse
While Chicago's mighty stock yard days are in the past, the city remains a global headquarters for steak houses. Part of the Gibsons Restaurant Group, which can arrange private dining for up to 1,000 guests across its portfolio, this downtown hotspot offers six distinct private dining spaces with adjacent Hugo's Frog Bar & Fish House.
For more activities and ideas, ask your ALHI GSO about working with Global DMC Partners.
---
Stay / Meet
---

With ties to Chicago's legendary 1893 World's Fair, The Allegro Royal Sonesta Hotel is a classic choice in the dynamic Loop district. Built in 1924, the Art Deco-inspired building's rich tradition of hospitality continues today with 483 rooms and suites and 14,900 square feet of versatile space in 15 venues. Historic appointments include the Walnut Room, featuring restored chandeliers and wood paneling. For dining, 312 Chicago features authentic Northern Italian cuisine, while Bar Allegro is a classic American bar with contemporary flair. Steps from attractions such as Randolph Street's "Restaurant Row" and the Chicago Theater District, the Allegro puts delegates in the heart of Chicago cuisine, culture and commerce.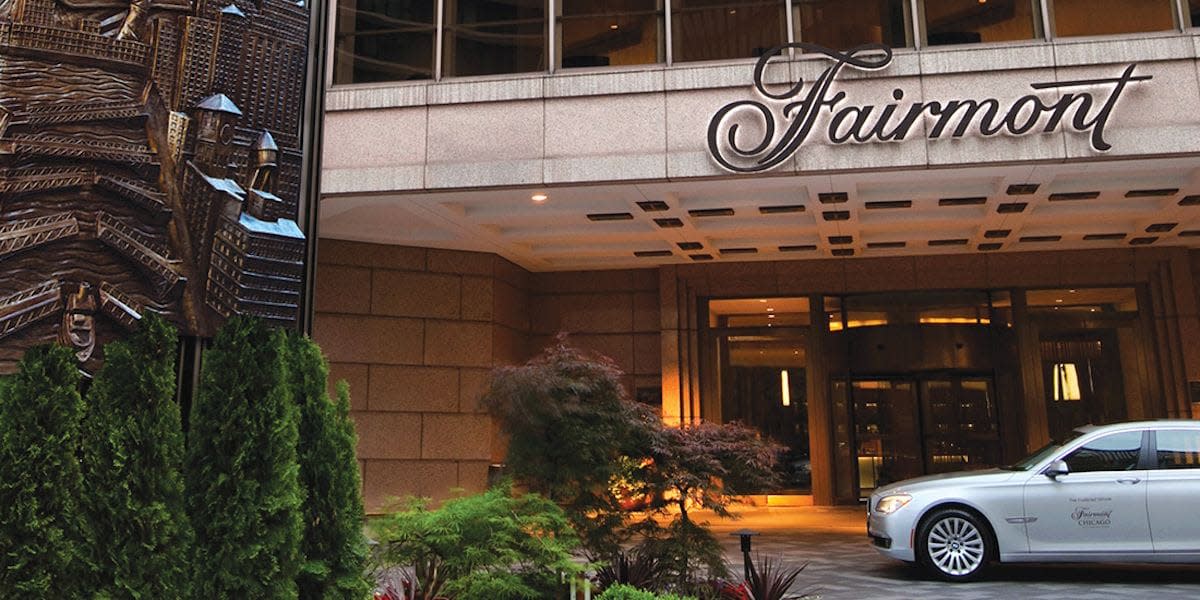 Centrally located in the heart of downtown, Fairmont Chicago, Millennium Park offers the premier luxury of 687 recently renovated rooms and suites. Groups have 63,000 square feet of creatively designed space, including the 16,100-square-foot Imperial Ballroom. Views of nearby Maggie Daley, Millennium and Grant parks, along with Lake Michigan and the city skyline set a scenic stage for events. Culinary offerings include a Midwest-focused gastropub menu at Columbus Tap and libations at The Bar, a hybrid coffeehouse-cocktail lounge. Other amenities include mySpa and wintertime Fairmont Lodge, with indoor "fire pit" tables, festive programming and more.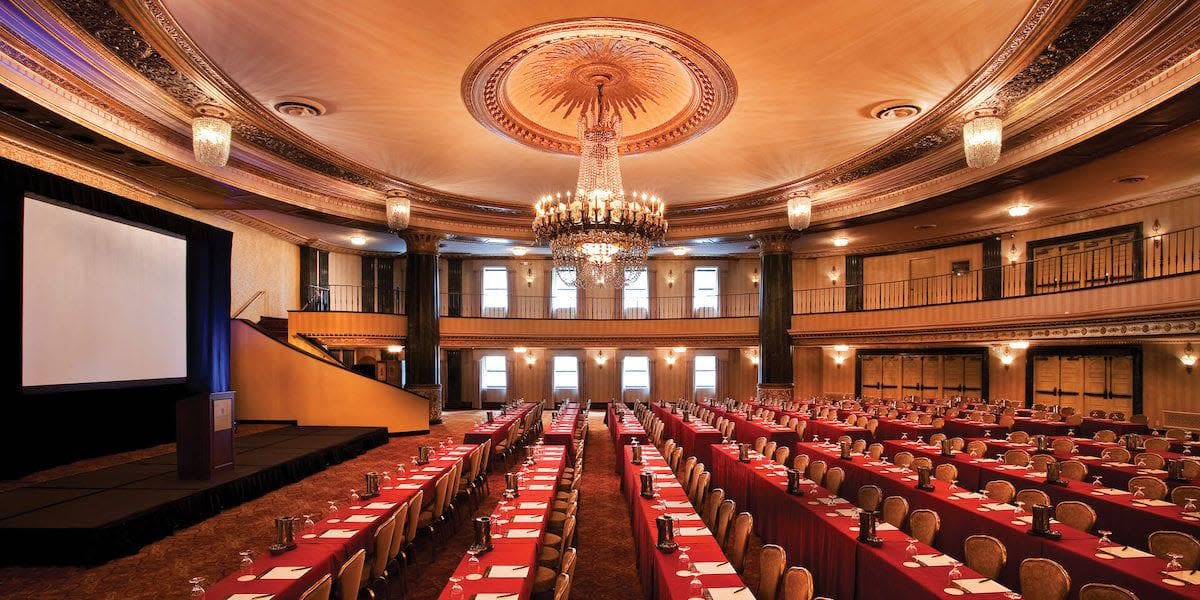 Opened in 1929 as the Medinah Athletic Club, the 792-room InterContinental Chicago Magnificent Mile offers a towering appointment with local history. Receiving a multi-million-dollar 90th anniversary refresh in 2019, the hotel's 45,000 square feet of flexible space includes six regal ballrooms. Featuring a 12,000-pound Baccarat crystal chandelier, hand-painted murals, and overhanging balcony, the elliptical 2,000-capacity Grand Ballroom is an event stage for the ages. Other options include dining at Michael Jordan's Steak House and wellness offerings replete with a three-level fitness facility, junior Olympic swimming pool and Spa InterContinental.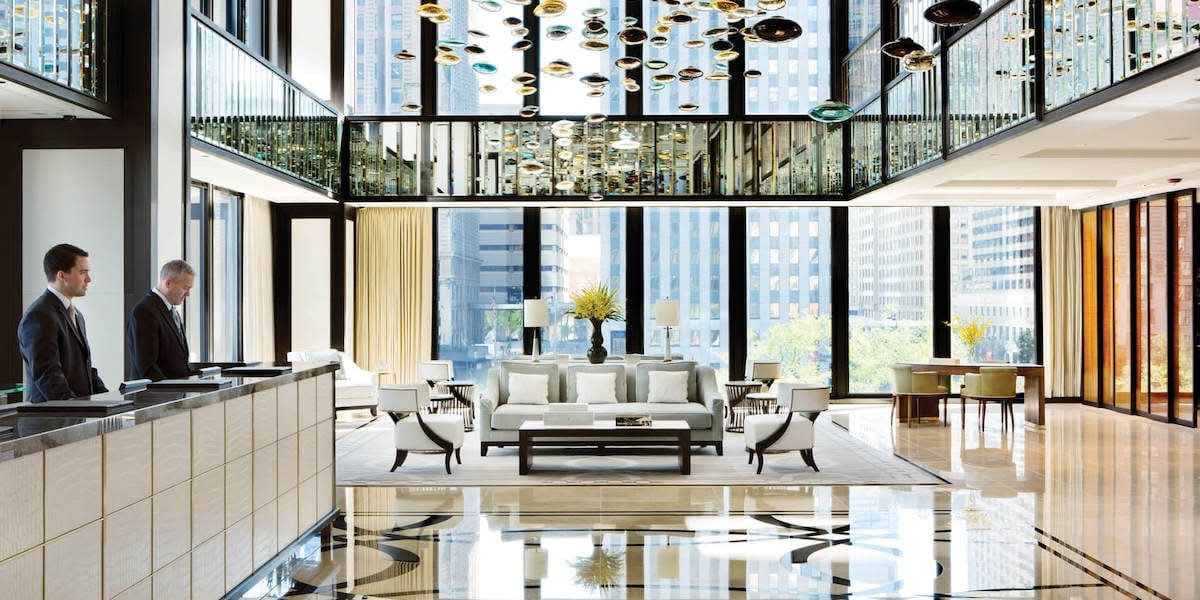 Legendary Modernist architect Ludwig Mies van der Rohe's many contributions to the Chicago cityscape include the former IBM Plaza tower from 1972. Today, the 52-story landmark includes The Langham, Chicago on its lower floors. Redesigned by Mies' grandson, the lobby announces the hotel's artful Forbes Five-star elegance. The 316 rooms and suites are among Chicago's most spacious. Groups have 15,000 square feet of versatile space in 12 meeting rooms, including the Devonshire Ballroom and Cinema Suite. David Rockwell-designed Travelle, featuring seasonal American-driven fare, has semi-private dining for 32. Relaxing oases include the 22,000-square-foot Chuan Spa.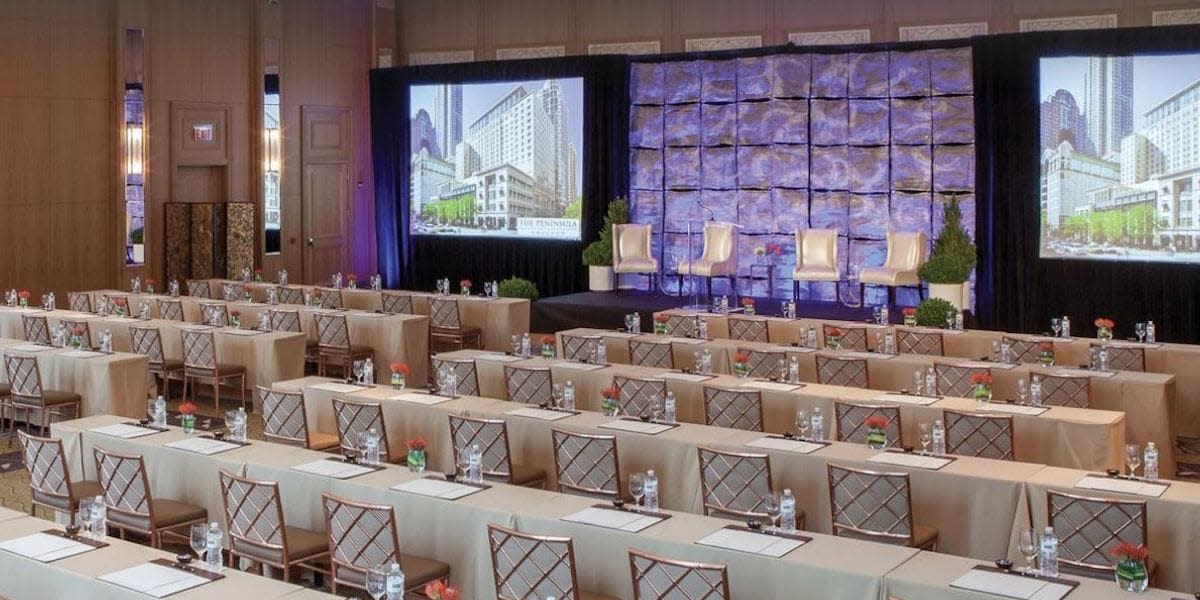 With stellar spaces such as the glass-enclosed Grand Ballroom, with an outdoor terrace panoramically overlooking Chicago's Magnificent Mile, The Peninsula Chicago is a luxurious Forbes Five-Star, AAA Five Diamond address in downtown Chicago. From executive meetings to galas, the hotel offers 11,250 square feet of space in 10 venues for up to 350 guests. Award-winning dining includes the Cantonese and Shanghainese menu at 1930s supper club-inspired Shanghai Terrace. Z Bar offers inventive cocktails and cuisine with outdoor seating. Spa amenities including an indoor half-Olympic length pool and 19th-floor Sun Terrace, are available for seasonal events.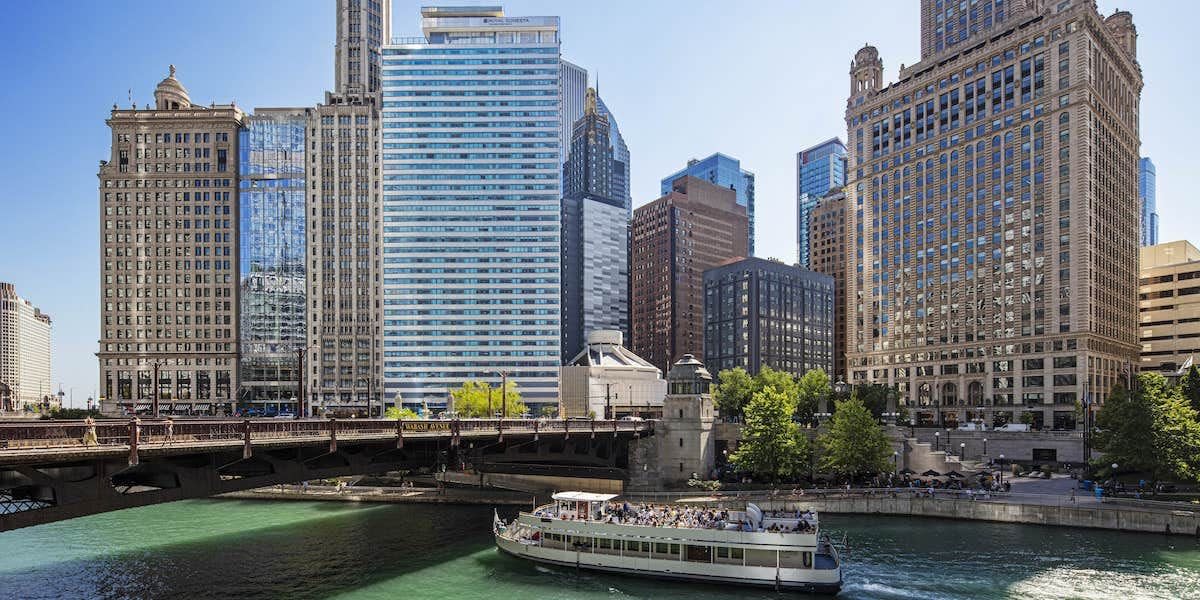 Relaunched in November 2021 following a nine-month, $50 million renovation, Royal Sonesta Chicago Downtown offers a spectacular window on Chicago. With ready access to the Riverwalk, the sleek glass tower houses 300 residential-style guest rooms, among the largest in Chicago, and 81 suites, some with a Peloton bike. Commanding river and city views also set the stage for cinematic gatherings in 16,000 square feet of updated space across 18 rooms. Serving as Bruce Wayne's luxury digs in 2008's The Dark Knight, the 39th-floor Penthouse Ballroom boasts 360-degree city views and 1,600 square feet of outdoor terrace space. Artful interiors feature Chicago-inspired design motifs, with Midwestern cuisine at cosmopolitan Hoyt's American Tavern.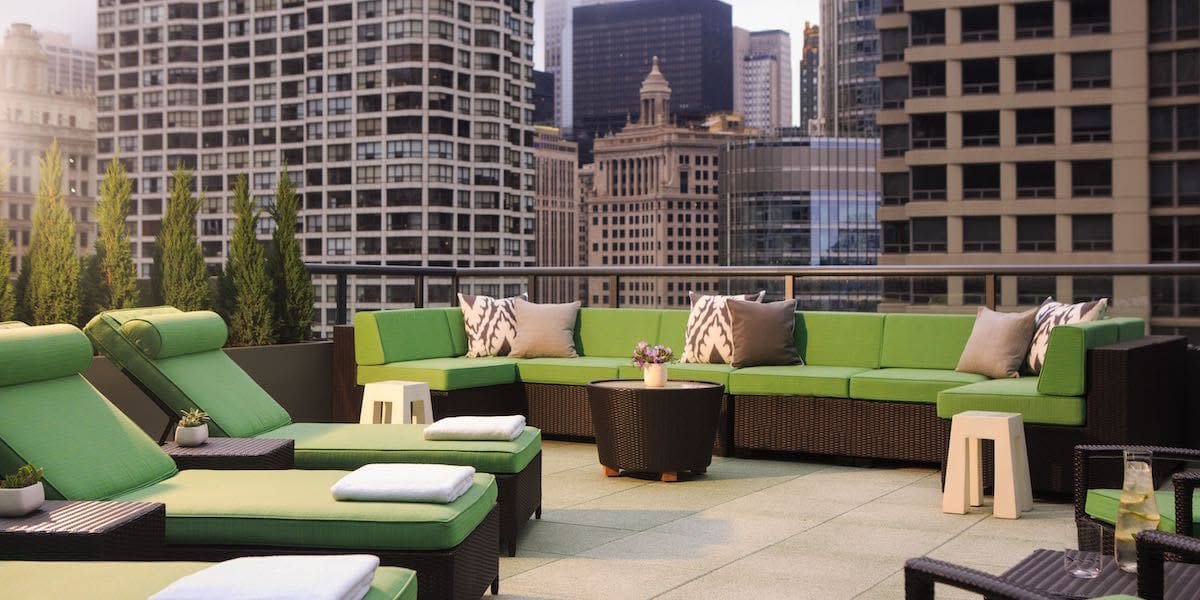 Chicago's hip River North neighborhood is alive with art and design. Offering 261 elegant rooms, including 41 suites, and 8,100 square feet of flexible space in 10 venues Royal Sonesta Chicago Riverfront North stylishly puts delegates in the heart of the action. Spectacular vantage points also define this upscale urban sanctuary, such as the grand Gallery Ballroom, with floor-to-ceiling windows and outdoor terrace, and 17th floor Fresco Terrace. The Canvas event room features an open kitchen and two distinctive outdoor patios. C.B.R. ("corn, barley, and rye") is for inventive New American cuisine, hand-crafted cocktails and a global whiskey menu.
For more activities and ideas, ask your ALHI GSO about working with Global DMC Partners.