For all of its notoriety and high-powered residents, Washington, D.C. is, at its heart, a city of neighborhoods, each with its own vibe. From the buzz of Capitol Hill to the elegance of Georgetown, the Bohemian-chic of Dupont Circle to the museums and monuments that line the National Mall, there truly is a place for everyone in Washington.
With all the city has to offer, from its culture and dining to green spaces and ease of getting from one place to the next, meeting planners and their attendees will agree that D.C. is the place to be.
 
Why Washington D.C.?
What's New?
Metro's Silver Line Extension opened in November 2022 and connects the rail system to Washington Dulles International Airport.
$10 billion project is underway to expand and modernize Union Station, which services Metro and Amtrak trains.
The National Park Service is undertaking a $69 million renovation project at the Lincoln Memorial that will include a bookstore and museum in the space underneath the memorial.
The Wall of Remembrance was recently dedicated at the Korean War Memorial.
The new Franklin Park is the city's largest green space
 
There are plenty of options when it comes to things to see and do in Washington, D.C., as well as places to grab a bite to eat, or host a power brunch, lunch or dinner. Here, we take a look at a few spots to pique your interest.
---
See
---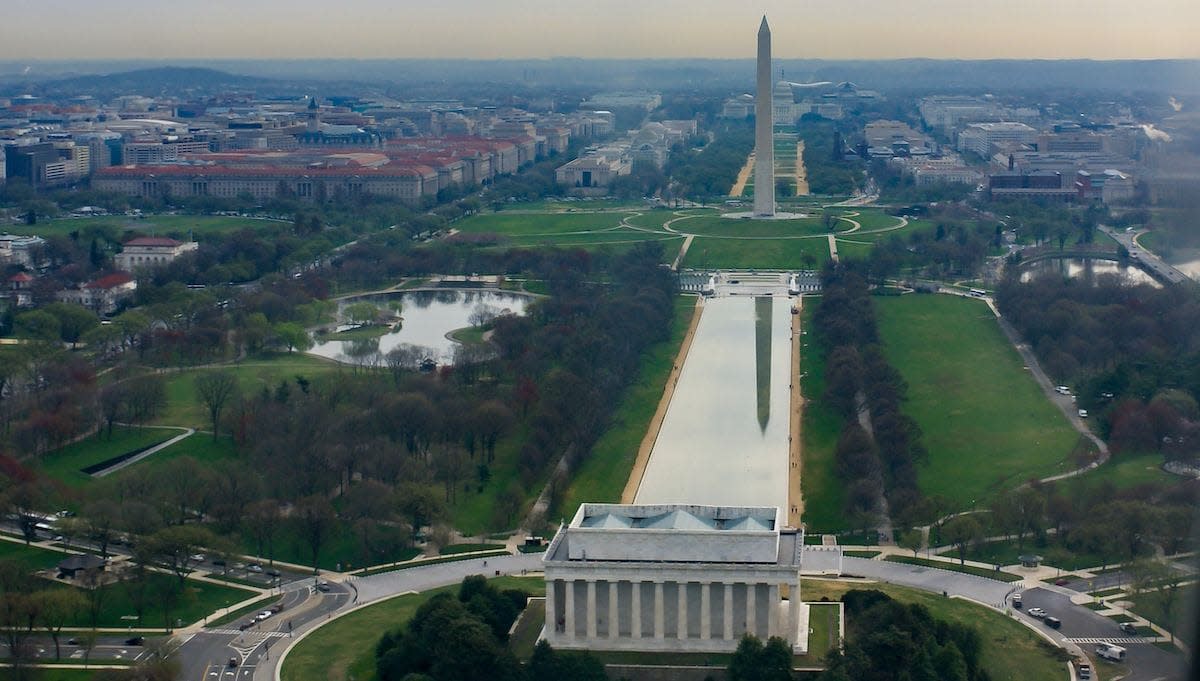 The National Mall
Known as "America's Front Yard," the more than 1,000 acres of green space that comprise the National Mall spans from the U.S. Capitol to the Lincoln Memorial, with more than 100 unique monuments and memorials, not to mention parks and fountains, along the way. Eleven of the Smithsonian's museums are right off of the Mall, as is the Washington Monument, U.S. Botanic Garden and National Gallery of Art, to name a few. Several Metro stops within close proximity to the Mall make the swath of land easy to access from throughout the city.
Georgetown
One of the city's charming neighborhoods is Georgetown, right on the Potomac River. The historic C&O Canal runs through Georgetown, in which you will also find amazing restaurants, shops and boutiques filled with tempting items to toss into your suitcase, and tree-lined streets perfect for strolling along. Georgetown Waterfront Park is a terrific spot to burn more energy, either by kayaking in the river, or jogging or bicycling along the paths.
The White House
The 132-room White House that was built in 1800 is the symbol of American democracy, and it's open for public tours. Inside, you'll visit public rooms in the East Wing like the Blue Room, Red Room and Green Room, as well as the State Dining Room, China Room and a view of the Rose Garden. If you can't snag a tour through your Member of Congress, you can still walk around and get a good look from the outside. 
For more activities and ideas, ask your ALHI GSO about working with Hosts Global Destination Services.
---
Do
---

The International Spy Museum
If you've ever wanted to be a spy, this is the museum for you! During the Undercover Mission you'll test your spy skills at myriad digital and physical interactive displays throughout the museum, all while having to remember your cover identity, crack codes and uncover hidden sites. Along the way check out espionage artifacts, including James Bond's Aston Martin, and other tools of the spying trade. The museum is available for special events to really wow your guests.
Dinner Cruise
Reveal another side of Washington, D.C. to your guests during a private dinner cruise along the Potomac River. Popular sites like the Jefferson Memorial, Lincoln Memorial, the Georgetown waterfront and more will glide by while you and your guests sip cocktails and enjoy dinner together. The photo opps and memories will last well beyond your event.
Arlington National Cemetery
A private group tour is a memorable way to visit Arlington National Cemetery, a space dedicated their lives to defending the ideals of the USA. Tours begin at an hour in length, and can be added to depending upon your interests, which could include a stop at the Tomb of the Unknown Soldier where the changing of the guard happens every hour, or every half hour, depending on time of year. Many historic figures' gravesites are at the cemetery, including John F. Kennedy, Joe Louis, Ruth Bader Ginsburg and Pierre Charles L'Enfant, who designed the layout of Washington, D.C.
For more activities and ideas, ask your ALHI GSO about working with Hosts Global Destination Services.
---
Eat
---

Gadsby's Tavern
You'll be in good company—the likes of George Washington, Thomas Jefferson, John Adams, James Madison and James Monroe—when you dine at Gadsby's Tavern in Alexandria. The restaurant has been a fine dining scene since it opened its doors in 1770, and is open for lunch and dinner. Steak and seafood dishes fill the menu, and then there's George Washington's Favorite: duck served with corn pudding, roasted potatoes, rhotekraut (a cabbage dish) and a cherry orange glacé. Brunch is served on Sundays, and private events are hosted in the 19th century ballroom.
Old Ebbitt Grill
Since its opening in 1856, Old Ebbitt Grill has been the place to see and be seen, thanks in large part to its location just steps from the White House. Considered the oldest saloon in Washington, today's Old Ebbitt is where diners and saloon goers will find the Main Bar, the Oyster Bar, the Corner Bar, Grant's Bar and the Main Dining Room. Private events are hosted in the Cabinet Room for up to 50 guests seated, and the Rooftop Terrace overlooking the White House, Washington Monument and the National Mall for groups of up to 200 guests
Martin's Tavern
John F. Kennedy proposed to Jackie in Booth 3 at this Georgetown eatery, and your meal here will certainly be just as memorable. Serving brunch, lunch and dinner everyday, the menu at Martin's varies from traditional oyster stew and Welsh Rarebit to lobster rolls, Hawaiian chicken, shepherd's pie and Martin's Delight: sliced oven roasted turkey over toast, topped with homemade rarebit sauce topped, sliced tomato, applewood smoked bacon and Parmesan cheese. Make reservations for a private breakfast for your group.
For more activities and ideas, ask your ALHI GSO about working with Hosts Global Destination Services.
---
Stay / Meet
---
Just as Washington, D.C. has something for every meeting planner and attendee, so does ALHI. From the iconic The Jefferson Washington, D.C., the historic Omni Shoreham Hotel, The Watergate Hotel and Willard InterContinental, to new kids on the block like InterContinental Washington D.C.—The Wharf and Mandarin Oriental, Washington, D.C., to the newly-renovated Fairmont Washington, D.C., Georgetown and the Bohemian-chic Yours Truly DC, there truly is a space for everyone in the Capital City.

The newly-renovated Fairmont Washington, D.C., Georgetown on M Street in the city's West End and adjacent to Georgetown features 413 guest rooms and suites, and 18 event spaces that span more than 30,000 square feet. The 2,990-square-foot Kennedy Ballroom made its debut after the renovations and can host groups of up to 300 guests. During your event, consider an outing to support Horton's Kids, a local organization that empowers children growing up in one of DC's most under-resourced communities.
 

Featuring 373 rooms, the Salamander Washington, D.C., located along the revitalized Southwest waterfront, is a short walk from the district's monuments. The property has nearly 29,000 square feet of meeting space over 14 rooms.
 

Since its opening in 1930, the Omni Shoreham Hotel has hosted presidents, world leaders, inaugural balls and countless meetings and events like yours. Standing stately in the city's Woodley Park neighborhood, the hotel's comfortable and spacious 834 guest rooms and suites are a terrific place to wind down. Its 24 event spaces cover more than 100,000 square feet, the largest of which is the Regency Ballroom that can comfortably host groups of up to 3,500 guests. Patios and terraces are terrific outdoor options, as does the back gardens with a sweeping lawn. For every group room reserved, the hotel will donate one meal per room night to Feeding America through its Say Goodnight to Hunger program that launched in 2016.

Within close proximity to the White House and The Mall, all of the city is at your doorstep when you book your next event at The Jefferson, Washington, D.C. The iconic, luxury boutique hotel's 99 guest rooms are the perfect retreat after a day of of exploring the nation's capital. When it comes time for business, choose one of the hotel's intimate spaces that can accommodate three to 82 guests. For a truly memorable affair, opt for a private event buyout and enjoy delectable dishes in the entirety of The Greenhouse, the hotel's signature restaurant.

This new property is scheduled to open in spring 2023, with 274 rooms and more than 11,000 square feet of meeting space encompassing 11 flexible spaces, including the West Atrium, a 2,400 square foot venue 10-stories tall with natural light via a skylight. Thoughtfully designed, the building integrates the best of green, wellness and tech-forward design.

Make your own history at The Watergate Hotel. Overlooking the Potomac River, the hotel boasts 336 guest rooms and suites, and more than 27,000 square feet of event spaces. When the weather's nice, take your event outside and enjoy more than 10,000 square feet of outdoor event space that is perfect for team-building events, breakout sessions, receptions and more. Another option is Top of the Gate, the hotel's rooftop space with stunning views of the city and its monuments that is available for private events.
 

You can't get much closer to the White House than with a stay at the five-star Willard InterContinental on Pennsylvania Avenue. To say that the hotel's team knows how to host events is an understatement; meetings and events have been held here for nearly 200 years. Choose from 19 event spaces that cover more than 22,000 square feet, all designed in Federal style and each with its unique look and let the hotel's professionals do the rest.
 

For a change of pace, take a look at Yours Truly DC, a Bohemian-inspired hotel near the city's thriving Dupont Circle neighborhood. The 355 guest rooms and suites blend modern comfort, intuitive, sustainable amenities, and warm, colorful styling, and it's safe to say no two are alike. The hotel's 15,000-plus square feet of event space can be transformed to meet your group size, from 10 to 250, in 13 unique settings. Ping pong, anyone? What's more, your dedicated Event Service Manager will plan and execute every moment to perfection.
For more activities and ideas, ask your ALHI GSO about working with Hosts Global Destination Services.