As Monterey's first and only U.S. Green Building Council's LEED® Certified Hotel, Portola is proud to offer meeting and event planners the opportunity to create sustainable and eco-friendly meetings. The hotel takes pride in the environment and does their best to support the green efforts of the community, as well as implement eco-friendly initiatives at the Portola Hotel & Spa.
Reduced Waste Conferences are available for conferences and events held at the Portola Hotel & Spa for up to 900 attendees. A successful Reduced Waste Conference requires a commitment from the Portola Hotel, the meeting planners, and attendees of the conference.
Portola Hotel & Spa Reduced Waste Conference Commitment
Create awareness about the Reduced Waste Conference to attendees through Passkey/Group Reservation System and key packets at check-in

 Environmentally friendly vendor and exhibit company suggestions

Source organic and sustainable ingredients from local farmers and vendors throughout Monterey County and keep compost on the farm (reduces carbon footprint)

Utilization of china, glassware, and silverware replacing the use of to-go cups

Track daily waste diverted by the Kitchen, Housekeeping, and Banquet departments

Composting of pre and post-consumer waste • Additional assistance provided by Banquets to separate recyclable and compostable materials from going to the landfill

Post-meeting recap including waste diverted from landfill, list of local farmers and purveyors where food was sourced, and carbon footprint analysis to be provided via email by the Catering & Conference Services Manager
Meeting Planner Reduced Waste Conference Commitment
Confirm menu selections with Catering & Conference Services Manager 14 days prior to conference start date to allow for proper selection and purchase of products

Use of biodegradable badges and conference materials or reuse badges offering an opportunity to return conference badge for future use

Use of audio-visual equipment for presentations opposed to printed handouts

Educate and encourage attendees to participate in sustainability practices while at the conference (reusable water bottles)
Learn more about the environment hotel and green initiatives below.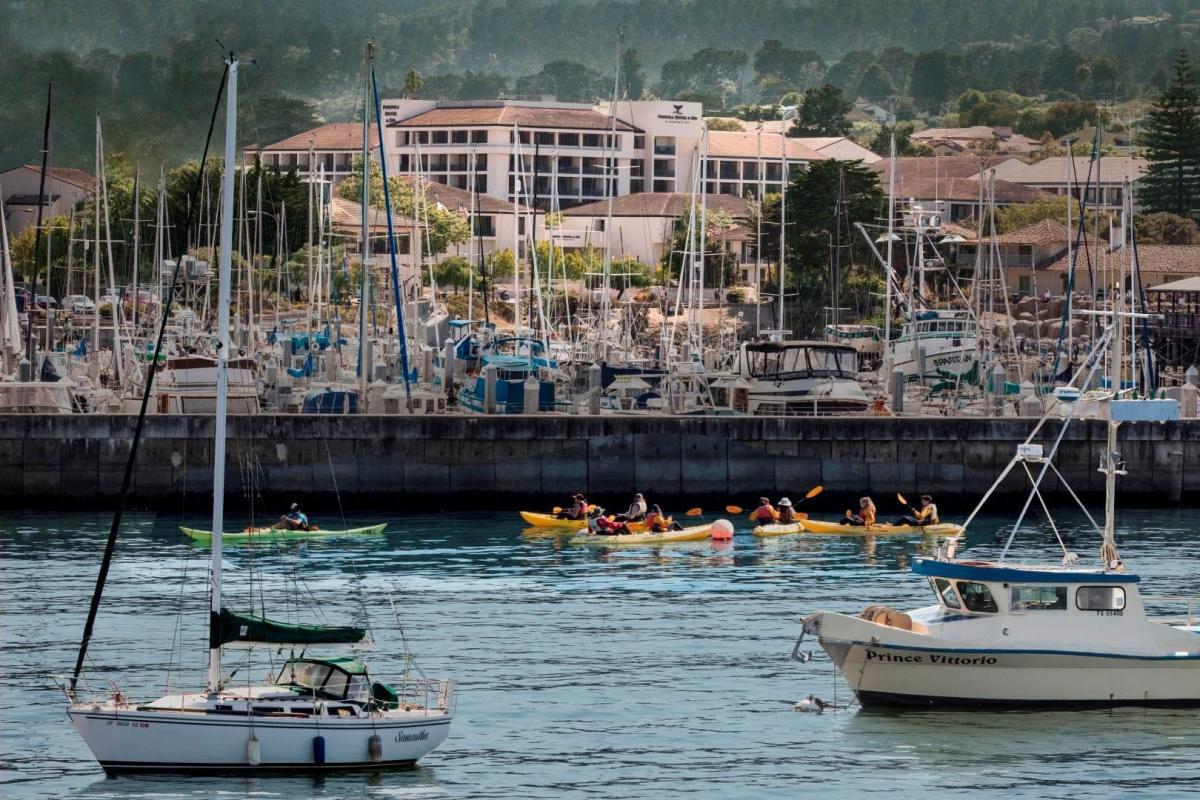 ---
Green Initiative Highlights
At Portola Hotel & Spa, all guest rooms offer a variety of environmentally conscious amenities and features. Rooms are equipped with LED lighting, Energy Star® televisions and mini refrigerators, low flow faucets, shower heads, toilets and urinals, bath amenity products made from renewable and biodegradable materials, as well as hypoallergenic and organic mattresses.
The Monterey Bay green hotel has made significant strides in improving their carbon footprint. Learn about some of the current initiatives below.
Guest rooms offer Open Water aluminum water bottles, a recyclable water bottle alternative to encourage an ocean-friendly practice of reducing the use of plastic at the hotel
 Jacks Monterey and Peter B's Brewpub serve local, organic, and sustainable cuisine, and use Bio-Pak take-out containers and compostable cups
Eco Product® straws provided upon request at on-site restaurants is made from Polylactic acid (PLA) or "corn plastic," plant-based plastic – not oil. All PLA products are compostable in commercial compost facilities, which helps to divert waste from landfills
Peter B's Brewpub changed operations to save over 41,000 gallons of water a year and recycles mash from brewing the brewing process to local farmers and growers
We always purchase safe, sustainable products and materials, including recycled office supplies
VOC material and paint throughout the hotel is low VOC
We utilize a green cleaning program that uses H2O3 system to clean and disinfect guest rooms without any harsh chemicals
Portola Hotel & Spa guests have an opportunity to offset 100% of their carbon footprint from traveling to Monterey by purchasing Renewable Energy Credits through the Carbon Calculator
---
Green Awards & News
Portola is proud to have won the following awards for environmental and sustainability-focused initiatives:
Smart Meetings Magazine, Smart Stars Award for Best Eco/Green Hotel 2015-2021
California Hotels & Lodging Association's Good Earthkeeping Award 2017 & 2021
Governor's Environmental and Economic Leadership Award (GEELA) 2011
California Integrated Waste Management Board's WRAP (Waste Reduction Awards Program) Award 15 years in a row
Monterey Bay Area Green Business Program's Green Certification
Monterey Bay Area Green Business Program's Green Certification (Jacks Monterey and Peter B's Brewpub) since 2019
Save Our Shores 2013 Business of the Year Award for keeping our beaches clean