Doorman. Gatekeeper. Ambassador. Three titles befitting William May who has dedicated the past 38 years to his post at the entrance of the Fairmont San Francisco, one of the most regal and historic icons of the city.
Clad in his three-piece black attire with red trim, May is a fixture at the world's first Fairmont hotel, which debuted in 1903 atop San Francisco's Nob Hill, and has hosted every U.S. president since William Howard Taft. President Biden this June became the latest commander in chief to hold court there, including a press conference with Gov. Gavin Newsom about artificial intelligence. For the history books, the Fairmont is also the birthplace of the United Nations, where, in 1945, 40 countries signed its official charter.
---
William May has served a lot of people in 38 years at the Fairmont San Francisco, including presidents, celebrities and, yes, Tony Bennett.
---
William May, left,
and former San Francisco
Mayor Willie Brown.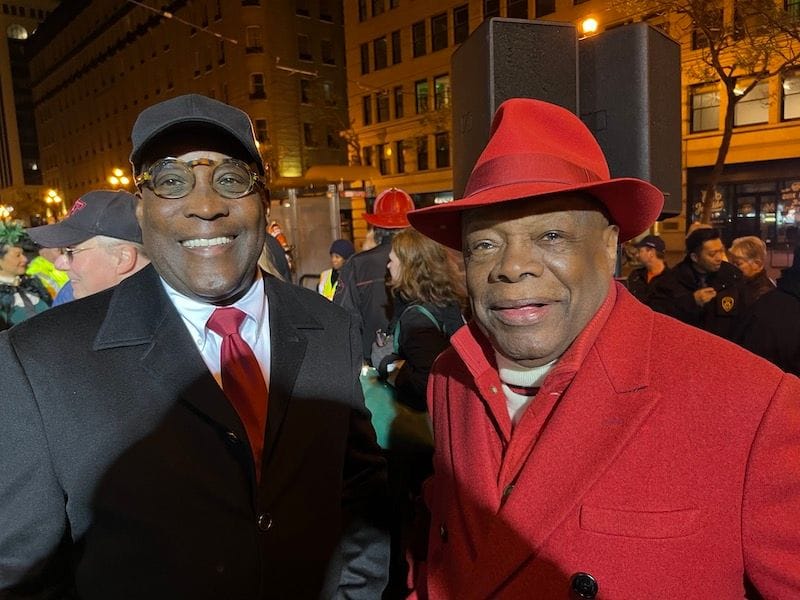 May relocated to San Francisco from Columbus, Ohio, in 1976, studied a year at law school, worked in housing rights in Oakland, California, as a legal assistance for the elderly and immigration law.
But he found his calling at the Fairmont San Francisco. His tenure as doorman has also led to his other designations, a gatekeeper and ambassador of the city.
"It was explained to me that you're not just a doorman, opening doors and carrying luggage," May recalled. "You're an unofficial ambassador to the hotel, to San Francisco. And we want you to stay here for 35 years."
Memorable Moments
In his first year, May met Supreme Court Chief Justice Thurgood Marshall, a 1960s-era Civil Rights advocate. "He told me that the Fairmont's Venetian Room was the first supper club to headline African American entertainers. It was the first hotel in the United States that let those performers stay."
The Venetian Room was also where Tony Bennett first sang his ode to the city, "I Left My Heart In San Francisco." May had the honor in 2016 of escorting Bennett, who died July 21, to the dedication of the eight-foot Tony Bennett statue that now stands outside the hotel, along what is now Tony Bennett Way.
May's jovial spirit and signature line, "Have a successful day," as people head out for the day has endeared him to celebrity guests and local politicians, from former House Speaker Nancy Pelosi to Newsom to Vice President Kamala Harris.
"I remember when I was in law school, Kamala offered me an internship with her office at City Hall. I got a nice little message from the vice president when she was here. I've also been on some pretty flattering guest lists, Willie Brown's 85th birthday among them," May said.
---
Fairmont San Francisco doorman William May leaves a lasting impression
with hotel guests with his signature phrase:
"Have a successful day."
---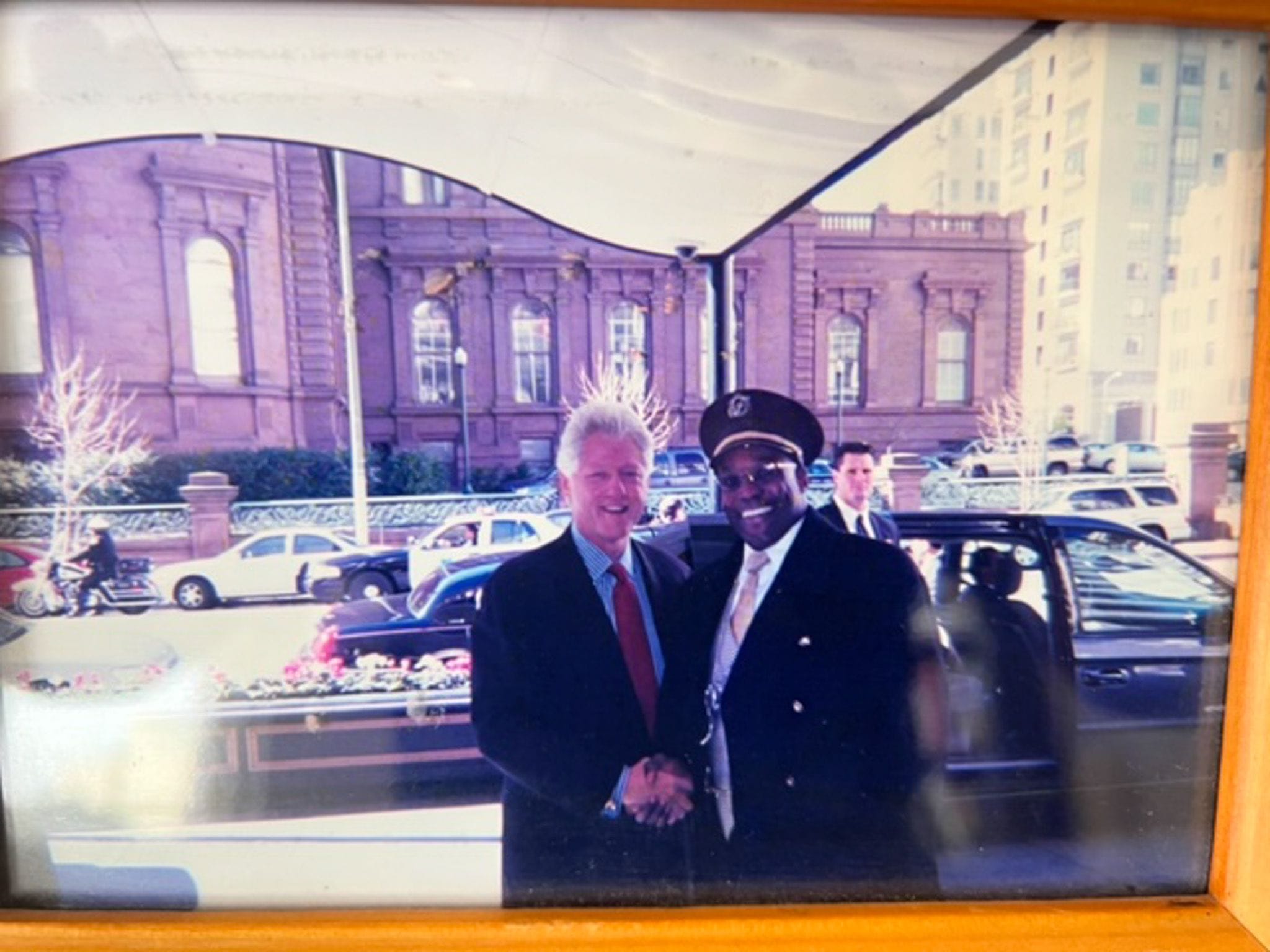 Among the many politicians
that have passed through
William May's door at the
Fairmont San Francisco was
former President Bill Clinton.
May's other brushes with fame include having a cameo in Netflix's, "A California Christmas: City Lights" and meeting President Bill Clinton when he stayed. "I remember when Bill Clinton came, Clarence Clemons was here and played "Hail to the Chief" on his saxophone." He also remembers getting stuck in Janet Jackson's Ferrari for 20 minutes long before the invention of cell phones.
"I had never been in a Ferrari and backed it in a corner where it was hidden. I couldn't find a door latch. Everybody was looking for me and I was sweating. I didn't know how to roll down the window. The star didn't fluster me, I just didn't know how to get out of the car."
Today, May, 71, keeps his perspective by starting each day with meditation, a swim or yoga, and a smoothie. He also has learned to take a step back to see the greater picture.
"Sometimes I walk across the street and look at this place just to remind myself where I'm at."