With restrictions dropping across Europe, planners can start looking ahead to transatlantic meetings
Denmark, home to Tivoli Hotel and Copenhagen Island, became the first European Union (EU) country to lift all COVID-19 restrictions at the beginning of February. By the third week of February, most EU members had followed suit, removing or relaxing all or most restrictions with either immediate or phased effect heading into March.
The Danish move is significant, given that measures were generally stricter in Scandinavian and northern European countries. Sweden was next, lifting most COVID restrictions in general, and for trade show and events specifically, in early February.
The positive news continues in March, opening the way for the return of international travel, including the addition of new global air routes, as the MICE industry look ahead to greater recovery. Airlines are also expanding routes and services and planners are once again considering European hotels suited for incentive programs.
The Netherlands, with Grand Hotel Huis Ter Duin on its western coast, is lifting virtually all restrictions by the end of February, including for events, conferences, and trade shows. The Dutch is reviewing rules for festivals and gatherings with "a continuous flow of visitors" by the middle of March.
In Austria, home to Hotel Das Tirol Jochberg in alpine Kitzbuhel and Palais Hansen Kempinski Vienna, COVID-related regulations, including those for events, are scheduled to expire on March 5.
Announcing Norway's removal of virtually all measures in mid-February, Prime Minister Jonas Gahr Stoere said it best: "This is the day we have been waiting for."
The European Council said it will allow non-essential travel for those who are either vaccinated or recovered from COVID-19 while in Italy, a mask mandate remains in place for all indoor activities, but the country dropped its pre-arrival testing requirements for vaccinated visitors.
As mask, entry, quarantine and vaccination requirements ease, the MICE industry's fast track to recovery is already in motion. Here is what U.S. MICE professionals can expect in other leading European group destinations.

Berlin skyline (photo credit: frankpeters)

Kempinski Hotel Berchtesgaden (photo courtesy of Kempinski Hotels)
GERMANY 
Significant investment in capital and human resources has created a sound starting point for post-pandemic meetings and events.
"Based on the IPK World Travel Monitor's insights on international travelers' plans to return to Germany and our numerous personal conversations with planners, the outlook for 2022 and beyond is very promising", said German Convention Bureau Managing Director Matthias Schultze.
Germany is taking a unique phased approach to relaxing COVID restrictions in three stages between early February and March 20, when all but "basic protection measures" are scheduled to expire, including for business events. As of March 4, for example, 6,000-capacity indoor events are permitted, provided that attendees are vaccinated or test negative. All vaccinated visitors can now enter the country for any reason.
Germany's preeminence as a global MICE destination includes first-class infrastructure, a diverse and strong network of providers, and a persuasive price-performance ratio.
Other pillars include Germany's expertise and innovative strength in industry and science. Key areas include medicine, healthcare and pharmaceuticals; energy and the environment; financial services; and transportation and logistics. Germany is also an ALHI stronghold. Members include Hotel Adlon Kempinski and Hotel Bristol in Berlin; Kempinski Hotel Frankfurt Gravenbruch in Frankfurt am Main; Hotel Vier Jahreszeiten Kempinski in Munich; Hotel Taschenbergpalais Kempinski in Dresden; and Kempinski Hotel Berchtesgaden in the Bavarian Alps.
---

Paris skyline (photo credit: frantic00)

L'Hotel Du Collectionneur (photo courtesy of The Gate Collection)
PARIS 
The City of Lights, home of L'Hotel Du Collectionneur and Les Jardins du Marais, is looking brightly ahead.
"Following a strong restart of MICE activity from last August to November, we are optimistic about the visible recovery underway in 2022," said Corinne Menegaux, General Director of the Paris Convention and Visitors Bureau. "As the overall health situation continues to improve, the accelerating pace of international air bookings is most encouraging for our longer-term MICE outlook."
Since February, France no longer requires pre-departing testing for vaccinated travelers, offering more opportunities for visiting American and other non-EU travelers with a valid vaccine pass. Then Prime Minister Jean Castex announced that beginning March 14, face masks would only be required on public transport while vaccine health passes would not be needed to enter most venues.
Paris exhibitions, congresses and tradeshows remain resilient, with no major cancellations.
"Major events, tradeshows and other MICE programs are taking place right now, with many more scheduled for 2022 and beyond," Menegaux said. "We are expecting high demand for incentives, as professionals, with a strong desire to reunite after too many months in digital, are looking to strengthen corporate and professional relations through teambuilding and other programs."
Superior content is a key MICE driver.
"Paris is known for having strong expertise and savoir-faire in major fields including sports, science, culture, creation, and fashion, and is an established innovative hub. Our attractiveness is founded in our prestige, hosting capacity, excellent infrastructure, and through continual reinvention, new offers and experiences. On average, this results in 20 percent higher attendance for international events."
Strong values such as resilience, inclusivity, and sustainability define the visitor experience. "Even before the pandemic, eco-responsibility was a guiding thread in all aspects of event organization," said Menegaux. "Now it's an imperative for both MICE and leisure."
---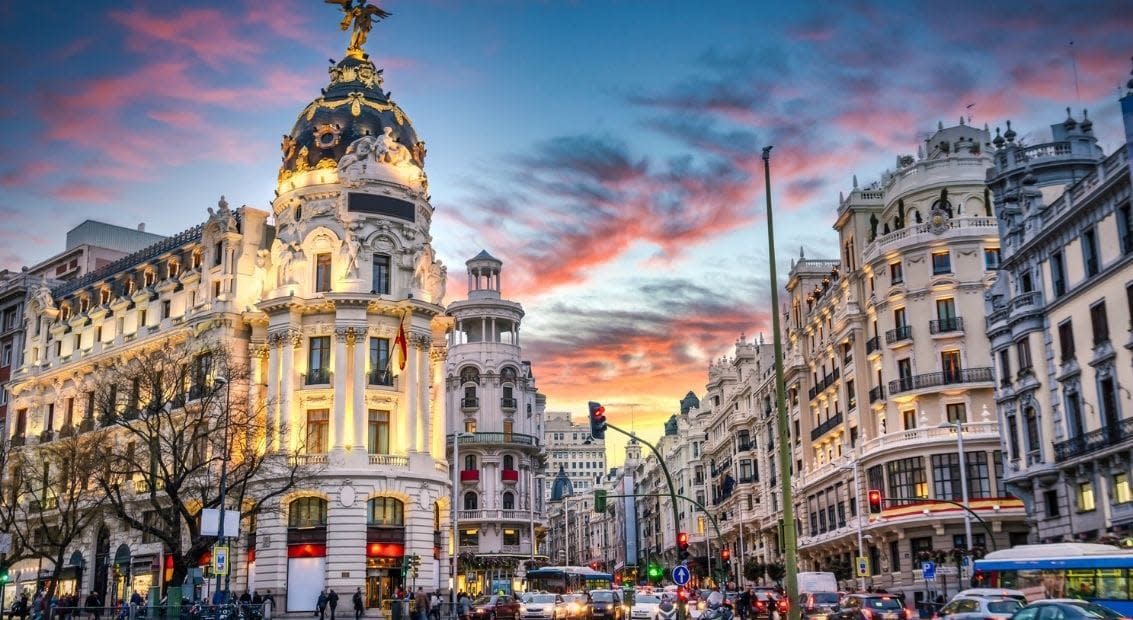 Madrid (photo credit: Eloi_Omella)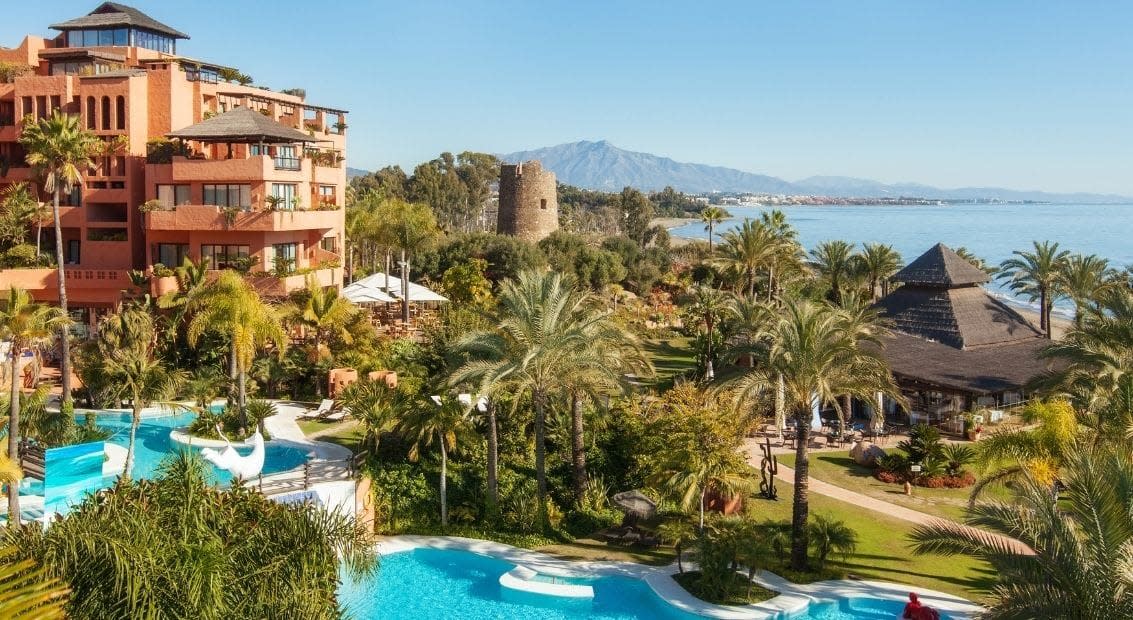 Kempinski Hotel Bahia Estepona (photo courtesy of Kempinski Hotels)
SPAIN
With nearly 81% of its population vaccinated, Spain avoided the higher COVID-19 infection and hospitalization rates seen elsewhere in Europe last year. Yet, the country remains in a more restrictive mode than its neighbors. For example, all passengers arriving in Spain by air or sea, including those arriving in transit to other countries, must complete a Health Control Form before departure and obtain a QR code to present at boarding and at health controls on arrival in Spain.
Masks are no longer required outside but must still be worn inside.
Spain's perennial appeal as one of the world's hottest in-demand MICE destinations bodes well for the longer-term horizon once regulations ease.
For the third year in row, Madrid was named "World's Leading Meetings & Conference Destination" at last December's World Travel Awards. In November, Spain's capital was named "Best MICE Destination" at the second annual World MICE Awards, following recognition as "Europe's Leading Meetings & Conference Destination" at the European edition of the World Travel Awards in October. Tourism overall is a cornerstone of the Spanish economy.
Spain's trio of ALHI properties include Nobu Hotel Barcelona; Kempinski Hotel Bahía Estepona, near Marbella on the Costa del Sol; and Cap Vermell Grand Hotel on the island of Mallorca.
---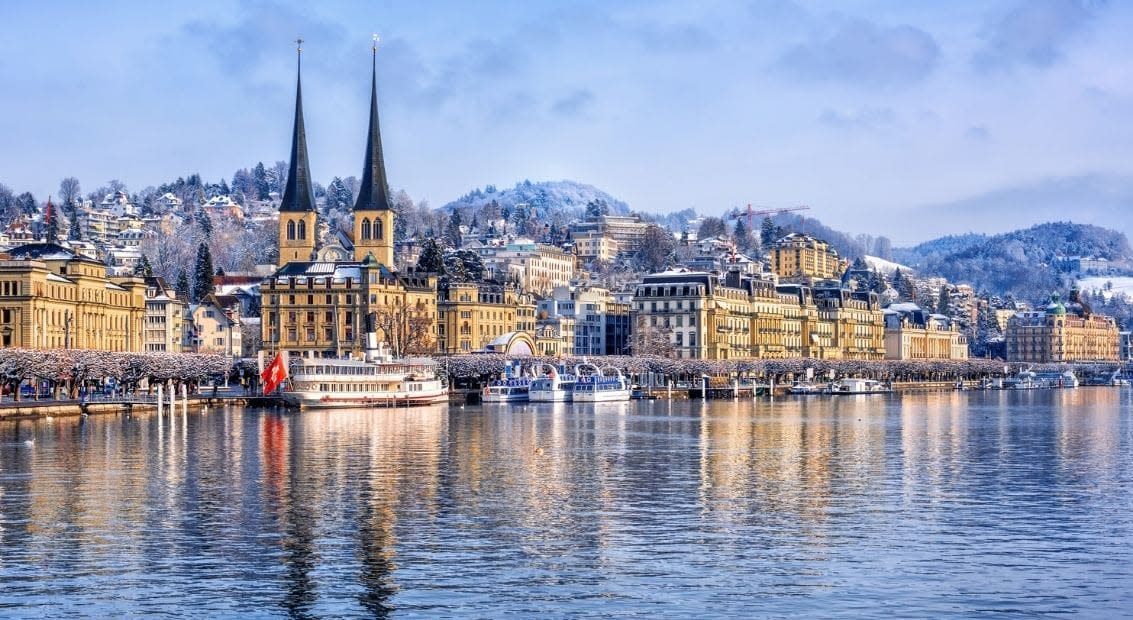 Lucerne, Switzerland (photo credit: Xantana)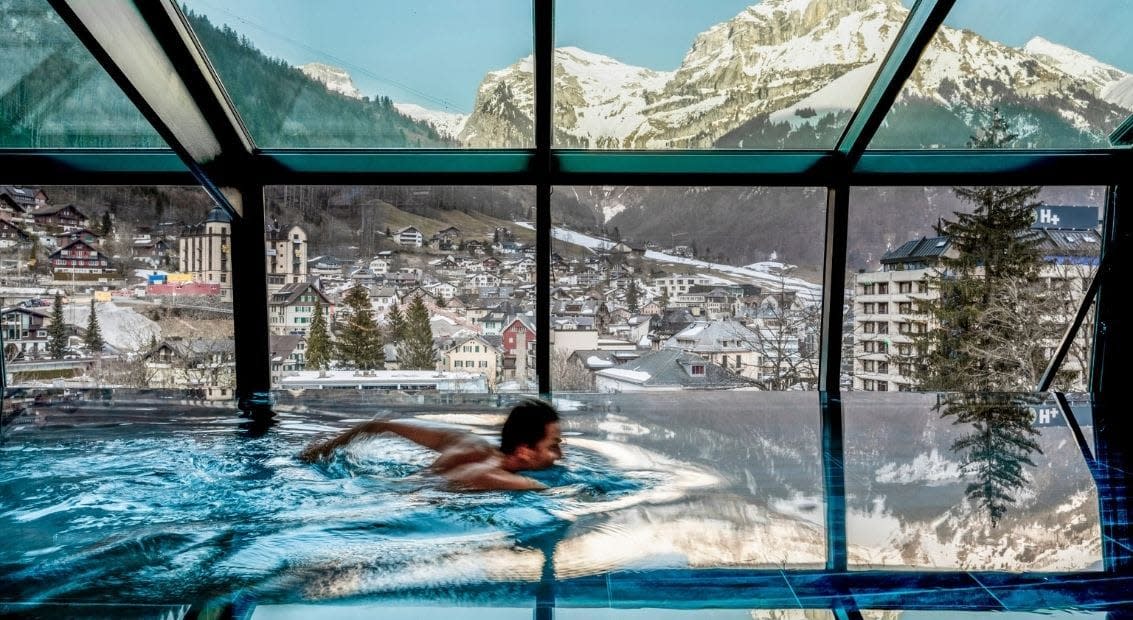 Kempinski Palace Engelberg (photo courtesy of Kempinski Hotels)
SWITZERLAND  
With superior accessibility by air, road, and rail, Switzerland's MICE appeal includes global business destinations Basel, Geneva, and Zurich. The Kempinski Palace Engelberg and Frutt Mountain Resort are near incentive hotspots Interlaken and Lucerne, while Grand Hotel des Bains Kempinski in St. Moritz is well established with North American MICE groups.
As of mid-February, the Swiss Federal Council removed most Covid-related restrictions due to the sharp decline of Covid-19 cases. U.S. travelers must still be fully vaccinated (within 270 days of arrival) to enter Switzerland, but COVID tests, mask mandates, electronic COVID certificates to access events, entry forms and Passenger Locator Forms are no longer necessary. Permits for holding large-scale events are also lifted.
Even before this good news, Switzerland was getting back to business.
"Last fall, following our reopening in June, we welcomed back a mix of meeting, convention, and incentive groups from Europe, the U.S. and Asia to cities and mountain destinations," said Caroline Pidroni, NYC-based head of the Switzerland Convention & Incentive Bureau, North America. "Highlights include an American insurance company with 13 back-to-back incentive groups between August and November."
Adding that "we are seeing an increasing switch and combination of MICE bookings among our key markets, which is great," Pidroni is bullish on the future. "At IMEX 2021 in Las Vegas, we received RFPs for as early as May 2022 all the way into 2026. The demand and interest are real and growing. We have received 14 RFPs and counting since January, with current bookings including a 44-person incentive group on a ski trip."
---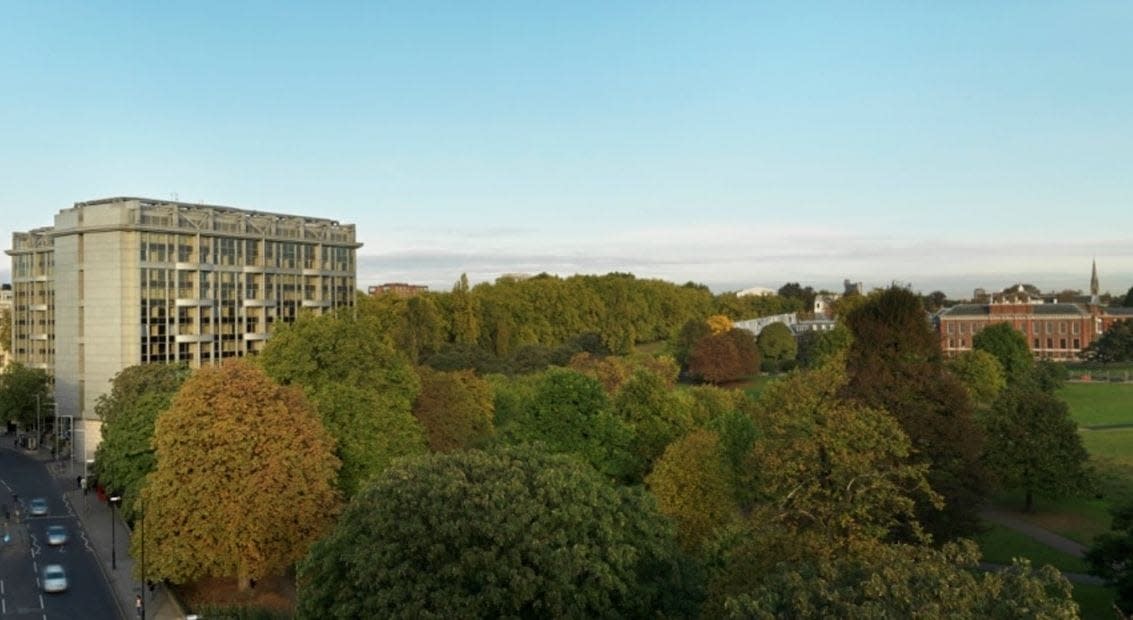 Royal Garden London (photo courtesy of Royal Garden Hotel)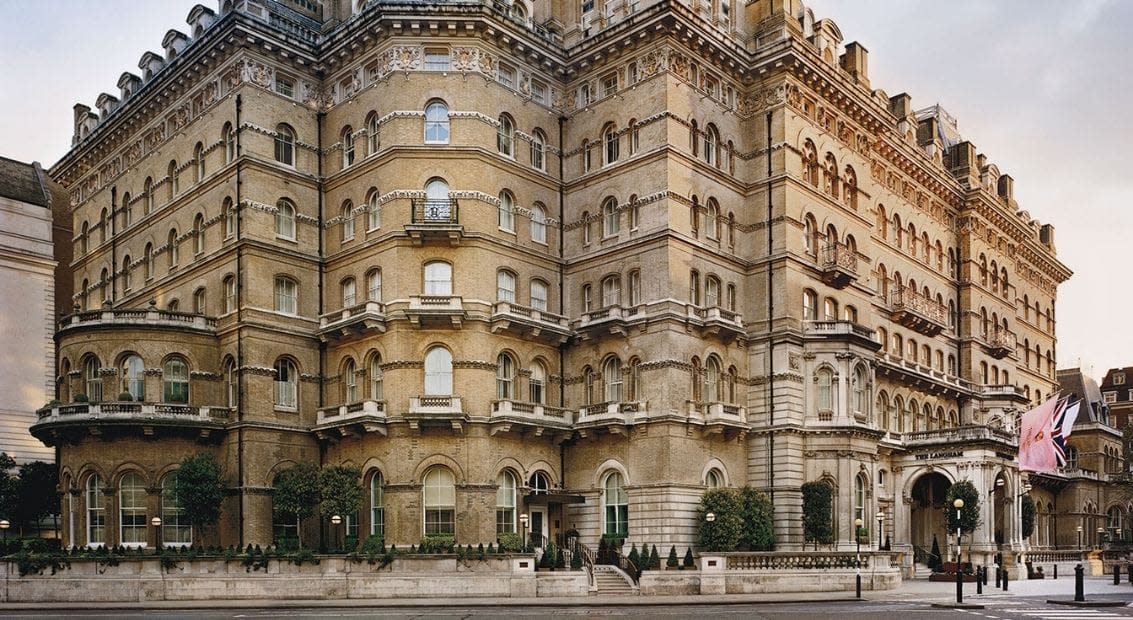 The Langham, London (photo courtesy of Langham Hotels)
UNITED KINGDOM 
Even as Queen Elizabeth II was managing mild COVID symptoms ahead of her highly anticipated Platinum Jubilee celebration this June, England has lifted most coronavirus restrictions, including mandatory face masks and COVID-19 passes for entry into venues and events. All testing requirements have been removed for fully vaccinated visitors, with only a simplified Passenger Locator Form now required.
This follows the success of the British government's vaccination program. Almost 84 percent of people over 12 in the U.K. have had their second vaccine dose, with 81 percent of eligible citizens receiving their booster shot.
With Scotland, Wales and Northern Ireland similarly easing restrictions, it's full steam ahead for the MICE industry.
Marketing efforts to create business opportunities and to build back demand include VisitBritain's free flagship business event 'MeetGB Virtual' 2022.
Held this February in partnership with MeetEngland, Business Events Scotland, Meet In Wales, Tourism Northern Ireland and the London Convention Bureau, the three-day virtual showcase of UK business events allowed international buyers to connect online in real time with UK destinations, venues and suppliers.
"As we continue to make impressive progress to ensure the safe return of live events, many of our major cities and destinations will welcome domestic events in 2022, with a spike in international MICE bookings for 2023 and beyond," said Leila Heller, VisitBritain's Meetings & Incentives Director for North America.  
ALHI's two UK properties are both in London, The Langham, London and Royal Garden Hotel.
---
SIDEBAR
Founded in 1897, Geneva-based Kempinksi Hotels is Europe's oldest luxury hotel group, with properties across the continent. Helen O'Brien, director of group sales for the U.K. & Ireland, shared Kempinski's perspective on the road ahead.   
What positives are you seeing in the European MICE market?  
Overall, we have seen a promising pick-up of international MICE activity, including placing a sizeable number of short lead time European requests in Q3 and Q4 2021. For 2022, high demand for face-to-face events has produced significant in-process inquiries. With key dates already booked at many of our hotels by groups postponed from 2020 and 2021, availability is a challenge. Our approach going forward is twofold. First, develop as many short lead inquiries for 2022 as we can to fill regional opportunities. Then, align with key partners on a recovery plan to drive long lead conversion to our portfolio into 2023 and 2024.   
Where are you seeing the most activity? 
While planners considered a wide variety of Kempinski destinations throughout 2021, the perceived ease of travel and managing restrictions favored "closer to home" destinations. Cities with good flight access, such as Berlin, Munich and Vienna, certainly proved popular. Our ability to accommodate requests for "exclusivity" and "open space" was also a plus. The flexibility offered by Kempinski properties such as Berchtesgaden Bavarian Alps in Germany, Kempinski Palace Engelberg in Switzerland, Hotel Adriatic in Croatia, and San Clemente Palace in Venice, to name a few, gave clients the freedom and space to bring back live events.  
A new year, a new challenge—what makes 2022 different? 
The resiliency, adaptability and unity that have emerged from navigating the pandemic are major factors. Plus, the overriding desire to meet face to face again as soon as possible. In speaking with our customers, we are confident that pick-up and demand will come back stronger than ever. While the virtual/hybrid model might take centerstage for a while longer, "live" will always be the preferred choice for our segment. And while long haul will foreseeably take longer to bounce back, our global MICE partners and clients are predicting significant growth for incentive groups from 2023 onward.  
Travel and COVID-19 Resources