No matter where you live, autumn generally is a special season for everyone. For many, memories of golden meadows shadowed by brilliantly hued fall foliage and scents of long-ago campfires are sure to stir nostalgia in one's soul.
Not only is it a season of transition, it signals the preparation for year's end and some time-honored traditions, including weddings.
Many couples opt to tie the knot during this season of pumpkin spice, hot apple cider and colorful mums when those 'lazy, hazy days of summer' give way to cooler, shorter and cozier days. And the business of weddings in only expected to continue surging as couples, and wedding planners, are locking in dates.
"Couples are creating their own wedding DNA," said Brenda Nazaire-Coulanges, Principal Planner for Platinum Key Weddings. "Wedding trade organizations are predicting a record-breaking year in 2022 and 2023. Couples are even willing to get married on weekdays in order to keep their preferred wedding year."
As for new trends this season, she's noticed "a mix of tradition and nuance, pies vs. cakes, no wedding party walking down the aisle, and a mobile bar."
"Things have definitely changed," she said. "Tradition is no longer absolute and food must be delicious. Couples want to incorporate both lux and fun for their guests, not stuffy. Intimate times with their family and friends are a 'must' and they want their guests and families to be present in the moment; and no photo taking with cell phones during ceremony."
For ALHI member hotels, fall is the perfect time to showcase some of their properties while staging a memorable marriage ceremony. Enjoy the colors!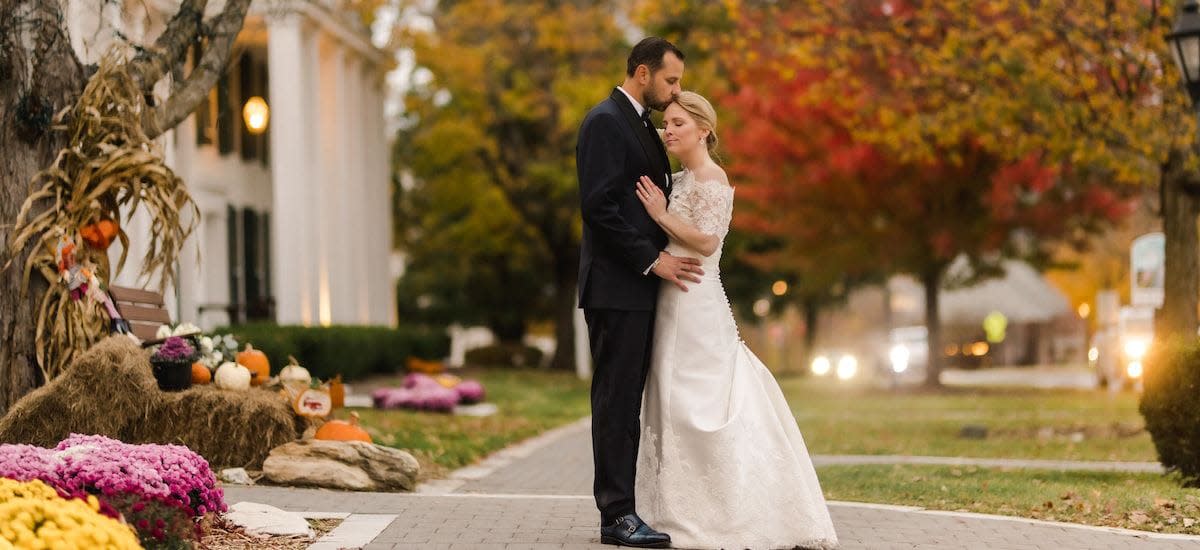 Tucked into the rolling Green Mountains of Manchester, VT, the legendary fall foliage showcased here offers the perfect backdrop for that special day.
"We're lucky in the fact that we have so many outdoor locations to take in the beauty of Vermont in the fall," said Rob Booth, Director of Sales & Marketing. "From our Pond Pavilion to the Lincoln Lawn to our 1811 Lawn and Meadow Tent, we can take in all of the natural beauty Vermont has to offer. The foliage is stunning and fall is our No. 1 requested time of year for weddings.
"We try to incorporate the outdoors and the colors. Many of our couples will make sure to have photo shoots and events at our Pond Pavilion. It really is the most picturesque spot at The Equinox Golf Resort & Spa."
Booth added that the booking cycle for weddings is generally 12-18 months in advance.
"Due to COVID and the pandemic, we did see some shorter-term bookings in 2021 and we are still getting requests for 2022, but it becomes harder to try and find them space - especially in the fall."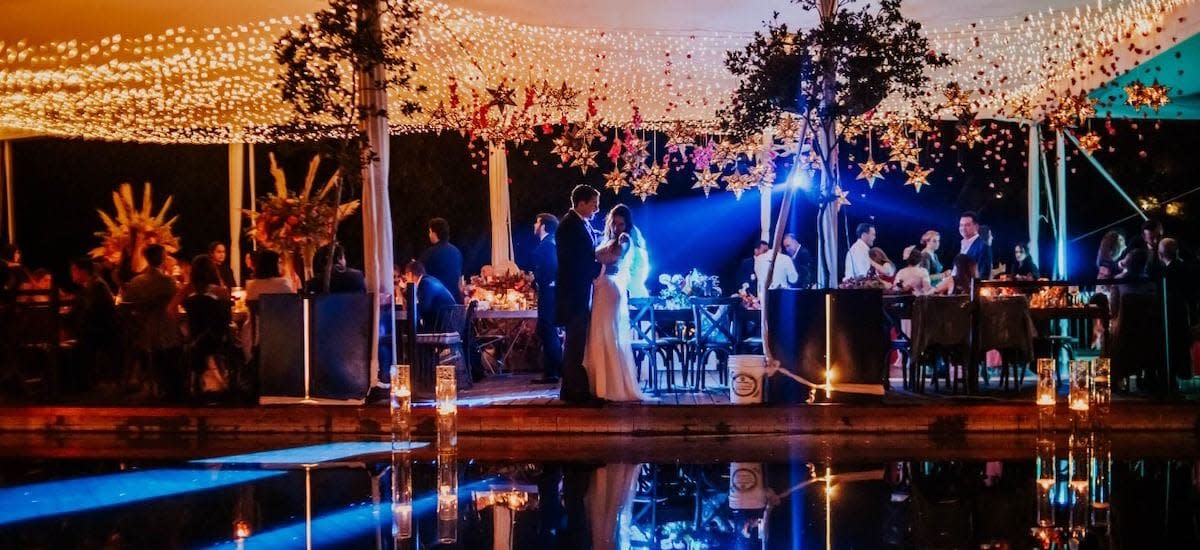 Located in one of Mexico's most enchanting towns and UNESCO World Heritage Site, this charming hotel embodies the perfect blend of Mexican mysticism with modern-day luxury and creature comforts, guaranteed to provide the perfect wedding day experience.
Still under COVID-19 restrictions, a 200-guest limit is currently being enforced in San Miguel Allende and parties must end by 1 a.m. Flor de Maria Guzmán, the hotel's Manager of Social Events and Romance Expert, this is not an issue because most destination weddings do not exceed this number.
Guzmán said that the colonial style surrounding Live Aqua, combined with the luxury and tasty gastronomy ensure a unique wedding experience.
"We have many cozy places, which are perfect for photos and rooms are very comfortable" she added. "We also offer a variety of suites able to accommodate any request and we have larger rooms with plunge pools, larger terraces, etc."
Fall decorative touches include popular brass, a mainstay of Mexican décor.
"San Miguel is very well known for brass, which is typically used as centerpieces, hanging ornamental lamps and souvenirs."
New this year are intricate macramé structures covered with pampas grass and greenery to showcase dining tables. Also, popular and typical of the area are mojigangas, giant, burlesque-type puppets depicting the bride and groom adding a humorous touch to the occasion.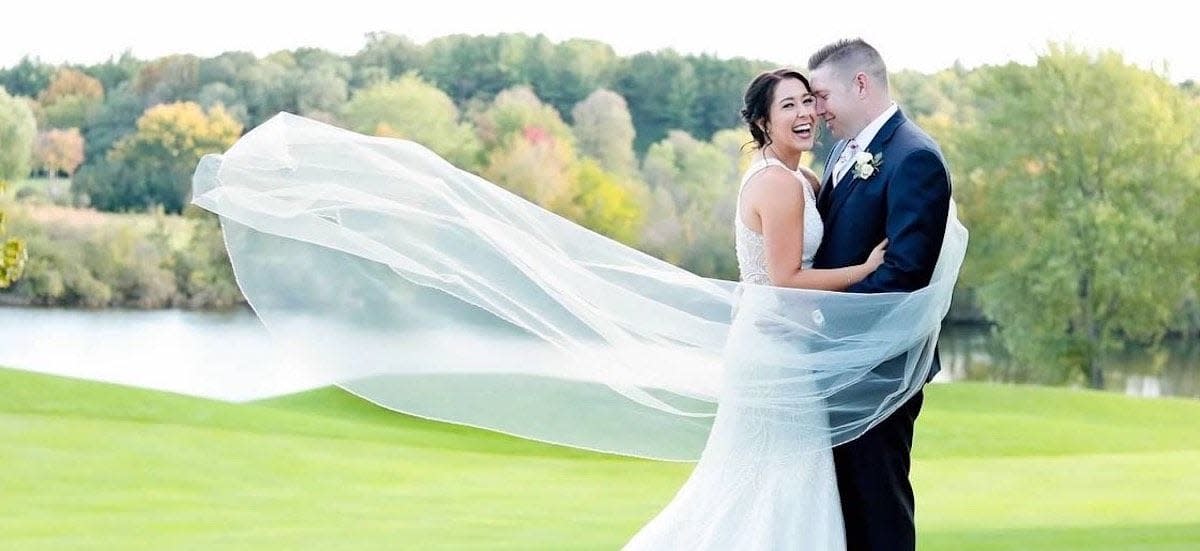 As Mother Nature weaves her colorful autumn magic, Grand Geneva's 1,300 acres of scenic Wisconsin countryside is transformed into yet another perfect fall wedding day option. Luxurious accommodations, beautiful venues, stunning views, lush golf courses and a full-service spa are added perks.
"Guests are eager to get together and celebrate after a couple of years of uncertainty," said Todd Conrad, Director of Sales. "It seems that the word is out that venues are booked up so the booking window is longer now. There have been some couples that have been in contact with us before they got engaged."
He said October historically has been their busiest month of the year, followed by September.
"Our peak season is May-October and we typically book up to two years out," he added. "We average closer to one year, but we already have some weddings booked for 2024."

Couples can experience magical wedding moments at this luxurious resort nestled in the Pennsylvania countryside. A host of venues ranging from chic ballrooms, lush chateau gardens, a posh art gallery or cozy pub-style setting are just some of the available options for a picture-perfect wedding.
Although May-October is their peak wedding season, June, September and October are the most popular, said Bobbi Opar, Social-Wedding Event Sales Manager, and autumn paves the way for a memorable ceremony.
"We offer unique settings with amazing views of the Laurel Highlands Mountains," she said. "The autumn offers beautiful scenery and color. These incredible views can be seen from the unique ceremony venues Nemacolin offers, including gardens, rooftops, and a one-of-a-kind art gallery."
Other autumn elements assure additional perks.
"We have provided our fall wedding couples with elevated ideas for seasonally-themed desserts, such as decorated caramel and chocolate apples, hot apple cider, and fall signature drinks," she said. "Our in-house designer assists with beautiful fall décor that can be a part of making dreams come true.
"The pandemic definitely changed the event industry. We do now receive more questions regarding our cancellation policy, mask policy, and 'what if' questions."
She said she saw an increase in the number of weddings at Nemacolin in 2021 as a result of weddings moving from 2020. For 2022, they are still receiving a similar number of increased inquiries, however many have a shorter booking windows and are closer to the wedding date than in the pre-pandemic period.
Opar said the resort is currently scheduling weddings 18 months prior to the event date.
"For those looking for a shorter timeframe, we'll do what we can to work with your dates and our venues," she said. "Nothing is impossible, and the possibilities are almost endless with a Nemacolin wedding."