Many people have a vision of what they'd like their wedding day to look like from the time they're young children. That vision likely includes the dream of getting married on a beach or in a beautiful garden or such.
Others may not be that concerned about the setting and tend to go with the flow.
But what about those who love the game of golf as much as they love the person they're marrying?
Golfers may be able to take this vision to the next level and incorporate some facet of their game into their wedding celebration. Let's just say that they could turn into something more like "par for the course."
The first step in planning any wedding is deciding on the size of your guest list as well as selecting the ideal locale and, if you're a golfer, you'll want to find a venue which has a golf course or two. If you happen to find a resort that fits the bill, your wedding dream can turn into the proverbial "hole-in-one" thrill.
Getting married on a golf course can be difficult to arrange but even if you're not able to have the actual ceremony there, hosting your reception in a golf setting can still be special.
An added advantage to doing this is that it allows your guests to play a round or two before or after the ceremony or even during the reception.
Many ALHI members offer the perfect setting for such golf-related nuptials.

Tranquil turquoise waters, soft pink sands and verdant rolling hills can provide the ultimate fairytale wedding at this renowned resort.
Each of the 88 luxury rooms and suites combine European chic with island casual to assure a luxurious stay, tucked into 240 stunning seaside acres. Three unique restaurants and four signature bars offer a true epicurean adventure drawn from global recipes and specially culled local ingredients.
A luxurious spa, private beach, tennis and water sports center and 18-hole golf course add to a relaxing experience.
Golfing couples can appreciate special touches on their wedding day with ceremonies being conducted on the Driving Range and 17th tee box.
For an intimate indoor ceremony, Sul Verde, the on-site Italian restaurant on the second floor of the Clubhouse offers an appealing alternative with terraces overlooking scenic views of the Driving Range and Castle Harbour.
While Rosewood does offer wedding décor, couples are encouraged to customize their wedding with local wedding planners and design vendors.
"Each wedding is considered a bespoke experience curated to the tastes of the wedding party," said Kris Sarreal, Rosewood Bermuda Marketing Manager. "If golf is the desired theme, special wedding amenities highlighting the game and the golf club can be arranged. If the bridal party is very keen on golf, rooms packages include complimentary use of the driving range, as well as weekly golf clinics. Special bridal party shotgun tournaments can be arranged, with signature cocktails served at the 19th hole. Additional tee-time and pro-shop discounts can also be negotiated."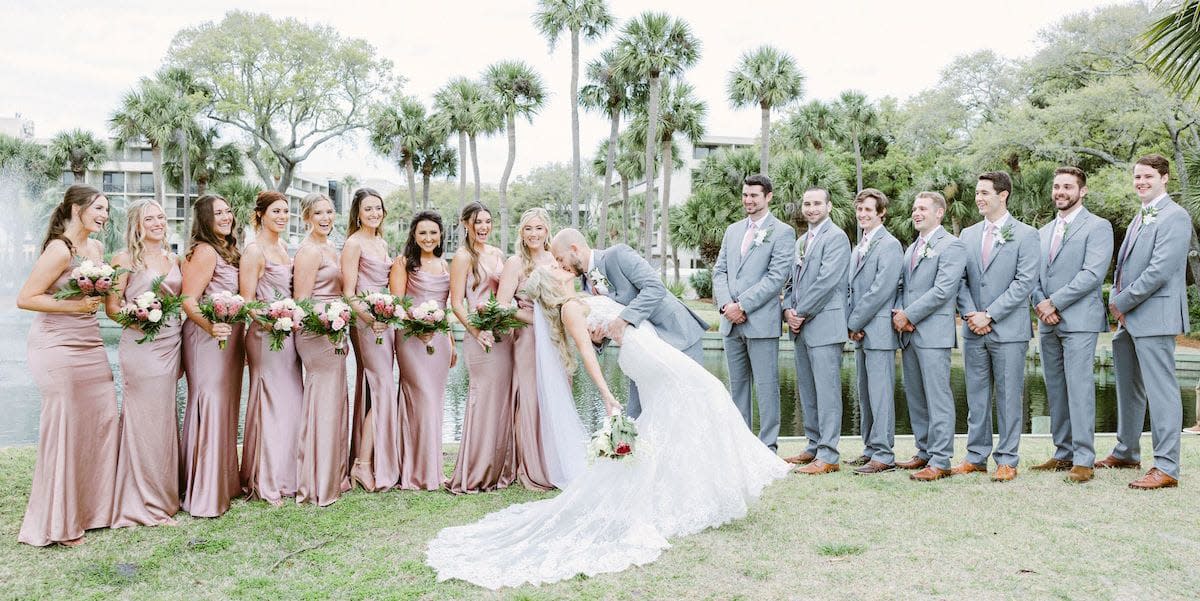 This recently renovated AAA Four-Diamond resort seated on 11 acres of beautifully landscaped beachfront property is especially popular with golf aficionados. Located in the community of Shipyard, home of the "Heritage Golf Collection," guests can avail themselves to a series of world-renowned golf courses while having many other island attractions just outside their door.
Each of the 340 spacious guest rooms and suites feature a private balcony or patio with views of lush tropical gardens, Atlantic Ocean, pools and Shipyard Plantation grounds.
Recent additions to the resort include a shaded lap pool, zero-entry lagoon and Jacuzzi. The new full-service Arum Spa promises a soothing spa experience, using local products and scents such as jasmine and sea salt. Dining takes place indoors and al fresco at Bayley's Lobby Bar & Terrace, Seacrest Restaurant and Terrace and Sweet Cane restaurants.
Something very appealing is the "Guy's Golf Outing" package. This can be arranged with the Shipyard's courses at discounted rates with set tee times and group outings, which usually take place the day before or after the wedding day.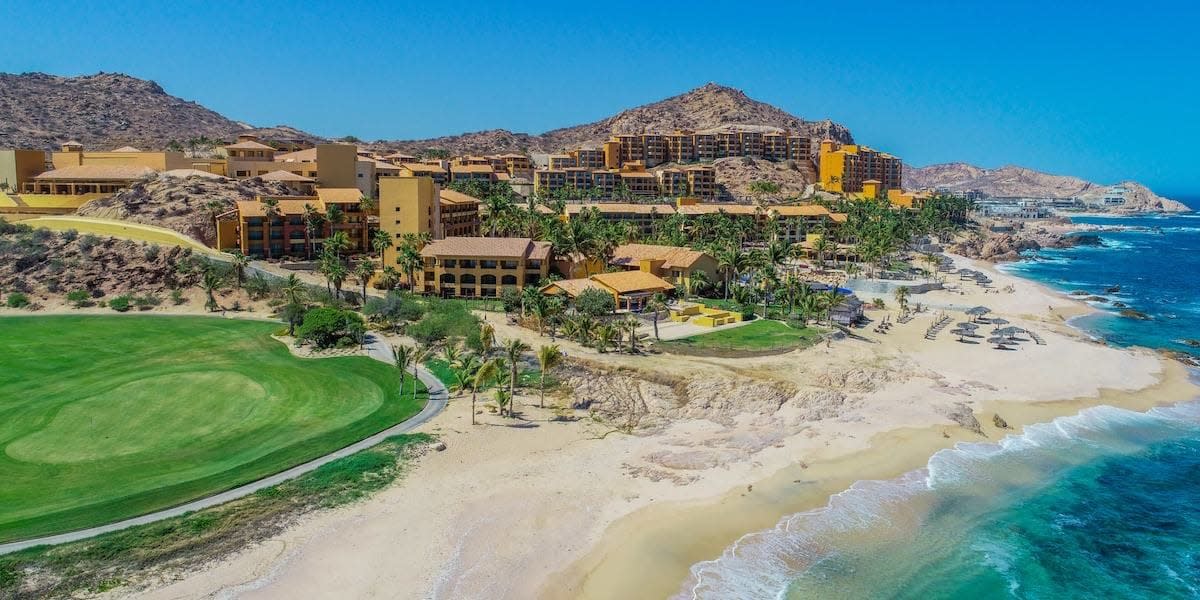 This posh, all-inclusive resort straddling Baja California's two capes features 527 tastefully decorated rooms and suites with private balconies overlooking the scenic Sea of Cortez.
Warm Mexican hospitality and a variety of tasty cuisine are on display throughout the resort's nine specialty restaurants, various bars and popular coffee bar where a host of sweet treats await. When night falls, keep the party going at the popular Black Lemon Disco Lounge without having to leave the property.
The unique SOMMA Wine Spa provides soothing treatments and relaxation with the use of rich fine wines from around the world to assure unique and relaxing therapies. Be sure to ask about the special couples' massage on the beach and inquire about the 15% discount for golf groups.
Special arrangements can be made for wedding couples and their guests who wish to incorporate golf into their wedding activities. The resort is located inside Cabo del Sol with two courses designed by Jack Nicklaus and Tom Weiskopf nearby. Round-trip transportation to the courses is available and reduced greens fees can be arranged. For early tee times, the resort will provide a box lunch and assist with other arrangements.
Oceanfront wedding venues are available with exceptional views of the golf course and ocean views. To ensure exclusivity and privacy, only one wedding is performed per day.
For couples wishing to have an indoor event, the Imperial Suite offers privacy along with stellar views. With two bedrooms, a spacious living room, floor to ceiling windows and views of the golf course combined with the surrounding natural rock formations and sweeping views of the Sea of Cortez, it offers a great alternative venue.
Special excursions can be arranged for couples looking for different activities off-property such as a visit to the renowned "El Arco," the distinctive icon of Cabo San Lucas, which emerges from the sea at the tip of the Baja Peninsula, where the Pacific Ocean meets the Sea of Cortez.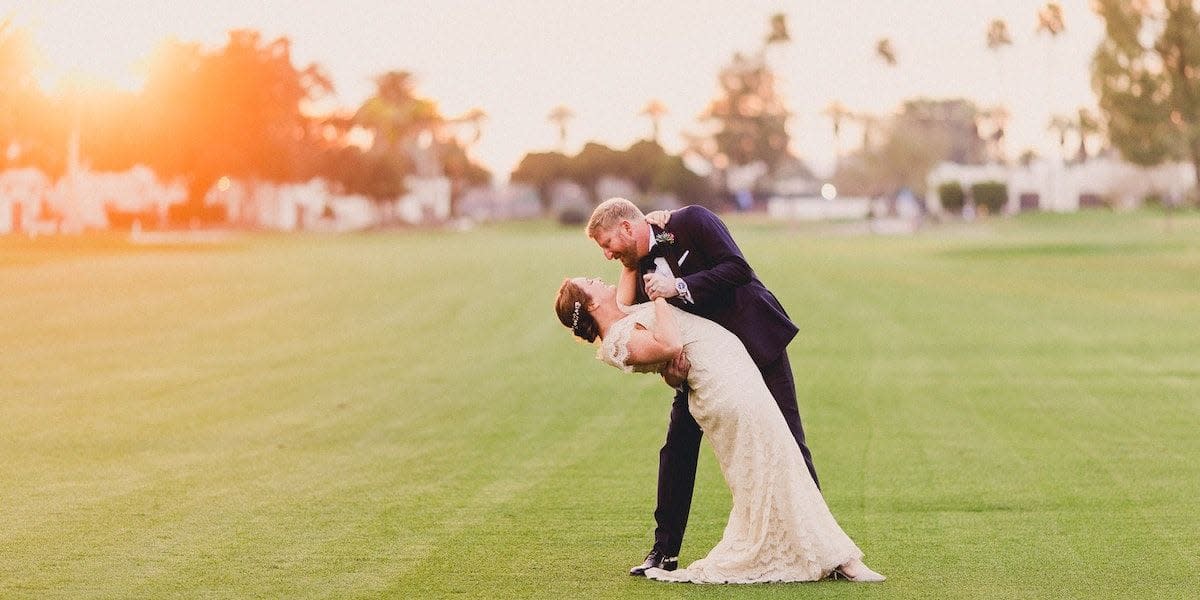 Sprawling like a jeweled oasis in Arizona's breath-taking West Valley, this luxurious resort combines the magic of southwestern charm with casual elegance in 331 casita-style guest rooms and two Presidential suites.
Tucked along 440 lush acres of Sonoran Desert, the distinctive adobe and timber architecture provide a warm backdrop to this iconic resort, which has been welcoming guests since 1929. An array of recreational experiences awaits with three pools, luxury spa, three restaurants, tennis courts and 54-holes of championship golf, two of which were designed by the legendary Robert Trent Jones, Sr.
For some tranquil "alone time" slip into the romantic ambiance of the adult-only Oasis Pool, nestled in the rich, tree-lined enclave of the resort.
Couples wishing to get married here are treated to exceptional touches by a highly experienced staff who will ensure perfection on their Big Day, allowing them to thoroughly enjoy the precious moment.
Whether exchanging vows in the posh ballroom or on the intimate terrace framed by the scenic landscape and abundant gardens shaded by graceful palm trees, the day will be perfect.
When the ceremony is finished, dance the night away under a warm starlit sky, showcasing sunset hues of purple, orange and soft reds.

Hugging the shores of Idaho's scenic Alpine Lake, this very upscale resort has been a favorite with visitors year-round for more than 30 years. With 338 luxurious guest rooms, including the exclusive Hagadone and Jaeger penthouse suites, the 200-acre property is home to a world-renowned golf course, award-winning spa and state-of-the-art fitness center as well as an indoor pool and outdoor infinity pool.
Titillate your taste buds in one of seven unique dining venues presenting cuisine ranging from northwestern specialties to Italian favorites, burgers, sandwiches and beyond. Tasty "apps" and specialty cocktails with a twist on the classic shaker martini, with flavors like lemon drop and chocolate, can be sipped at Whispers, the popular waterfront lounge.
Golfers will delight in being transported onboard custom mahogany water taxis across Lake Coeur d'Alene to the resort's world-renowned golf course where each group will be greeted at the dock and taken to the place which has been voted "America's Most Beautiful Golf Course," by Golf Digest. It is also noted for being home to the world's only Floating Golf Green and the memorable golf challenge it presents.
Wedding couples can select from a variety of indoor or outdoor venues for their special moment, including the Celebration Garden, a vast outdoor oasis surrounded by seasonal blooming flowers, reflection pool and gated guest entrance. Wedding specialists are on hand to guarantee perfection.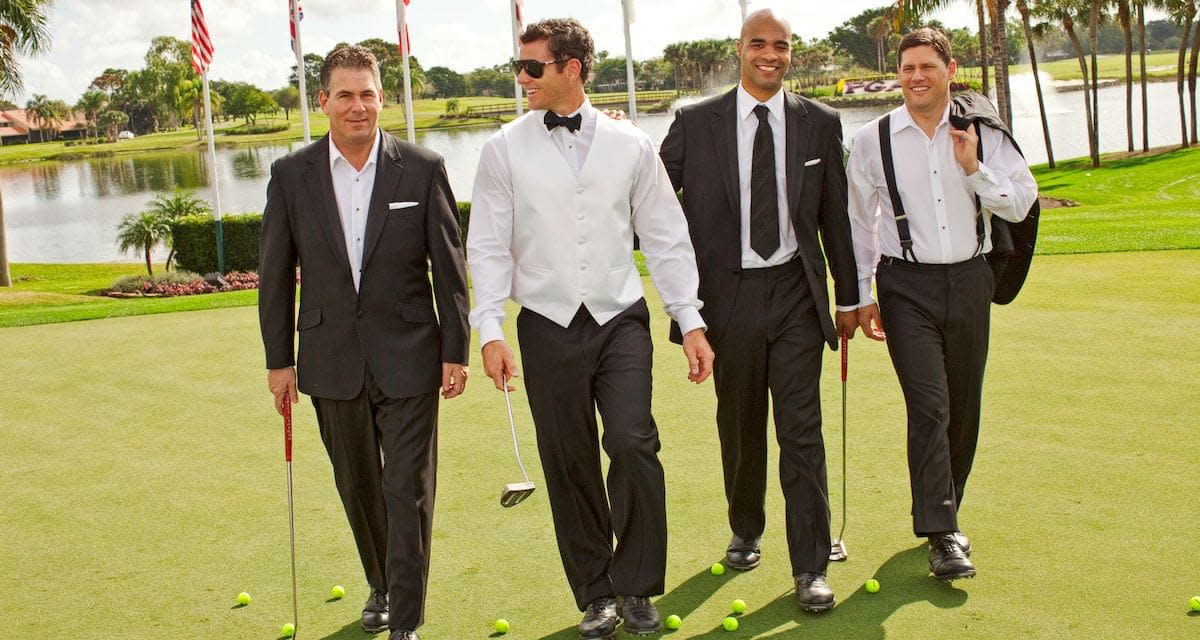 After completing a $100 million renovation, this Palm Beach resort is sporting a new vibe, paving the way to a slate of new amenities. The newly designed 370 guestrooms, suites and cottages pay homage to Florida's 1960s-era luxury resort life with private terrace or balcony, spa-style bathrooms and luxe furnishings, while 31 private cottages offer full kitchens with ample space for extended stays.
A variety of dining options include a "blast from the past" at Birdie's Diner where you'll be transported to simpler times with classic diner favorites. Honeybelle evokes old South Florida's comfort food, while The Butcher's Club offers swanky 1950's sophistication along with tasty sides of beef.
Renewed tranquility can be found at the 40,000-ft revamped spa with a vast variety of healing treatments offered for both men and women.
In addition to the 90 holes of championship golf across six courses, the resort recently added two Andy Staples-designed courses, "The Match" and "The Staple," sure to challenge golf enthusiasts.
Various stunning wedding venues are available throughout the resort with choices boasting lake or green views. The recently added Lakeside Lawn offers sweeping views of the lake. For an intimate wedding, Spa Waters of the World combines cozy cabanas with tranquil mineral pools and healing waters from the Dead Sea and France's Salies de Béarn, to create a soothing holistic vibe.
The Honda Pavilion on the shores of the resort's lake and a host of elegant ballrooms are other options for the special day.
The 750 luxurious guest rooms, including two Presidential Suites, 66 Fairmont Gold Rooms and 122 Casitas, all showcasing the Southwest's subtle undertones and earth accents, pave the way for a very enjoyable experience at this AAA 5-Diamond Arizona resort.
Dining becomes a culinary adventure at a choice of upscale restaurants offering a selection of distinct flavors ranging from a fusion of Asian and Latin flavors at Toro Latin Restaurant, authentic Mexican fare at La Hacienda, wide-ranging meat choices at Bourbon Steak or the reputed best breakfast in town at Ironwood Kitchen.
Unplug and reconnect with wellness and beauty treatments for both men and women at Well & Being Spa, recipient of USA Today's "10 Best Reader's Choice Top 10 Winner Best Hotel Spa" designation. 
A full fitness center and six sparkling pools promise to keep everyone in shape while golfers have access to two TPC Scottsdale golf courses adjacent to the resort.
Lushly landscaped grounds with lagoons and expansive patios offer outdoor venues for weddings, while two luxurious ballrooms provide cool, indoor options.
Located inside the clubhouse, Toro's is a desired wedding venue with sweeping views over the 18th hole and a dedicated team of event professionals to make it happen. Under the collaboration of celebrity Chef Richard Sandoval, wedding couples will be treated to a menu infused with distinct Pan-Latin cuisine with a selection of small plates designed for sharing. As an added touch, with more than 150 rums on tap, Toro boasts the largest selection of that popular beverage in the Valley.

Hugging Wisconsin's coastline along Lake Michigan, this resort was built in 1918 as a dormitory for single, male immigrant employees of the renowned Kohler Co. In 1981, it reemerged as a 5-Star, 5-Diamond resort hotel, developing a storybook charm and historic richness, launching it into a premier destination experience.
Whistling Straits and the Irish Courses Championship Golf Courses are sure to challenge the most avid golfers with two distinct experiences. When you're finished with your round, check into Kohler Waters Spa for some soothing rejuvenation with mineral-rich waters and a bountiful menu of treatments. With their guests' wellbeing in mind, the spa also offers a tasty, healthy selection of food to indulge in while you're enjoying the spa experience.
Ten other on-site restaurants and excellent room-service promise to fill all cravings from gourmet breakfasts, afternoon snacks and elegant dinners.
Located next to the Straits of Whistling Straits, the Champion's Locker Room Terrace offers a beautiful backdrop for a wedding ceremony. Located just three miles south of there, the sleek Straits Chapel overlooking Lake Michigan showcases a breathtaking panoramic view of the lake through tall center windows.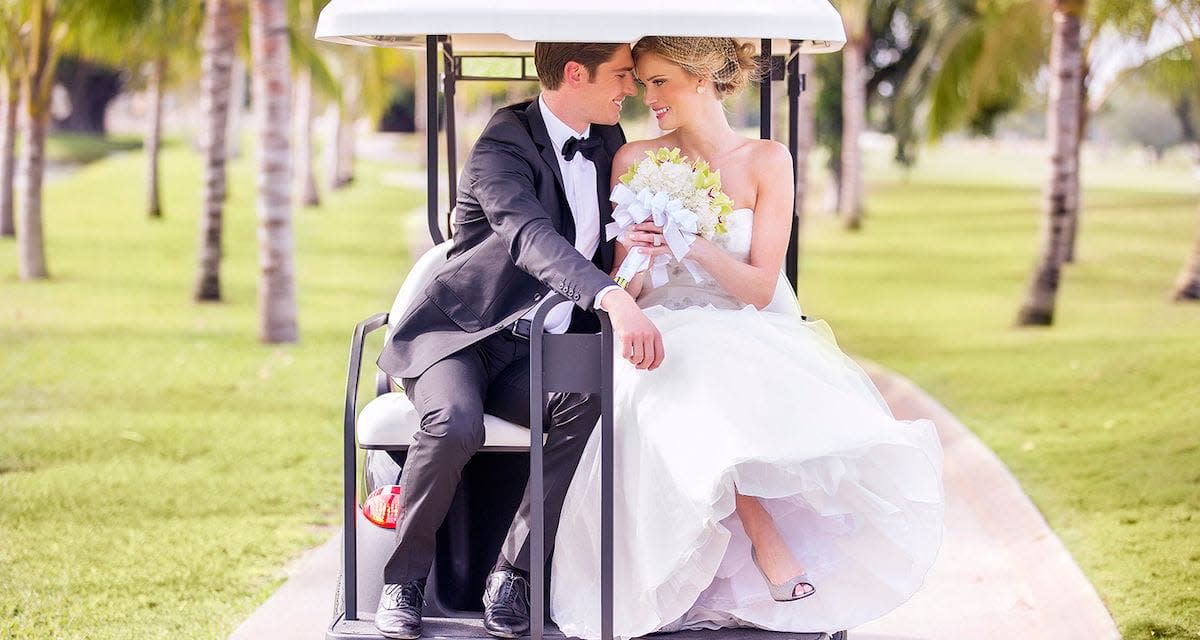 After undergoing a $250 million renovation, this iconic Miami resort has been restored to its former glory. The 643 tastefully designed guestrooms and suites, tucked into eight elegant villas in a campus-style setting assure a regal stay. Spacious marble finished bathrooms, private balconies or lanais and chic décor combine sophistication with creature comforts promising a luxe stay.
Cutting- edge cuisine, prepared by top chefs combine with inventive menus and extensive wine selections to assure ample choices in any of the indoor eateries. Award-winning BLT Prime is the contemporary Miami steakhouse, Champions Bar & Grill offers upscale American fare with a large patio overlooking the famed Blue Monster and Palm Grill provides casual, al fresco poolside dining.
The expansive Royal Palm Pool complex features a zero-entry zone, adults-only serenity pool, 18 private cabanas, 125' water slide and an array of recreational amenities for newlyweds to enjoy.
Unwind at the chic spa with a host of world class treatments and massages for men, women and couples.
Since opening in 1962, Doral was fashioned with golf at its core and it is now home to four uniquely-designed golf courses, designating it as a "bucket-list" golf destination.
Couples can choose from an impressive portfolio of one-of-a-kind wedding backdrops including plush greens, secluded gardens, flowing fountains and more. Grand ballroom galas, including the 24,000-square-foot Donald J. Trump Grand Ballroom and the breathtaking Crystal Ballroom with an expansive terrace and sweeping golf course views can also seal the special moment.
For those seeking an open-air ceremony or reception, the resort boasts 75,000 square feet of outdoor space. Beyond its picture-perfect setting, Trump Doral is renowned for its unwavering commitment to "Never Settle." Their experienced and passionate team of wedding professionals anticipate couples' needs while offering fine attention to detail. The culinary team matches this commitment to go above and beyond, using only the finest ingredients, freshest produce and sustainable options.