Requests for outdoor spa treatments have been around for the ages, but in a post-pandemic world, the question may occur more than usual. Any spa treatment is special. But when you take it outdoors to, say, an oceanfront cabana with the waves providing a soundtrack or a luxurious, open-air loft with a front-row view of Texas Hill Country, that massage becomes extra special and unique to the destination.
If your attendees are curious about what's on the spa menu, here are five luxury ALHI resorts that offer remarkable outdoor spa treatments.
Fairmont Orchid: An Open-Air "Spa Without Walls" Offers Hawaiian Treatments
The first order of business is to decide whether to indulge with a Hawaiian-inspired massage treatment in a breezy oceanfront cabana or in a private waterfall hut flanked by lily pods and a lush, tropical landscape. The Fairmont Orchid along the sun-soaked Kohala Coast on Hawaii Island is home to the award-winning, open-air "Spa Without Walls." The spa features eight outdoor thatched hales, or huts, that are nestled between orchids, coconut palms and streams, plus a half-dozen open-air private cabanas on the beach. The spa sources local products to incorporate into its treatments, including antioxidant-rich botanicals like passionfruit, as well as coconut oil, Kona coffee, matcha green tea, Hawaiian sea salt and volcanic lava rocks. Enjoy a restorative wrap of algae, lavender and organic aloe vera or get a dewy glow with a papaya enzyme body mask. Or, book the signature Lomi Lomi massage, which is a royal tradition originating in the Hawaiian Islands that's designed to restore one's mana, or spiritual energy. The massage involves long, gliding rhythmic movements.
---
Nobu Hotel Los Cabos: Experience Zen, Baja Style, in an Outdoor Spa Cabana
On the shores of Cabo San Lucas in Mexico, and where the Baja desert meets the Pacific Ocean, Nobu Hotel Los Cabos and its spa are imbued with a "Baja-zen" spirit. As a testament, The Esencia Wellness Spa has a simplistic design with Japanese influences and an outdoor hydrotherapy garden. The Outdoor Spa Cabana, built with locally sourced wood, is a relaxing, private escape in the adults-only pool area. Cure any jet lag with the Deep Sleep massage or soothe sun-kissed skin with the Sun Relief wrap to reduce redness. A specialty zen massage offered at Esencia Wellness Spa includes the Nagomi Ritual, a 105-minute treatment that includes a massage, facial cleanse and body exfoliation and incorporates warm herbal wraps and skin-nourishing essential oils.
---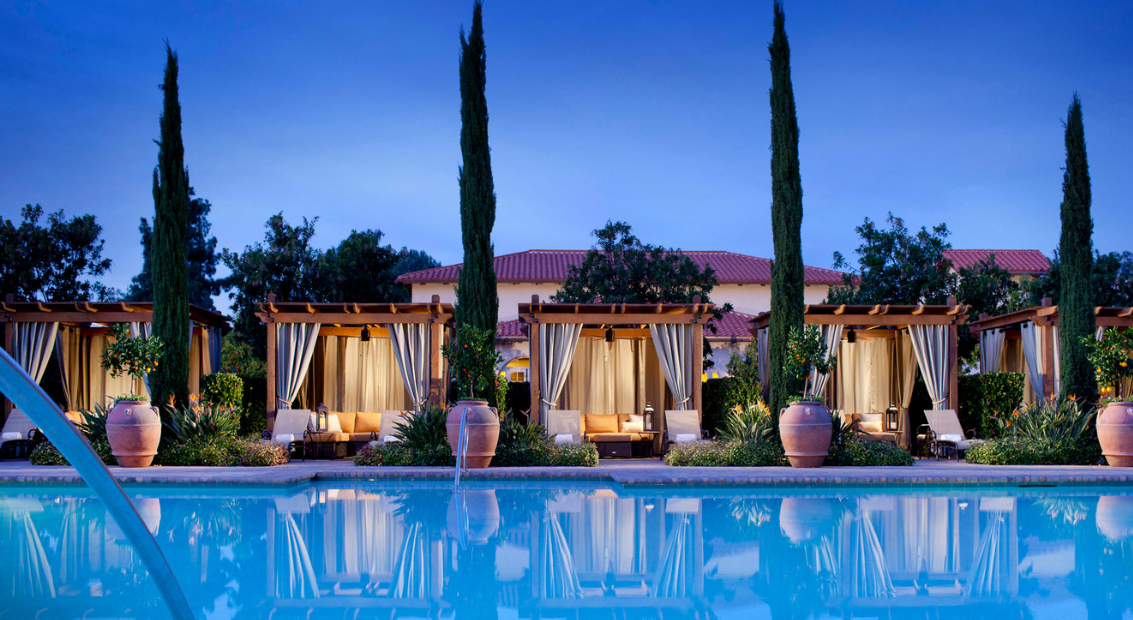 Rancho Bernardo Inn: Enjoy a Massage in Private Casitas in a Spa Garden
The spa treatments at Rancho Bernardo Inn are a multi-sensory experience. The luxury San Diego-based hotel has a verdant spa garden and offers massages in its private casitas, which have natural air flow and ventilation. Treatments are augmented by the sounds of nature and water features through the castia's slatted shutters. Spa guests also have access to a stylish saline pool and private cabanas. Treatments on the spa menu include a relaxing wellness massage and a deep-tissue massage that incorporates a blend of arnica, green tea and white willow bark extract to help ease muscle tension.
---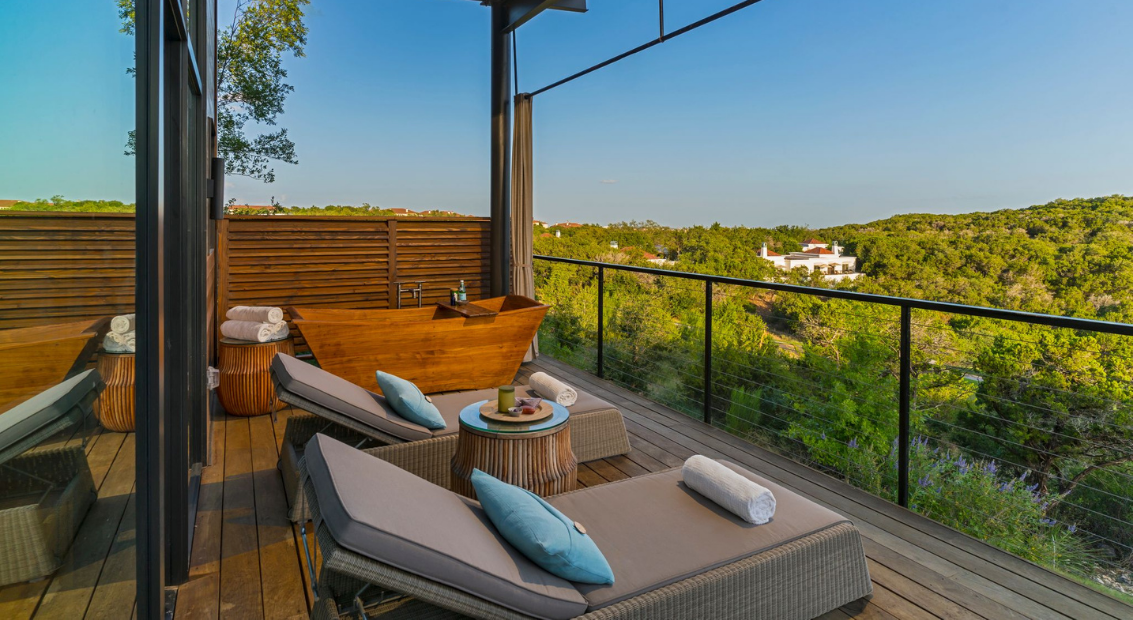 La Cantera Resort & Spa: Sky Loft Treatment Cabanas Show off Texas Hill Country Views
The tranquil Sky Loft treatment cabanas at Loma de Vida Spa give spa guests unobstructed views of Texas Hill Country scenery, and also a challenge to keep their eyes open during massages in this relaxing setting. The award-winning 25,000-square-foot spa, part of the 550-acre oasis La Cantera Resort & Spa in San Antonio, includes two private sky lofts that are secluded sanctuaries overlooking wooded bluffs. Other outdoor spa areas include three private garden cabanas and a private saline grotto pool.
---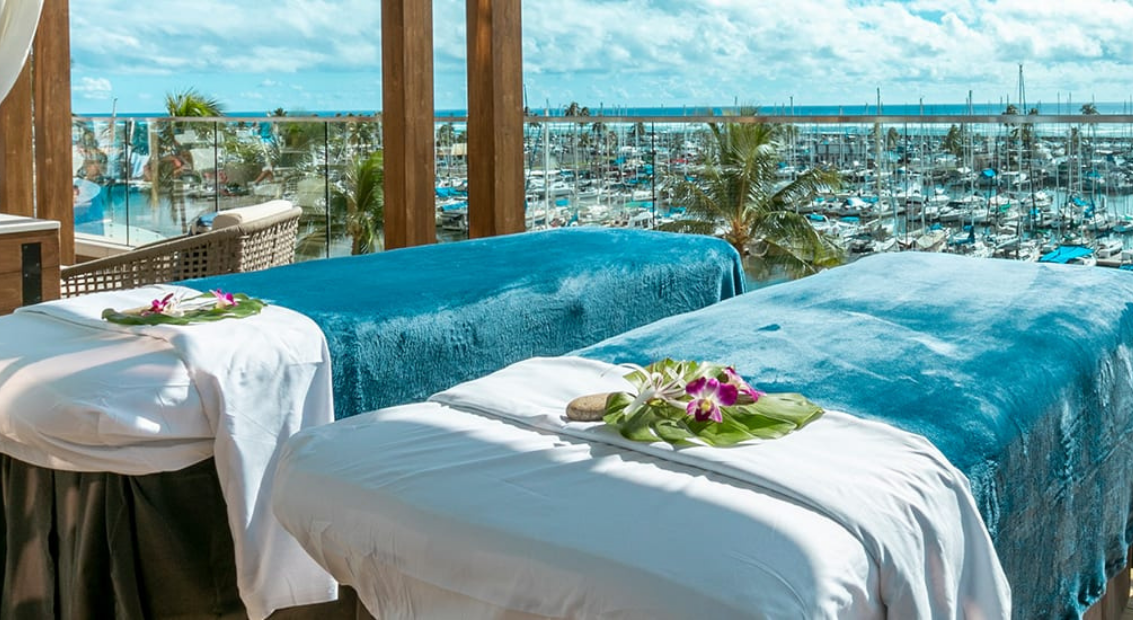 Prince Waikiki: Waves Provide the Soundtrack in the Oceanfront Cabana
Guests at Prince Waikiki have relaxation options: The spa team can provide in-room massages or set up the treatments in private cabanas, either oceanfront or with views of the Ala Wai Boat Harbor. The Naio Bliss spa team at this luxury Honolulu hotel merge restorative massage traditions, like lomilomi, with island botanicals for treatments that have a unique sense of place. The 90-minute The Journey treatment was developed with traveler's in mind and includes a lomilomi massage using hot stones and muscle relief balm. The treatment also includes a coconut oil scalp massage and tropical aromatherapy.