You may already know downtown Miami and the Brickell neighborhood as the city's financial district. Yet this sophisticated city core deserves further introduction, especially if it's been a while since your last visit.
Surrounded by the sparkling Biscayne Bay, Brickell has distinguished itself as a well-rounded destination, a place where starchitects leave their marks in the ever-evolving skyline and where arts and culture flourishes, complemented by a global dining scene.
Think Brickell as business-minded, but with an artistic soul, and with this just-right balance, there's a growing sentiment that this is rapidly becoming a vibrant cultural center for the city.
"You feel an energy throughout Miami; it's a diverse and vibrant city, but you'll especially feel it in the downtown area," says Brandi Scott, Director of Convention Sales with the Greater Miami Convention and Visitors Bureau. "It has that mix of professionals, as well as leisure and business travelers."
In the heart of downtown, the InterContinental Miami is imbued with the unique culture of the neighborhood, and the luxury hotel invites meeting guests to get an authentic feel for the city through events such as live art demonstrations and free salsa lessons. That's to say, even if business travelers can't immerse themselves in the surrounding arts and culture scene (there is much to see, do and taste), they'll still get a good pulse of the neighborhood within the hotel.
Miami is at the crossroads of South America and the Caribbean, and the southern Florida city's arts and cultural scene reflects that, says Laura Bruney, the CEO of the Arts & Business Council of Miami. In all, the city is bustling with 1,200 nonprofit arts groups.
"Miami is already a hip destination," Bruney says. "The arts put us over the top."
Here's a closer look at how downtown Miami has become a remarkably dynamic destination, and how the InterContinental Miami, which is just steps to Brickell, less than 2 miles from both Wynwood and Design District and 7 miles from Miami International Airport, is positioned to be a consummate host for business travelers who want a feel for downtown.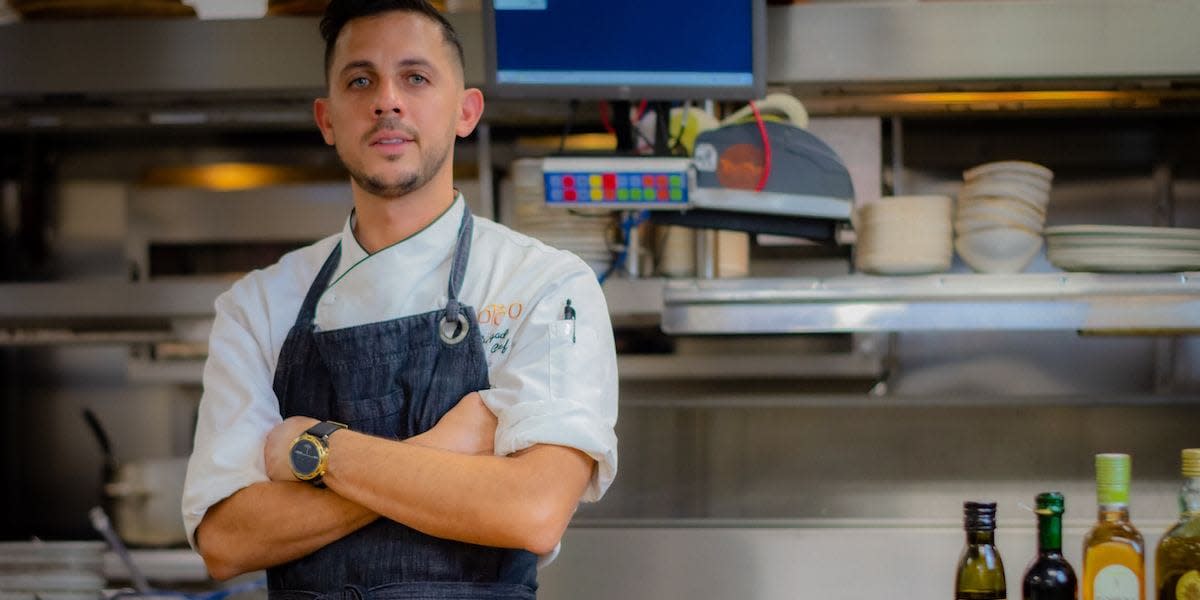 Experience the Thriving Arts and Culture Scene in Downtown Miami
The beauty of Brickell is that it's a walkable neighborhood connecting multimillion dollar condos, businesses, world-class museums and restaurants, says Scott.
"It's a great, diverse mix of energy," she says. "It's a place where people live, work and play. There's people visiting the city and going to the museums as well as residents who are out walking their dogs all converged in one area."
Within a short walking distance of the InterContinental Miami is Maurice A. Ferré Park (known as Museum Park), which is a renowned arts and science hub that's helped buoy Miami's international reputation as a bona fide arts destination.
A centerpiece of the park is the Pérez Art Museum Miami (PAMM), a modern and contemporary art museum that exhibits international art of the 20th and 21st centuries. When the museum was founded in 1984, it sought to fill a void in a young city that didn't yet have a contemporary art museum. The museum has grown with the city, and, in 2013 expanded into a 200,000-square foot campus that sits angled on Biscayne Bay, an architectural marvel designed by the award-winning Swiss firm Herzog & de Meuron. Nearly 3,000 permanent collection pieces are spread between galleries on three floors, with artworks that reflect Miami's ethnically rich community.
Next door to the Pérez Art Museum Miami is the Phillip and Patricia Frost Museum of Science, which includes a world-class planetarium and aquarium. Interactive exhibits here explore everything from the ecosystems of the Everglades to the evolution of human flight, with a telescope on the rooftop for stargazing. The museum's centerpiece is a three-story, 500,000-gallon, cone-shaped aquarium.
In addition to the downtown museums that draw for travelers and locals alike, the nearby Design District is a destination for high-end fashion, chef-driven restaurants and distinguished art galleries. Travelers can pop into the Institute of Contemporary Art (admission is free) and see emerging artists and ultra-modern exhibits that push boundaries or take a stroll through the outdoor urban museum that is Wynwood to witness the color-saturated street art murals.
Located in downtown Miami is the Adrienne Arsht Center for the Performing Arts of Miami-Dade County, which is the city's premier cultural venue. It's home to the Miami City Ballet, Miami Symphony Orchestra and Florida Grand Opera, and is a stop for touring Broadway productions and dance troupes.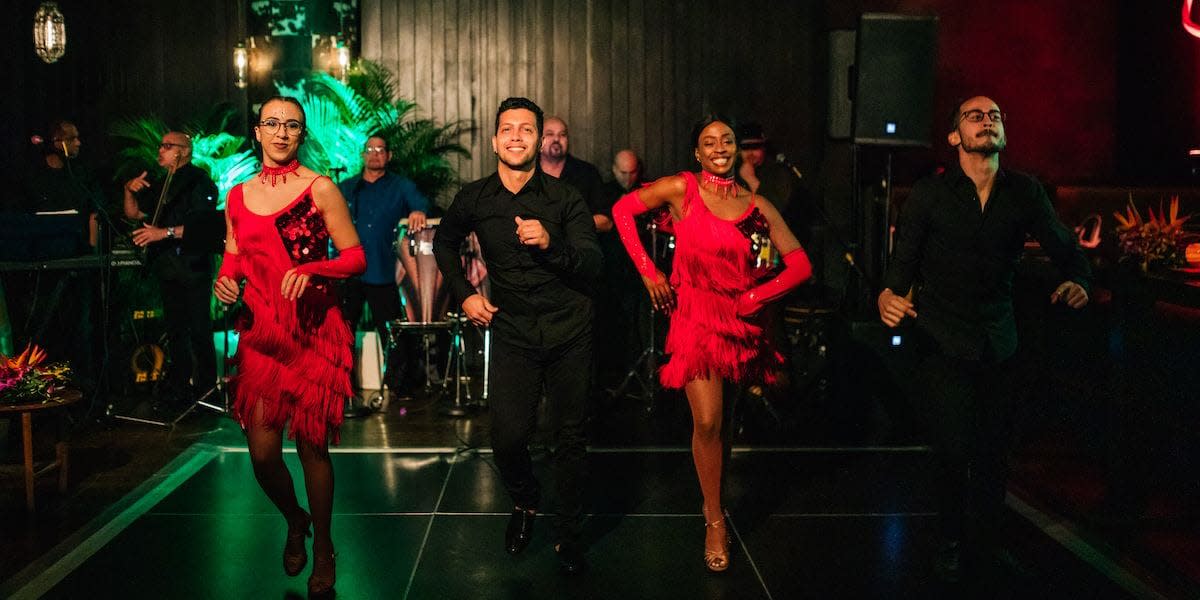 Immerse in Cultural Experiences at InterContinental Miami
Downtown Miami has become a multicultural destination that embraces its diversity, says Philippe Parodi, Director of Sales and Marketing at InterContinental Miami, a 653-room hotel in the heart of Brickell. As a tribute to the rich history of the neighborhood, the hotel offers unique programming to introduce guests to the neighborhood.
The hotel's programming for meeting planners and guests includes cooking demonstrations by Toro Toro Executive Chef Jean Delgado and cocktail classes that showcase the art of muddling mojitos. InterContinental Miami also holds salsa dancing lessons that bring the spirit of Havana to the hotel's Brickell Ballroom. Pan-Latin brunches feature tasty dishes like Achiote Chicken, ceviches, and, for dessert, Bananas Foster.
Much like the surrounding neighborhood, art has its place at the InterContinental Miami, a hotel was built around the focal point of its lobby, which is Henry Moore's 18-foot, 70-ton Spindle sculpture made of travertine marble. The hotel regularly holds interactive art demonstrations so guests can interact with the artist in residence.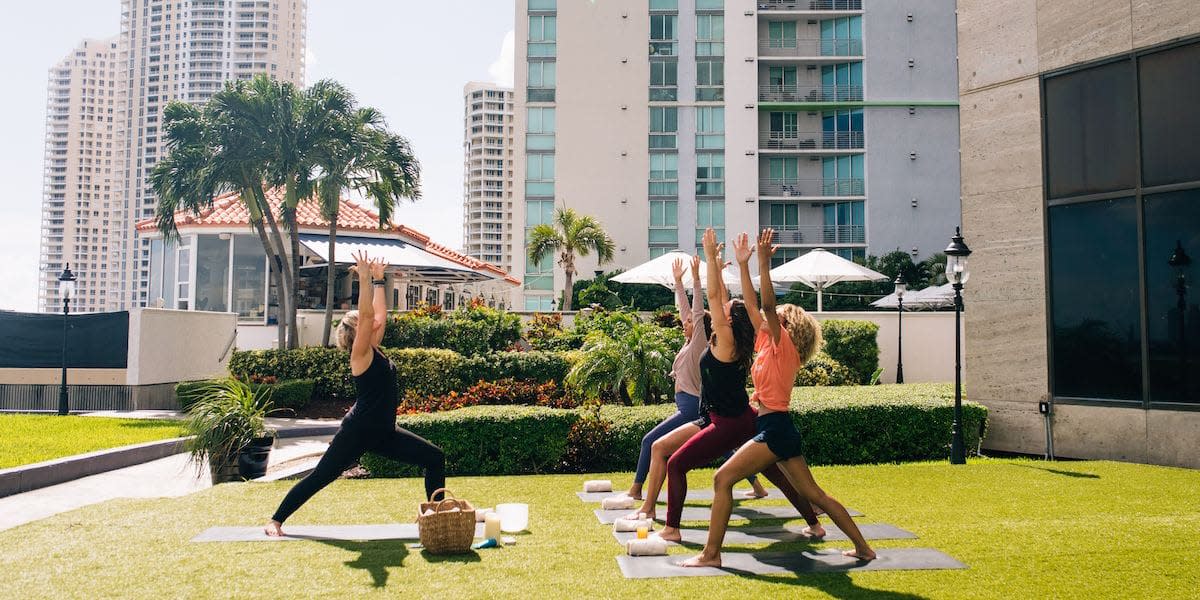 Enhance Events with Wellness Selections from mySpa
Another programming perk at the InterContinental Miami are the yoga classes held on its SkyLawn, which offers a dose of zen with spectacular views of downtown Miami and Biscayne Bay.
Allow delegates to start the day or ease into the evening with private group yoga or group meditation sessions. Their highly skilled instructors use flowing stretches and breathing techniques to enhance a meeting. These classes can be held at mySpa on the POOL Level, 5th floor outdoors, weather permitting, or even within one of the meeting spaces.
Another great option is a 15 minutes wellness break that require no equipment or change of clothes. Not only is this a great team building exercise, but it's a lasting wellness impression that educates on the importance of wellbeing. It can also involved a seated massage with highly skilled therapists to release tension with targeted acupressure massage in the neck, shoulders and back. 
"These diverse options allow group attendees to immerse themselves in the exciting Miami atmosphere, even during their busy program at the hotel," Parodi says.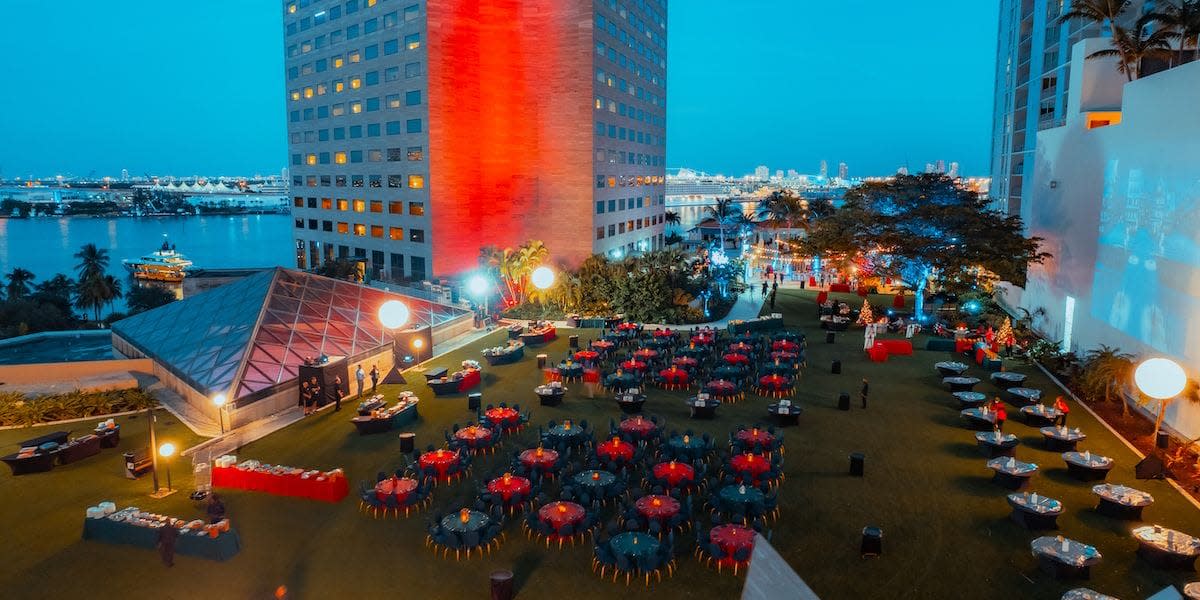 InterContinental Miami
653 rooms, including 22 suites
101,000 square feet of meeting space spread between 35 meeting rooms
5th floor SkyLawn with 35,000 square feet of outdoor events space, sweeping views of the Miami skyline and a large projector wall