Miami is paradise year-round. But this south Florida destination especially heats up during the winter months when visitors can immerse themselves in arts and culture festivals, indulge at a famous food festival or marvel at yachts during a world-renowned boat show.
"Greater Miami and Miami Beach is one of the few domestic destinations that has sunshine and beautiful weather all winter," said Carol Motley, Senior Vice President of Sales and Services for Greater Miami Convention and Visitors Bureau. "Whether you are coming into town for a meeting or convention, or just to enjoy some downtime, there is always something going on in Miami, including an abundance of winter events that you can sync up your sunny stay with."
As a vibrant city center, Downtown Miami and the Brickell neighborhood provide a sophisticated stay for meeting guests and incentive groups who want to immerse themselves in the flourishing arts and culture scene and be close to the city's exciting events and offerings. With a pulse on all that's happening in the city, InterContinental Miami offers tailored activations and programming that are a natural extension of the region's events calendar, whether that's artist events during the famed Art Basel or rooftop yoga for those  traveling with a wellness focus, said Philippe Parodi, Director of Sales and Marketing at InterContinental Miami.
Ahead, discover five only-in-Miami events and festivals to consider aligning with your group's winter escape to southern Florida, plus learn insider tips from the team at InterContinental Miami, a 653-room hotel in the heart of Brickell, on how to best enjoy the city core come winter.


Art Basel
(Dec. 1 - 4, 2022)
Art Basel Miami Beach is a, rather, the contemporary art fair that brings artists, as well as art collectors, dealers, and enthusiasts from around the world. In fact, more than 250 galleries representing 35 countries showcase works by 4,000 artists during Art Basel, which coincides with Miami Art Week. While Art Basel is held at the Miami Beach Convention Center, the creative spirit of this premier art show spills over into venues throughout the city with satellite fairs, parties and events.
Insider tip: Guests at InterContinental Miami have unique opportunities to interact with the local art scene as the hotel is a monument to art and luxury that's imbued with the spirit of New Miami, which, in a few words, is global, sophisticated and artistic. InterContinental Miami's "Noche de Arte" takes place on Monday evenings, with resident artists displaying their artworks onsite and engaging with guests. But art is integral to the hotel's design, from antique Florentine marble to modern art on a 19-story digital canvas that illuminates the skyline with 18 LED screens and interactive touch tables in the lobby.

Wodapalooza
(Jan. 12-15, 2023)
Top CrossFit athletes descend on Miami for Wodapalooza, a leading lifestyle fitness festival that combines fitness and community. For the 11th year, the festival will take place at Miami's Bayfront Park. Over the last decade, the event has grown from 150 athletes and 500 spectators to 3,000 athletes with 40,000 in attendance. Even those who aren't competing can go through the gauntlet, an hour-long workout with different stations providing workouts and challenges.
Insider tip: Wellness warriors will feel right at home at InterContinental Miami, where guests can find zen during outdoor yoga classes, take fitness classes on the SkyLawn or cut loose during salsa nights. For those in town for fitness festivals, the InterContinental Miami's mySpa is a haven to relax and soothe sore muscles with messages that can be upgraded with hot stones and self-heating mud.


Discover Boating Miami International Boat Show
(Feb. 15-19, 2023)
As the largest boat and yacht event in the world, this February gathering brings more than 1,000 exhibitors to Miami and gives visitors a chance to see thousands of boats throughout the city. Serious boat buyers can test drive boats in Miami's waters, but even if you're not in the market for, say, a yacht, there's much fun to be had with concerts as well as interactive zones where you can test out smaller watercraft and see the latest sea toys. The International Boat Show takes place throughout Miami, with on-land and on-water locations. In past years, sailboats and catamarans have been stationed at Museum Park Marina close to InterContinental Miami.
Insider tip: Whether you're in town for the show or just love spectacular water and boat views, the 35,000 square-foot SkyLawn at InterContinental Miami is one of the most coveted gathering spaces for groups. The versatile outdoor space can accommodate up to 1,000 people and is located on the fifth-floor pool deck, providing unobstructed 360-degree views of Biscayne Bay as well as Miami's evolving skyline. The turf area features a projector wall that can be incorporated into groups' plans.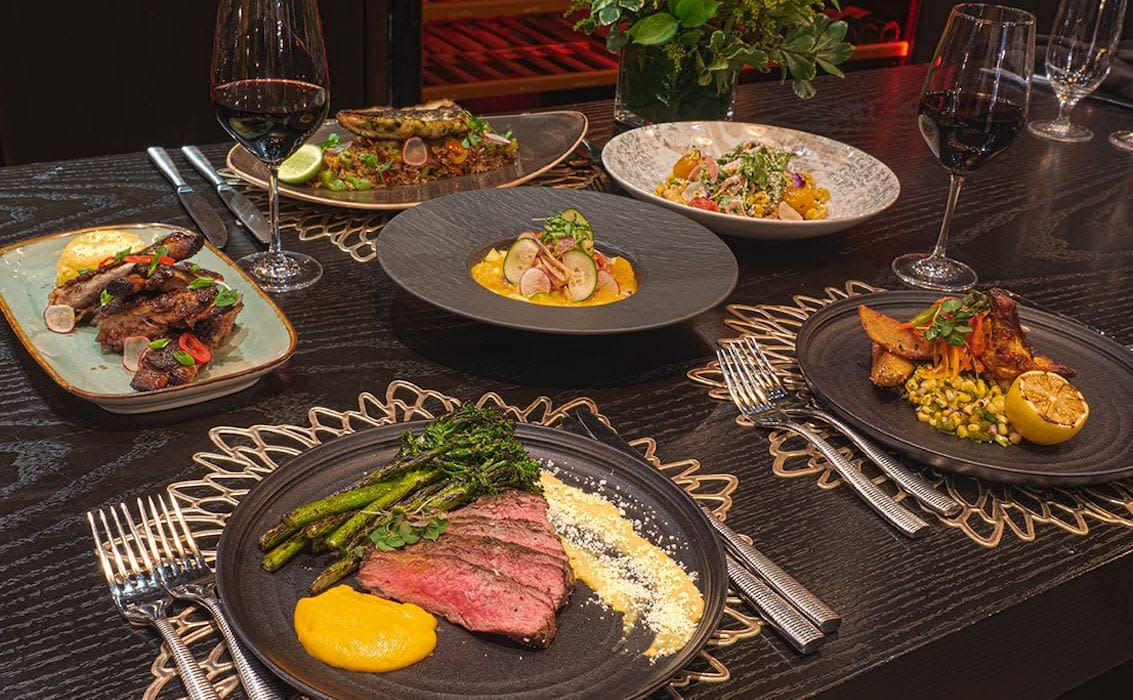 The Food Network South Beach Wine and Food Festival
(Feb. 23-26, 2023)
This star-studded, four-day culinary event showcases the talents of wine and spirits producers, chefs as well as favorite Food Network culinary personalities. Entering its 22nd year, the festival includes 90 events and draws more than 60,000 gourmands and oenophiles plus 450 culinary and spirits experts. Proceeds from the indulgent festival benefit the Florida International University Chaplin School of Hospitality & Tourism Management.
Insider tip: Get a taste of award-winning chef Richard Sandoval's cuisine at Toro Toro, a Latin restaurant inside InterContinental Miami that's known for steaks topped with Argentinian chimichurri and other dishes like Peruvian ceviche and lomo saltado. The restaurant has weekly traditions like cooking demos and interactive dinners with a fire dancer as well as private dining options for groups.

Ultra Music Festival
(March 23-26, 2023)
Ultra Music Festival is a premier electronic music festival with elite DJs that's hosted at Bayfront Park in Miami. It began more than two decades ago as a "little concert on the beach" and has since ballooned into one of the largest musical celebrations on the planet, drawing electronic music's biggest names to the shores of Biscayne Bay. Ultra is now a worldwide event, with similar festivals in Europe.
Insider tip: During the music festival, InterContinental Miami has a DJ spinning tunes in the lobby. It's not a club atmosphere like the actual music festival, but it's a fun continuation of the city's soundtrack.
Book your 2023 group now and receive exclusive, deep savings and upgrades.
Book by November 1, 2022, for groups actualizing from January 1, 2023, to September 30, 2023.
Enjoy these inclusions:
 One comp room per 40 rooms booked and consumed
 One comp upgrade to a one-bedroom InterContinental Suite per 50 rooms booked and consumed
 50% discount off the group rate for staff rooms
 80% cumulative attrition
 Up to 100,000 IHG Rewards Points based on sign contract,
 5% rebate to the master account for consumed rooms and Food and Beverage revenue
 15% discount when in house provider Encore is used exclusively
 
Offer is based on availability; blackout dates may apply.  Offer only valid on new business and cannot be combined with any existing offers/discounts.