Conventional wisdom has taught us that the easiest way to someone's heart may very likely be via the stomach. While this is by no means a novel concept, it may be more the trend these summer days as couples look for ways to incorporate unique food elements into their wedding day.
Creating personalized palate pleasers ranging from tempting appetizers to tasty entrées, mouth-watering desserts and even signature cocktails and enticing late-night snacks may well be the new "comfort food" for summer weddings.
We've asked a few ALHI members how they captivate their wedding guests and inspire wedding planners with unique culinary options to showcase for summer wedding day celebrations.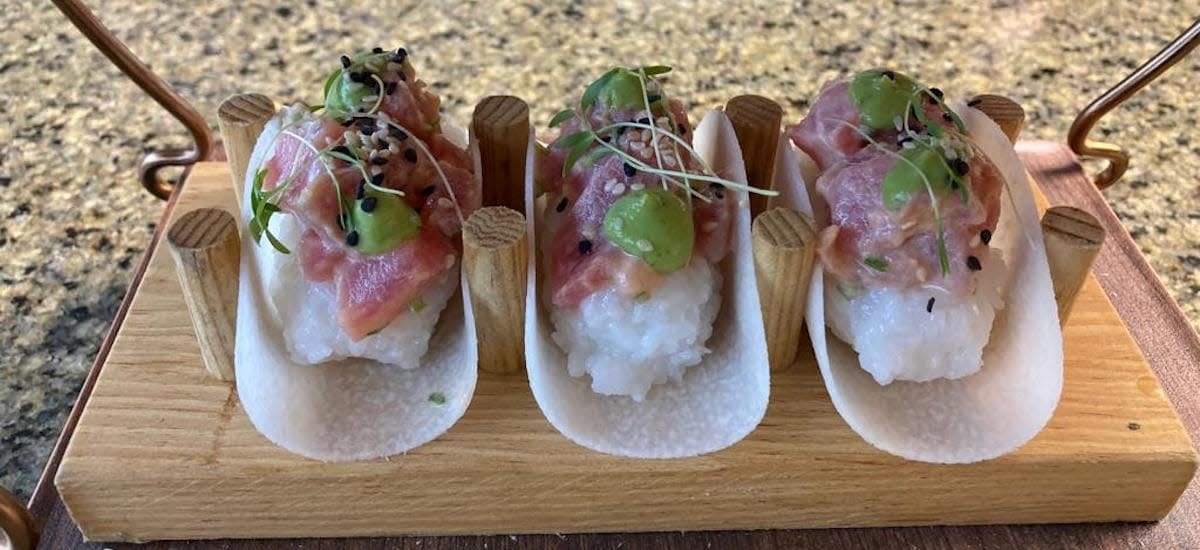 Grand Fiesta Americana Coral Beach Cancun All-Inclusive Spa Resort
This luxurious resort on the Caribbean Sea features an ample array of tasty options on their wedding menu.
"We offer a complete menu for the most discerning palate," said Romance Expert Manager Lizeth Cordero. "We're also happy to create a special cocktail based on the couple's specific wish list to offer a memorable experience."
"In addition, we use only the freshest, organic ingredients in everything we make and we always include a Mexican touch," added Executive Chef Sergio Zarate.
Summer menu options range from a host of seafood selections for appetizers such as blue crab, avocado and mango with a chipotle aioli, salmon carpaccio and fennel and others. A signature summer salad usually features pressed watermelon, feta crumble and hibiscus.
During their site inspection, prospective couples are offered a series of appetizers, entrées and drink options from which to choose for their special day.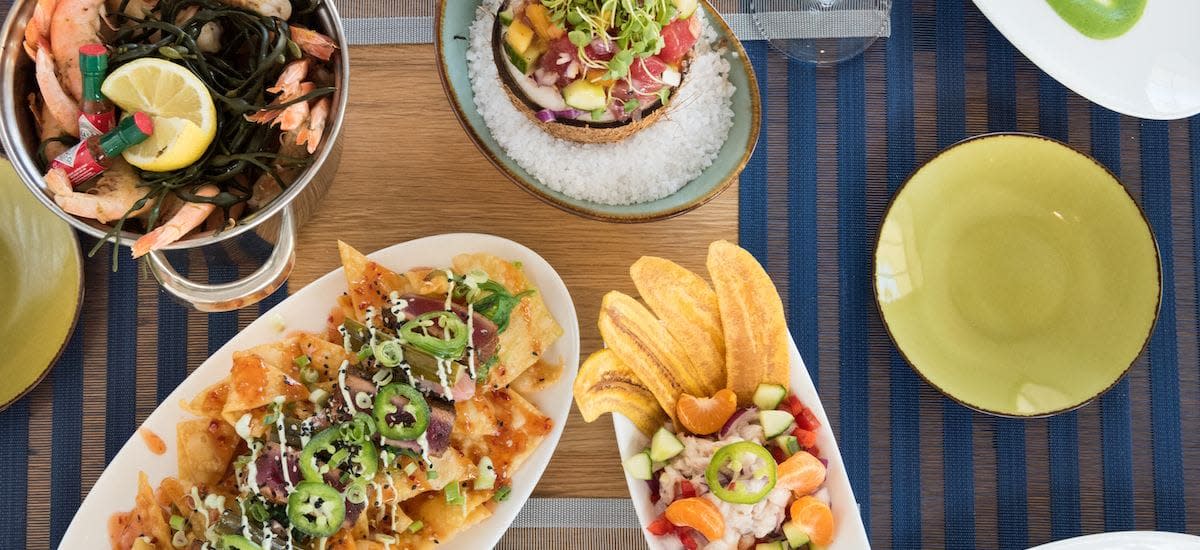 Tucked into a secluded island in the Florida Keys, this is the perfect spot for an intimate wedding and honeymoon with fresh seafood leading the list of dining favorites, said Chef Matt Holmes.
"Something we like to personalize for the group is our fresh local catch (fish/lobster). Here at Hawks Cay Resort, guests can go fishing on our charter boats and when they return from their trip, we cook their catch," he said. "For weddings and events, we cook the entire fish and create an action station out of this presentation. With guests going back to buffets and action stations for their receptions, this piece is a great talking point, especially if someone in the group or wedding party caught the fish."

Located on the banks of the Potomac River in Washington D.C., this luxurious hotel offers a tasty roster of summer wedding appetizers, said Marketing Manager Alisha 'Ali' Le.
"Mini lobster rolls have been a huge spring and summer hit," she said. "These mini bites are a fantastic finger food and are served in mini fresh-baked brioche buns. They're the first to go and have been a hit with our guests because they go very well with a chilled white wine at the reception."
Also popular are shrimp cocktail shots, served with the sauce at the bottom of the glass with individual shrimp in each. "It's a refreshing treat and we use fresh jumbo shrimp and a house made cocktail sauce," said Le. This is a great option for gluten-free guests."
Other hits include Prosciutto melon skewers with a balsamic glaze and mozzarella ball, and mini empanadas served with aji verde, a zesty Peruvian green sauce. Empanadas can be filled with anything from beef to chicken and for vegetarians, spinach or other veggies or cheese.

Beautifully situated on the scenic shores of Mexico's Caribbean, this dazzling resort promises the perfect wedding venue and lots of appetizing menu options on the wedding day. When it comes to the perfect palate teasers, Chef Antonio Cortaza has an ample, colorful collection in his repertoire.
"With summer approaching and temperatures rising, we're starting to think of something fresh to go with the season, the Mexican Caribbean setting, heavenly beaches and lush tropical fruit surrounding us," said resort Romance Expert Manager Miriam Martinez Pelaez.
"That's why our Chef Antonio designed a special appetizer based on chilled watermelon," she said. "One of the most popular dishes features watermelon with fresh goat cheese and red fruit marmalade with a mint vinaigrette dressing."
Also popular is shrimp with a tangy mango chutney and specially crafted cocktails created specifically for the couples after they've met the hotel's wedding planners during the site inspection.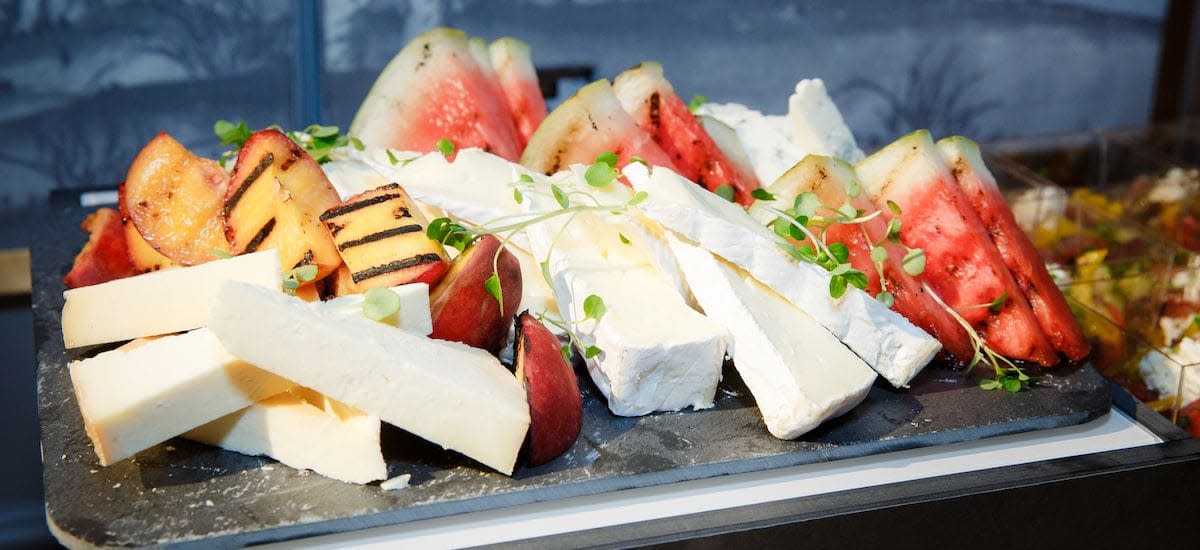 This venerable downtown New York City hotel has hosted scores of weddings since first opening its doors in 1926. According to Executive Chef Ruben Ruggier, food events which standout are grazing tables featuring farm to table foods.
He partners with local farms behind a pledge of "Supporting Local Farmers and Producers Has Never Been Easier (or more delicious)," and he and his team have developed two types of party-pleasing food arrangements: crudities and fruit where they display fresh fruit and vegetables; and cheese and charcuterie where they display Upstate New York cheese, fruit and local artisan breads, both arrangements displayed on marble tables
Other popular summer appetizers include:
·      Wild Mushroom Truffle Salad in Savory Cone
·      Marcona Dusted Prosciutto and Melon
·      Grilled Grapes on Herbed and Bleu Cheese Polenta
·      Chilled Summer Rolls with Peking Duck and Asian Vegetable Slaw
·      Chilled Oysters with New York Apple Cider Gelée and Radish Salad
·      Assortment of smoothies
·      Assortment of deviled eggs
·      Grilled Watermelon & Peaches with Feta
·      Coney Island Mini Franks with Sauerkraut and Deli Mustard
·      Mini Carolina Crab Cakes, Sorrel Aioli
For late-night snacks and "comfort food," assorted milkshakes served in mini milk bottles with straws and holed chocolate chip cookies, donut ice cream with assorted toppings, or chicken and waffles with New York State maple syrup are the top choices. The Espresso Martini tiramisu is also a crowd-pleaser. 
The chefs at Grand Geneva have created the perfect summer menu featuring both hot and cold appetizers. From tuna poke and smoked salmon to chicken skewers and mini Beef Wellington, guests are treated to dishes they will dream about long after the wedding is over, said Jenna D'Arcy, Director of Marketing & Communications.
"Along with a delicious taste comes a beautiful presentation that brings an extra element of décor to the special day," she said.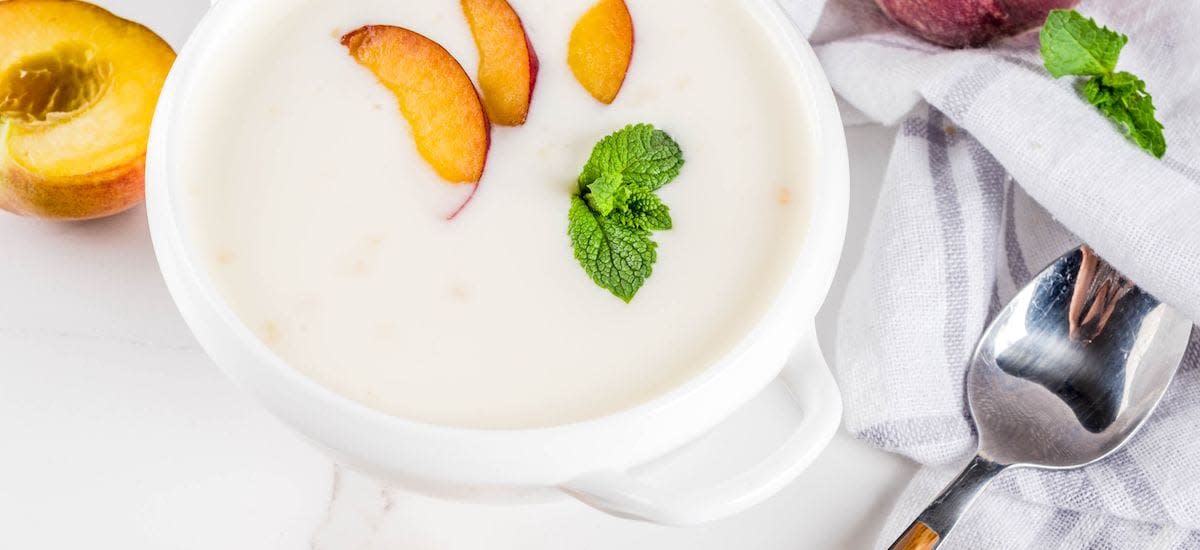 Colorado's "action-packed resort" offers the perfect blend of adventure and pampering, ideal for a wedding destination.
"Summertime is a great time for chilled soups and 'shots' of soup are always a great wedding appetizer," said James Gutierrez, Area Director of Sales—Mountain Region. "Our goal here at Gateway is to always showcase the wonderful local flavors that are available to us right here on the western range. During the summer months we really want to focus on the peaches that come out of Palisade, which are arguably the best peaches in the world."