Sophisticated yet creative, the newly reimagined ballrooms and meeting spaces at InterContinental Buckhead Atlanta have bespoke surprises in store. Take, for instance, the custom carpeting that features a pattern mimicking the flight of a honeybee, which is an official state symbol in Georgia. Other subtle nods to the hotel's Southern roots are woven throughout the refreshed design, including Georgia's iconic peach as well as the white-and-yellow Cherokee rose.
Coming on the heels of this top-to-bottom, two-phase property reimagination, the InterContinental Buckhead Atlanta has secured its position as the luxury destination for event planners and groups in Buckhead, the city's most stylish neighborhood. It's the hotel's first major redesign since its opening in 2004.
Phase one of the project included reimagining the wedding, meeting and event spaces as well as a transformation of the lobby lounge and the anticipated debut of The Americano, an Italian-inspired steakhouse from James Beard Award-winning chef and restaurateur Scott Conant. Now, phase two is complete, with the redesign touching The Club Level, suites and The Spa.
The hotel's transformation was led by Chicago-based KTGY Simeone Deary Design Group and pulls in artwork from Niki Zarrabi, a mixed media artist from Atlanta. The design is "traditional with a twist—with the twist being the custom artwork by Niki Zarrabi throughout," says Lisa Simeone, principal of KTGY Simeone Deary Design Group.
Ahead, learn more about this new chapter of Southern sophistication that meeting guests can experience first-hand when they convene at InterContinental Buckhead Atlanta.

Setting a New Standard of Luxury in Atlanta's Buckhead Neighborhood
Elegance, culture and serenity are the themes the KTGY Simeone Deary Design Group incorporated when reimagining the ballrooms and meeting spaces at InterContinental Buckhead Atlanta. Grey textured birds of paradise wallpaper accent the pre-function space, complemented by structural brass lanterns, large mirrors and floral displays.
The hotel features more than 31,000 square feet of event, meeting, conference and banquet space, and can accommodate groups of up to 1,100 guests. The high-design meeting spaces include four unique meeting rooms and two extravagant ballrooms with seamless access to the lush Windsor Garden.
On the 21st floor, the new Club Lounge impresses with ebony wood floors juxtaposed against crisp white walls with green accents plus views of Peachtree Road and Atlanta's skyline. The area also includes a Club Lounge Boardroom, ideal for spontaneous gatherings.
In the lobby, the Great Hall provides an idyllic scene set with rose marble floors, hand-blown crystal custom ceiling fixtures and large-scale abstract artwork from Zarrabi. It is the rendezvous to access event spaces, the Americano restaurant, guest room floors and the Windsor Garden.
Guest suites have a soft palette of crisp whites, with warm touches of gray and a pop of jeweled emerald velvet. Bureaus and bookshelves are finished in a warm taupe lacquer and an original floral art piece by Zarrabi is on display above the custom luggage bench. Meanwhile, the Presidential Suite features a bolder, yet still refined design with accent metals, wood texture and stone throughout, plus an iron canopy bed and upgraded fireplace. A state-of-the-art Mirror workout allows executives to fit in their fitness routine while away from home.
In the new Spa Intercontinental, the hotel has partnered with Biologique Recherche, a high-end French skincare line, and is located adjacent to the fitness center and heated saltwater outdoor pool.

Buckhead's Most Coveted Reservation is at The Americano
Housemade pastas, steaks from a mesquite and pecan wood burning grill, organic salads, Mediterranean seafood and inventive seasonal cocktails are all on the menu at The Americano, one of the hottest new restaurants in the affluent Buckhead neighborhood. Plus, a meticulously curated wine list showcases bottles from established and emerging Italian and American producers.
The convivial restaurant opened its doors in the InterContinental Buckhead Atlanta last May as part of the first phase of the property's redesign. Since, it's become a spot for locals as well as those in town on business who are seeking out a special meal.
Complementing the restaurant are two private dining salons, Tuscany and Florence, seating 12 and 24 patrons, providing creative spaces for dining experiences.
Helmed by Conant—a two-time James Beard Award-winning chef, restaurateur, Food Network personality and cookbook author—the restaurant's design matches the hotel in that it's sophisticated, yet warm. Modern art, crescent-shaped booths and butcher block tables, plus an outdoor terrazzo with stone-topped tables, add to the appeal.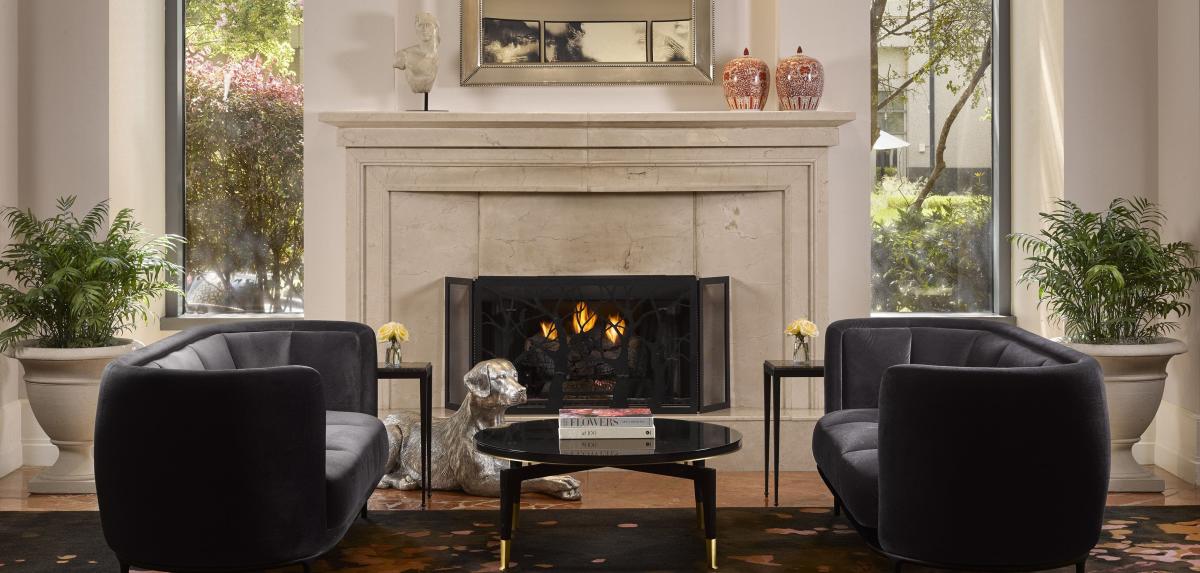 5 Questions with InterContinental Buckhead Atlanta's Concierge Preston Rooks
The epitome of luxury, guests at InterContinental Buckhead Atlanta will be greeted with not just beautiful guest rooms and meeting spaces, but also cuisine from a celebrity chef and excellent service. Here's some insider information meeting planners and guests should know about the hotel and Buckhead community. 
If luggage is lost or delayed, where would you point meeting attendees to shop in the area?
We have three malls within walking distance: Lenox Mall, Phipps Plaza and Buckhead Village
What's a must-see while in town and while on a break from meetings?
Path400 is a great hidden walking trail in Buckhead. Eventually it will link a 106-acre network of parks and trails in the neighborhood.
Where can guests find the best view of Atlanta within the hotel?
The Presidential Suite has panoramic top floor views of the downtown skyline.
We heard Buckhead is a budding Hollywood. What movies or shows has Buckhead been featured in?
We have had several TV shows, movies and commercials shot here at the hotel. The hotel has been a backdrop for "Impractical Jokers: The Movie" and CBS "Inside Edition."
What's a little-known fact you can share about the hotel?
Trippe Meeting Room named after Juan Trippe, who founded InterContinental Hotels and Pan American Airlines.