Whether you've just gotten engaged this holiday season or are in the midst of nailing down the details of your dream destination wedding, it is hard to ignore all the pretty photographs making their way around the web this time of year. Whether it's that first highly anticipated embrace as a bride and groom atop a mountain in the snow or that first dance on top of a fancy, big-city hotel with snow falling in the background, a winter wonderland wedding is nothing short of magical.
And while dreaming and scheming is a natural part of the wedding process, the reality is that if you plan to get married in the next year or so, the time to nail down that venue is now.
Laurie Arons, a San Francisco-based planner, has more than 27 years of experience in the wedding planning industry and told Brides.com that the sooner the better in terms of telling your guests to mark, circle and star your special destination date on their calendars.
"Save-the-dates should be mailed eight to 12 months before the wedding," Arons told Brides.com. "The official invites should go out no later than three to four months before."
This means if you are planning a wedding for next winter, time is of the essence. Whether you want to say "I do" in the snowy streets of a large metropolitan city or marry your soulmate on the top of a winter-white mountaintop, we've rounded up some sophisticated "I do" destinations that are not only picture perfect, but convenient for all who plan to make the trip.
Urban Winter Wonderlands
The first winter wonderland escape is one that includes cold weather chills with big-city thrills. Want the glitz and glamour of an urban destination that is easily accessible to most everyone on your list? The always lovely Langham Hotel Chicago will be, no doubt, decked out from head to toe in chic holiday décor, while its awe-inspiring floor-to-ceiling windows showcase the cityscape, Chicago River and Lake Michigan. This marvelous downtown hotel is perfectly positioned to host weddings from 20-200 people.
There are those who have spent their childhood exploring the magic of the holidays in New York City and could imagine no other place to tie the knot than in the Big Apple. Couples will love the winter wedding options offered at The Intercontinental New York Barclay Hotel in Midtown Manhattan. The Gallery offers a chandelier centerpiece that is modeled after the White House and has room to host a cocktail hour for up to 300. The attention to detail is above and beyond.
Speaking of spending the holidays in a magical place, for those who want to take it up a notch and go abroad to tie the knot, how about somewhere that loves holiday cheer as much as or more than Americans? Specifically, Germany is known for its incredible Christmas markets, which could be an amazing excursion for the happy couple and all who travel to celebrate the nuptials. Check out Hotel Vier Jahreszeiten Kempinski Munich if an intimate, all-inclusive wedding sounds like the way you'd like to celebrate your big day. From the cake to the flowers and even the food and beverage packages, it can all be included and executed by an experienced staff. And with multiple nonstops to Munich from the U.S., this option is great for those who love adventure and want to use their wedding location as a great starting point to an epic European honeymoon.
Winter Mountain Matrimony
Wanting your winter wedding to include ski and snow but with a central location for your guests to gather? The Sebastian Hotel Vail is a win-win situation for all. With options for flying into both Eagle County Regional Airport and Denver International Airport, this property gives the wedding party and guests easy access to all vacationers' delights. From its location in the heart of Vail village to its easy access to skiing Vail Mountain, this is a location where your feet are the best means of transportation.
Does your heart go pitter patter at the thought of spending your wedding week in the presence of fresh powder? Consider The Equinox Golf Resort & Spa in Manchester Village, Vt. It not only gives guests great views of the Green Mountains, access to fun for the entire wedding party on the Bromley or Stowe ski slopes, it also offers a great discount to those who get married between the months of November and April. In addition to a whopping 50 percent off the wedding facility fee, winter weddings get discounted food and beverage pricing as well.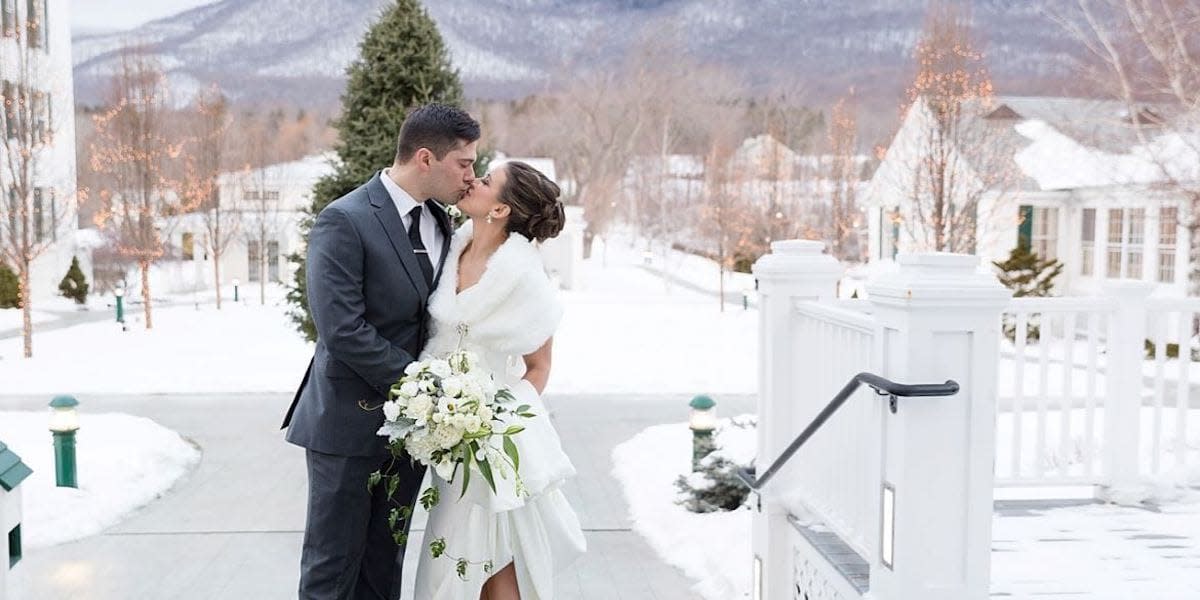 Speaking of getting the most bang for your buck, Arons suggests fully embracing the local foliage, such as camelias, honeysuckle or holly bushes, when it comes to creating a winter wedding of your dreams. After all, you did choose the venue and season for a reason, right? Might as well take full advantage of what is in season.
"You're shelling out big for this destination, so you might as well fully embrace everything it has to offer," Arons said.
Whichever venue and vibe is selected, it is important to recognize that your wedding destination might be a bucket list location for some of your guests. Talk with your spouse about whether you'd like to mingle with your guests post reception or if you prefer privacy. Plan your honeymoon and post wedding accordingly.
Arons suggests moving to a different section of the hotel if you are staying put post nuptials but are set on securing a little privacy for you and your new bride or groom. Oftentimes there are elevated accommodations that are physically apart from the rest of the hotel/property that are ideal for honeymooners. 
Another optimal winter wedding spot with multiple venues is The Broadmoor in Colorado Springs, Colo. Not only does this timeless resort have a pristine track record for providing amazing customer service, but it has also more than a dozen ceremony and reception sites, a world-class spa and a variety of places to stay. For example, post reception, why not escape the hustle and bustle of the bigger part of the resort and head up to Cloud Camp to spend some secluded time in nature with your new bride or groom?
At the end of the day, the most important part of planning your dream winter destination wedding is to not be frozen in indecision. Grab a cup of hot tea, cuddle up with your significant other and check out the extensive list of destination wedding options within the ALHI portfolio here. And remember, the journey is just as memorable as the destination, so try to have fun when planning this most important matrimonial milestone.