The new Turtle Bay exudes natural beauty, invites adventurous spirits to explore and celebrates the individuality of each guest. Take in sunshine and ocean views from the redesigned lobby. Gaze at the infinity-style water features which lead attendees to a terraced deck with scenic pools. Delight in locally-inspired dining concepts and more with this transformation.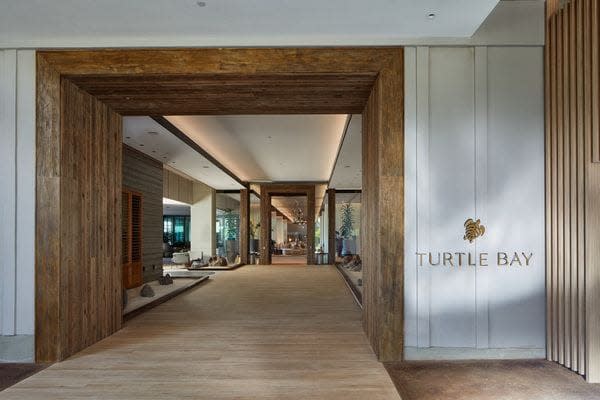 Turtle Bay, Lobby Entrance
---
New Entrance
By embracing Oahu's history, design, food, culture, and folklore, we pay homage to the island's dynamic heritage and reinvent it from the moment you arrive. Every aspect of the arrival experience has been redesigned, beginning with a relocated porte-cochère that welcomes you into a dramatically transformed lobby.

Turtle Bay, Off The Lip Lobby Bar 
---
New Lobby
The lobby boasts massive windows that welcome light into the room and offer awe-inspiring views of the seemingly endless stretches of beaches, surf, and sky in either direction. To celebrate the local artistic community, large-scale works by Hawaii-based artists Nick Kuchar and Abigail Romanchak decorate the lobby. A new lobby cafe, Ho'olana, greets you with a panoramic view of the sunrise with gourmet locally sourced coffee and light bites. 
Adult-Only Pool and Off The Lip
Adults will indulge in the resort's adults-only infinity pool paired with the lobby bar, Off The Lip. The bar features a sunken footprint that provides unimpeded views of the breaking surf and brilliant North Shore sunsets. The adults-only pool serves as a tranquil respite perfect for sipping mai tais or getting lost in a great novel. 
Main Pool Deck Upgrade and Sunset Bar
The redesigned main pool deck offers an expansive space for family-friendly frolicking with a Keiki pool and main pool for all ages. The pools invite all to savor front-row views of the crashing waves and surfers playing just beyond. The pool deck also features luxurious new cabanas and a new pool bar, Sunset. Enjoy tropical drinks and delicious crowd-pleasers like grilled mahi-mahi sandwiches, pulled kalua pork nachos, and smash burgers as you swim, lounge, or soak in the view. 
Alaia Restaurant
The resort's leading dining destination, Alaia, evokes relaxed luxury. Its menu incorporates the North Shore's sustainable agriculture bounty, including produce from the resort's farm. Alaia refers to the first Hawaiian surfboards made out of wood. Be ready for a dining experience that focuses on locally grown vegetables, fruits, and sugarcane fabricated in many of the dishes. You'll have the opportunity to meet the farmers that inspire the unique menu, get personal with celebrity chefs, and even learn how to make the best mai tais on the North Shore.