Thoughts of the South conjure up images of sweeping Magnolia trees, wraparound porches, warm summers and sweet tea. Time-honored traditions, oh-so-polite mannerisms, and rustic elegance make getting married below the Mason-Dixon line categorically charming.
From serving homemade pies, to monograming everything and incorporating oak tree motifs, there are many ways to add a bit of Southern charm to your nuptials whether you're planning a wedding in the South or elsewhere. Read on for some inspiration and ideas on how to spin a bit of Southern hospitality into your next event.
Color Palette
Romantic hues are a signature part of any wedding, particularly in the South. Think muted pastels. Jillian Smith Austin, Owner, Creative Director and Event Strategist at One Touch Events based in Atlanta, Ga, said that many of her couples are very open to their color palette and not regionally specific.
"But for those that are rooted in the tradition of their family members' weddings, whites, creams, greenery and touches of pink will always be a classic touch" she said.
While Stacie and Chris Hawkins, who own Stace + Co., do luxury weddings worldwide, their homebase of Alabama has provided them with a lot of experience in Southern weddings. They said shades of blue and seafoam green tend to trend in Southern soirees, as do yellows and eucalyptus greens.
Other staple colors include pale pink and blush as anyone who watched the 1989 chick flick, "Steel Magnolias," can attest.

Traditions
The South is rampant with deeply rooted traditions and Austin's team draws inspiration from many of the time-honored traditions that are handed down from generation to generation. Burying a bottle of bourbon is believed to ward off a rainy wedding day, so her team has incorporated the southern libation into a signature drink to be displayed on the bar with custom signage.
"Southern families are generally rich in tradition" Austin explained, "and heirlooms from past family member weddings are often weaved into the décor elements to pay homage to those traditions." For her own wedding, Austin paid homage to her parents with a photo from their 1975 wedding day.
Cake pulls are another fun generations-old tradition, sort of an old school "bouquet toss," if you will. Rooted in the Victorian Era, a set of symbolic charms are attached to ribbons that are baked into the wedding cake. A portion of the ribbon is left to hang out of the bottom and during the reception, single women in the bridal party have a chance to pull out a ribbon. The charm attached to it is said to predict their future. A four-leaf clover means good luck and a heart charm is an indication that true love is around the corner.
Statement-Making Florals
Sunflowers, hydrangeas, spray roses, garden roses, peonies and baby's breath are a few of the florals the Stacie & Co. team frequently work with for couples wanting something traditionally Southern. Whether they're hanging from a chandelier or other focal point, Southern-inspired wedding florals are intended to make a statement. One Touch Events draws inspiration from the surrounding flora and fauna of magnolia trees or the dreaminess of the weeping willows and moss. Oversized wedding bouquets, unique color combinations and exotic accents are all popular trends aimed at creating something truly one of a kind.
Stately Venues
Chris and Stacie tend to work at a lot of private estates, historical landmarks and outdoor venues when working in the South. Couples tend to gravitate from traditional hotel ballrooms towards rustic barns, breezy country clubs and other alfresco settings. Think serene ceremony set-ups under shady trees or open fields flooded with afternoon sun. The Stacie & Co. team pulls inspiration from the private homes they work in and aims to incorporate the architecture and design into the décor. They let the colors, setting and overall configuration of the venue be an extension of the look and wedding style they create.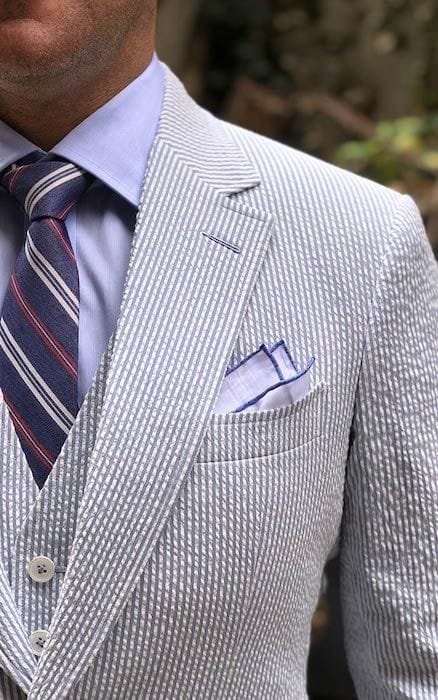 Bring on the Seersucker
Southern weddings are full of customs, but arguably, the most challenging traditions are those related to fashion. While the South tends to be more conservative and traditional, fashion rules are frequently bent to accommodate the wedding couple's individual styles. Time of day will also dictate the formality of the attire. Formal daytime weddings may have the groom and groomsmen in striped pants and gray jackets, whereas tails and tuxes are traditionally reserved for evening weddings. Often, the vibe the couple is going for will dictate the time of the wedding as does the weather. Seersucker clad grooms and groomsmen not only look dapper, but they are also able to beat the heat in the most stylish of ways. Similarly, bridesmaids' dresses will range from tea-length to floor-length depending on the time of day.
"Never underestimate a good pair of cowboy boots," advised the Stacie & Co. team. They are worn at the fanciest of affairs. Think President George W. Bush's second inaugural ball, which called for "Black Tie and Boots."
---
Trends and Favors
"Welcome gifting that is centered on the wedding location is one of the most common and playful ways to incorporate the hospitality of the South," said Austin. "In Georgia, it's the Georgia peanuts and Coca-Cola. In New Orleans, it's the pralines. Welcome parties that turn into a big Southern BBQ cookout is often a highlight for the non-southerners as a true welcome." She explained that many southern weddings incorporate hosts and hostesses as a "welcoming committee" as guests enter the ceremony area. "Southern hospitality to a tea, and make it a sweet tea," she said.
Vintage getaway cars for grand exits are big, too, according to Stacie + Co., which works with Coats Classic Cars for a lot of their weddings. Among other elements that are still very much prevalent in the South are "traditional ceremony altars as a very important focal element", said Austin.
The list of reasons to love the South and enchanting ways to incorporate its allure into your events is endless. Whether planning a lavish soiree in the Lowcountry or an intimate coastal affair, check out ALHI's Southern Charm Board on Pinterest for more inspiration.