For those who have been to Turtle Bay Resort in the past, the reimagined resort is hardly recognizable. The resort has recently debuted a major transformation, reintroducing itself as an ultra-luxe oceanfront oasis tucked away on O'ahu's North Shore and solidifying its reputation as Hawaii's most experiential resort.
For the meeting planner catering to the most discerning travelers, especially for incentive or rewards programs, Turtle Bay has much to offer.
With more than 70 exclusive experiences that honor O'ahu's land, history, and big-wave surf culture, Turtle Bay is a relaxed destination where guests can immerse themselves in the Hawaiian way of life—whether that's kayaking in majestic coves as sea turtles make frequent cameos, popping their heads up in the cerulean blue waters; savoring meals prepared with the bounty of a 400-acre, on-site farm; or feeling the cool mist of a waterfall from an open-door, multi-island helicopter ride.
"We really have created a destination unto itself on the North Shore," said Jean Schulte, Director of Group and Incentive Sales at Turtle Bay Resort.
Esteemed designer Dianna Wong took cues from the North Shore's natural beauty to make over the hotel, incorporating materials such as reclaimed woods, monkeypod, hand-stitched leather, and organic fabrics. She also let the North Shore dictate the color scheme, which came together with a calming spectrum of blues, greens and creams that are reminiscent of the waves that roll and crest along the rugged coastline. Deep oranges and crimson shades are a nod to the island's iron-rich soil. While one can feel the landscape from within the hotel, every guest room--set to be completed by summer--features prized oceanfront views.
With the fresh redesign and the heightened demand for magnificent wide-open spaces coming out of the pandemic, the time is now for Turtle Bay Resort. The resort, which is less than an hour from the Honolulu airport, feels a world away. And, with 1,300 acres laced with hiking and biking trails and gathering spaces where waves set the soundscape, incentive groups and meeting planners have plenty of opportunity to enjoy the outdoors rather than being relegated to a ballroom.
"We can get as creative as groups want to be in our dream landscape," said Robert Marusi, Chief Commercial Officer at Turtle Bay Resort.
Ahead, a look at how Turtle Bay honors and celebrates its Hawaiian heritage with splendor and simplicity as well as an introduction to some of the only-at-Turtle Bay experiences groups can have.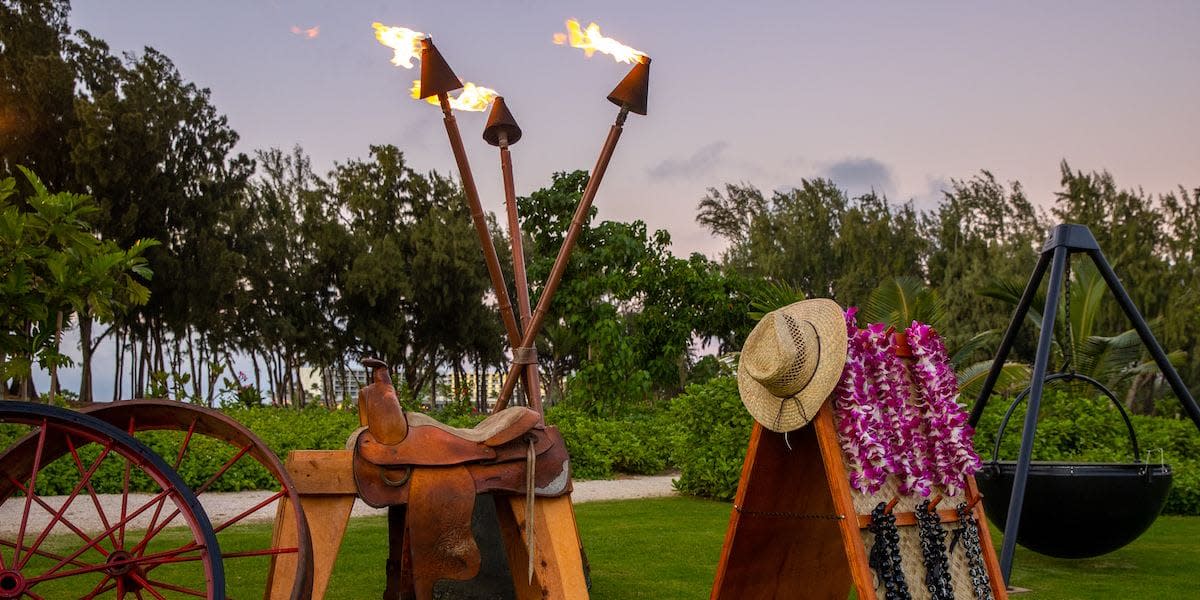 Connecting Guests with the North Shore Culture
Turtle Bay Resort embodies the spirit of the North Shore and embraces the land's raw beauty and Polynesian feel, Schulte explained. For those who escape to the resort, they'll have plenty of chances to immerse themselves in the culture and do so in an elevated way. 
As an example, Turtle Bay's answer to the traditional lu'au is a new Paniolo Pa'ina, a weekly experience debuting in March that celebrates Hawaii's rich cowboy history, set against the scenic backdrop of the ocean and the resort's horse stables. (Paniolo means cowboy and Pa'ina translates to a small party with dinner). The experience, Marusi said, pays homage to Hawaii's cowboy subculture and the ranchers who migrated here from Mexico and California, pre-dating the storied American West by decades. 
Another way for meeting guests to get a taste of the North Shore is via the resort's 460-acre Kuilima Farm, which produces 300 pounds of produce daily for Turtle Bay's restaurants. Papayas, dragonfruit, bananas, lemons, limes, lettuce, Thai basil, green beans, vine-ripened tomatoes, radishes and much more grow in the gardens. Knowledgeable farmers also harvest rare, super sweet Kahuku watermelon on the property's farm.
Turtle Bay guests can enjoy multi-sensory experiences in the garden, picking their own flowers--red torch ginger and bird of paradise--to arrange into a bouquet for their bungalows. Guests can also see several young Puakenikeni trees, flowering beautifully and very fragrant, that are the first trees in the Hawaiian lei making section. Turtle Bay will soon be debuting additional seasonal U-Pick experiences at its farm, which could be woven into team building experiences.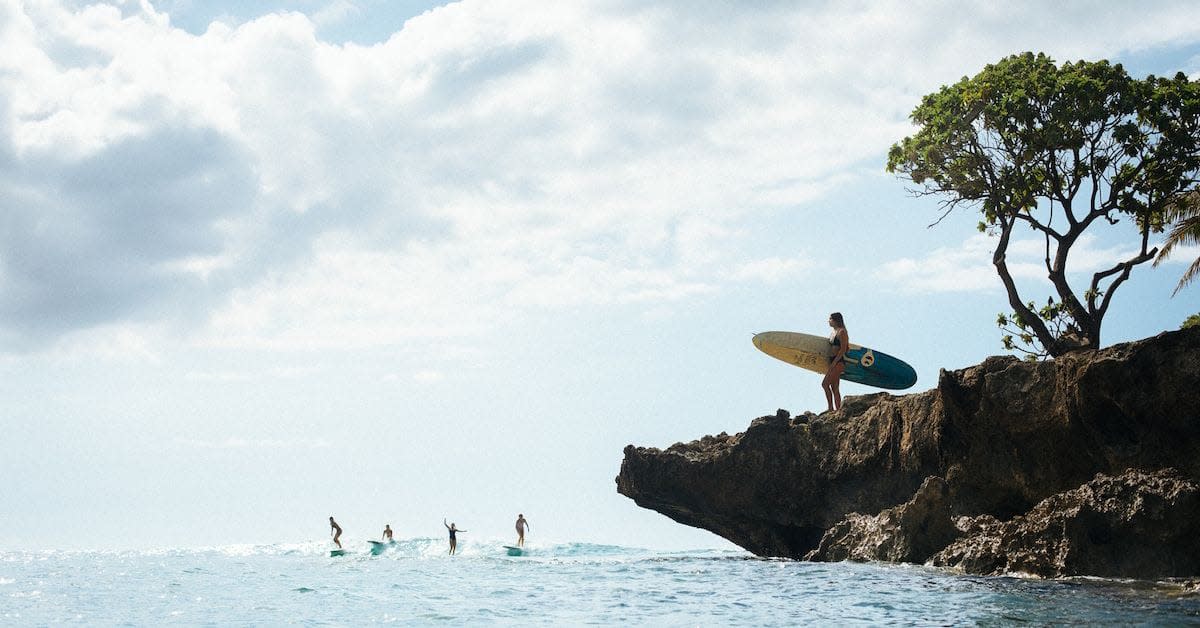 Room to Breath (and Coastline to Explore)
With five miles of rugged coastline, a dozen miles of trails for hiking and biking, and legendary surfing, Turtle Bay is an absolute paradise for outdoors lovers. The resort offers a bevy of experiences for guests who want to explore the lush terrain or catch some of those world-famous North Shore waves.
Professional surfer Jamie O'Brien, who has been surfing the North Shore since age six and has competed in some of the world's most prestigious surf competitions, runs his surf school from the resort. Turtle Bay guests can learn to navigate the waves from the hometown legend and other top-notch instructors, with the experience documented on Go-Pro cameras. The resort also offers stand-up paddle-board and kayak adventures for those who want to explore the water at a more leisurely pace.
While the surf is the main attraction (20-foot swells draw big-wave surfers from around the world), the diverse land surrounding the ocean is also worth taking in and can be done by hiking or biking. Of Turtle Bay's 12 miles of hiking and biking trails, five of the miles trace the rugged coastline.
Among the most popular treks is a 1.2-mile walk to the pristine Kawela Bay (one of Hollywood's favorite places to film). The bay is one of O'ahu's most secluded beaches, and with its soft sands, it's a great place to unfurl a beach towel and watch for sea turtles. A towering banyan tree is also a photo-worthy spot nearby Kawela Bay.
Another 1.5-mile hike will deliver guests to Kahuku Point, the northernmost point on O'ahu where one may spot a Hawaiian Monk Seal or wild sea birds. Or, for a guided experience, guests can embark on a Cultural Bike Tour, learning the history of Native Hawaiian societies.
Private helicopter tours are among the most coveted experiences, and they are especially popular with incentive groups at Turtle Bay. The tours are customizable, but some of the sought-after itineraries include a super-luxe multi-island, all-day excursion available or an intrepid Magnum P.I. Chopper Experience that shows off O'ahu sites including Pearl Harbor,  Le'ahi (Diamond Head), 1,000-foot Kaliuwaa (Sacred Falls), and Waikiki.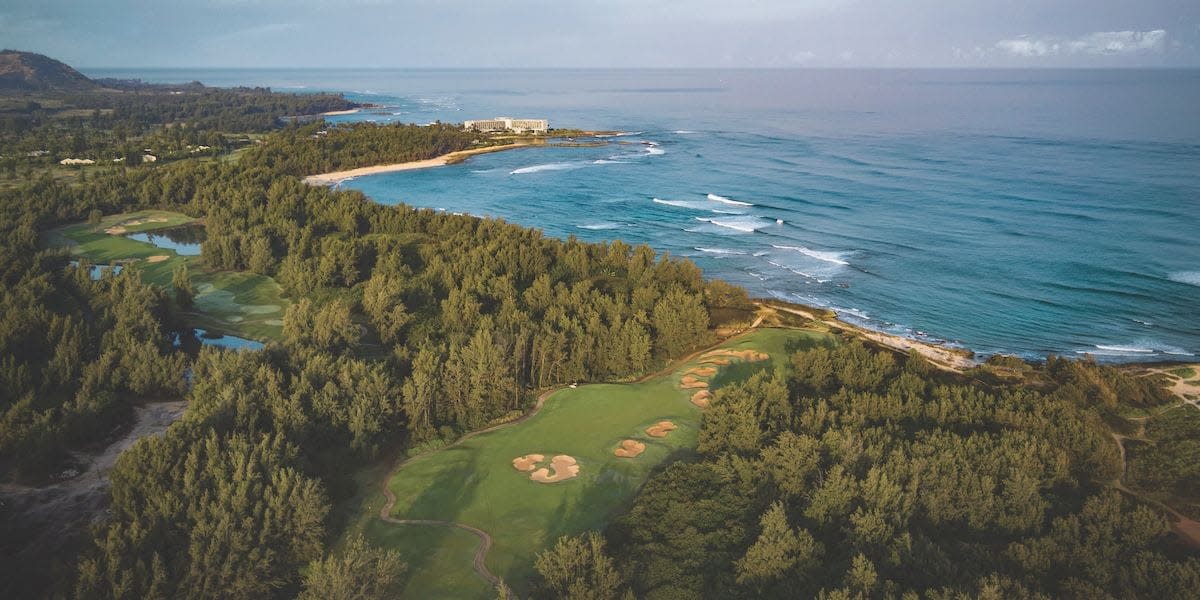 EDITOR'S NOTE: Hawaii will drop its indoor mask mandate and Safe Travel rules effective March 25, 2022.