Mark Twain, a frequent visitor to Boston, found it "just as delightful a city as there is in America" after his inaugural stop here in 1869. Later, he reputedly named Boston alongside San Francisco, New Orleans and San Antonio as one of only four unique cities in the nation.
Boston stands out for its inestimable heritage, including its legacy as cradle of American revolution and independence with the 1775 "shot heard around the world" in nearby Concord. Today, Massachusetts' capital city also has gravitas as a global seat of learning, knowledge and innovation, and is home to an extended cultural campus of esteemed museums and award-winning theaters; a dynamic women-driven culinary scene; and majestic parks and green spaces.
Transforming the City's Image
Boston is also now in the bloom of an unprecedented image- and perception-shifting campaign. Launched in April 2021, "All-Inclusive Boston" centers on creating an "equitable" post-pandemic recovery for Boston's tourism sector.
Collaboratively developed by the City of Boston, the Greater Boston Convention & Visitors Bureau (CVB) and local minority-led marketing firms CPC Communications and Proverb Agency, the initiative aims to expand the visitor lens beyond traditional hotspots to long-overlooked neighborhoods such as Chinatown, Roxbury and East Boston while promoting Black, Latinx and LGBTQ-owned businesses in those communities.
The campaign also seeks to correct Hollywood's misleading version of Boston. Outside of Legally Blonde and Good Will Hunting, most Boston-based features of the past 20 years have presented gritty portraits of the city. The lampooning of Boston on Saturday Night Live and comedy stages has further skewed and stereotyped Boston's identity.
Recent market research revealed that even locals had an underinformed impression of their own hometown. "This owes to insufficient tourism funding, which has hindered our ability to properly tell our own story," explained Greater Boston CVB president and CEO Martha Sheridan, whose tireless advocacy recently led to the formation of a BostonCambridge Tourism Destination Marketing District as an innovative funding vehicle.
Response to the campaign has been "overwhelmingly positive," Sheridan said, adding that, "most of the featured businesses and neighborhoods have reported an uptick in visitation directly tied to this initiative."  
"All-Inclusive Boston" has generated significant awareness of local attractions and eclectic offerings across the city. According to November 2021 figures from the City of Boston, the campaign, which has been extended to 2022 with an expanded focus, has attracted over 57 million overall impressions, 1 million video views on social media, and a 400 percent increase in web traffic.
On the meetings front, the CVB, along with Boston's convention centers, hotel partners, and other suppliers, have gone the extra mile to institute health and safety measures and protocols. "We strive to share the most up-to-date and scientific data available, while emphasizing how eminently possibly it is to hold events here in a safe and responsible way," said Sheridan. "As we closely track lodging occupancy and Logan arrival numbers, as well as traveler sentiment surveys, we are especially looking ahead to a rebound in international business travelers next year."
With "many groups booked for this fall" and signature events such as the Head of the Charles Regatta and 125th edition of the Boston Marathon going forward, Sheridan cites as "a major win" this past July's in-person Heart Rhythm Society convention.
"We participated in a robust Meetings Mean Business campaign to spotlight Heart Rhythm and how excited people were to be gathered again," she said. "Most importantly, infection rates from the conference were infinitesimal, literally in the single digits, which is a testament to the safe hosting of a citywide event."
Why Boston?
Boston offers direct, nonstop air access from 81 U.S. destinations and 35 international destinations. Free subway service takes travelers from Logan International Airport to Downtown and Cambridge, with express bus service between Logan and Boston's Back Bay.

Leading industries including education, medical research, healthcare, finance, smart manufacturing, life sciences, and technology cross-pollinate to create two major innovation clusters in Kendall Square and the Seaport, earning Boston "superstar" status from the prestigious Brookings Institution.

Home to 65-plus colleges and universities and more than 10 world-class hospitals, Boston offers superior speaker resources and volunteers.

Boston also offers the largest and most valuable attendee base within a two-hour travel radius of any U.S. city.

Safe, compact, interconnected neighborhoods offer a variety of perspectives in dining, shopping and entertainment.
What's New in Boston?
The Embrace is a new permanent monument honoring Dr. Martin Luther King, Jr., and his wife Coretta Scott King, who made several landmark visits to Boston between 1955 and 1965. Located in Boston Common, the memorial's dedication is slated for 2022.

Scheduled to open in summer 2022, the 5,000-seat MGM Music Hall at Fenway is part of a multi-faceted expansion of historic Fenway Park that includes four levels of new function space.

Steps away from the iconic Samuel Adams statue, the new 15,000-square-foot, threelevel Sam Adams Boston Taproom at 60 State Street offers a rooftop deck and beer hall style tables perfect for larger groups.

Located by Gillette Stadium, home of the New England Patriots, HELIX eSports Patriot Place is an 18,000-square-foot gaming center and social hub with private event space.
---
See
---

photo credit 4kclips - stock.adobe.com
Fenway Park
Inaugurated in 1912 with an exhibition between the Boston Red Sox and Harvard College followed by the Red Sox's first official home game against the New York Highlanders, Fenway Park is the nation's oldest major league facility. More than a ballpark, Fenway is a beloved gathering place for Bostonians. It's also a grand slam for group tours and events. Rentals include private suites with F&B packages; 20,000capacity daytime ballpark buyouts; and the outdoor deck atop the fabled 37-foot "Green Monster" left field wall.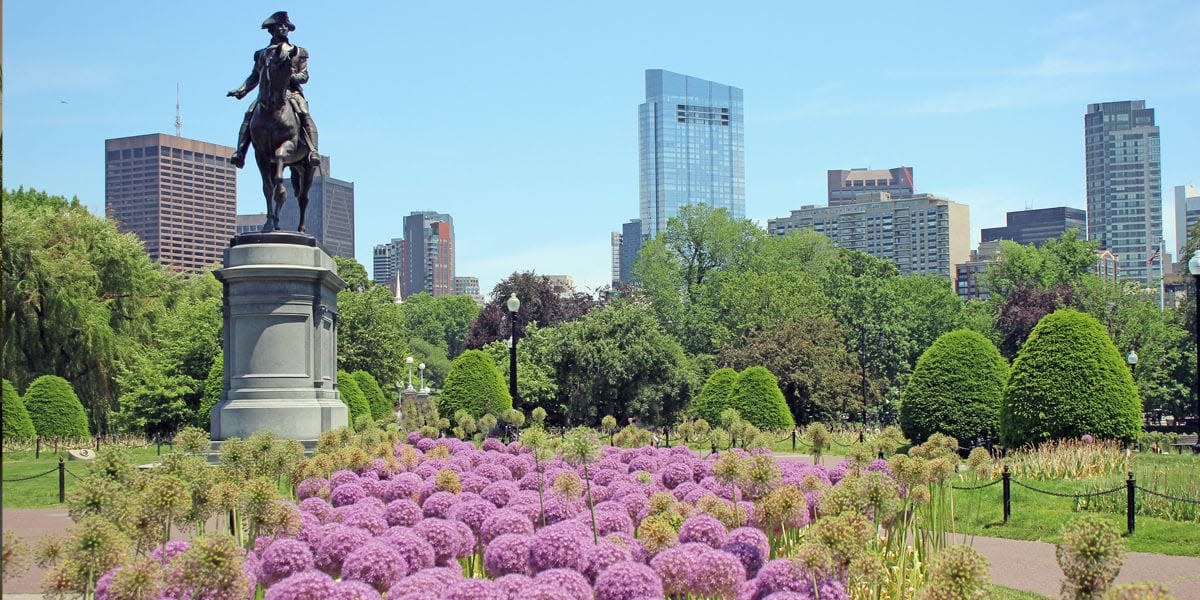 photo credit Jeff Heilman
Boston Public Garden
Adjacent to Boston Common in the heart of the city, Boston Public Garden, from 1837, is America's first botanical garden. Featuring willow trees, floral beds, fountains and monuments, this urban oasis invites guests to take time for a leisurely stroll and reflection. Signature attractions include Swan Boat rides in the park's lagoon. Robert McCloskey's 1941 Make Way for Ducklings, the official children's book of the Commonwealth of Massachusetts, is immortalized in a sculpture of Mrs. Mallard leading her eight ducklings to their island refuge in the garden.
Isabella Stewart Gardner Museum
Gardner (1840–1924), Boston's "millionaire Bohemienne," traveled the world acquiring paintings, sculptures, furniture, rare books and other works. To house her collection, she constructed a museum-home inspired by a 15th-century Venetian palazzo in Boston's Back Bay Fens, then a desolate marshland. In her will, she bequeathed her palace "for the education and enjoyment of the public forever." In 1990, thieves stole 13 works worth $500 million from the museum in the largest art heist in U.S. history. Evocative rental options include the 225-capacity Cloisters and 450-capacity daytime and evening buyouts.
For more activities and ideas ask your ALHI GSO about working with Global DMC Partners
---
Do
---

photo credit: Kyle Klein
Freedom Trail Tour
Dedicated by the citizens of Boston in 1951, the world-renowned Freedom Trail showcases 16 nationally significant 17th- to 19th-century sites along a 2.5-mile route. Planners can book private and tailored walking tours for any group size. Led by entertaining and informative guides in 18th-century costume, attendees visit treasures including Boston Common, America's first public park from 1634; the gold-domed Massachusetts State House, inspiration for Boston's "Hub of the Universe" moniker; and the Granary Burying Ground, final resting place of patriots including Paul Revere and John Hancock.
Tours of Harvard and M.I.T.
Both located in Cambridge, Harvard and the Massachusetts Institute of Technology (M.I.T.) are two of America's oldest and most prestigious universities. Named for English minister John Harvard, an original benefactor, Harvard (1636) was the first college of the American colonies. Founded in 1861, M.I.T.'s claims to fame include the Human Genome Project; e-mail; and the "Memex" (1945), which later inspired the Internet. Groups can arrange for student- or operator-led tours of these globally renowned centers of higher learning, discovery and innovation.
Boston by Land and Water
Private trolley tours with customized stops for picture-taking and lunch are ideal for getting to know Boston neighborhoods, from the Back Bay and Beacon Hill to Cambridge and Quincy Market. Experiencing the city's famed waterways, including Boston Harbor and the Charles River, is also a must. Tour and event options include rides in Boston's famed Duck Boat amphibious vehicles; dinner cruises by riverboat or yacht; speedboat or ferry excursions to the Boston Harbor Islands; schooner-based team-building programs; or harborside dining options in the Seaport District.
For more activities and ideas ask your ALHI GSO about working with Global DMC Partners
---
Eat
---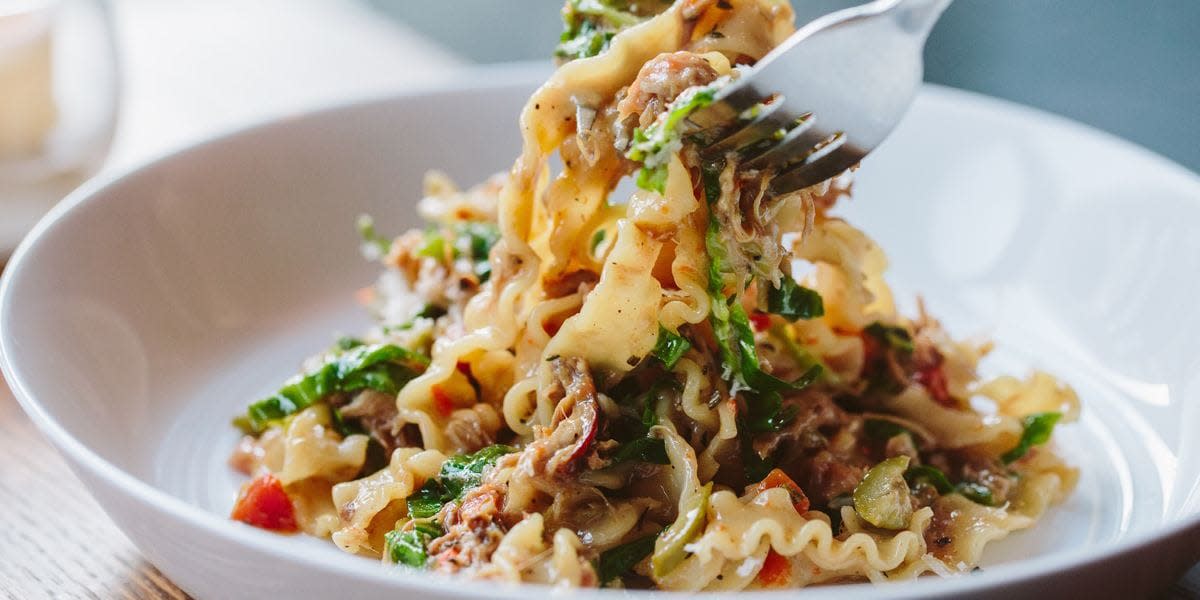 photo credit Brian-Samuels-Photography
Star Women Chefs
Following in the footsteps of the late Julia Child, who helped transform culinary Boston from her home in Cambridge, acclaimed women chef-restaurateurs have had major influence on Boston's dining scene over the last decade-plus. Barbara Lynch's restaurant collection includes No. 9 Park and Menton. Karen Akunowicz's Italian-driven Fox & the Knife is the star of South Boston. Restaurants in Tiffani Faison's full-service culinary marketing group include Tiger Mama and Orfano. Other standouts include Ana Sortun's rave-reviewed Oleana and Mei Mei Street Kitchen from six-time James Beard Award nominee Irene Li.
Buon Appetito!
The North End, Boston's Little Italy, is a walkable feast of culinary draws enhanced by historic sites including the Old North Church and Paul Revere House. The main thoroughfare of Hanover Street features the neighborhood's oldest and most popular restaurants, cafes and shops. Historic anchors include Modern Pastry, Mike's Pastry, and Lucia Ristorante & Bar. Bricco Restaurant is a local favorite, serving great sandwiches at affiliated Bricco Salumeria & Pasta Shop. Other institutions include Regina Pizzeria on Thacher Street and outdoor dining at Mamma Maria in North Square. Several local operators offer guided North End foodie tours.
Trillium Brewing
Launched in March 2013 by married couple Jean-Claude ("JC") and Esther Tetreault, who wanted to "create a New England Farmhouse-inspired experience through the lens of craft beer," Trillium Brewing has since expanded to four area locations. Featuring a restaurant and brewery, the original Fort Point venue is one of three available for largescale event rentals. Groups also have Trillium taprooms in Fenway and Canton, south of Boston. Opened in 2017, the seasonal Garden on The Greenway, located on the Rose Kennedy Greenway, is the first beer garden in Boston's history.
For more activities and ideas ask your ALHI GSO about working with Global DMC Partners
---
Stay / Meet
---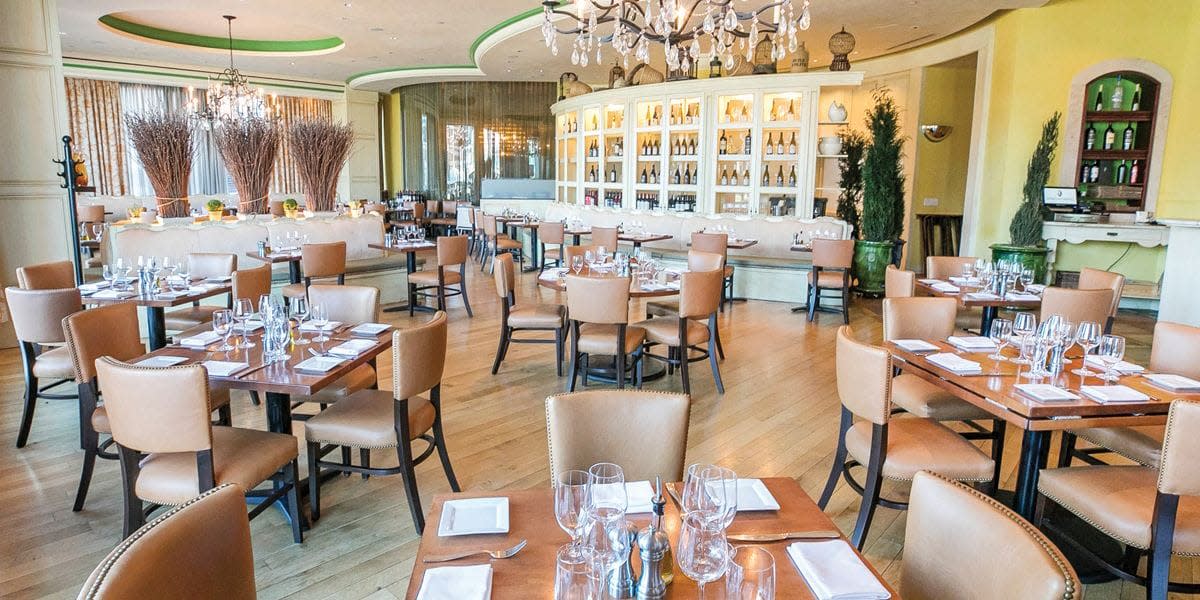 Located along the Rose Kennedy Greenway steps from the Financial District, InterContinental Boston is a sophisticated group address offering 32,000 square feet of captivating space. Overlooking Boston Harbor, the expansive Rose Kennedy and Abigail Adams ballrooms are among Boston's most desired venues for conferences and functions. The hotel's newly renovated 424 rooms and suites come with amenities including complimentary Wi-Fi and paperless checkout. Award-winning waterfront dining options include rustic European-style Miel Brasserie; RumBa, a rum and champagne bar with outdoor patio; and vodka-driven Vodkaba, also featuring an outdoor terrace.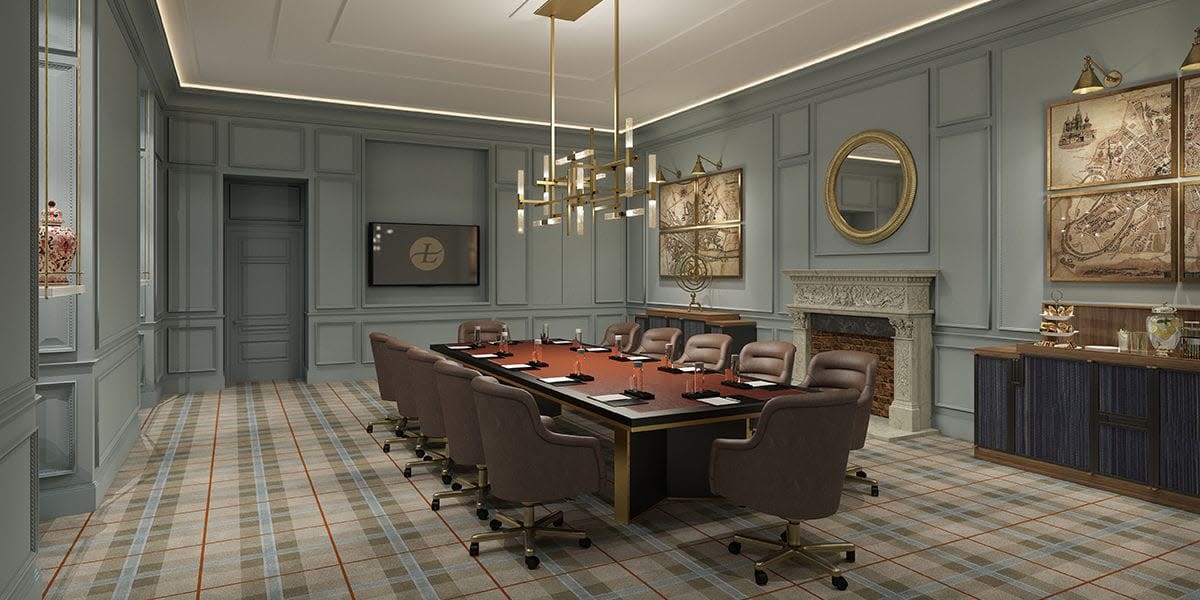 Reopened this June following a two-year, $200 million renovation, The Langham, Boston brings rich currency to Downtown and the Financial District. The building, a Renaissance Revival National Historic Landmark from 1922, was originally the Federal Reserve Bank of Boston. The hotel offers 312 remodeled rooms and suites and 13,000plus square feet of elegant event space, including two ballrooms and two boardrooms where the bank's directors once met. Art throughout includes original N.C. Wyeth murals and commissioned works by local Boston artists. The Fed is a destination cocktail pub designed after the Wigmore at sister property The Langham, London, with Italian dining at Grana in the former grand hall.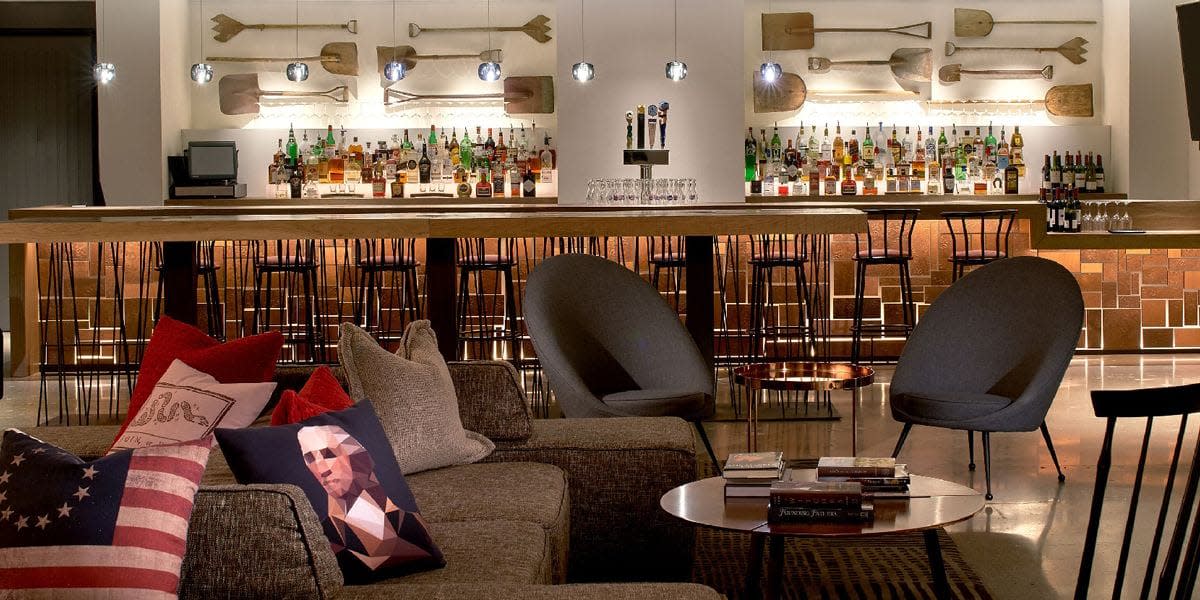 Comfortable, chic and functional, the 356-room Revere Hotel Boston Common is a Back Bay headquarters for inspiring gatherings. Distinctive venues include the 10,000 square-foot Tea Gallery. Evoking an artist's loft, this divisible space comes with chalkboard walls for brainstorming. Inspired by Paul Revere and his fellow Sons of Liberty, expansive Liberty Hall features 25-foot ceilings and a built-in screen for presentations and entertainment. With inviting cabanas, couches and seasonal cuisine, the 300-capacity Rooftop@Revere is one of Boston's hottest outdoor event spaces.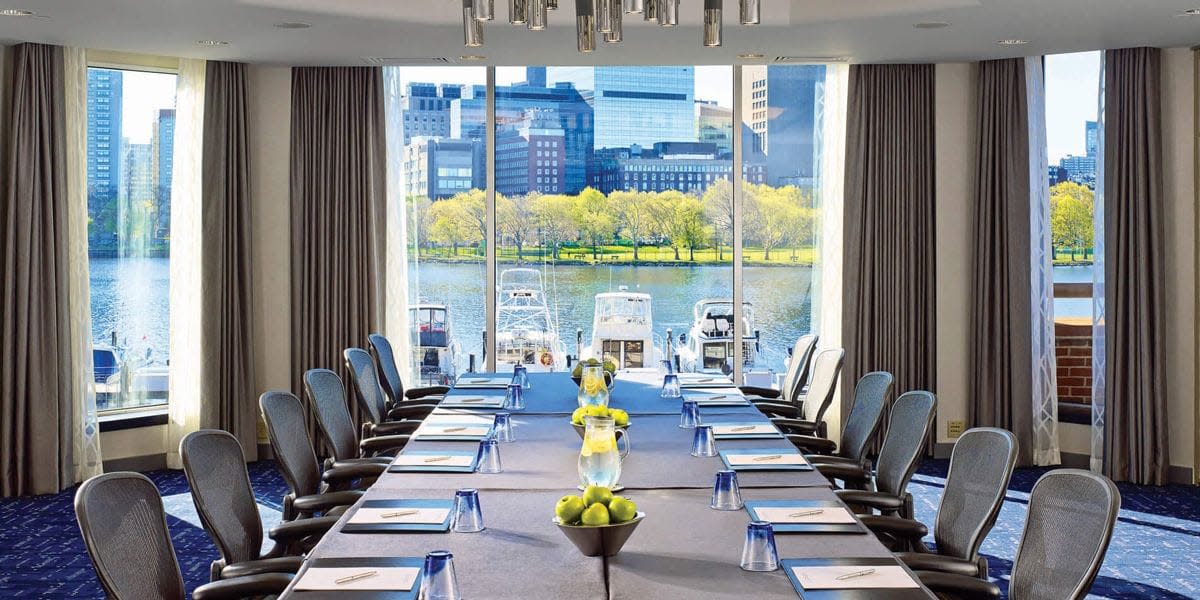 Located on the banks of the Charles River in Cambridge, Royal Sonesta Boston is well situated and well equipped for business. Within walking distance of Kendall Square, Boston's renowned innovation district, the AAA Four-Diamond hotel has 400 guest rooms including 21 suites with one, two and three-bedroom options. The property offers 28,000 square feet of flexible meeting and event space for up to 1,000 delegates. Featuring seasonal entertainment, the ArtBar patio is a popular spot for taking in absorbing skyline and river views. Amenities include complimentary high-speed Wi-Fi.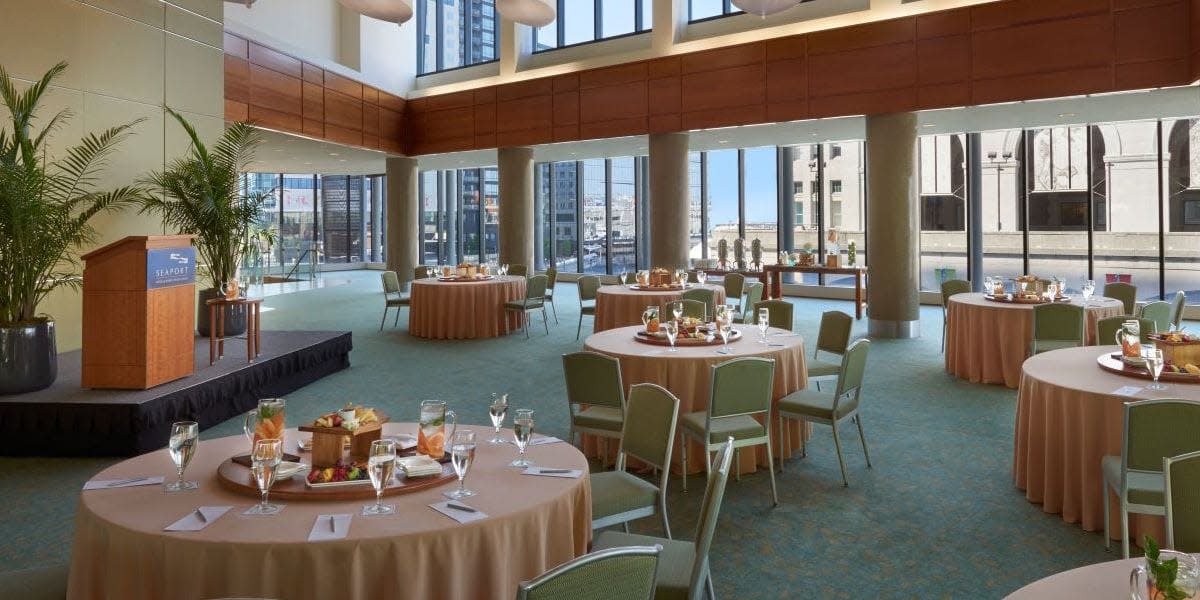 Offering 27,000 square feet of versatile space, the 428-room Seaport Hotel is a stylish group base in the heart of the dynamic Seaport District. Ideal for intimate and smaller events for up to 150 attendees, group venues encompass three elegant ballrooms, meeting and breakout rooms, private dining rooms, and boardrooms. Plus, there are outdoor terraces and gardens with fetching skyline and harbor views. Unique private experiences include the Action Kitchen, where delegates can view chef demonstrations and learn cooking techniques. Key planner advantages include the hotel's own 2,300 space underground parking garage.
EDITOR'S NOTE: The Boston Public Health Commission announced that in 2022, many indoor establishments in Boston will require proof of vaccination, including restaurants, bars, concert venues, convention centers and exhibit halls, museums, movie theaters, indoor sports venues, and indoor gyms and fitness centers, among other spaces. People 12 and older will be required to show proof of one dose starting on Jan. 15, 2022 and full vaccination starting Feb. 15, 2022. Children ages 5-11 must show proof of one dose by March 1, 2022 and full vaccination by May 1, 2022.