Houston's nickname might be Space City, but that has nothing to do with its stature as fourth- largest city in the U.S. Home of the NASA Johnson Space Center, as well as a hub for world space exploration, Houston welcomes more than 15 million visitors a year many of whom want to learn more about the great beyond. While astronauts and spaceships may not be a draw for all groups, Houston has plenty of options to explore its immense cultural offerings. The city features 19 museums located within its Museum District, a wide variety of ethnic cuisine, boutique shops and a range of neighborhoods full of history and character that manage to be make Houston both a metropolitan draw and down-to-earth locale simultaneously. Following is a guide that ensures that both meeting planners and attendees alike are ready for a smooth landing in H Town.
Why Houston?
Greater Houston is the most ethnically diverse metropolitan area in the U.S., with more than 145 languages spoken and 90 nations with consular representation.
Houston is home to more than 650 urban green spaces including Memorial Park which has a public golf course, swimming pool, tennis courts, trails, and much more.
Houston has more than 4.4 million square feet of convention space, ranking it at the top of most other large cities in the U.S.
With the exception of New York City, Houston has the largest concentration of Fortune 1000 companies in the U.S.
What's New in Houston?
CenterPoint Hike and Bike Trails
An agreement between Harris County and CenterPoint Energy allowed for hundreds of miles of walking and biking trails to be paved in places that previously were inaccessible to hikers and bikers. There most certainly is the perfect trail for any group ride or post session stroll.
Memorial Park Golf Course Renovation
Every group has a handful of golfers who will stop at nothing to get a round in amidst their work trip. And thanks to a $13.5 million renovation, Memorial Park Golf Course is officially the hottest public course in town. Funded by the Astros Golf Foundation, this course continuously is noted amongst the most beautiful courses in Texas. In fact, it is set to host the Houston Open in November 2021.
Lynn Wyatt Square for the Performing Arts
Located in the former Jones Plaza, the area considered to be "center stage" of the Houston Theater District was finally unveiled after an impressive $29 million capital campaign. This one-square-block attraction includes a performance lawn, a street theater, gardens and a two-story indoor/outdoor restaurant. Ideas for group meet-ups include pre-show cocktails, weekday lunch breaks, as well as free time exploring seasonal art installations and festivals.
---
See
---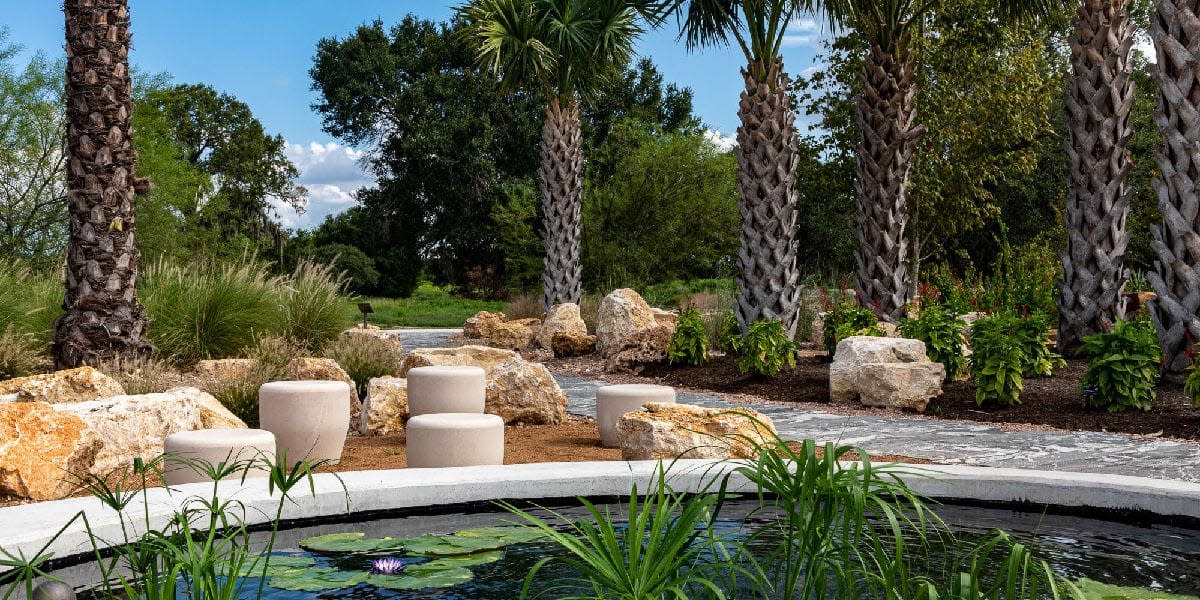 Houston Botanic Garden
Without fail, it seems that people crave green space the most when they are visiting a large city. Perhaps it's the yearning to stretch one's legs and relax the mind amongst beautiful botanicals? This collection of glorious gardens features more than 350 different plant varieties from around the world and is an ideal place to take any group.

James Turrell Twilight Epiphany Skyspace at Rice University
Since 2012, this James Turrell creation has been thrilling Houston residents and tourists alike with its brilliant exploration of the composition of light at both sunrise and sunset which make for about a 40-minute sequence. This is the largest work of art for Turrell, and his 73rd worldwide. It is also the first to be engineered for acoustics, which enhances live performances. A group happy hour here can be an exhilarating experience, with room for 120 people and endless hors d'oeuvres and champagne.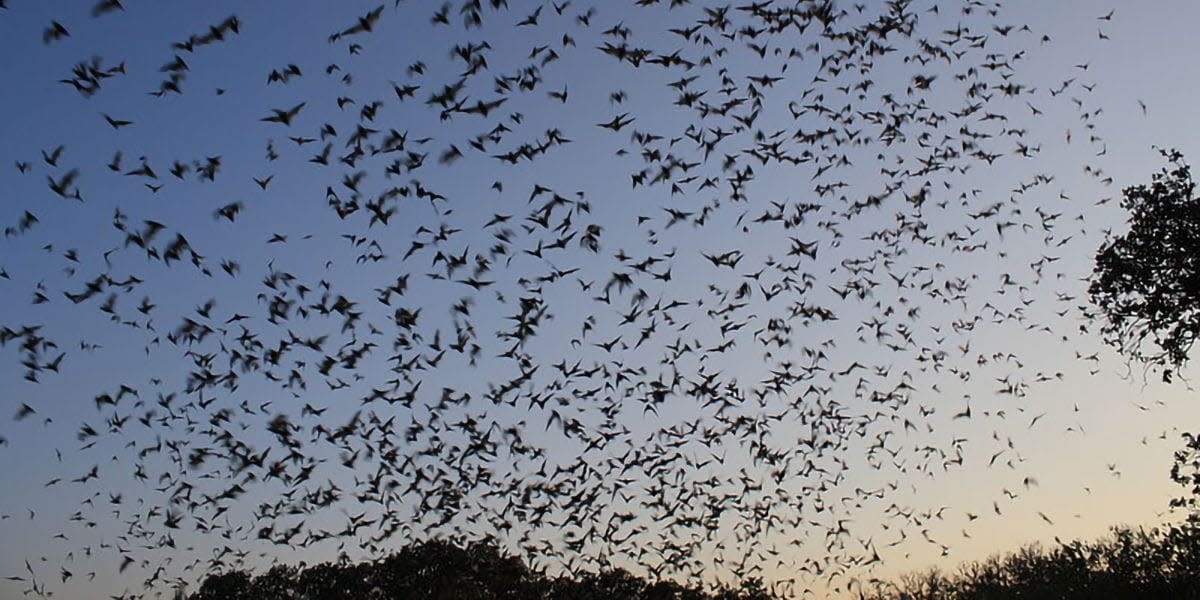 Houston's Largest Bat Colony at Buffalo Bayou Park
Groups can gather at the riverbanks or arrange a private historian-led boat tour near Waugh Bridge at Buffalo Bayou Park at sunset to see something that is sure to drive attendees absolutely batty (but in a good way). The main attraction? Flights of more than 250,000 Mexican free-tailed bats. After viewing these awe-inspiring flying mammals, attendees can explore the rest of the park, which features bridges, fountains, biking and jogging trails, and more. The view of the Houston skyline is also spectacular.
For more activities and ideas ask your ALHI GSO about working with Global DMC Partners
---
Do
---

Seismique
Seismique, an art museum that debuted in 2020 on Houston's west side, offers 40,000 square feet of experimental and interactive art for all ages. The only prerequisite is to be ready to think outside the box. More than 40 galleries offer a stimulating sensory experience and even allow guests to be a part of the art. This venue offers multiple private event spaces and educational workshops for a truly atypical outing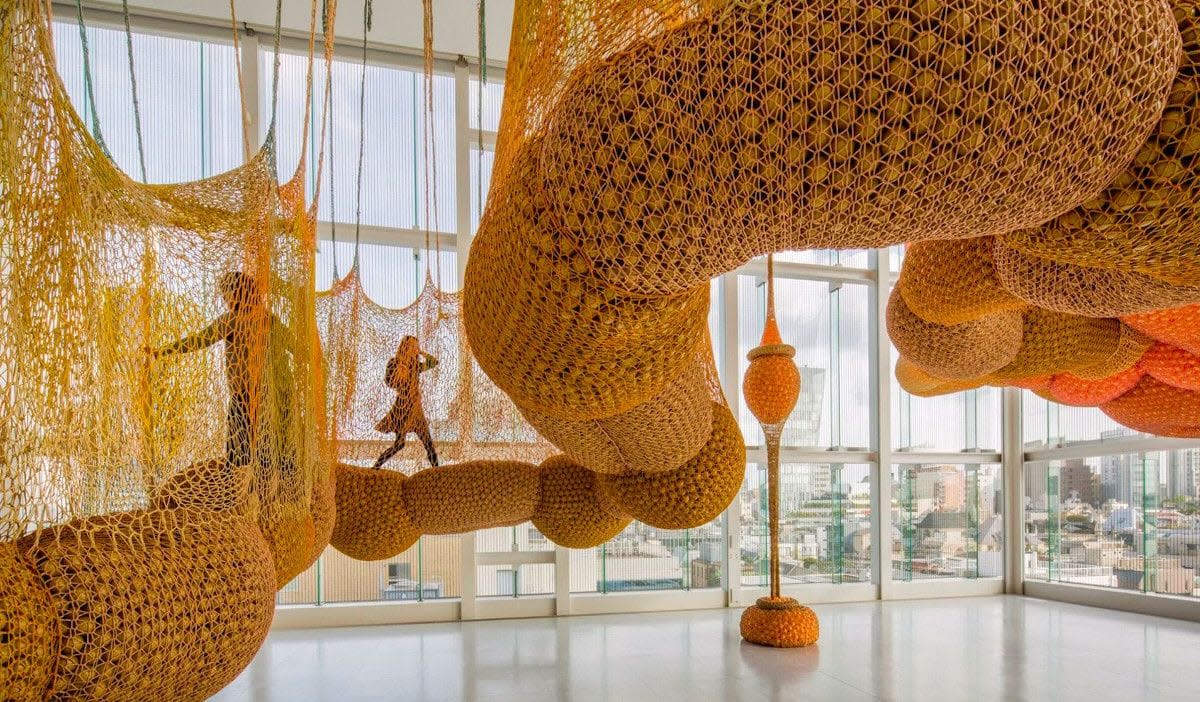 Museum of Fine Arts
After a decade-long expansion, this fabulous facility is now fully on display, offering 14 acres in the middle of the Houston Museum District, dedicated to displaying collections of modern and contemporary art. The collection includes photography, prints and drawings, among other mediums. With so much to see and digest, docent-led tours are recommended for a productive group field trip.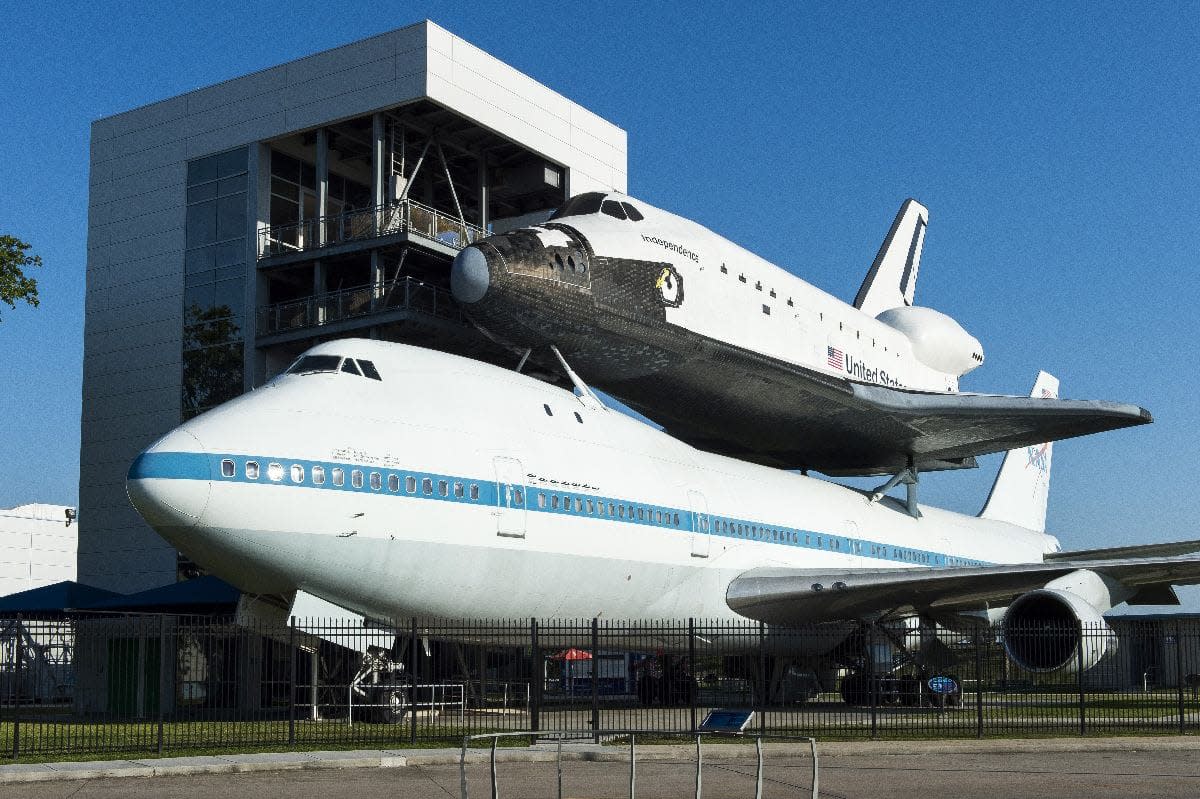 Space Expert Tour
Space Center Houston offers more than 400 space artifacts, permanent and traveling exhibits, exhibits and experiences, and even a theater all dedicated to America's human space-flight program of both past and present. The guided tour gives patrons an up-close look at the world's largest collection of moon rocks and lunar samples, Apollo 17 spacecraft and NASA facilities. Groups can organize guided tours of Rocket Park, where the Saturn V rocket resides.
For more activities and ideas ask your ALHI GSO about working with Global DMC Partners
---
Eat
---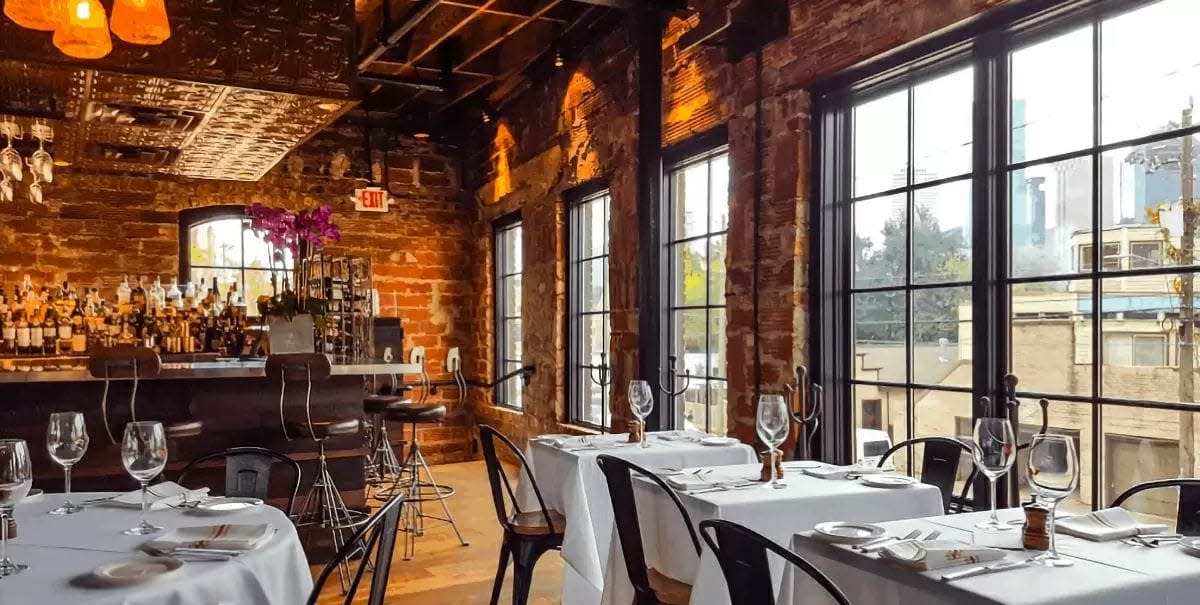 photo credit: Bogdan Mihai Photography
B&B Butchers & Restaurant
This Texas-based steakhouse is the perfect mix of upscale and down home. Attendees can partake of quality meats and tip-top customer service while sampling the finest Texas and Japanese Wagyu beef. The in-house dry-aged USDA Prime beef is also a must try. This is one of only 29 U.S. restaurants certified by the Kobe Beef Association in Japan for offering 100 percent authentic, A5 certified Kobe beef from Tajima cattle. The restaurant offers four private dining areas for groups.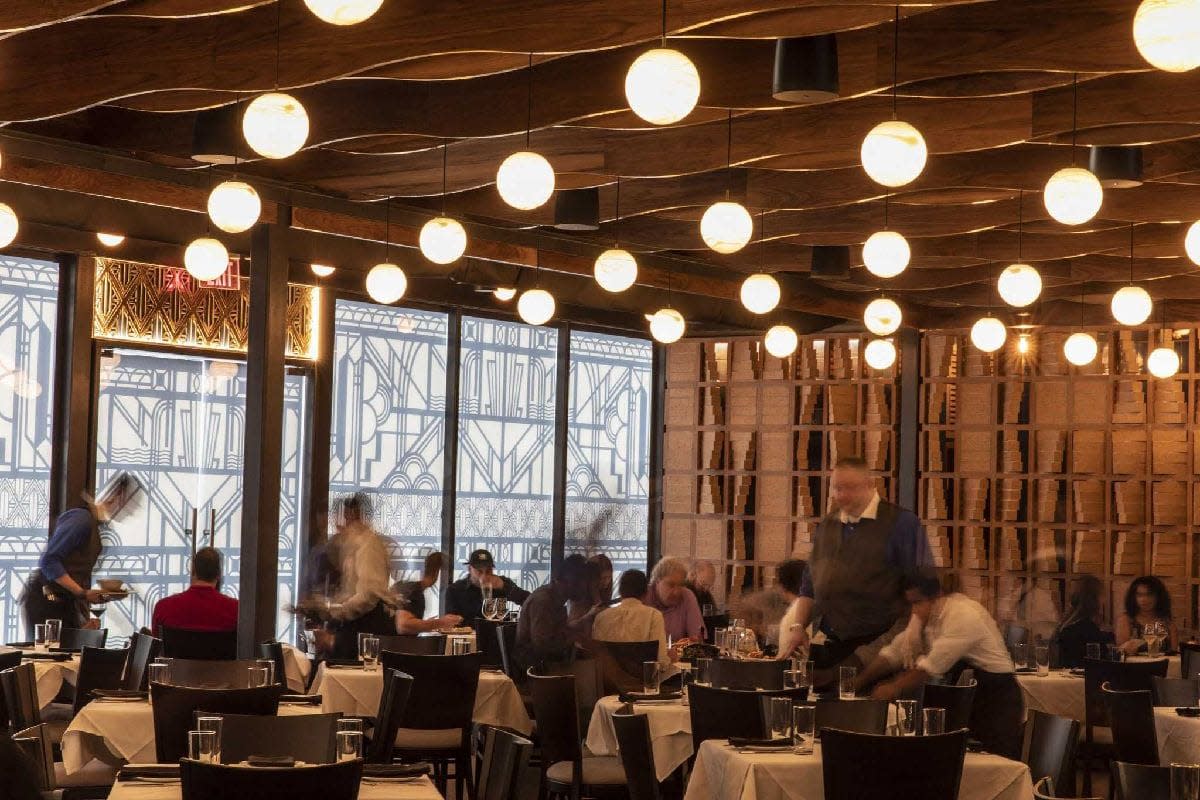 Georgia James
James Beard Award winning chef Chris Shepherd wants to serve his guests what he cooks at home. Think cast iron steaks, lots of cold seafood and seasonal sides. Georgia James, named after his parents, is his somewhat unconventional take on a steakhouse. There are three private dining room and event spaces, as well as the option for groups to use the full restaurant, spanning 2,133 square feet of bar and dining spaces, for buyouts.
Irma's Southwest
Food, faith, and good service serve as the foundation for this family-run restaurant in Downtown Houston. Located a stone's throw from Minute Made Park, attendees can enjoy Texas cuisine with Mexican spirit before walking over to the baseball game to cheer on the Houston Astros. This restaurant gets bonus points for its highly accommodable floorplan offering options for gatherings ranging from 30-120 people.
For more activities and ideas ask your ALHI GSO about working with Global DMC Partners
---
Stay / Meet
---

This Uptown Houston hotel boasts an outstanding location just blocks from The Galleria and mere minutes from Downtown. Royal Sonesta Houston features 23 meeting and breakout rooms, as well as top-of-the-line technology, and can host groups of up to 1,000. The property offers 485 guest rooms, including 13 suites, as well as 50,000 square feet of function space. Want a greener meeting? Sonesta's Culture of Caring initiative gives groups options to reduce their carbon footprint while traveling together.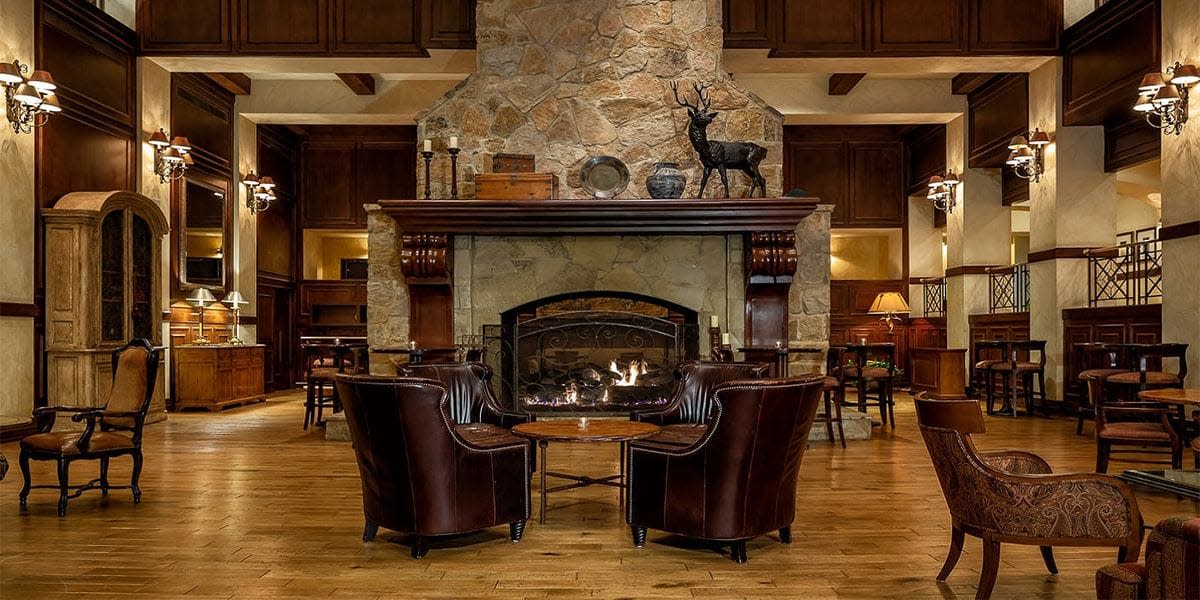 Choosing to meet at this iconic Houston hotel already sets the tone for a top-notch retreat. Set up over a sprawling 27 acres near both The Galleria and Memorial Park area, hotel guests gain access to the highly coveted Houstonian Club, which is one of the nation's top private health clubs. Attendees interested in a post-meeting massage or facial can book a treatment at the recently renovated Trellis Spa before returning to one of the property's glamorous guest suites that also are fresh from a facelift. Whether hosting a 500-person banquet or an intimate poolside happy hour, this hotel has what it takes to take to top guest expectations time and time again.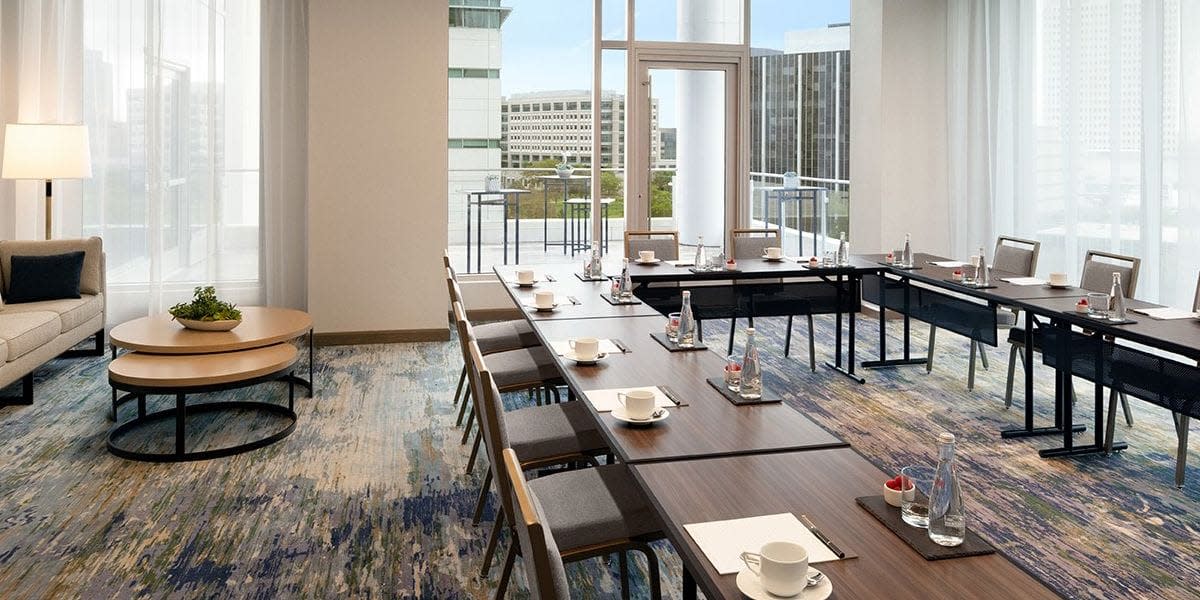 Located in the heart of the world's largest medical center, this modern hotel is primed and ready to host any outing. With 18,000 square feet of meeting space, this hotel has a variety of venue options ranging from a ballroom to indoor/outdoor hybrid space. Craving city views? Inquire about options to have the skyline as the point of focus for group gatherings. Perks include an area shuttle, posh pool and two restaurants.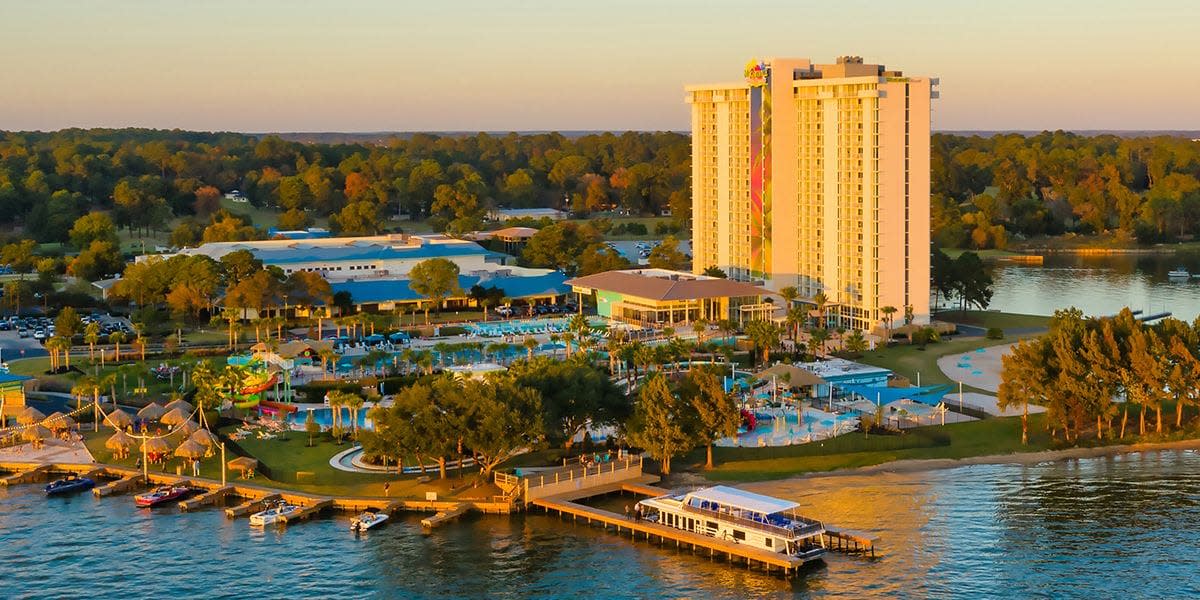 This island-inspired destination allows for meeting planners to secure the best of both worlds for their groups. With great golf, water sports and fresh foodie finds to explore, this lakefront paradise has enough activities to keep attendees entertained from dusk until dawn. Another noteworthy perk of this suburban paradise is the variety of unique venues, from open-air terraces to lakeside offerings. Margaritaville Lake Resort offers the perfect blend of business and leisure, with 72,000 square feet of indoor/outdoor meeting space and 335 guest suites.