With resilience fully embedded in its DNA, Las Vegas is leading the charge of cities making a strong 2021 comeback. Restaurant tables are in high demand, casino floors are jammed, hotels are abuzz with tourists, and theaters are reemerging with star-studded acts.
"We had a very successful summer, with weekends running in the mid to high 90 percent occupancy rate and well over 80 percent midweek," said Jim McMichael, National Sales Manager, Destination Group Sales for the Las Vegas Convention and Visitors Authority (LVCVA).
There is also a growing cadre of convention-goers returning to Las Vegas. From June through September, approximately 25 events were held at the Las Vegas Convention Center (LVCC), welcoming more than 310,000 attendees, and from October through January 2022, another 22 events are currently planned with more than 515,000 attendees expected at the LVCC.
"A lot of conventions from Q1 and Q2 moved to Q3 and Q4. That is nice backfill to keep the city busy," McMichael said.
The city is well poised to accommodate a resurgence of meetings and convention business. This June the LVCC debuted its new West Hall expansion when it hosted World of Concrete, which was the first major convention to return to Las Vegas and the U.S. since the pandemic began.
The expansion adds an additional 1.4 million square feet to the facility, including 600,000 square feet of new exhibit space, 328,000 square feet of column-free space, a 14,000-square-foot outdoor terrace, and 150,000 square feet of meeting space, including the ability to create 80 breakout rooms. The LVCC also holds the GBAC STAR Facility Accreditation, considered the gold standard for safe facilities, and was the first facility in Nevada to achieve the globally recognized status.
Meanwhile, as visitors return they are literally finding that Las Vegas is a whole new ballgame. The opening of the Las Vegas Raiders' Allegiant Stadium to fans this year for the first time since it debuted is drawing a new crowd to the city. Hotels are seeing seen that there is demand when there are home games, and two properties closest to the stadium, Mandalay Bay Resort & Casino and Luxor Hotel and Casino, are offering the MGM Resorts Stadium Walk, including hotel stay packages and an entertainment zone featuring its Bud Light Beer Garden and live DJs.
"People are sticking around until Monday or Tuesday if it's a Sunday or Monday game. People are changing their pattern of visiting Vegas," said McMichael.
In addition, the Vegas Golden Knights NHL team will be getting a new arena next year in Henderson for its farm team the Vegas Silver Knights. "Las Vegas is really becoming a sports capital," McMichael noted.
Add that to the city's traditional moniker of Entertainment Capital of the World and its continued emergence as a culinary capital. Las Vegas is also showing off new immersive attractions, spruced up hotels, new convention spaces and a booming Downtown area, including its East Fremont District. The master of reinvention is ready for action.
Why Las Vegas:
Las Vegas has more than 14 million square feet of exhibit and meeting space and is home to three of the country's 10 largest convention venues, including the Mandalay Bay Convention Center, a 2 million-square-foot center on the south Strip and the 2.9 million-square-foot Las Vegas Convention Center. Other notable convention spaces include the 850,000-square-foot MGM Grand Conference Center.
On average, attendance increases 9 percent when conventions rotate into Las Vegas. Research also shows that attendees spend more time in meetings and on the tradeshow floor when programs are held in Las Vegas. Additionally, resorts and venues across the destination are at the forefront of technological capabilities and advancement – including incredible internet bandwidth, broadcast studios in some places, virtual reality, live hosting, and contactless digital processes – all necessary for hybrid events.
Las Vegas averages 320 days of sunshine per year and fewer than five inches of precipitation annually. 
 McCarran International Airport is conveniently located just 2 miles from Las Vegas Boulevard and 3.5 miles from the LVCC, with most hotels located within a 15-minute drive from the airport. The airport is also expanding domestic service, including new regional from Avelo Airlines to regional airports in Northern California and Colorado.
What's New:
The Blackstone Group sold the upscale Cosmopolitan of Las Vegas, including top restaurants Momofuku and José Andrés's China Poblano, Jaleo, and é, to MGM Resorts. MGM Resorts will take over the Cosmopolitan's resort operations for $1.625 billion, while a group of buyers purchased the land under the resort. In total, the $5.65 billion deal will close in the first half of 2022. Blackstone bought the Cosmopolitan of Las Vegas in 2014 for $1.73 billion.
MGM Resorts International in 2020 introduced its Convene with Confidence initiative, focusing on increased health and safety protocols in light of the COVID pandemic. To help planners book safe meetings, MGM ramped up touchless technology for all its hotels, improved sanitation procedures and introduced the MGM Health Pass, which offers the Clear Health Pass for vaccine verification and rapid onsite molecular testing with results coming back in 15 minutes, among other features.
The Las Vegas Convention Center introduced the LVCC Loop, a first-of-its-kind transportation system that features three passenger stations that connect the existing LVCC space to the new West Hall. The Loop provides a quick way for attendees to travel across the 200-acre LVCC campus in under two minutes using a fleet of Tesla vehicles that can shuttle more than 4,400 riders per hour across the site through two-mile-long tunnels.
The new Expo at World Market Center Las Vegas opened in April 2021 and is the largest event venue in Downtown Las Vegas. The complex offers over 315,000 square feet of space, including 195,000 square feet of exhibit space, divisible by two halls that can accommodate up to 1,000 booths. Sustainability is a key element of the Expo, which boasts Green Globes certification for its commitment to energy conservation, lowered water consumption, and responsible use of materials.
The LVCVA created the Meet Smart, Vegas Smart initiative earlier this year, which includes a webpage with guides to COVID-based health and safety policies and procedures, including Las Vegas' current COVID-19 restrictions and recommendations. The site includes virtual tours of the city's venues and event spaces; information on the Las Vegas Convention Center (LVCC)'s GBAC STAR accreditation; a link to the state's COVID Trace app; and a link to the Vegas Smart page, which includes a variety of information, including links to resorts' individual health and safety plans.
Allegiant Stadium, home to the NFL's Las Vegas Raiders, debuted with its first pre-season game in August. The stadium offers 10 event spaces and capacity for 65,000 guests.
MGM Resorts International recently launched its 100-megawatt solar array, the hospitality industry's largest directly sourced renewable electricity project worldwide. The array's clean energy now produces up to 90% of MGM Resorts' Las Vegas daytime power needs, spanning 65 million square feet of buildings across 13 properties and more than 36,000 rooms on the Las Vegas Strip, including Bellagio, ARIA, Mandalay Bay, MGM Grand and The Mirage, among others.
---
See
---

Behind the Scenes at Cirque de Soleil's KÁ 
Groups can experience KÁ by Cirque du Soleil at MGM Grand with VIP, behind-the-scenes access. KÁ tells the tale of twins on a perilous journey to fulfill their shared destiny. The lavish production combines Cirque's signature gravity-defying acrobatics and aerial artistry, martial arts and blazing pyrotechnics. Before the show, attendees can see how the KÁ team combines its artistic talents with world-class technology to create this $165 million production. Cirque fans will find a variety of other riveting productions along the Strip, including the acrobatics of O at Bellagio Resort & Casino and the musical journeys of Michael Jackson ONE at Mandalay Bay or The Beatles LOVE at The Mirage.
Area15
One of the Strip's newest attractions is the immersive Area15 entertainment, which debuted in September 2020. Inside the venue is a 23-foot Japanese maple tree bejeweled with 5,000 LED lights; the first indoor, electric dual-track suspension ride in the U.S.; as well as numerous art installations, retail outlets, bars, restaurants; and one of the highlights, Omega Mart by Meow Wolf. The venue also boasts 40,000 square feet of indoor and outdoor meeting and event space, including combinable options.
Vegas Golden Knights at T-Mobile Arena
The Vegas Golden Knights NHL hockey team has been a success story since the first puck dropped at its home in the 17,500-seat T-Mobile Arena in 2017. Groups can make a full night of it, enjoying a Vegas Golden Knights game from a luxury box, incorporating a curated cocktail program, and ending the evening with an intimate dinner at the private High Lounge perched above the ice. The lounge is a nightclub inside the hockey arena and comes with bottle service and VIP sections, as well as DJ entertainment. On non-game evenings, groups can also reserve the entire arena and set up a dinner on the ice, organize hockey celebrity meet and greets or partake in teambuilding skate experiences.
For more activities and ideas ask your ALHI GSO about working with Global DMC Partners
---
Do
---
Private Party at The Mansion
Groups in search of a VIP experience with some Italian flare can organize private events and dinners at The Mansion at MGM Grand. The private venue houses 29 individually designed Mediterranean-themed residences, ranging from 2,400 square feet to 12,000 square feet, with architectural designs inspired by 18th-century Tuscany. Attendees can indulge in the height of extravagance and exclusivity in one of the A-list-style villas or in one of the five plush facilities, including The Atrium and The Italian Garden. Groups can also organize a High Tea at The Mansion Estate Dining Room Patio.
Allegiant Stadium Tour
The new home of the Las Vegas Raiders, which debuted this year, offers behind-the-scenes guided tours, visiting exclusive areas such as the private suites and clubs, broadcast booth, Ubeo Press Conference Room and locker rooms. Attendees can get a close look at the Al Davis Memorial Torch and can walk out onto the field during the tour. There are upgrade options to add a drink at Coors Light Landing. In addition, MGM Resorts and Bud Light partnered to create the Bud Light Beer Garden near the stadium. On each home game day, the Bud Light Beer Garden will offer programming four hours before kickoff, including appearances by professional sports legends.
FlyOver: The Ultimate Flying Ride
This summer, FlyOver: The Ultimate Flying Ride debuted on the Strip, taking participants along high-tech journeys to either Iceland or the Real Wild West. The immersive experience takes place all from seats set before a 52.5-foot-wide spherical screen that simulates an in-flight feeling. Special effects, including wind, mist and scents, combined with the ride's motion. The visuals are provided by a world-renowned team that includes Grammy-nominated composer and musician Thomas Holkenborg, celebrated creative director Rick Rothschild, and acclaimed aerial cinematography director Dave Mossop, and give a true sense of the waterfalls, glaciers and other treasures of Iceland as well as the prairies, red rock formations and other natural wonders of the West. Groups can book theater buyouts for 2022.
For more activities and ideas ask your ALHI GSO about working with Global DMC Partners
---
Eat
---

Brunch at Spago
Renowned Chef Wolfgang Puck is now serving up his culinary creations for weekend lakeside brunch at Bellagio Resort & Casino, overlooking the famed Fountains of Bellagio. Attendees will find Spago staples like Smoked Salmon Pizza alongside new daytime delicacies like Rolled French Omelet with king crab. Bottomless mimosas, which guests can design on their own choosing from fresh juices, and live music round out the experience, with options to dine indoors or on the outdoor patio.
Lip Smacking Foodie Tours
Las Vegas squeezes more celebrity chefs into one small area than Paris, New York or any other culinary capital in the world. There is never enough time to taste all of Vegas' culinary highlights, but a few hours with Lip Smacking Foodie Tours takes guests to four sumptuous spots for a well-curated sampling. Attendees can join one of several organized tours including Savors of the Strip, with VIP service, an optional cocktail package, and an opportunity to upgrade to its Savory Bites & Neon Lights, which includes a helicopter flight over the Strip. Tours can focus on restaurants on one or two properties such as ARIA Resort & Casino and Park MGM to maximize time at each restaurant and sample three or four signature dishes. Groups of up to 250 can customize culinary tours. Lip Smacking tours can also cover the Arts District or Downtown.
Din Tai Fung
Taipei's famed Din Tai Fung hit the Strip this year with the introduction of this culinary hot spot to ARIA Resort & Casino. Aside from its extensive dumpling and noodle menu, Din Tai Fung is especially famous for its Xiao Long Bao steamed buns, which became the focus of its culinary efforts dating back to the early 70s in Taiwan. Some of the options include Crab & Kurobuta Pork Xiao Long Bao or Truffle & Kurobuta Pork. The culinary team at the Vegas location cranks out some 10,000 dumplings everyday, which guests can watch from the venue's show kitchen. Other views include sightlines to the Vdara Hotel & Spa from the restaurant's 40-foot glass wall.
For more activities and ideas ask your ALHI GSO about working with Global DMC Partners
---
Stay / Meet
---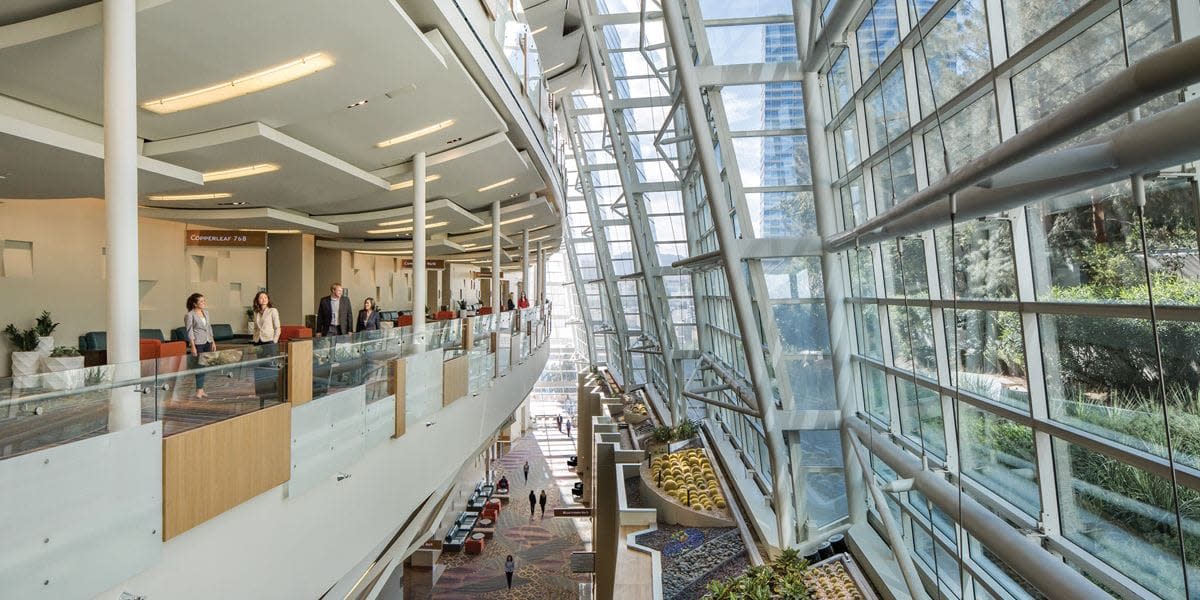 Towering high above Las Vegas' CityCenter complex, the AAA Five Diamond ARIA Resort & Casino is heralded for its high-tech decadent guest rooms as well as for its world-class dining and amenities. The 4,004-room hotel is luxury central, with its top-tier spa treatments and chef-driven restaurants, including Chef Michael Mina's Bardot Brasserie and Julian Serrano Tapas. ARIA is also home to 40 event rooms and some 500,000 square feet of meeting and convention space, including a recent 200,000-square-foot expansion of its convention center. The center features open-air spaces and a glass-enclosed venue, sporting views of The Park and T-Mobile Arena.

One of the Las Vegas Strip's most iconic resorts for its famed Fountains of Bellagio, the AAA Five Diamond Bellagio Resort & Casino offers the full gamut of cultural and culinary experiences. The resort presents Cirque du Soleil's renowned performance, O, and nearly 20 dining options, including two AAA Five Diamond Award-winning restaurants—Julian Serrano's Picasso and Le Cirque. Attendees can also wander Bellagio's art gallery and Conservatory & Botanical Gardens. The 3,933-room Bellagio recently refreshed all 2,568 guest rooms in its main tower. Groups have a variety of options among Bellagio's 200,000 square feet of meeting space, including the 45,000-square-foot Grand Ballroom.

Located adjacent to Mandalay Bay, the 1,117-room Delano Las Vegas is an all-suite, non-smoking property with its own restaurants, bars, spa and four floors of meeting space, including 121 event rooms such as the intimate 1,200-square-foot Delano Living Room, and 31 meeting rooms. Delano's guests also have exclusive access to the Delano Beach Club, replete with signature cocktails and a submerged chess board, and can also use Mandalay Bay's 100 cabanas at Mandalay Bay Beach.

Playing off its medieval theme, Excalibur Hotel & Casino features everything from the Fun Dungeon Arcade and Camelot Steakhouse to the Tournament of Kings dinner and show experience. Attendees can also imbibe at the Thunder Bar before seeing the Australian Bee Gees. Luxury lies within this 4,000-room property, with its four heated pools and 13,000-square-foot spa. Excalibur can host groups in its nine meeting rooms spanning 12,000 square feet of space.

Within the confines of the Strip's notorious 30-story Pyramid lie 2,200 newly renovated rooms and suites, which along with Luxor's East and West towers combine for 4,397 rooms, including the chic 3,600-square-foot Two Bedroom Penthouse. Luxor also boasts nearly two-dozen event rooms, such as the 20,000- square-foot Egyptian Ballroom and a new meeting facility near the Tower guest room elevators, with 35,000 square feet of flexible meeting space. There is no shortage of entertainment on property, from the gripping Blue Man Group to a multilevel Esports arena.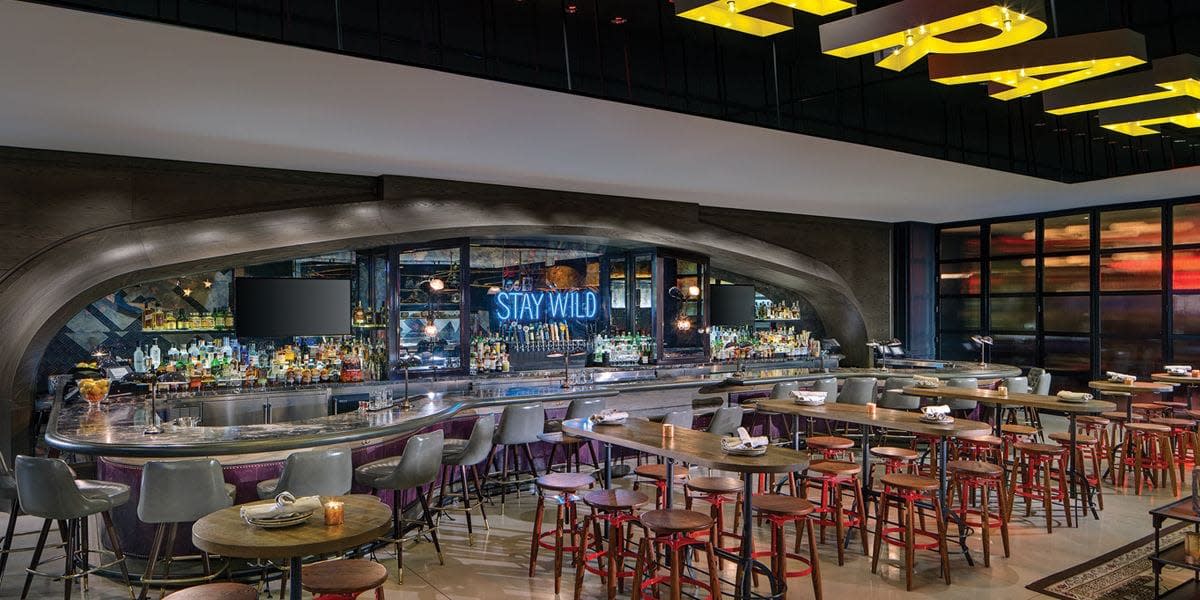 Mandalay Bay's sparkling gold towers at the south end of the Strip lure meeting groups with 3,220 rooms and the sprawling Mandalay Bay Convention Center. With the recent addition of 350,000 square feet of space, the total now stands at about 2 million square feet of meeting and exhibit space. Mandalay Bay has also gained notoriety for its dazzling aquatic attractions, including the Shark Reef Aquarium and 11 acre Mandalay Bay Beach, known for its wave pool and lazy river.

The word grand is apropos for MGM Grand, with its 5,000 guest rooms and more than 850,000 square feet of flexible meeting space, including the Conference Center. The 90,000-square-foot pillar-less space at the Marquee Ballroom can accommodate banquets, receptions and tradeshows. For entertainment, MGM Grand is home to the Hakkasan nightclub, David Copperfield, Topgolf, a 6.5-acre pool complex and Cirque du Soleil's fiery KA. When it's not hosting a championship boxing match or star- studded concert, groups can use the 17,000-seat Grand Garden Arena for a dinner ceremony or as an exhibit hall.

Las Vegas' first mega-resort, The Mirage captivates bystanders with its nightly volcanic eruptions. But inside is a more refined Four Diamond experience, from Tom Colicchio's Heritage Steak restaurant to the epitome of decadence at The Villas, with a private gated entrance and private chefs and butlers. The Mirage Pool is another source of entertainment, with its lagoons and waterfalls, as is Siegfried and Roy's Secret Garden & Dolphin Habitat, inhabited by its infamous white tigers. The Mirage offers 3,044 guest rooms and 170,000 square feet of flexible meeting and event space.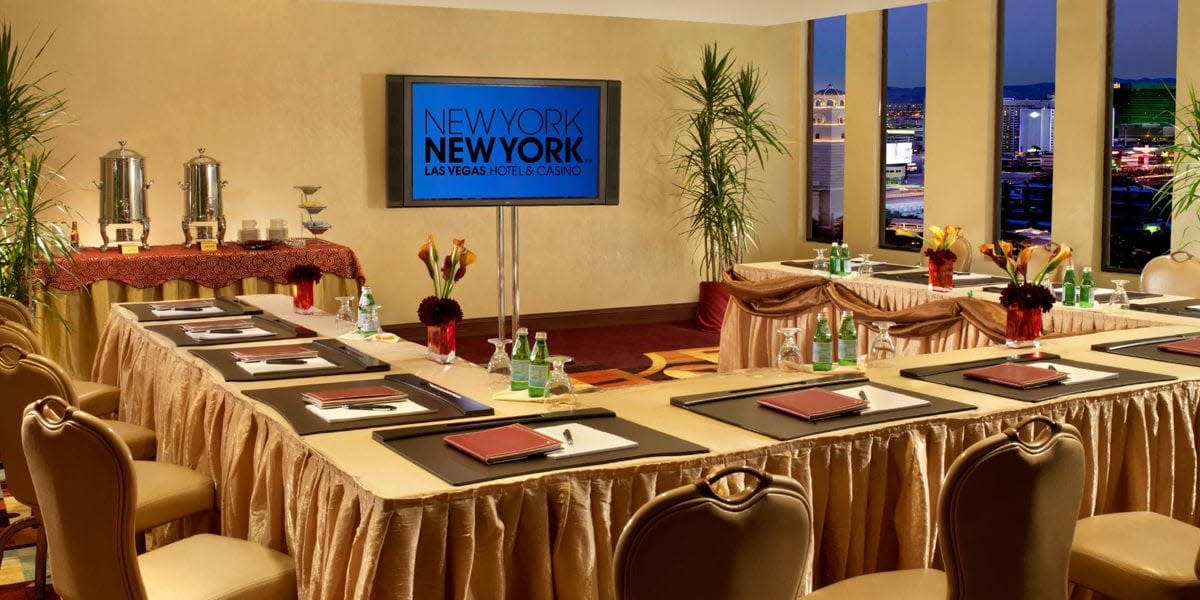 Attendees can get a taste of the Big Apple at New York - New York, from its faux skyline and Statue of Liberty, to its Village Streets Eateries hearkening New York's street food. The 2,024-room hotel offers over 30,500 square feet of space, including its Library Loft with room for up to 500. After-hours there are plenty of nightlife options including The Bar at Times Square and The Chocolate Bar. For thrills, The Big Apple Coaster hurtles riders along at 67mph and tosses them into a 180-degree "heartline" twist and dive maneuver and a 203-foot drop.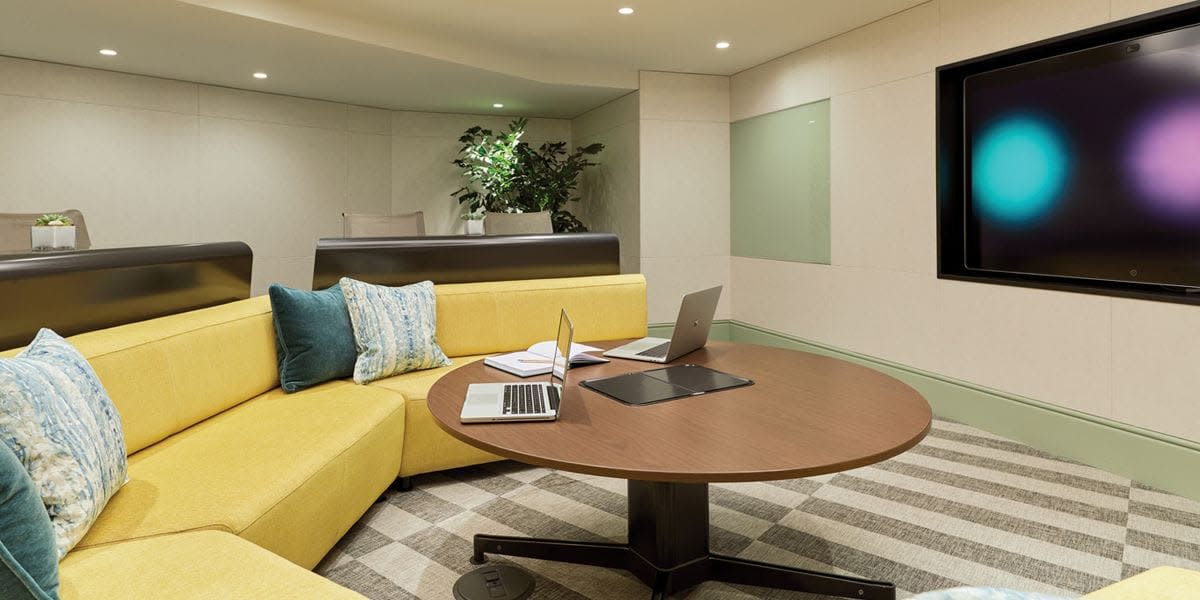 Park MGM was built with meetings in mind. The Meeting Center at Park MGM features 77,000 square feet of indoor and outdoor space and consists of three distinct areas: The Conference Center, The Madison Meeting Center and The Ideation Studio, with its unique setup designed to spur creativity. The property offers two distinct hotel experiences, Park MGM and the NoMad Hotel on its upper floors, for a total of about 2,900 guest rooms. Designed by French architect and designer Jacques Garcia, the NoMad's 293 rooms and suites are designed to feel residential in style. The likes of Lady Gaga and Bruno Mars have graced the stage at the 5,200-seat Park Theater, which is open to groups, while more intimate outings can be had at the soaring NoMad Library bar.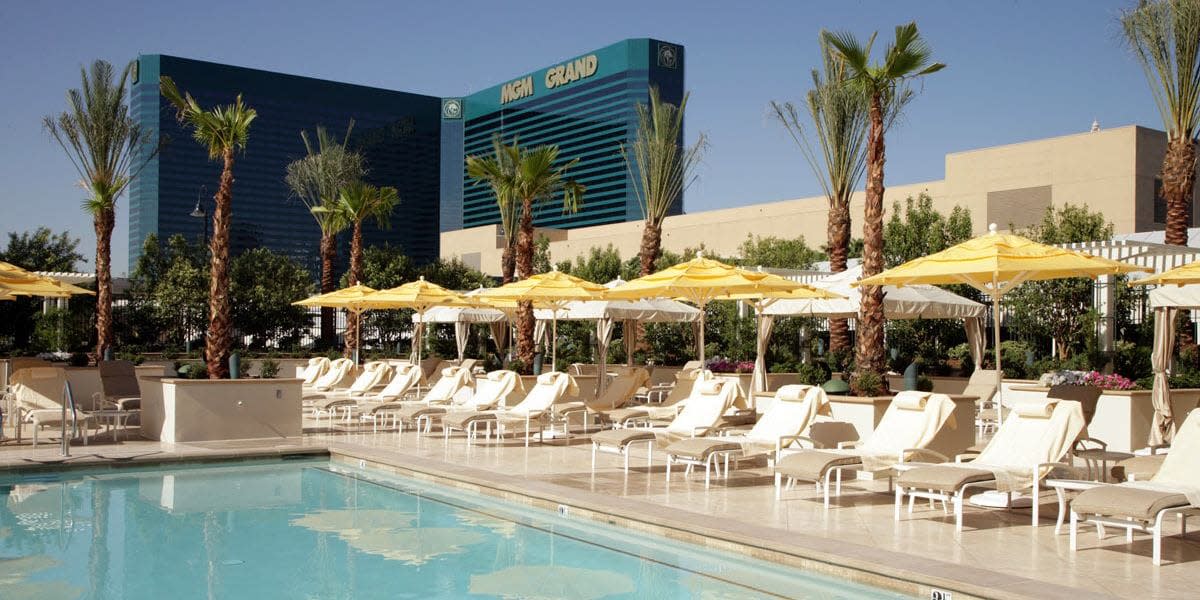 The Signature at MGM Grand's three all-suite towers each features a non-smoking, non-gaming environment and a luxurious respite from the frenetic energy along the Vegas Strip. The 1,728 suites have full kitchens, Jacuzzi tubs and balcony views, while each tower has a private heated outdoor pool with cabanas. For small groups, there are four meeting rooms, each offering direct access to outdoor patio space, and two boardrooms, while large groups have access to the MGM Grand's 600,000 square feet of meeting space and all its dining and entertainment venues.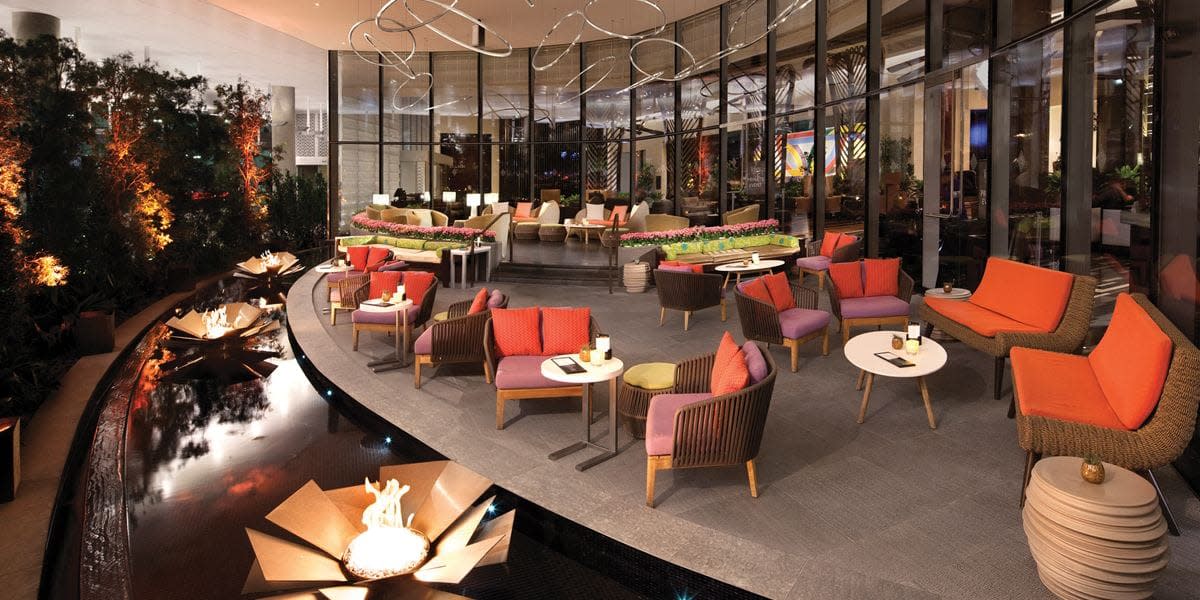 The AAA Four-Diamond and Forbes Four-Star Vdara Hotel & Spa at ARIA Las Vegas is the apex of elegance along the Strip. Its 1,495 suites are equipped with full kitchenettes and views of the Las Vegas skyline. The non-gaming all-suite property has meeting and event space for up to 300, including the 4,670-square-foot Silk Road, the Vinoly Grand Ballroom, and the VICE VERSA Patio & Lounge, which can be used by groups during the day before it turns into a contemporary lounge at night. Vdara connects directly to Bellagio and is a few steps away from ARIA.