Though it is Hawaii's third largest island, Oahu is home to most of the islands' population. Aptly known as "The Gathering Place," Oahu is a blend of East and West cultures, with deep roots in the values and traditions of the Native Hawaiians. From bustling city life in Honolulu and famed Waikiki Beach, which was once a playground for Hawaiian royalty; to laidback surf towns on the North Shore; to the quiet coastline of the Leeward Coast and lush landscapes throughout the island, the diverse island offers a myriad of opportunities to connect with the aloha spirit.
Why Oahu?
average daily temperatures range from 75° - 85°F (24°-30°C); summer (April to November) is warmer and drier; winter (December to March) is cooler.
find a cosmopolitan city in Honolulu, legendary surfing on the North Shore, and dreamy beaches all around.
domestic, inter-island and international flights arrive daily into Daniel K.Inouye International Airport(HNL).
What's New in Oahu
A multi-billion dollar renovation at Daniel K. Inouye International Airport (HNL) includes an extension to the Mauka Concourse and a consolidated rental car facility. The extended concourse will increase gate capacity and will be able to handle larger aircraft. The concourse extension is expected to be completed in August, and the rental car facility in December.
The Honolulu Authority for Rapid Transportation is building a 20-mile, 21-station light rail system that is expected to be completed in 2026
There are plenty of options when it comes to things to see and do on Oahu, as well as places to grab a bite to eat, or host a power lunch or dinner. Here, we take a look at a few spots to pique your interest.
---
While we are showcasing Oahu in this feature, you may want to consider adding additional islands to your itinerary for a full Hawaiian experience.
"With six unique islands, meeting attendees have an opportunity to make the most of their trip and visit another island for a completely different experience," says John Reyes, Senior Vice President and Chief MCI Sales Officer, Hawaii Visitors and Convention Bureau. "Especially after such a tumultuous year, island hopping is the perfect way to unwind before or after a program, particularly with loved ones in tow."
Learn more about two new ALHI member properties on The Big Island and Kauai. 
---
See
---

photo credit Shutterstock
Built in 1882 by King Kalakaua, Iolani Palace is a National Historic Landmark and the only royal palace on U.S. soil. It is within this palace that the king and his sister and successor, Queen Liliuokalani, entertained with balls and hula performances. The brother and sister were Hawaii's last reigning monarchs, and in fact the queen was imprisoned in an upstairs bedroom of the palace for nearly eight months after the monarchy was overthrown. Once the site of the state capital, the palace was restored to its original grandeur in the 1970s.
You simply cannot visit Hawaii without seeing a waterfall. And on Oahu, one that is easy to get to and hard to forget is Manoa Falls, about 15 minutes from Waikiki. The 150-foot cascade plummets through a dense rainforest that set the scene for the original "Jurassic Park" and the TV show "Lost." The trail head is within the Honolulu Watershed Forest Reserve and is a terrific way to stretch your legs.
Kaka'ako Mural Art Walk
Murals are popping up all across the U.S., and Hawaii is no different. Oahu embraces the street art community by hosting the WOW!POW! Worldwide Mural Festival. The artwork created by artists from all over the world over the course of more than a week lingers. One place to see the Instagram-worthy art is in the hip, bustling Kakaa'ko neighborhood. Take your group on a guided walk to learn the stories behind the images.
For more activities and ideas ask your ALHI GSO about working with Global DMC Partners
---
Do
---

photo Courtesy of Global DMC Partners
E Ala E
One of the most magical, authentic experiences you can have in Hawaii and on Oahu is to participate in an E aAla E ceremony. Held beachfront at sunrise, a Hawaiian cultural advisor will guide your group through the ceremony. As you walk into the warm waters of the Pacific Ocean, facing the rising sun, your guide will lead an oli, or chant, that welcomes the opportunities of a new day.
Longboards and Lagers
When the meetings are over, take a page out of the locals' book: go surfing, and then hit a local brewery for happy hour. The waves at Waikiki Beach are ideal for beginning surfers to take lessons, and challenging enough for the more experienced; essentially, the perfect conditions for everyone. After you've caught the perfect wave, take a 15-minute walk to the Waikiki Brewing Company and talk about the wave that got away over locally crafted beer and great food.
Take a peek into the undersea world with this special Hawaiian, family-owned outfitter. Not only will guests go on a unique snorkeling adventure amongst coral reefs teaming with marine life like sea turtles and colorful fish, and dolphin sightings, too. The family also shares its deep-rooted culture and genuine hospitality with their guests.
For more activities and ideas ask your ALHI GSO about working with Global DMC Partners
---
Eat
---

photo credit Shutterstock
Make a splash with your group by hosting an event at the #1 most sought-after venue in all of Hawaii: aboard the historic Battleship USS Missouri. The massive ship has four venues at which to host your event, from the expansive Fantail overlooking Pearl Harbor, to the intimate Captain's Cabin, take a step back in time to the simple elegance of the 1940s. 
An event hosted at the 4,000 acre nature retreat is sure to be epic. After all, more than 50 Hollywood blockbuster movies and TV shows were filmed in the lush landscape, including some of Elvis Presley's classics and "Jurassic Park."
The story of the Hawaiian heirloom ko, or sugar cane, comes to life at; guests can tour and taste the rum made onsite: K Hana Hawaiian Agricole Rum. Afterwards, enjoy a meal in an intimate settling that caters to smaller groups.
For more activities and ideas ask your ALHI GSO about working with Global DMC Partners
---
Stay / Meet
---
Just as Oahu has something for every meeting planner and attendee, so does ALHI. Popular Honolulu is home to two ALHI properties: Halekulani and Prince Waikiki. On the quieter side and on the North Shore is Turtle Bay Resort, about an hour from Daniel K.Inouye International Airport (HNL).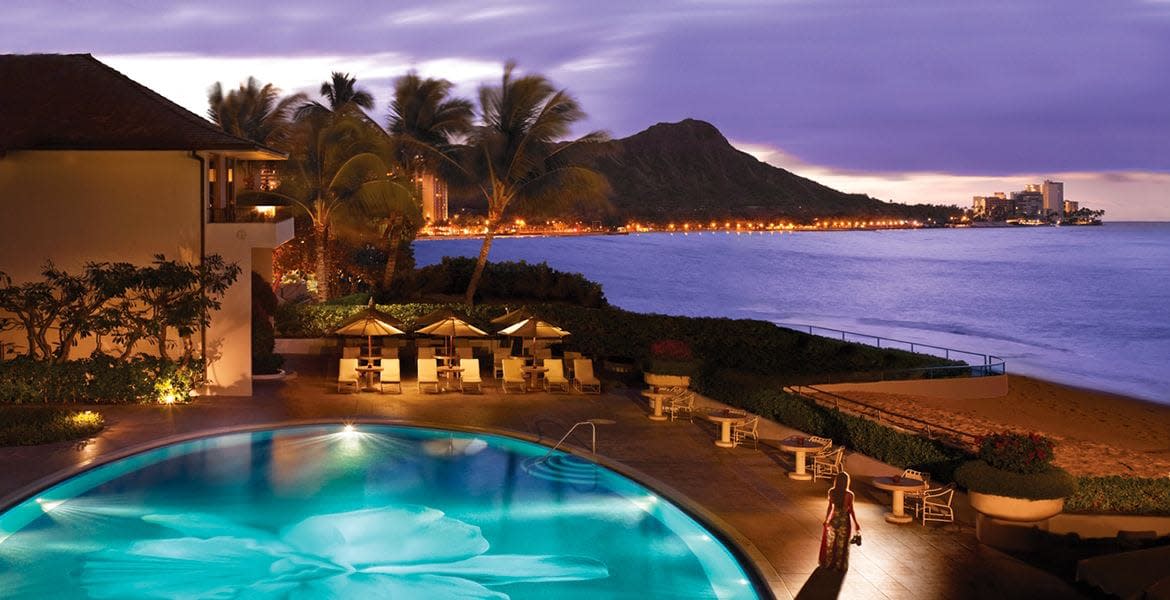 photo Courtesy of Halekulani
Once you step onto the grounds of the Halekulani, which just announced a reopening date of Oct. 1, 2021, you will instantly realize its meaning in Hawaiian: "house befitting heaven." Located on a piece of land that has welcomed guests since 1883, the original Halekulani began as a residential hotel with a beachfront home and a handful of bungalows. Today, the hotel features 453 guest rooms, five event rooms that can accommodate up to 500 guests, and myriad dining choices, including House Without A Key, an indoor/outdoor dining and gathering spot boasting a 130-plus year old kiawe tree and views of Diamond Head.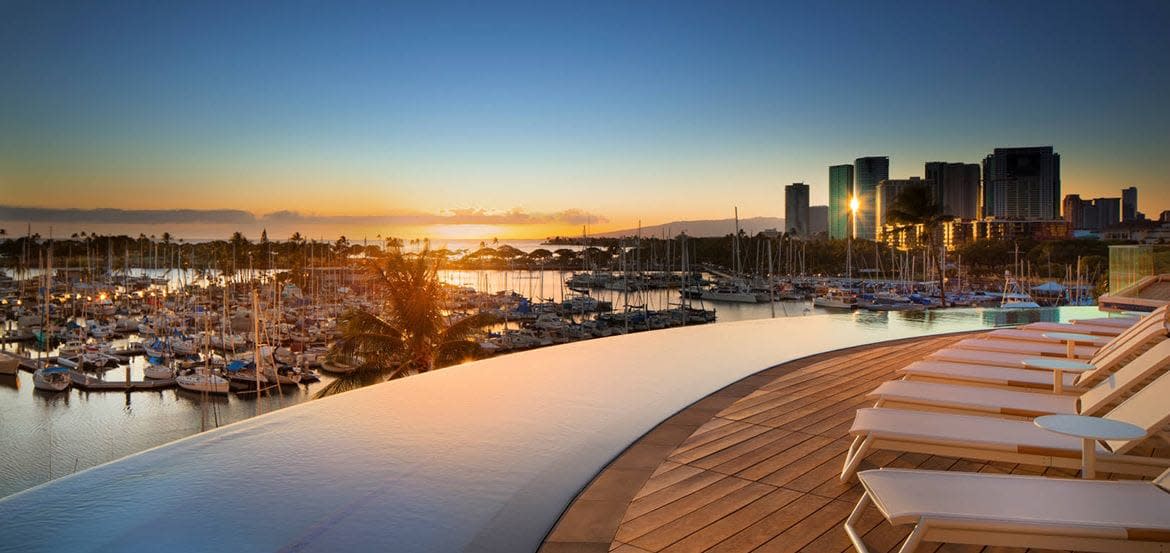 photo Courtesy of Prince Waikiki
When business has wrapped up for the day, your guests will make a beeline for their guest rooms. Why? Each of the 563 rooms and suites at Prince Waikiki has floor to ceiling windows that face the Ala Wai Yacht Harbor and Pacific Ocean, making for spectacular views all around. When it is time to go back to work, the hotel's 39,708 square feet of indoor and outdoor meeting and event space can be arranged to fit your needs, and will inspire your guests.
photo Courtesy of Turtle Bay Resort
On the opposite side of the island from Honolulu is Turtle Bay Resort, perched on a point on the North Shore with nothing but Pacific Ocean views for miles. The resort's 25,000 square feet of flexible meeting spaces can host as many as 2,000 guests, or pared down for more intimate groups. Every guest room, villa and cottage have ocean views, and you simply cannot miss the sun dipping into the ocean, mai tai in hand, at The Point Sunset & Pool Bar. For team building fun, learn about Hawaiian history and culture with a traditional hukilau.
For more activities and ideas ask your ALHI GSO about working with Global DMC Partners