San Francisco thrives on its sensory overload, from the hilltop sweeping views of Alcatraz and the San Francisco Bay, to the chilling fog that engulfs the city in summer. From the scent of sourdough bread baking along Fisherman's Wharf to the waft of a wood-fired pizza cooking in North Beach.
Those sensations prevailed, even throughout the city's extended pandemic shutdown. What has been missing, though, is the city's soundtrack. But that is changing now that San Francisco is fully open. The roar of a full-capacity crowd at Oracle Park, home to the beloved San Francisco Giants, is back. Concert stages are opening once again, and starting this September, the ringing of cable cars will finally return to the streets of San Francisco.
"San Francisco was one of more restrictive places in the country regarding reopening plans," said Steve Revetria, president of Giants Enterprises, who also works closely with Live Nation. "Now that we have a clear line forward, concert venues are starting to open and get artists. Lots of baby steps, but progress is being made. Next year will be very strong, one of the best touring years."
San Francisco was the first major U.S. city to completely lockdown in March 2020 and has been one of the last to throw open its gates. While locals have been filling the city's parks and new outdoor dining parklets, the wait has been longer for tourists. That is slowly changing as well.
"The vibe in the city is cautious but optimistic," said Revetria. "I think the community is willing to do whatever is necessary to bring back business to the city."
One of the biggest signs the meetings industry is recovering is the return of Salesforce's annual Dreamforce convention, usually a 170,000+ person four-day event that this year will host 5,000 vaccinated-only attendees. Dreamforce is the city's largest convention of the year, and its return, according to SF Travel, is a sign that the city is back and meetings are back.
To help further boost meetings business, San Francisco Mayor London Breed announced in her new budget that the city plans to invest $4.6 million to support the return of conventions to San Francisco. These funds will be used to reduce the cost of renting space at Moscone Center. This funding is part of Mayor Breed's efforts to support San Francisco's Downtown Recovery Plan, including bringing free live entertainment to the Downtown and Union Square areas.
The Mayor is also investing $7.5 million to expand the presence of Community Ambassadors in downtown transit hubs and key tourist destinations. They will engage with visitors to provide hospitality services, as well as with people who may be in distress to address safety issues and access appropriate city services. They will also monitor and maintain the appearance and cleanliness of sidewalks and public spaces.
Starting in late summer, approximately 50 Community Ambassadors will be stationed in the Union Square, Financial District, Fisherman's Wharf and Chinatown neighborhoods.
As the city's Downtown area slowly recovers, Revetria emphasizes the need for patience.
"There were a lot of businesses that were impacted. It's taking some time. It isn't, you turned on the light switch and the party turned on. It's a dimmer switch. We are in a transitional period, but overall it's very positive."
Why San Francisco
Despite the city's iconic chilling fog in summer, San Francisco's temperate weather makes it a perfect year-round destination. The temperature typically varies from 45°F to 72°F and is rarely below 39°F or above 83°F.
While San Francisco's Golden Gate Bridge paints the sky its iconic International Orange, the color that truly exemplifies the spirit of the City by the Bay is green. The San Francisco Bay Area ranked first in the 2019 US Cities Sustainable Development Report.
The outdoors is never far from any location in the city. Almost every San Franciscan hotel is within a 10-minute walk of a park.
Cultural diversity is not only embraced but lies at the core of San Francisco's distinct and varied neighborhoods, from its vibrant Chinatown to the Castro, a bustling LGBTQ+ haven.
San Francisco and the surrounding Bay Area offer more than 360 special event facilities and venues, nearly one for every day of the year.
Ease of accessibility: San Francisco International Airport (SFO) offers nonstop flights to more than 50 international destinations on more than 40 international carriers, and connects nonstop with more than 80 cities in the U.S. on 12 domestic airlines.
What's New
Moscone Center completed an extensive renovation in 2019 to its Moscone North and Moscone South buildings. The expansion added more than 170,000 gross square feet of flexible meeting space to the Center, including a 50,000-square-foot ballroom. The center now also offers an enclosed pedestrian bridge connecting the North and South buildings above Howard Street, featuring light art by famous creator Leo Villareal. In the past year, the final building of Moscone Center, Moscone West, was also renovated.
Presidio Tunnel Tops, slated for a March 2022 debut, will be a new attraction within the Presidio national park site. It's built on top of the Presidio Parkway tunnels, and will connect the Presidio's historic center to the Crissy Field waterfront. Its views of the Golden Gate Bridge will be worth the trip.
The San Francisco Music Hall of Fame opened last year in Nob Hill, featuring photos and written tributes of 90 of the most iconic Bay Area musicians and bands. An accompanying audio tour is available.
Club Fugazi, the home to the legendary "Beach Blanket Babylon," which recently closed, is back with a new show from producers, 7 Fingers. The show, called "Dear San Francisco," will open sometime in the fall.
SFO in March opened the next phase of the $2.4 billion Harvey Milk Terminal 1, with seven new departure gates, a new post-security connector to the International Terminal, a new museum gallery, and a new display of exhibit content honoring the life and legacy of Harvey Milk.
---
See
---
photo courtesy of:  SnapASkyline / Shutterstock.com
Salesforce Park
Perched atop the Grand Hall of the recently opened Salesforce Transit Center in downtown's newly branded East Cut neighborhood, Salesforce Park serves as both a green roof for the Transit Center and an interactive setting for everything from fitness classes to swing dance lessons to writing classes to a silent disco.
The Park runs the entire length of the Transit Center's nearly four-block stretch. It is home to 600 trees and 16,000 plants arranged in 13 different botanical feature areas as well as public art such as the "Bus Fountain," a water feature triggered every time a bus passes underneath in one of the center's bus bays. Groups can rent some areas such as the amphitheater and adjacent lawn, as well as the main plaza.
Yerba Buena Gardens and Yerba Buena Center for the Arts
Adjacent to Moscone Center and a short walk from Union Square, Yerba Buena Gardens is a two-block-long respite from the meeting room. The five-acre Esplanade lies at its center, boasting landscaped lawns, trees, flowers, public art, small cafes, and more than 100 cultural events a year.
The Upper Terrace offers city views, while the East Garden features public art displays, including the 18-foot-high sculpture "Green Glass Ship." The East Garden, Upper Terrace and Esplanade are all available to rent for groups, with the Esplanade able to host 5,000 standing or 1,000 seated.
Yerba Buena Center for the Arts, part of the Gardens' complex, presents contemporary art, performance, film and other entertainment. Venue rental options include an auditorium and theater for up to 757, as well as the YBCA Forum with space for up to 850 for a standing reception or the main lobby with space for 350.
SFMOMA
For art buffs, the San Francisco Museum of Modern Art (SFMOMA), one of the largest museums of modern and contemporary art in the U.S., is a short walk from Moscone Center and the InterContinental San Francisco. Featuring seven floors of painting, sculpture, photography, architecture, design, and media arts, the main attraction is also the building itself, designed by the global architects Snøhetta and Mario Botta.
Event spaces include the Evelyn and Walter Haas, Jr. Atrium featuring a spiraling staircase and towering ceilings for up to 450 for receptions. The Helen and Charles Schwab Hall can cater up to 600 for dinners or receptions. A rooftop sculpture garden and pavilion can host 200 for cocktails. The Gina and Stuart Peterson White Box, a snazzy white-walled space overlooking the museum's Living Wall, can fit 200 for receptions or presentations.
For more activities and ideas ask your ALHI GSO about working with Global DMC Partners
---
Do
---

photo courtesy of © Marlene Goldman
SkyStar Wheel
Intended to be a year-long rental to celebrate Golden Gate Park's 150th birthday in 2020, the SkyStar Wheel, towering 15 stories above the park, stood empty for months during the city's on and off COVID shutdowns. The city voted to keep the SkyStar, the largest traveling observation wheel in the U.S., until March 2025. The temporary fixture is worth the 15-minute drive from downtown for its sweeping views of the park and surrounding city, especially at sunset. VIP gondola experiences for up to five people extend the ride to 20 minutes, about double the regular length, in a gondola with leather seats and hardwood floors.
"Alfred Hitchcock's San Francisco" Walking Tour
City Guides, a free walking tour nonprofit featuring volunteer expert guides, retraces the steps of the filming of Vertigo in its walking tour "Alfred Hitchcock's San Francisco." The tour re-creates the classic film, which "engulfs you in a whirlpool of terror and tension," according to the movie's tagline. Setting off from Huntington Park, near the InterContinental Mark Hopkins, the tour visits Nob Hill landmarks that appeared in Vertigo, such as Grace Cathedral, and ends in Union Square, which was used in his thriller The Birds.
City Guides also offers a host of other free city tours, including a downtown Gold Rush history tour, replete with bawdy characters and local scandals. Private tours can be arranged in advance, or attendees can check the City Guides calendar for public walking tour options.
Bike the Bridge
The best way to experience the Golden Gate Bridge and its postcard city views is on two wheels. The bridge spans 2.1 miles and is a quick 10 to 25-minute ride, but most bike rental companies are located in Fisherman's Wharf, adding another 3.5 miles to the trip. The route includes Fort Point and Vista Point for photo stops on each side. Many tours include a ride through Marin County's Sausalito, a waterside town across the bridge known for its art galleries and dining, as well as the views across the bay.
Bike rental companies like Blazing Saddles or Bay City Bike offer the option to leave a bike in Sausalito and return by ferry to either Fisherman's Wharf or the Ferry Building. Bay City Bike also rents bikes from Sausalito, near Cavallo Point Lodge. Both also offer organized public and private bike tours between San Francisco and Sausalito.
For more activities and ideas ask your ALHI GSO about working with Global DMC Partners
---
Eat
---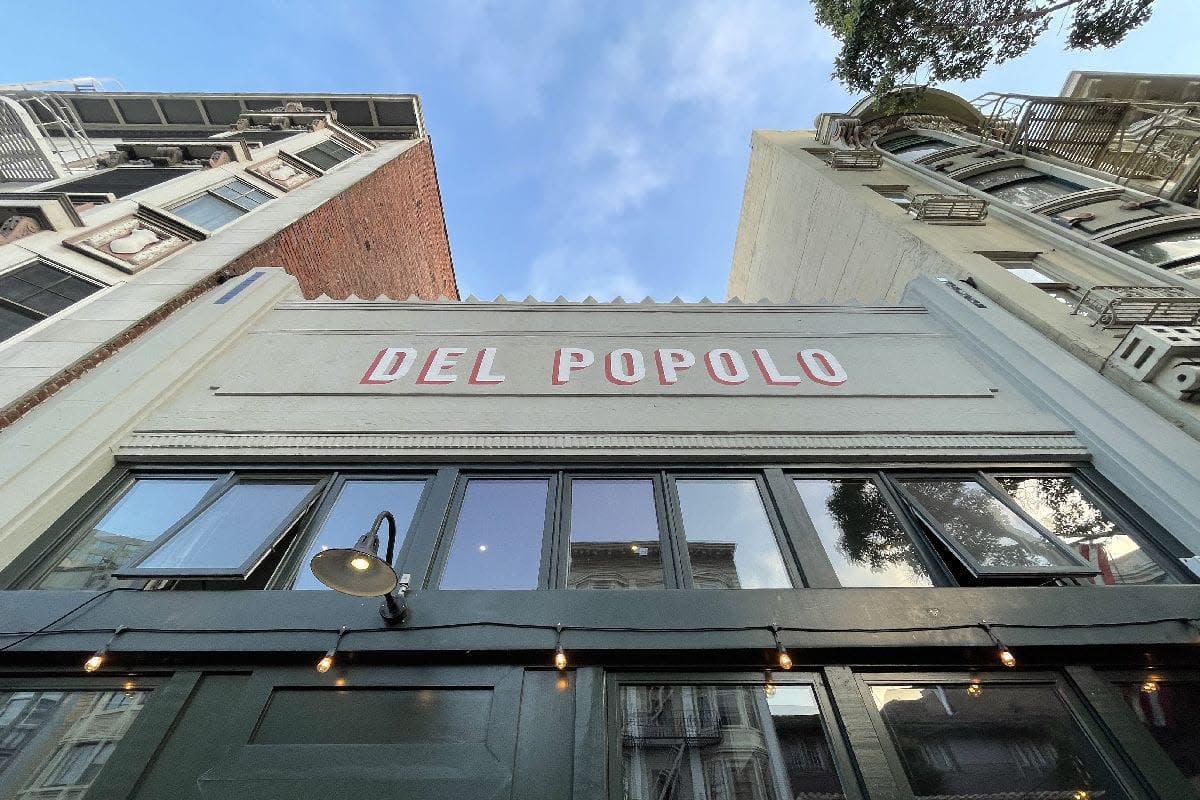 photo courtesy of © Marlene Goldman
Del Popolo
What started as a mobile pizzeria serving pies from a food truck is now one of the city's top brick-and-mortar pizza restaurants. Locals come for the wood-fired Neapolitan pizza featuring a blistered crust topped with a variety of creations, such as the potato pizza (Yukon golds, red onion, fontina and rosemary) or the roasted corn & shishito peppers pizza with jalapeno, mascarpone and confit garlic. Start with the antipasti and save room for the soft-serve ice cream. The Lower Nob Hill location is a close walk to the InterContinental Mark Hopkins.
Mourad
Mourad brings the tastes of Morocco to its location in the historic Pacific Bell building, near Moscone Center and the InterContinental San Francisco. Dishes incorporate Moroccan flavors like couscous and lamb, as well as local California ingredients such as Brussels sprouts and baby beets. Family-style meals are available.
Mourad's elegant digs include dining areas for groups, such as the Mezzanine, with space for up to 40 at one long table and views of the show kitchen. The alcove and lounge areas can also be reserved for group dining, or the entire restaurant can be booked for up to 100 seated or 300 for a reception.
O' by Claude le Tohic
For a decadent splurge, the nine-course tasting menu at O by Claude le Tohic showcases cuisine based on the elements of water, fire and earth. Chef le Tohic remodeled a six-floor Beaux-Arts building in Union Square several years ago after having headed the renowned Joel Robuchon in Las Vegas, and in 2019 opened O, which is a play on the O Cirque du Soleil show in Vegas as well as the O from O'Farrell street, where the building resides. The restaurant, walking distance from Hotel Nikko and The Clift Royal Sonesta Hotel, sits on the fifth floor and offers three private dining rooms for small groups. A special vegetarian tasting menu is available.
For more activities and ideas ask your ALHI GSO about working with Global DMC Partners
---
Stay / Meet
---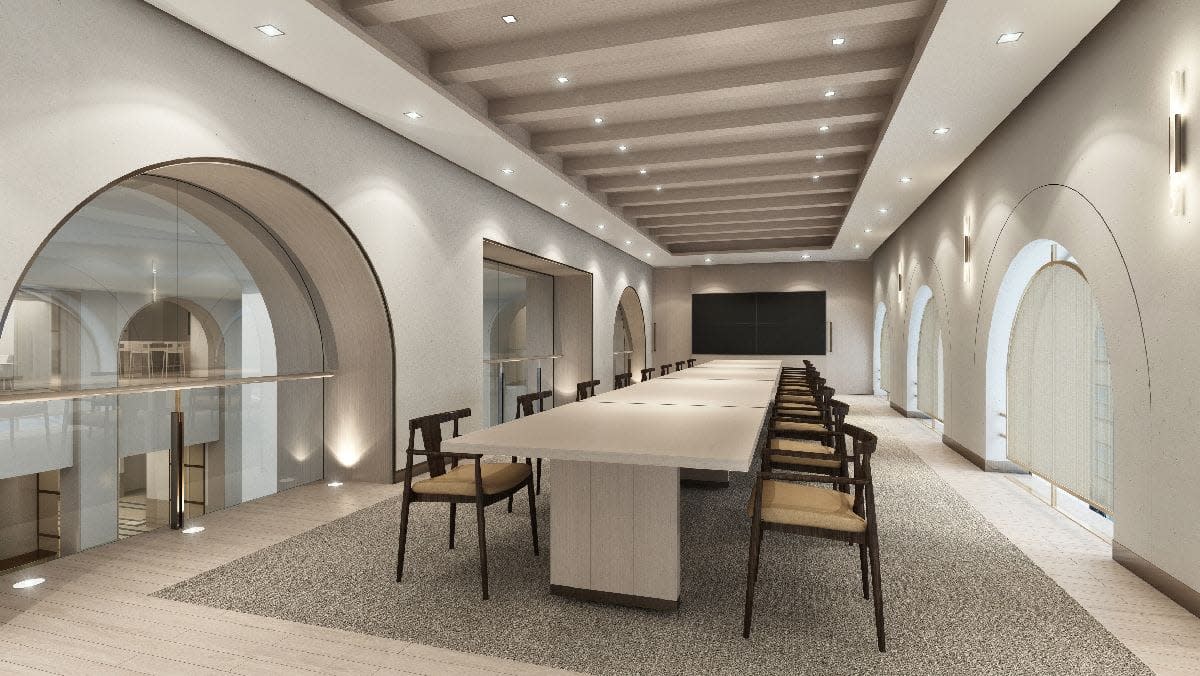 A true San Francisco original, The Clift's earliest incarnation debuted in 1915 as part of the Panama-Pacific International Exposition and was opened by namesake, Frederick C. Clift. Over the years it has been refreshed and reworked, including a recent $90 million renovation to its 372 guest rooms and public spaces. The Clift's Redwood Room offers elevated food and cocktails. The property also recently debuted a new bistro, Fredericks, showcasing the cuisine of Chef Dan Corey, formerly of Michelin Star restaurant LUCE. The hotel offers 12,524 total square feet of meeting space.
Set in the heart of Union Square, the Four-Star, Four-Diamond Hotel Nikko features recently renovated flexible event venues, ranging from its 6,658-square-foot ballroom to its 25th-floor meeting rooms overlooking the city. Along with its 532 guest rooms, Hotel Nikko is also home to the Asian-inspired California cuisine of highly touted restaurant ANZU. For entertainment, Feinstein's at the Nikko, an intimate 140-seat nightclub theater, features performances as well as options for group buyouts. The property also offers a 10,000-square-foot, 24-hour health and fitness club.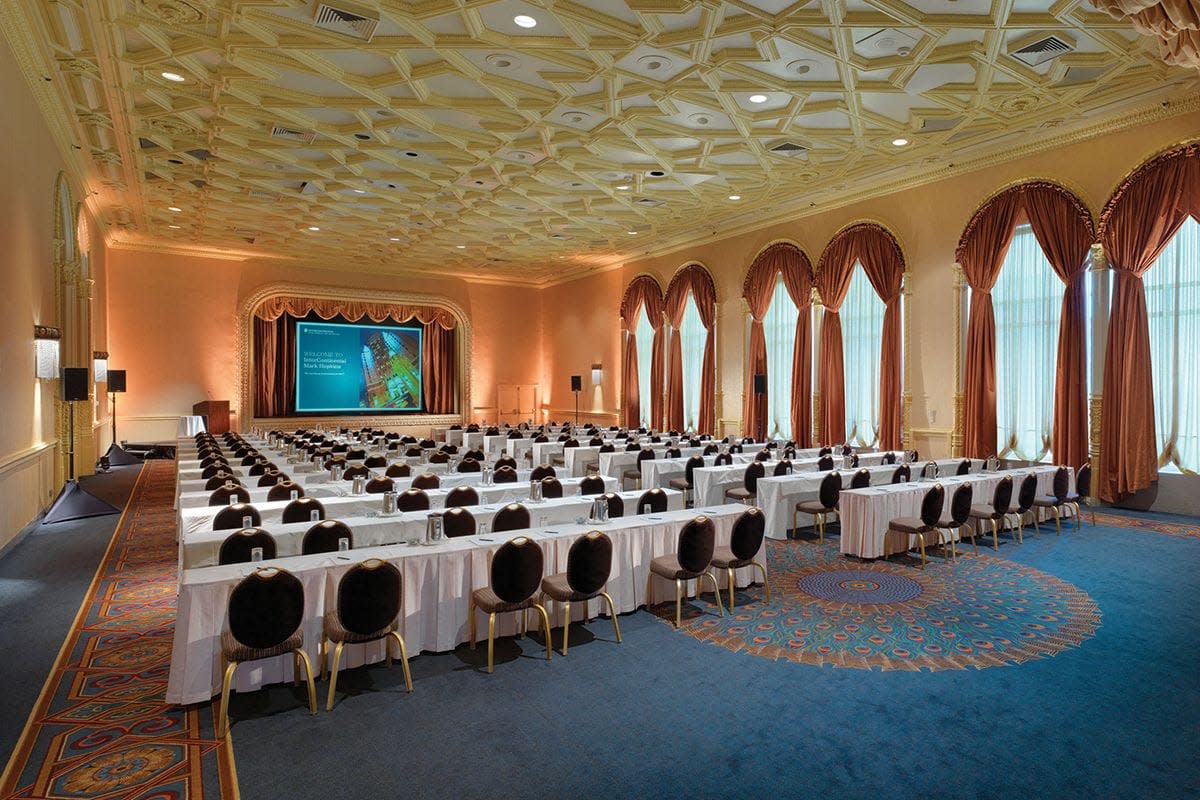 When it comes to iconic, InterContinental Mark Hopkins, set on top of Nob Hill in one of the city's swankiest neighborhoods, has more than 85 years of experience. The hotel features 383 upscale guest rooms, including 33 suites, most highlighting views of the city and bay. For the best views, the Top of the Mark sky lounge serves up tapas and cocktails from the 19th floor penthouse level. For groups the hotel offers 19,000 square feet of meeting space and 19 function rooms, including two ballrooms the Peacock Court for up to 600 people, and the Room of the Dons, with murals depicting early California history.

Adjacent to Moscone West, the InterContinental San Francisco is a LEED Gold- certified property standing 32 stories above the city's SoMa district, near Moscone Center. The hotel features 550 luxe guest rooms, including more than a dozen suites and the duplex Presidential Suite. Meeting facilities span 43,000 square feet, including event space, 21 meeting rooms and two customizable ballrooms over three dedicated floors. Groups can dine in style on property at the Michelin-starred LUCE, or grab a grappa cocktail at Bar 888.

Cavallo Point Lodge in Sausalito is a relaxing upscale retreat set in the national parklands just over the Golden Gate Bridge. Lodging options include Colonial Revival-style historic accommodations as well as contemporary rooms with fireplaces. Attendees can experience on-property dining at the Murray Circle restaurant and sign up for classes ranging from yoga to cooking at the Healing Arts Center & Spa. The lodge offers 14,000 square feet of adaptable meeting space with 11 function rooms. Outdoors, groups can host events on its 12,500 square feet of grounds.