Talk about star power.
Imagine Optimus Prime, Bumblebee or Megatron from the Transformers introducing a CEO at a group function.
How about those loveable, fuzzy yellow creatures known as the Minions of Despicable Me fame greeting meeting attendees.
Or, maybe gazing up at the fire breathing Ukrainian Ironbelly dragon during a post-meeting reception at Diagon Alley in the Wizarding World of Harry Potter.
A look behind the curtain of these popular megastars reveals a strategy by Universal Orlando Resort and three Associated Luxury Hotels International (ALHI) Members—Loews Portofino Bay Hotel at Universal Orlando, Loews Royal Pacific Resort at Universal Orlando and Loews Sapphire Falls Resort at Universal Orlando—aimed at giving meeting planners an opportunity to elevate their group meetings and events in ways with no limits to imagination.
"That's pretty amazing, isn't it," said Kathy Cattoor, Vice President of Resort Sales at Universal Orlando Resort. "If you can imagine bringing the excitement of the parks into the meeting room, that's what meeting enhancements are all about."
But that's only the start of a powerful story that Loews and Universal Resorts have to tell meeting planners about group meetings in Central Florida.
"We have a destination unlike anything else, for many, many reasons," Cattoor said. "Our product is flexible. Our people have a hospitality gene. They literally want to take the time to make an experience not only for you, but also for the meeting planners. That's very important here."
 
The destination's theme parks—Universal Studios Florida, Islands of Adventure and Volcano Bay Water Theme Park—only add to the allure.
"Our theme parks give us that ability to take a planner and make the planner feel comfortable with everything that we have at our destination," Cattoor said. "We allow the meeting planner to get creative, and what an exciting and thrilling place that we have here that we can work with them, whether it's a large or small program, to create an incredible meeting for them.
"There's something to know, and that is the experience and success of our planners has a lot to do with the partnership with Loews Hotels in house and Universal Orlando Resort."
Strength in Numbers

There's no doubt the alignment of self-contained hotels and theme parks offers a unique opportunity along with the emphasis on purpose built, meeting enhancements and service.
Add to that the Loews Meeting Complex, which connects Loews Royal Pacific Resort and Loews Sapphire Falls Resort with 2,000 guest rooms and 247,000 square feet of meeting space including ballrooms, and an array of meeting, breakfast and outdoor spaces all accessible within minutes via a dedicated walkway.
The aforementioned characters can be incorporated into meet and greets, meeting openers, speaker introductions, receptions and more, giving meeting planners the opportunity create immersive experiences.
The destination continues to evolve to make it easier for attendees to arrive in the city with the recent opening of Orlando International Airport's South Terminal Complex. The new facility added 15 gates and includes a seamless, low-touch environment with a state-of-the-art radio frequency baggage system, numerous shops, restaurants and lounge facilities.
Once on property at Universal Orlando Resort, meeting attendees have everything they need, from hotel rooms and suites to flexible indoor and outdoor meeting space, and food and entertainment options throughout the complex, a formula for success, one that is driven by the collaboration between Loews and the theme parks.
"What it does is it takes and melts together the innovative and entertainment expertise of Universal Parks and Resorts along with the strong service culture of these hotels," said Dave Bartek, Senior Vice President, Loews Hotels at Universal Orlando Resort. "That's really truly the benefit and the success of how we achieved unprecedented growth. We will talk about partnership. It's the same Universal creativity, the same folks who design and build the wonderful and exciting and thrilling attractions at Universal parks. That's why we offer so many of these creative minds that make this such an exclusive destination to come and visit and enjoy. It's really a unique partnership or unique relationship, and it's really driving mutual success."
Lessons Learned

Eric Marshall, Senior Vice President of North American Destination Sales, Universal Parks & resorts, said the pandemic gave the teams an opportunity to rethink the meeting experience.
"I would certainly never want to do what we did again, but it did give us some time to really think about how we did things and we saw some things," he said. "We learned some lessons in the beginning that I think were pretty interesting. We saw some different behavior. We saw a lot more people ready to come to an event the moment it started.
"Travel is important. Occasions are important experiences. That desire to get back out on the road and see things and connect and make memories. We saw our event attendees that would go to an event in the parks and after-hours events. All our estimates were off. People came out, so we learned some things about how people communicate, and how we could program events differently and keep some of that networking and on a bigger footprint. And I think we just got more creative."
Together, the strategy has the partnership uniquely positioned through its infrastructure, the allure and access to Orlando, plans to increase available hotel rooms and its commitment to service.
"As far as the expertise and people that we have that have been here a long time is the fact that they (meeting planners and attendees) challenge us to come up with different things," Cattoor said. "You can do a different hotel or you can go to a different location. You can go into City Walk. We are constantly doing things different, even if you want to go back to the same hotel. We have so many different options. It's just the question of what are you really looking for, and then let us collaborate with you on how we can make that happen."
As Optimus Prime would say, "Autobots, transform and roll out!"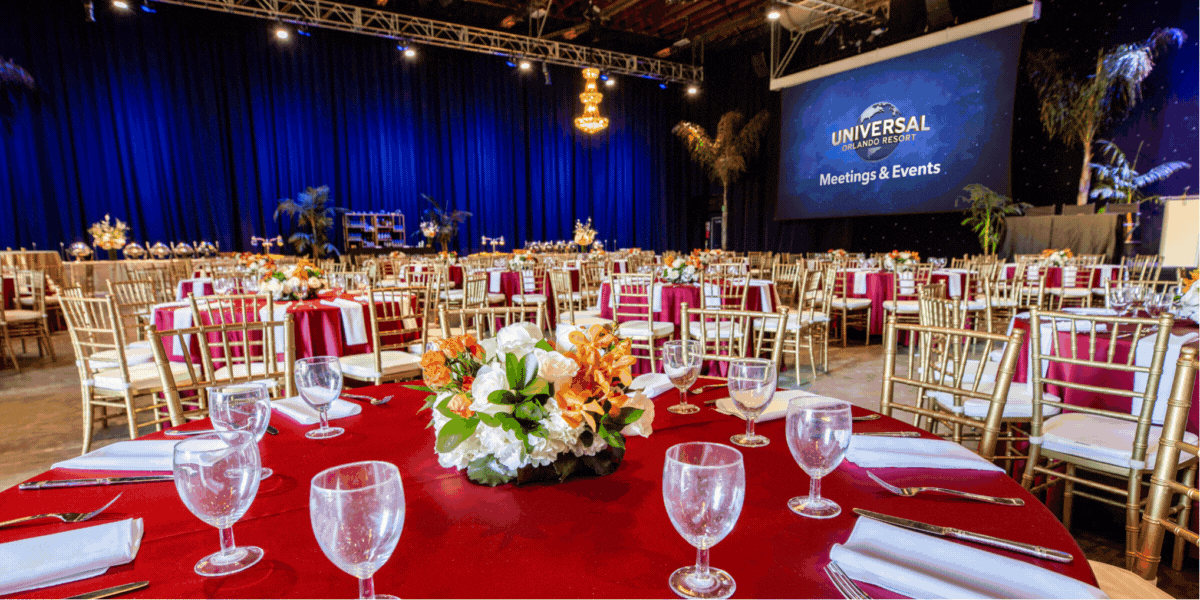 Two New Sound Stages
Located between Universal Studios Florida and Universal Islands of Adventure are two new production sound stages—one with 12,500 square feet of usable space and another with 17,500 square feet of usable space—available for meeting planners to set the stage for the perfect event. From a simple meal on the set to elaborate event productions, these event spaces allow for convenient access to our world-class attractions for exclusive, after-hours use and an unforgettable evening of excitement.
Guests can eat, laugh and make mischief with the Minions in the highly anticipated Minion Land on Illumination Ave., an immersive new area created in partnership between Universal's award-winning creative team and the acclaimed filmmakers from Illumination. Opening this summer at Universal Studios Florida, the new land expands upon the wildly popular Despicable Me Minion Mayhem attraction and will debut a new collection of experiences for guests of all ages inspired by the beloved Minions franchise – including the all-new attraction, Illumination's Villain-Con Minion Blast, and unique dining outlets like Illumination's Minion Cafe, Bake My Day, Pop-a-Nana and more. 
Universal's Great Movie Escape is now open at Universal CityWalk, bringing an entirely new level of interactive entertainment to Universal Orlando Resort. Created by the same masterminds behind some of the destination's most exciting and innovative experiences, Universal's Great Movie Escape is comprised of two distinct, cinematic escape adventures inspired by Universal Pictures and Amblin Entertainment's iconic Jurassic World and Back to the Future films – each boasting eight immersive environments that feature state-of-the-art challenges, detailed sets and captivating storylines that allow guests to step into blockbuster films like never before.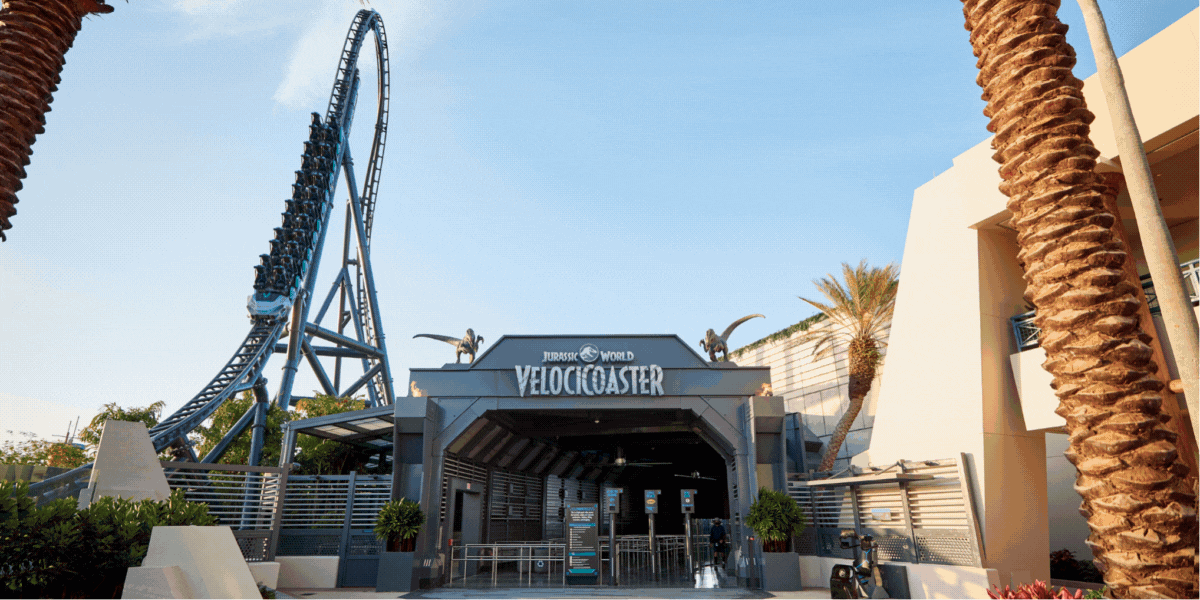 Jurassic World VelociCoaster at Universal Islands of Adventure is Florida's fastest, tallest and most intense launch coaster that catapults riders 155 feet into the air at extreme speeds up to 70 mph while racing alongside a ferocious Velociraptor pack, inspired by the blockbuster "Jurassic World" films.
Hagrid's Magical Creatures Motorbike Adventure – located within The Wizarding World of Harry Potter – Hogsmeade at Universal Islands of Adventure – allows guests to board magical motorbikes and feel the freedom of flight as they journey into the Forbidden Forest to discover the Wizarding World's rarest magical creatures.
The Bourne Stuntacular at Universal Studios Florida is a technologically-advanced stunt show inspired by Universal Pictures' blockbuster Bourne film franchise. Through the use of live performers, ground-breaking technology, extreme stunts and captivating practical effects, guests can now feel fully immersed in the world of Jason Bourne – blurring the lines between stage and cinema in a hybrid form of entertainment that has never been seen before.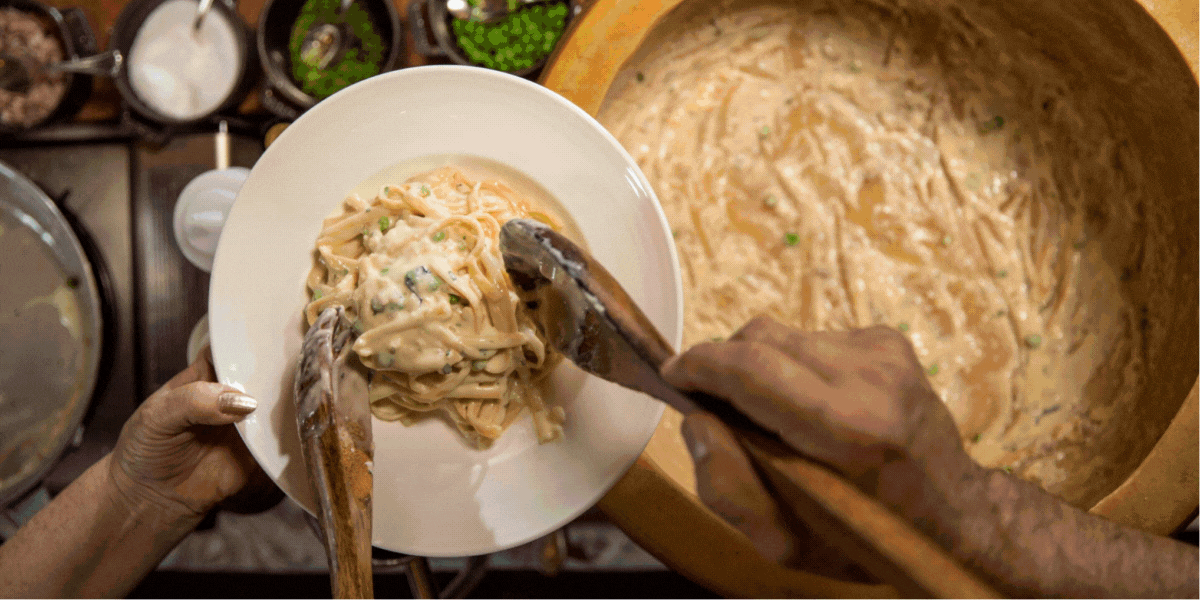 At Mama Della's, guests can grab a seat by the fireplace and take in the sounds of strolling musicians in a cozy and casual setting. The menu features an extensive selection of wines and authentic dishes from Tuscany, Naples, and Piemonte, plus family dining house specialties like Pollo alla Carbonara and the best lasagna this side of Sicily.
Floor-to-ceiling windows in this lobby lounge overlook a glistening pool surrounded by lush, tropical landscaping. The captivating sushi bar blends the tastes, cultures, and traditions of the South Pacific to create inventive sushi and sashimi presentations along with delicious desserts, exciting cocktails, Japanese whiskeys, sakes and beers.
A Caribbean-inspired retreat overlooking the lagoon, this award-winning watering hole features tapas-style cuisine that marries old-world elegance and contemporary fare. Guests can enjoy Jamaican jerk chicken or chow down on zesty ceviche while the tavern's rum specialists help them select the perfect vintage to toast their culinary exploits. 
A 19th Century Steampunk-themed restaurant, this eatery offers tantalizing options infused with chocolate - like Cocoa Pork Tenderloin, Warm Chocolate Almond Bread and Coffee and Chocolate Stout Chicken Wings - plus more than a dozen specialty milkshakes topped with cake slices, cupcakes and other confections.
Inspired by the famed seaside village of Portofino, Italy, Loews Portofino Bay offers 42,000 square feet of meeting and function space including a 15,000 square foot ballroom. One of the most unique aspects is the spectacular outdoor space, totaling more than 47,400 square feet, including four piazzas, the most scenic being the Harbor Piazza. There are 750 guest rooms, including 45 suits, on property. Dining options include Trattoria del Porto, the Thirsty Firh and Mama Della's Ristorante.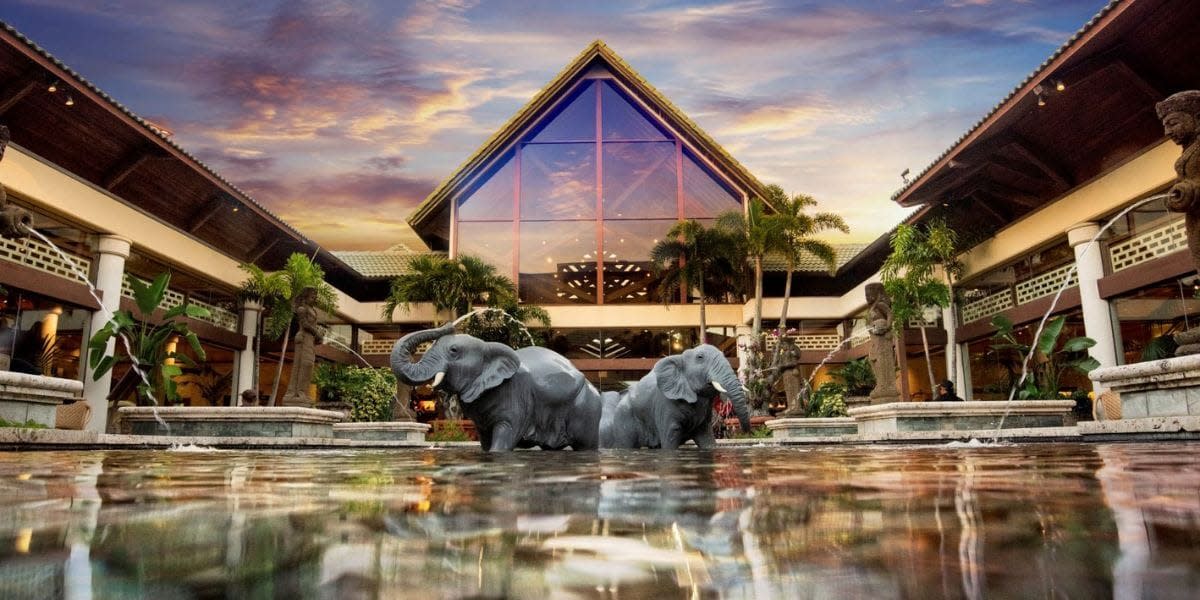 With 1,000 guest rooms, including 51 suites, and 132,000 square feet of flexible meeting space, Loews Royal Pacific Resort offers a South Seas ambiance. Meeting planners will find two spacious ballrooms, 15 meeting rooms all connected to Loews Sapphire Falls Resort. There's outdoor space, as well, in four unique areas. Dining options include the Orchid Court Lounge & Sushi Bar and Bula Bar & Grill.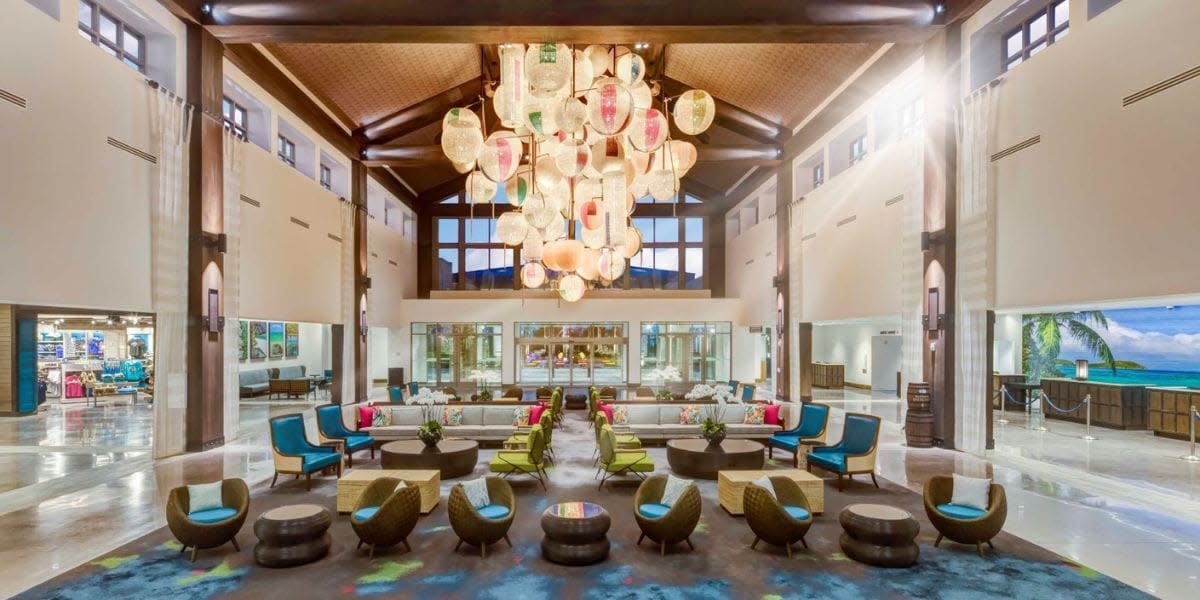 This Caribbean-themed property offers 1,000 rooms and 115,000 square feet of meeting space and the lush, tropical feel is carried over into the meeting areas. The Grand Caribbean Ballroom features 41,000 square feet surrounded by 16 meeting rooms and 10,000 square feet of outdoor meeting space. The hotel is connected to Loews Royal Pacific Resort. Food options include Amatista Cookhouse, Strong Water Tavern and Drhum Club Kantine.
---
For more activities and ideas, ask your ALHI GSO about working with Hosts Global Destination Services.