Europe's hotels are making a steady recovery from the pandemic, fueled by a return of visitors from the U.S. and increased travel from residents across the continent.
While experts say the upward trend is not quite at pre-pandemic 2019 levels – with a few notable exceptions – there is optimism based on current trends in leisure, corporate and meeting travel. And that recovery has come despite some economic headwinds and without the full return of travelers from China. 
"We are optimistic about the future and see an upward trend for the hotel industry and especially for the luxury hotel industry in the next three years, as quality still pays off and is in great demand," said Amanda Elder, chief commercial officer and member of the management board of Kempinski Hotels.
Thomas Emanuel, senior director at STR in London, said rates at luxury hotels have recovered at about a 20% rate, even as luxury occupancy has lagged behind that of lower-class European hotels. 
"The occupancy recovery has been better for the lower-class hotel," he said. "The higher the class of hotel, the higher the rate recovery has been. At the high end the occupancy hasn't recovered as much, but they've really been able to push rates quite significantly."
Online Extra: Why Industry Executives are Optimistic
Online Extra: Luxury Travel Continues Surge
Online Extra: Despite Economic Headwinds, Industry Optimistic about 2023 and Beyond
A strong dollar has fueled a lot of U.S. travelers to Europe, making London and Dublin hot markets.
"In Europe, we have seen incredible demand," said Alex Cabañas, executive chairman of Pyramid Global Hospitality. "Some of that has been from domestic source markets driven by special events. Additionally, we are seeing summer travel demand from the U.S. that will reach record levels. It's going to be a great summer season."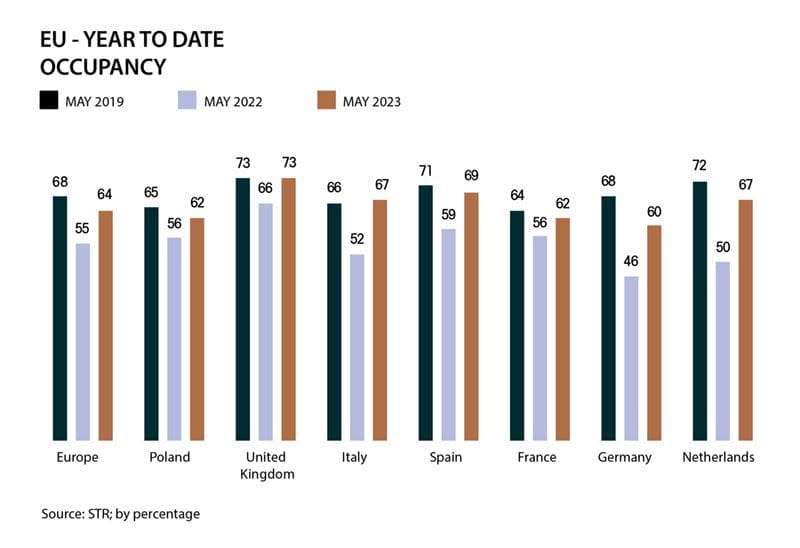 The Hot Spots 
Where are travelers heading this summer?
"It's no surprise that after uncertain Coronavirus years and the many months spent at home, everyone now wants to get back to the beach," Elder said. "Greece with its countless islands and Italy with its long coasts are completely overrun, so to speak, this summer."
She added Kempinski's hotels with direct beach access in Turkey, Slovenia, Spain and Croatia are benefiting from travelers wanting to unwind with "dolce far niente" (sweetness of doing nothing) by the water.
Emanuel said luxury properties in Paris are a huge bright spot. 
"The luxury properties in Paris are really pushing rates and have done very, very well – back up above 2019 levels year to date in terms of occupancy," he said. "London has come back strong too but it's still a few percentage points behind where it was from an occupancy perspective, but rate is way ahead."
Dublin, all of Ireland and Rome also are doing well, Emanuel said.
However, some areas lag those big cities. 
"Germany, Austria, Switzerland, Central Europe and Scandinavia are probably a little bit softer, but we've put that down to the fact that we haven't seen quite so much group demand come back," Emanuel said. 
While U.S. travelers are heading to Europe in big numbers, Chinese travelers are still staying home.
"When it comes to China we don't see as much travel into the country yet for international, but we expect in 2024 to see that come back to rival previous numbers," Elder said.
Emanuel predicted recovery might take longer.
"For a lot of Chinese visitors, they'll come and they'll visit multiple cities, and they are high spenders when they do come," Emmanuel said. "Visa processing times in China are an issue, so we're still missing that piece of the pie. And that's not expected to recover for a couple of years."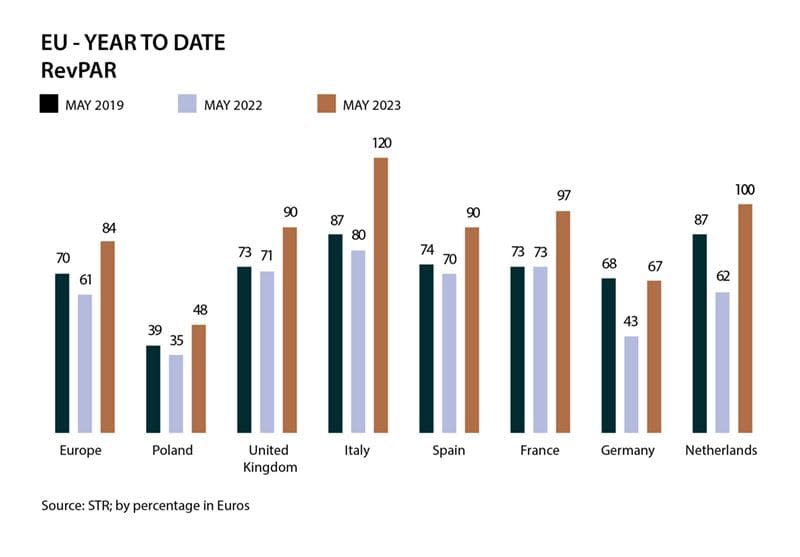 Meeting industry 
Recovery for Europe's meeting industry hasn't matched leisure travel.
"Certainly, European group demand is lagging behind the U.S., which is probably not so much of an issue for luxury hotels, but certainly for upper upscale and upscale properties," Emanuel said.
"What happens in America generally filters across the pond and then it happens here in Europe. A 25% negative seems like a bad number, but if we go back to sort of six to eight months, it was 50% behind." 
However, mid-week occupancy is growing. 
"Now that midweek corporate demand appears to be returning, groups will follow," he said. 
Elder says she's optimistic.
"No company is switching to virtual relationships forever," she said. "Of course, there will still be video calls, but face to face has gained in importance again. If you want to bring leaders together for an intensive exchange of ideas and get teams committed to a company, you can't get around face-to-face meetings."
The future
Emanuel said European Union occupancy rates should be back to where it was in 2019 in the next three to four years. 
"Average rates of course have already fully recovered," he said.
He also expects room rates to increase, but the current rate of growth will slow somewhat.
"We're not going to see significant growth going forward from a rate perspective, but occupancy is continuing to tick up," he said. "So if you put those together, we still expect to be growing. REVPAR is ahead of where it was in 2019."
The unknown is the economy.
"There are a lot of negative headlines out there at the moment, around recession and inflation rates and interest rates," he said.
"But overall, despite all the challenges, we remain pretty bullish about future hotel performance in Europe."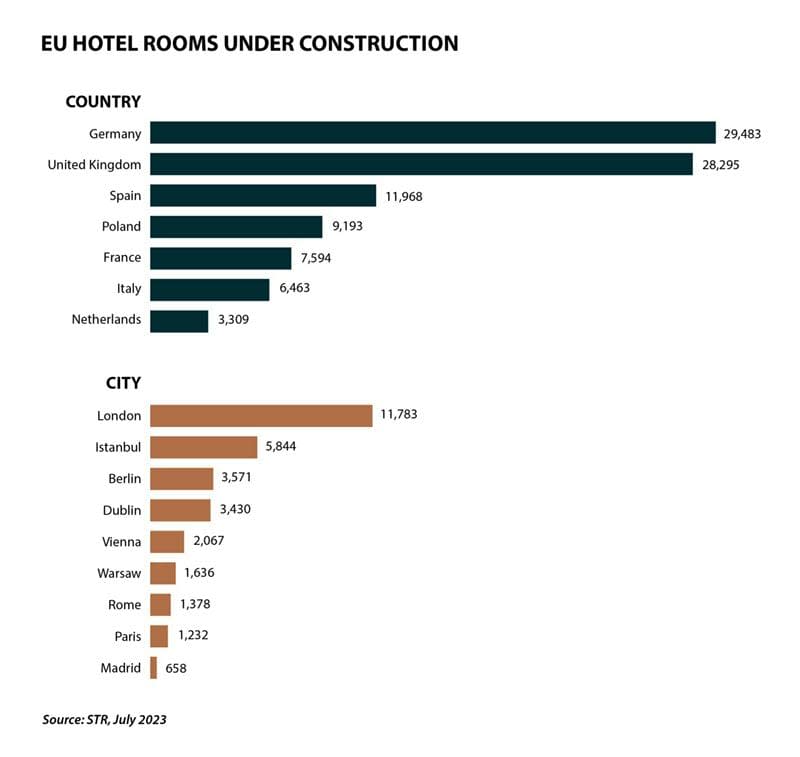 Construction trends
The United Kingdom and Germany are leading the pack for new construction, Emanuel said. That's not only London and Frankfurt, but Manchester, Liverpool, Glasgow, Edinburg, Berlin and Hamburg.
"Istanbul remains attractive, although there are obviously some challenges there at the moment with currency doubling," he said." Tel Aviv is another market that's seeing a lot of development; a lot of interest in Israel and Warsaw in Poland." 
Elder noted new construction must take into account new technology and energy ideas.
"The biggest change is sustainability. Here, for example, energy resources are planned quite differently than in the past," she said. "Solar technology is in demand, to name just one of many examples."
Elder said the tourism and hotel industry is also taking into account the new parameters of what guests want now and in the future.
"The discerning guest wants to move away from mass tourism and towards tailor made offers," she said. "Green thinking and action are also in demand. Destinations that have missed the boat here will be left behind. Sustainability has top priority and guests are looking closely."