Picture this: Your next event is in Monterey, California, at a hidden urban garden, where flowers bloom year-round and an adobe wall and fountain provide a historic backdrop reminiscent of Old Monterey. Or, perhaps, you opt for an event at Jacks Terrace sipping craft beer that brewed on-site, and then head over to the nearby bocce ball courts.
At Portola Hotel & Spa, meeting planners have their pick of these types of scenic and unique spaces like the Memory Garden and Peter B's Brewpub that complement the relaxed seaside charm of California's central coast. Plus, the hotel is in the heart of downtown and within walking distance of Monterey must-visits—the beaches, the farmers market, galleries and wine tasting rooms, as well as Fisherman's Wharf and the Monterey Bay Aquarium.
"Portola Hotel and Spa has the added benefit of being in an idyllic destination," said Terri D'Ayon Joyce, Director of Sales & Catering at Portola Hotel & Spa. "Once you're here in Monterey, it's a very walkable destination."
What meeting planners will find is how to execute a California cool event at Portola, the modern coastal hotel in the heart of Monterey where fresh seafood and world-famous produce inspire chef's seasonal menus and a talented brewer is pushing boundaries with lagers, pilsners, and funky sours.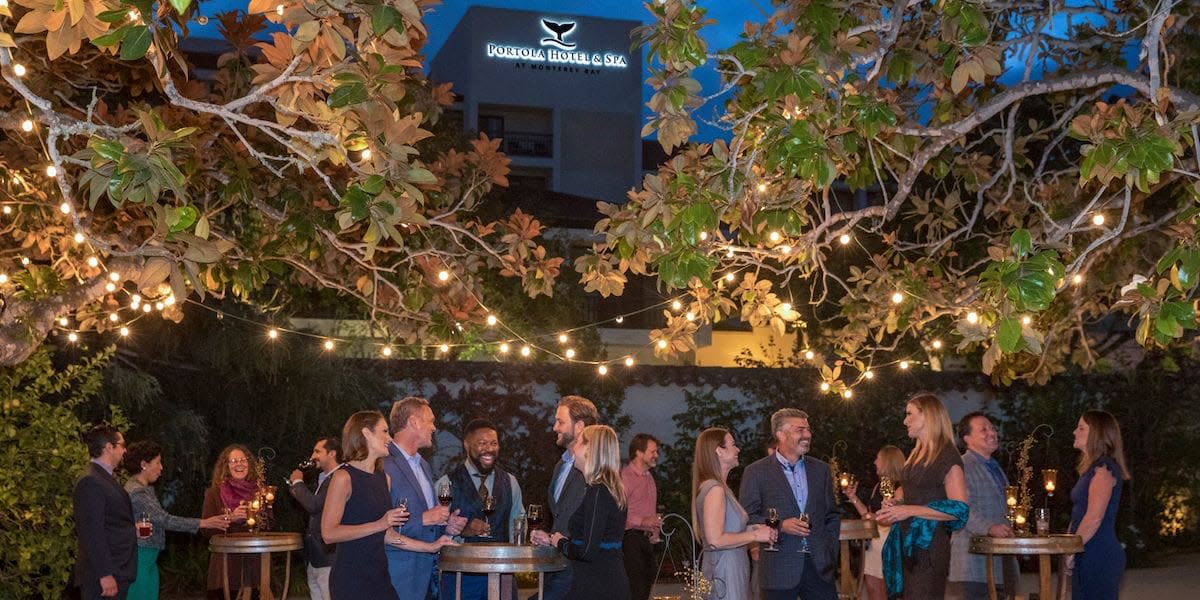 Historic Garden
Right in the backyard of Portola Hotel and Spa is the Memory Garden, a gorgeous space designed in 1927 by Frederick Law Olmstead, Jr., a landscape architect and city planner. The historic architecture and pops of color from plants and flowers make the garden a stunning setting for receptions and special events. With an adobe feel and southern Magnolia trees providing shade, this serene space can accommodate up to 350 attendees, D'Ayon Joyce says.
While the Memory Garden is run by the California State Parks, events coordinators at Portola can help groups book the venue as well as provide catered meals and string lights in the venue to give it a warm, pretty glow.
Just footsteps from the Memory Garden is The Club Room, which is Portola's elegant dining room. The indoor-outdoor space that mixes historic with modern is the "best of both worlds," D'Ayon Joyce said. Guests can enjoy sea air on a heated patio or gather around an oversized firepit. Bonus: The Club Room provides a posh, indoor backup plan in case inclement weather strikes.
The Club Room is among 60,000 square-feet of flexible meeting space at Portola Hotel & Spa, which includes flexible indoor-outdoor space like breezy terraces and courtyards in addition to ballrooms and boardrooms. The Club Room is going through a refresh this fall. The space will be refreshed with new carpet, enhanced lighting, new tables and chairs. The existing space will be opened up with the removal of the existing booths and the overall feel of the room will reflect the modern coastal vibe of the hotel's previous lobby and guest room renovations.
Meeting guests can also book cooking demonstrations with Portola's Executive Chef Carl Ashurst in The Club Room or arrange for dinners to come with local wine pairings. About 85 vintners and growers call Monterey Wine Country "home," producing distinctive chardonnays and pinot noirs.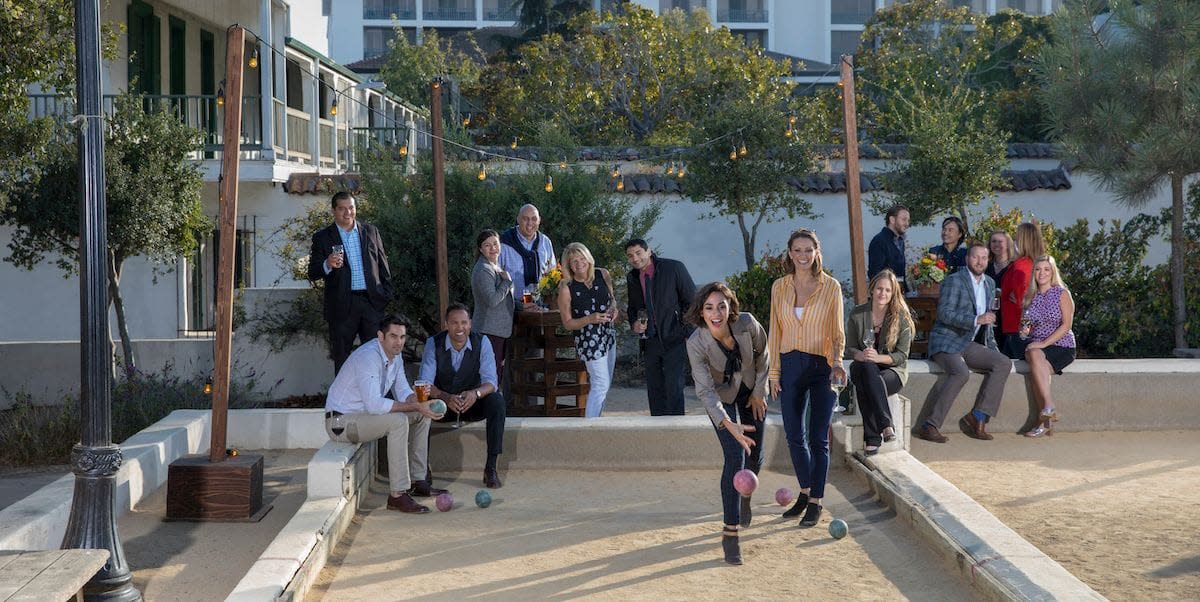 Beer and Bocce, Anyone?
Another unique amenity at Portola Hotel & Spa is an on-site craft brewery, Peter B's Brewpub, which has a lineup of fantastic beers brewed on site by Head Brewer Natalie Mika.
To showcase the brewery and Mika's talent, the hotel has several programming options including brewery tours and small gatherings in Peter B's Barrel Room, which can accommodate up to 14 people. Thanks to glass walls, Peter B's guests have views of the beer tanks and can witness the brewing process from the restaurant.
Groups can also play bocce ball, with kegs of beer set up at interactive buffet stations, as another fun way to experience the brewery.
Meeting planners can also set up Brewer's Dinners, which include coursed food and beer pairings while Mika and the executive chef share their inspiration behind the pairings.
Mika, who began at Portola in 2019 and became the head brewer in 2021 after a career in the wine world, says she enjoys pairing the upscale pub food with the beers she makes for Peter B's.
"We have really good hot wings, and I love to drink stout with them," she said. "There's this malty sweetness that cuts through the burn of the hot sauce. I also love drinking a Mexican lager with fish tacos."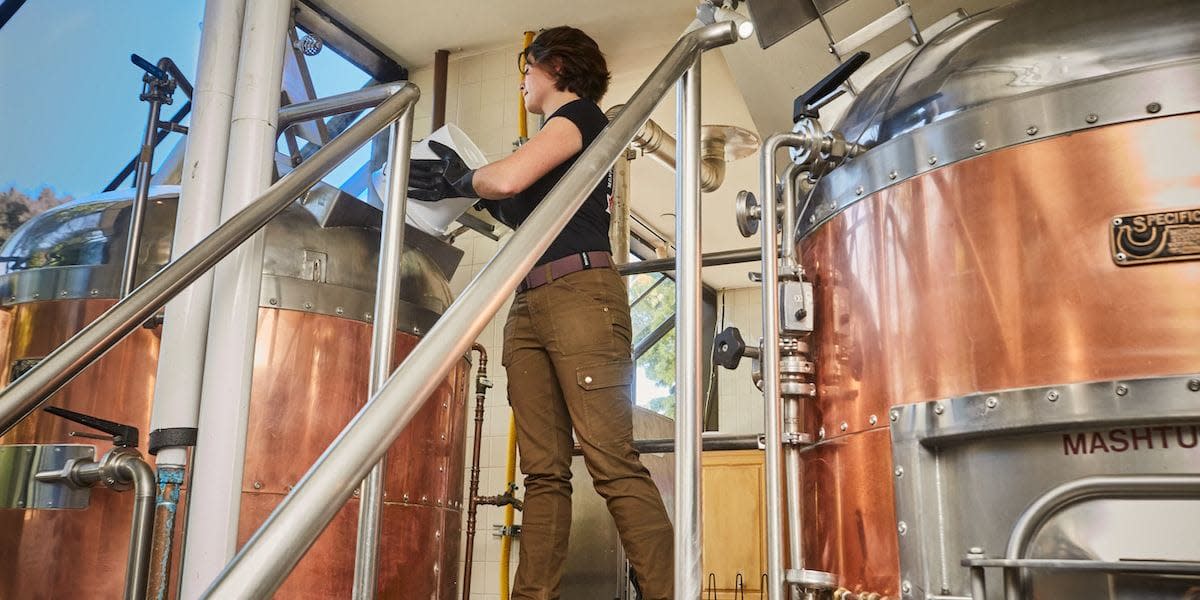 Next up, Mika is experimenting with sour beers and is calling in some lesser-known fruit purees to create something wildly different.
"Everybody does mango and pineapple," she said. "But I'm going with curuba and lulo and some other exotic fruits from South America to make some exciting quick sours."