The de rigueur question, "Are you here for business or pleasure?" is being put on hold. Bleisure travel, the practice of combining business and leisure travel, has been around long enough to work its way into our collective travel vocabulary. Why not stay a few days after a conference ends to enjoy the resort's spa, explore a new city or relax on the beach?
Now, as travelers emerge from their COVID cocoons, resorts and meeting planners are seeing a heightened demand for this style of hybrid travel. For some business travelers, this means arriving before a conference begins to indulge in a mini-vacation. For others, it's inviting their families to join them after the conference wraps or for a portion of the trip, so they can enjoy the resort's amenities together.
A few factors are helping drive this serious education, serious fun trend, according to Catherine Chaulet, president and CEO of Global DMC Partners, ALHI's preferred DMC network.
---
"Everyone has been cooped up for so long that they are eager to explore new areas whenever possible," Chaulet said.
---
Parents have spent copious amounts of quality time at home with their families during the pandemic, and many are finding it's time to take that show on the road, she said. Work-from-home  also became a new norm and many employees are taking advantage by setting up remote offices in paradise, rather than at home.
"These 'workcations' allow you to extend a stay in a nice location where you can work but also relax," said Frédéric Frére of Emotionstore, a DMC partner in Portugal. "We (in Europe) anticipate a strong uptick in the bleisure trend."
Resorts within the ALHI portfolio are ready to meet the demand. Here's how three of those resorts are appealing to travelers eager to combine work and play.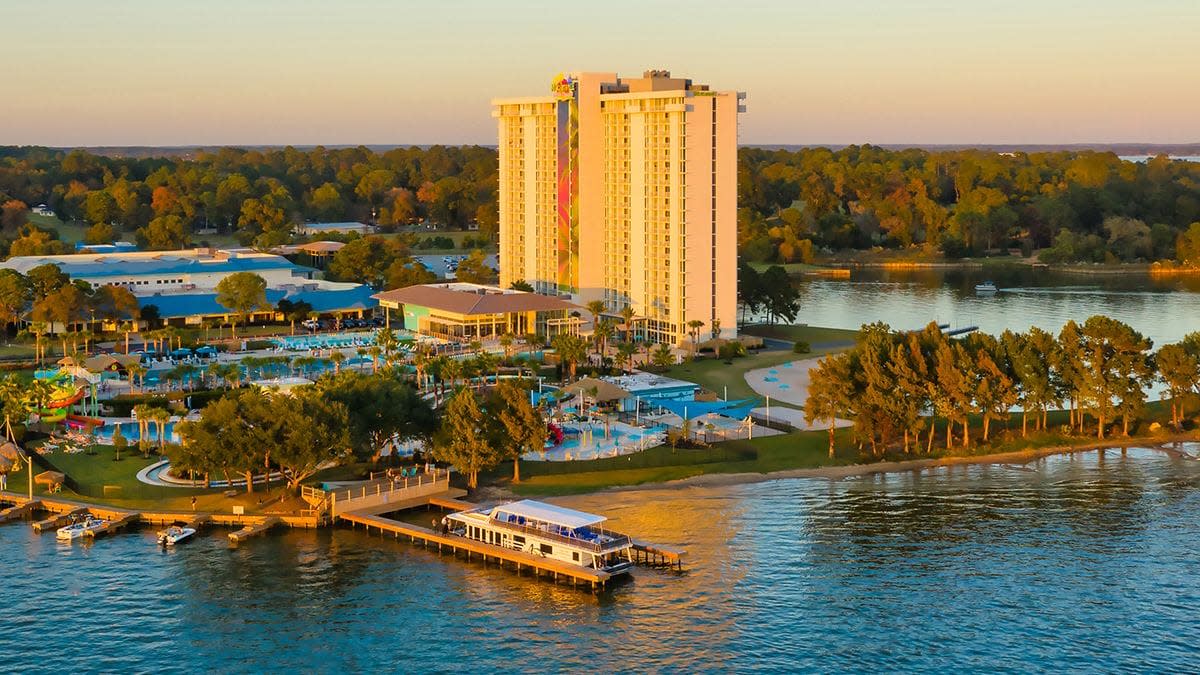 Like the album title Changes in Latitudes, Changes in Attitudes, which spawned Jimmy Buffet's hit song "Margaritaville," guests at Margaritaville Lake Resort, Lake Conroe are transported to the tropics with amenities like a sandy beach along the lake with palapas, as well as a waterpark studded with palm trees and a lazy river winding through it. Whimsical details throughout the resort reinforce the island vibe, from the charming pastel lakeside cottages with throw pillows designed to look like key limes to the surfboard-shaped dining tables.
Suffice it to say, this 186-acre all-suite lakeside resort located an hour north of Houston is perfect for adding a little pleasure to your business trip.
On the business side, the property boasts 72,000 square feet of indoor and outdoor meeting space and offers creative activities to bring groups together. For a tasty teambuilding option, the resort offers margarita- or guacamole-making sessions that sync up nicely with the Margaritaville theme. Or, to encourage some problem-solving and get the creative juices flowing, attendees can head to the lake to build boats out of cardboard and then engage in a friendly regatta competition to determine which DIY watercraft sails best.
The resort is also brimming with covetable vacation amenities, like a three-acre waterpark popular with kids and a destination 18-hole golf course that meanders through a scenic landscape of tall pines, sandy beach and a waterfall. For less serious golfers, there's also a putt-putt course.
"You can bring your family and know they'll be entertained from sunrise to sunset," said Tom Faust, vice president of sales & marketing for Margaritaville Lake Resort, Lake Conroe.
Some other must-try experiences while at the resort include a spa day at the St. Somewhere Spa, where options include a Tropical Fresh Body Scrub, incorporating sugar scrubs, as well as some quintessential fun on the lake, where families can rent pontoon boats, kayaks and stand-up paddleboards.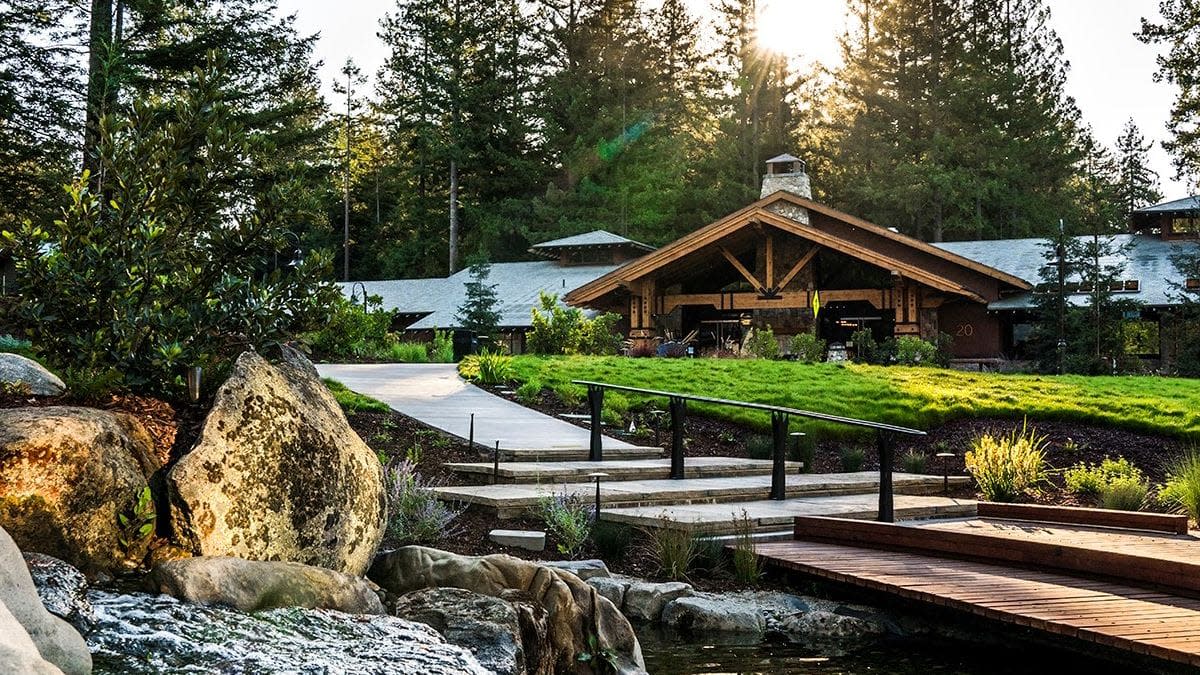 Picture this: Your next group meeting or workshop takes place in an idyllic setting under the canopy of 1,000-year-old redwoods. But before you dive into business, you set your intentions for the day with a grounding morning meditation class. Or, you start out with a movement healing class that blends yoga and tai chi. 
As a destination for attendees who want to learn, connect and ultimately reenergize, 1440 Multiversity offers a novel and refreshing approach to bleisure travel, giving planners the option to weave in aspects of wellness and exploration to any business retreat's itinerary.
The idyllic campus is tucked away along the California coast near Santa Cruz and makes the most of the majestic serenity offered by its ancient trees. Guests can break up meeting days with mindfulness walks, treks along the four miles of private trails that weave through the redwoods, and stops along the way for forest bathing--a multisensory practice hailing from Japan that involves immersing oneself in the sights, sounds and smells of the forest.
To further complement meetings and events, 1440 Multiversity extends a variety of signature classes with wellness as a focal point.
Some more examples of programming at 1440 Multiversity include breaking from business meetings to indulge in a rhythm drumming session where groups can create a community beat through collaboration and communication with fellow team members.
Also, with an overarching theme of "food as medicine," 1440 Multiversity has a menu full of interactive cooking and nutrition events. For instance, groups can gather in a Teaching Kitchen for a cooking challenge that's a mash-up between reality shows like Amazing Race and Chopped. Or, take part in cooking demonstrations that cover everything from salsa-making to healthy juicing and "conscious cooking," which offers strategies to reduce produce waste.
The property offers 40,000-plus square feet of event space and more than 30 unique indoor and outdoor venues.
After a retreat at 1440 Multiversity, guests leave ready to seize the day--all 1,440 minutes in it.

Peppermill Reno, Nevada: For Casino Play-Time Coupled with the Great Outdoors
Fondly referred to as a "cruise ship in the desert," Nevada's Peppermill Reno is rich with amenities that make travel fun.
The resort has 106,000 square feet of meeting space and is well-equipped to handle events of any size, from executive board retreats to larger tradeshows.
Attendees will want to tack on some extra days to have ample time to enjoy Peppermill Reno's many delights. For ultimate relaxation after arguably one of the most stressful years on record, the Meditterean-themed Spa Toscano is inspired by the spectacular baths of Roman times with its mosaic floors and water features. Treatments here include a Wine Down massage that uses chardonnay grapeseed oil to knead away tense muscles, and treatment add-ons such as coconut oil scalp massages. The relaxation circuit continues in the resort's outdoor heated pools and hot tubs.
The resort has a nightlife scene, too, with live music and entertainment, plus unique bars like the Fireside Lounge that has an impressive whisky collection. Of course, there are 24/7 gaming options at the casino with notable amenities including a high-limit slot area and a luxurious poker room.
In addition to trying one's hand at blackjack or rejeuvenating in the spa's Himalayan Salt Room, the resort is at the front porch of the Sierra Nevada Mountains and is an ideal basecamp for bleisure travelers who want to explore the great outdoors.
Boasting eight ski resorts and 72 miles of shoreline, Lake Tahoe is just about 30 minutes away, making it an easy and scenic day trip. In the winter months, attendees can ski and snowboard. When the weather is warm, the lake is ideal for hiking, kayaking, whitewater rafting and lounging on the beach. Come autumn, patches of aspen turn a brilliant shade of gold, making the hikes extra special. The year-round activities are ideal for attendees eager to explore the Peppermill Reno and nearby Lake Tahoe, turning business into pleasure.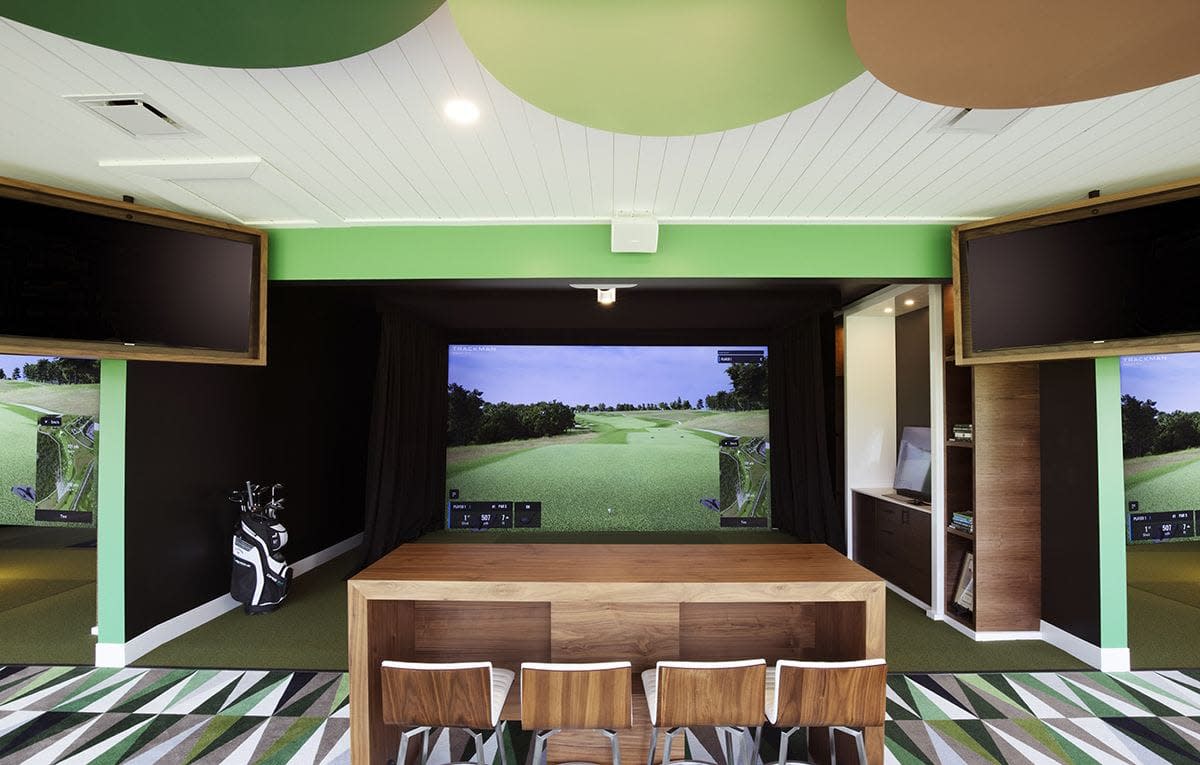 photo credit: Jordan Millington
Set on 2,000 acres in Pennsylvania's Laurel Highlands, Nemacolin recently upped its game as an all-in-one adventure center with the debut this July of The Peak. The venue offers everything from axe throwing and cosmic bowling to ski lifts and snow tubing. Guests can soar above the trees on its ropes courses and zip lines, practice their rock climbing skills along The Peak's climbing walls and even head out for jeep off-roading. The Peak also features a concert venue as well as dining and cocktails. For a more relaxing post meeting experience, The Peak features two new pools, hot tubs, upscale cabanas and a swim-up bar. The Peak is also adding roofing and other improvements to make it a year-round option, which is set for a fall debut.
Nemacolin, which is home to two golf courses, Mystic Rock and Shepherd's Rock, also offers a training and practice facility at its newly upgraded Golf Academy. Golfers can practice their craft using TrackMan Simulators, TrackMan Range, TrackMan Analysis. TrackMan helps golfers identify their weaknesses, make adjustments, and improve their game. There is also a putting room.
"With our upgraded environment, the space allows for training as well as an event space for groups," according to Michael LaBella, director of golf instruction at Nemacolin. Its four bays can accommodate dining and private groups of 60.
Nemacolin also offers large variety of curated dining experiences, teambuilding experiences, as well as spa treatments during or after a meeting. Attendees can also take art classes and workshops, explore Nemacolin's grounds on horseback, or tour the largest working wine cellar in Pennsylvania, among a host of other options. The resort also offers a Holistic Healing Center, which features everything from acupuncture treatments to a Zen garden.
Nemacolin is home to a 32,000-square-foot Executive Conference Center, 25 meeting rooms, two boardrooms, an exhibit area, a 175-seat lecture hall and three ballrooms. There are 320 guest rooms located across five distinct lodging options, as well.