Set on 22 acres in the heart of Napa Valley, The Estate Yountville is a village-within-a village, offering guests a taste of the culinary delights of the local region as well as a variety of authentic Wine Country experiences. Options for entertainment range from croquet on the lawn at sunset to wine tastings at the property's array of inspiring venues.
The Estate, comprising two hotels, a villa, diverse event spaces, restaurants, a spa, a vineyard and more, is a destination all its own, inviting exploration. Its location is a key draw, as it is within easy walking distance to premier Michelin-starred restaurants, award-winning tasting rooms and one-of-a-kind shops in the charming town of Yountville.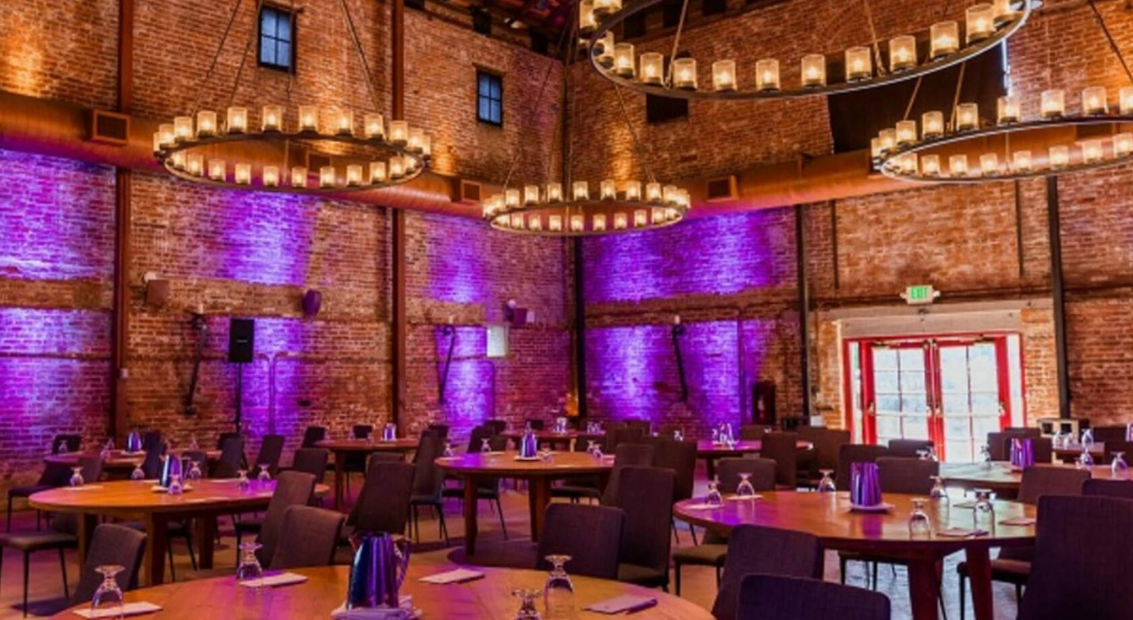 The Estate Yountville, The Barrel Room
---
The Estate's history ties into the history of Yountville. The Barrel Room, for example, dates back to the 1870s, when Gotteib Groezinger purchased about 20 acres of land and built the Groezinger Winery. Today three stone buildings Groezinger bought for a winery and distillery, once known as Vintage 1870, are part of The Estate Yountville's V Marketplace, housing a collection of restaurants, specialty shops, a wine cellar offering blending and tasting events for groups, a hot air balloon company and the fine art Gallery 1870. His former house is now the location of The Estate's restaurant Perry Lang's.
Guided tours of the property, including its history, are available for groups that want to immerse themselves in the experience. To explore independently, The Estate Yountville offers bikes on property, as well as walking trails. The Estate's history also lends character, style and ample storytelling to special event settings.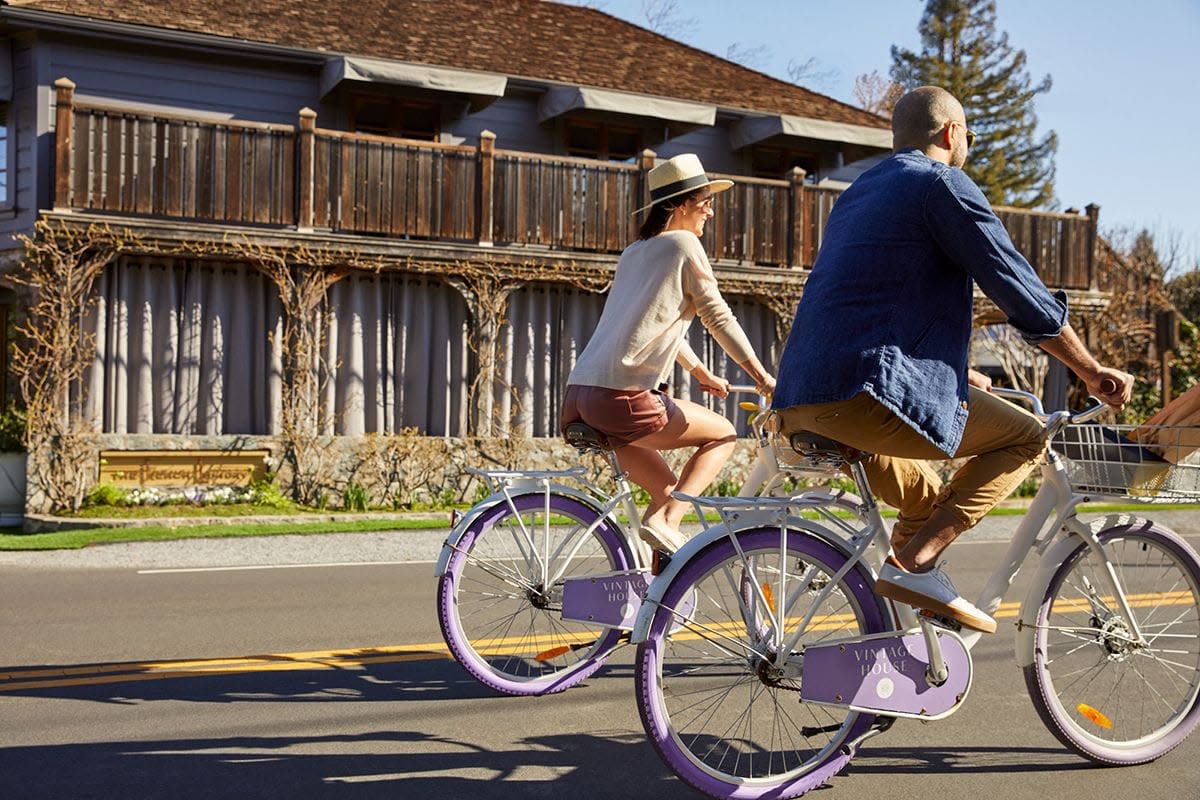 The Estate Yountville, The French Laundry
---
Get Acquainted with Yountville
Yountville is a mecca for arts, culture, food and wine, with renowned chef Thomas Keller's The French Laundry as one of its star attractions. Known as Napa's culinary capital, Yountville is trend-setter when it comes to artisanal and farm-to-table dining. To complement its dining options, Yountville is also home to 15 walkable tasting rooms and seven nearby wineries, all within close reach of The Estate. Meanwhile, the town's cultural riches include the art-filled Napa Valley Museum Yountville, the Napa Valley Performing Arts Center at Lincoln Theater, art galleries and more than 30 rotating outdoor sculptures.
The team at The Estate can coordinate events, dinners and activities throughout Yountville, making the experience seamless regardless of location. Bespoke group excursions include its five-hour signature Up, Up and Away experience. The main event is a hot air balloon ride over Wine Country with Napa Valley Aloft, followed by brunch on property.
The Estate's signature Yountville Crawl features VIP tastings at three top wine rooms and an audio guided tour of local art. Group outings can be organized to V Wine Cellars in Yountville, where attendees can learn the tricks of the trade, including the art of sabering a bottle of sparkling wine. Another option is The Estate's Vineyard Trek, an organized private tour of the gardens and grounds at B Cellars in Napa, including tastings of five award-winning wines, and a food and wine pairing at the Hospitality House.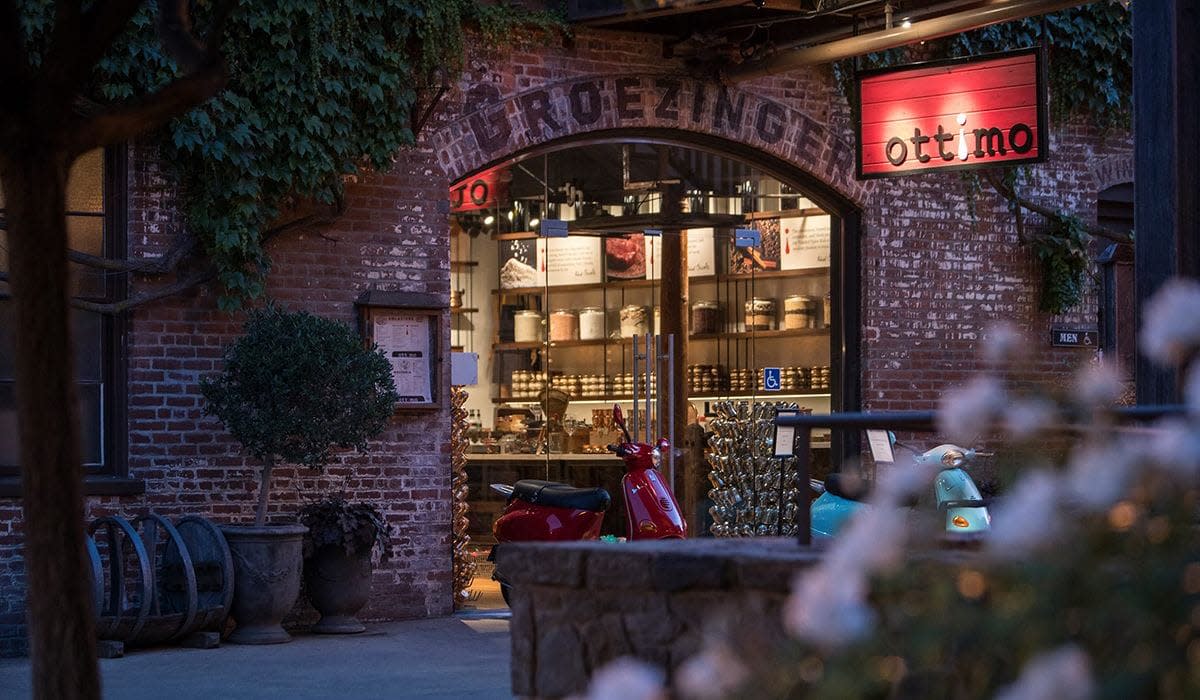 The Estate Yountville, Ottimo
---
Explore Culinary Delights
One of the allures of The Estate Yountville is its array of dining options at its four restaurants. Celebrity Chef Michael Chiarello, the Emmy Award-winning host of the Food Network's "Easy Entertaining" and the author of several cookbooks, serves his Italian specialties at Bottega, which features small-production wines from his Chiarello Vineyards in St. Helena. Also on-site is Ottimo, also focusing on an Italian menu, as well as Coqueta for Napa-fresh Spanish cuisine.
The Estate's restaurants, including Perry Lang's, which features renowned BBQ master Adam Perry Lang, are available for group dinners.
Various venues at The Estate can also host group dinners, including the Barrel Room, which spans 2,700 square feet and can fit 180 reception-style or 120 for rounds of dinner. Its adjacent lawn can host receptions.
Creative group culinary activities are offered on property, including mobile mixology classes, seminars with celebrity chefs and cheese-making classes.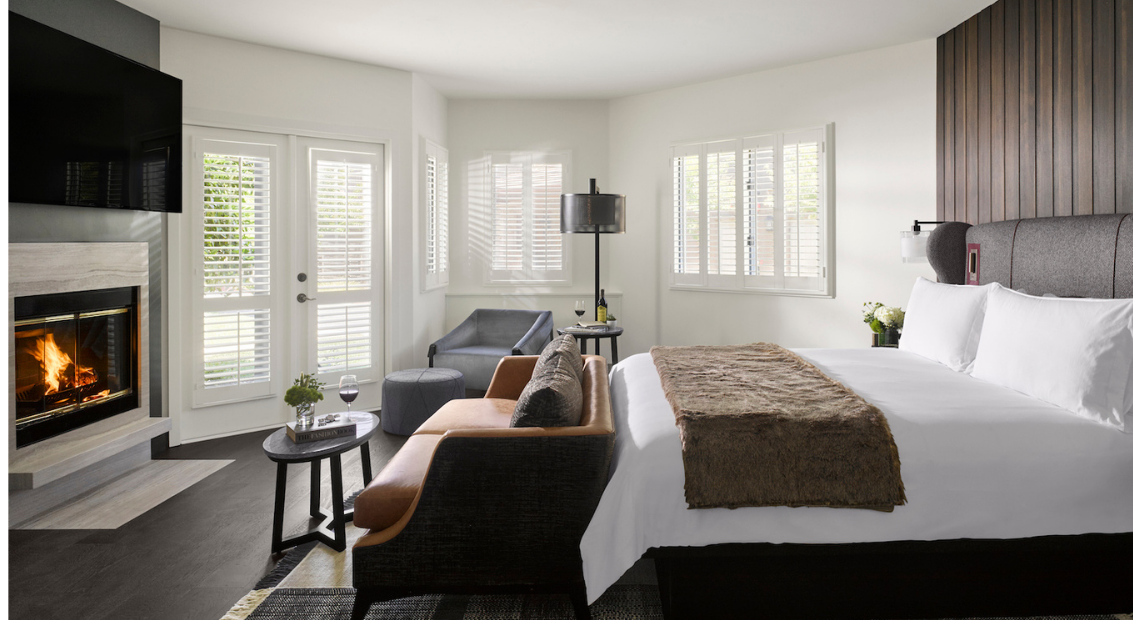 The Estate Yountville, Hotel Villagio Guestroom
---
Settle In at Hotel Villagio, Vintage House and The Villa
Within The Estate Yountville's expanse are 192 guest rooms and more than 55,000 square feet of event space. The sophisticated Hotel Villagio features 112 guest rooms, of which 22 are suites with wood-burning fireplaces and terraces overlooking the valley. Meanwhile, the airy and natural Vintage House offers 80 guest rooms, each featuring rustic touches including in-room fireplaces. Groups can book all 192 rooms.
The Villa at The Estate Yountville lures CEOs and executives to its private 6,600- square-foot, five-bedroom expanse. Highlights include a living room with 20-foot-high ceilings that overlook the pool deck, private yoga classes, a daily chef's breakfast, as well as a complimentary welcome reception for up to 10 guests. The Villa sells as one residence.
Each hotel can be individually bought out by groups, as can the entire Estate.

The Estate Yountville, Outdoor Space
---
Meet and Gather, Indoors or Outdoors
A main attraction for groups meeting at The Estate Yountville is its wide variety of seamless indoor and outdoor event options.
The highlight of the outdoor spaces is The Pavilion, with over 15,000 square feet of space and room for up to 1,200, divided into three sections. The terraced gardens of Pavilion West, which can hold up to 700 guests, offer a gazebo-style covered stage that can host performances. Adjacent sits Pavilion East, for up to 400, featuring an all brick patio that flows into Pavilion West, with trees as a divider. Pavilion South Patio offers a brick deck for up to 100.
For a unique event experience, The Social, a 2,700-square-foot "Napa-chic" farmhouse with 20-foot ceilings, features a total of 15,600 square feet of indoor and outdoor space. There is access via sliding walls to a lawn and private courtyard with water and fireplace features that adjoin indigenous gardens.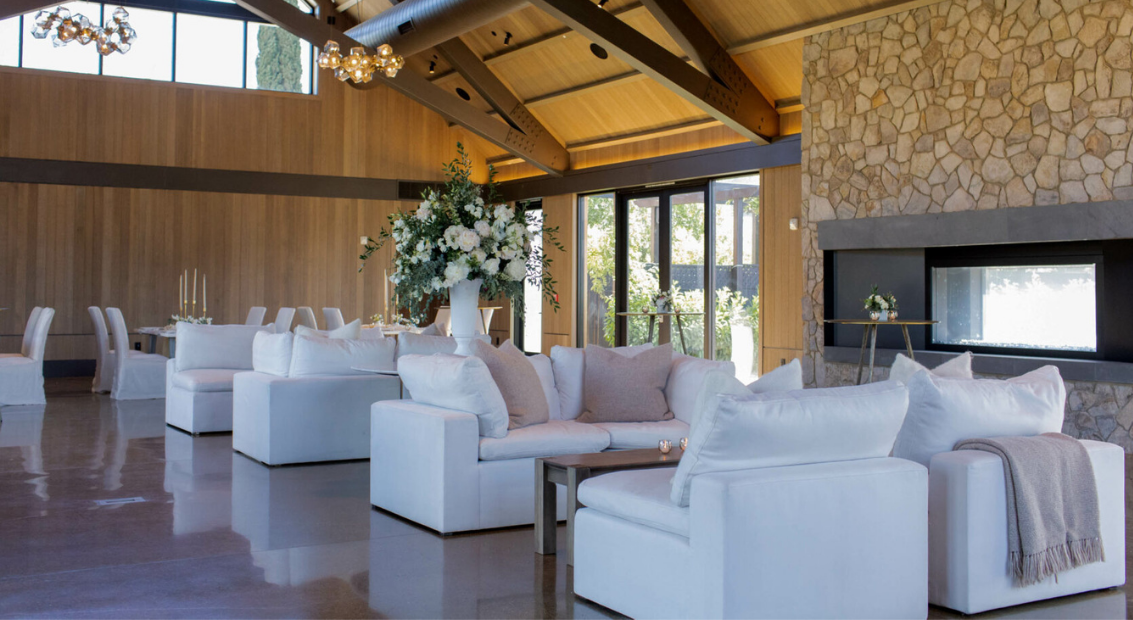 The Estate Yountville, The Social
---
On the south side of The Estate, The Vineyard accommodates receptions for up to 75 guests or dinners for up to 60. The vast outdoor options and picturesque setting make The Estate particularly well-equipped for product launches, including car launches.
The Grove offers two venues perfect for meetings, breakout sessions or events. The 1,862-square-foot Cypress Room, which can be divided in two, as well as the 1,322- square-foot Olive Room, also divisible by two. Both rooms feature connectivity to the outdoors, opening up to The Grove Patio. Other indoor meeting options include the Villagio Boardroom and The Founder's Room.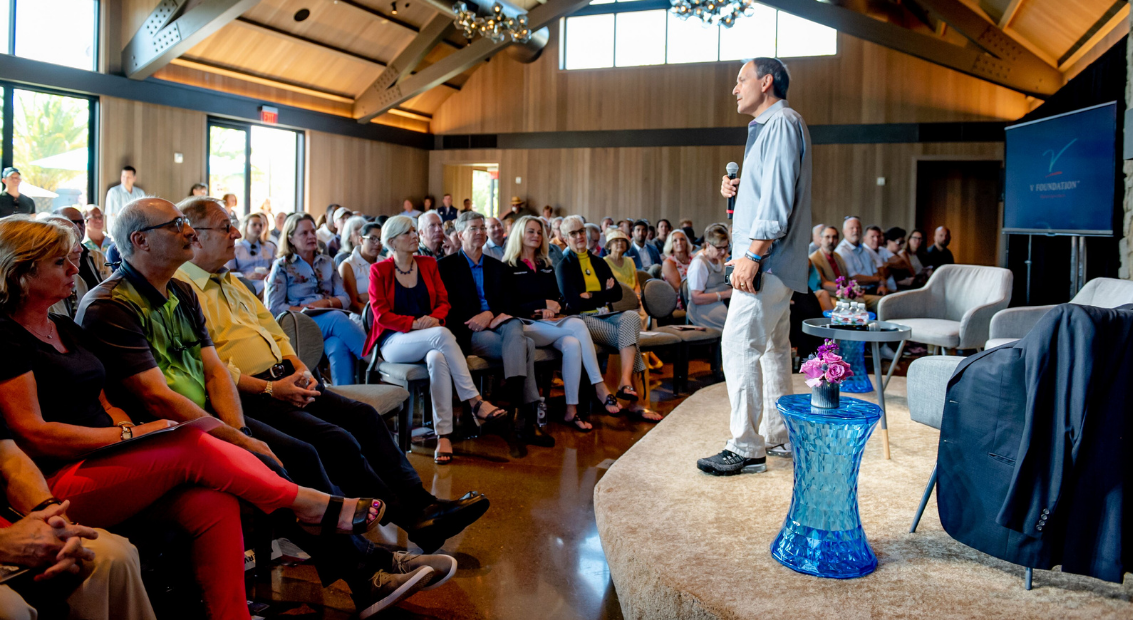 The Estate Yountville, V Foundation 
---
All-in-One
One of the organizations that makes best use of The Estate with a property buyout is V Foundation for Cancer Research, founded in 1993 by ESPN and legendary college basketball coach Jim Valvano who died of cancer that year. V Foundation maximizes the space incredibly beautifully and the event has been hosted at The Estate for 23 years.
The uniqueness of each venue affords the event planner the canvas to create a varied yet cohesive experience.
"We're very interested in making sure they (any of the 450 attendees) have free reign of the property. The property feels very connected and whole; nobody feels sectioned off," said Jane Baer, vice president and managing director of the V Foundation for Cancer Research.
This year's event will maximize the use of each space with events including: a lunch at Perry Lang's, reception in the lobby at Hotel Villagio, and a concert at The Pavilion that will include a vintner BBQ showdown and wine auction. They'll also host an educational symposium in The Social, while leveraging the indoor/outdoor space for an epicurean marketplace featuring local restaurants.
"It really is a seamless experience among the properties, and it gives a message of unity and makes it easier (for me) to plan," Baer said. Unification of attendees is important for V Foundation. "When everyone is split up, it takes away from what we want to accomplish."
     
The Estate Yountville's village-within-a-village experience delivers not only a message of unity, but a sense of community, as well.