Atlantis Paradise Island and The Bahamas are safely welcoming visitors 
Paradise Island's sun-soaked beaches and tranquil azure waters already make it one of the world's most desired warm-weather escapes. But Atlantis Paradise Island, a beachfront resort in The Bahamas, ups the ante with its myriad of sought-after amenities. The dynamic destination includes scenic meeting spaces, some framed by beaches and exotic gardens and another perched on a bluff overlooking the ocean, plus a diverse selection of restaurants, a golf course, pools and the world's largest open-air marine habitat.  
"Atlantis Paradise Island is an ideal destination for guests now—offering endless outdoor spaces to explore, acres of white-sand beaches and azure waters, luxury amenities, fine dining, live entertainment and strict safety protocols," said Bryan Gay, senior vice president of sales at Atlantis Paradise Island. "Visitors will enjoy unique experiences and make memories of a lifetime in a safe environment." 
From a recent luxury renovation to bleisure travel options and safety protocols, following is what meeting guests need to know about traveling to the Bahamas right now.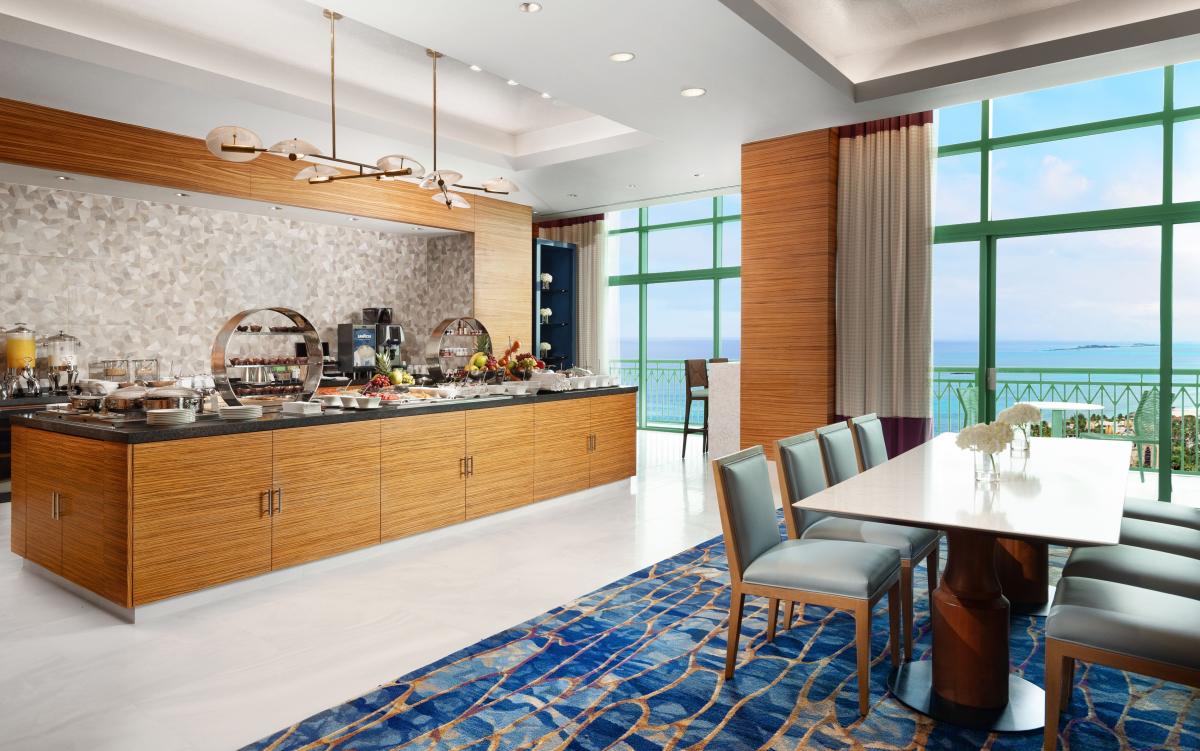 Lapis Club at The Cove (Photo courtesy of Atlantis Paradise Island)
Stunning New Renovations at Atlantis Paradise Island 
Atlantis Paradise Island is one resort with five different hotels within it. The most luxurious stay is The Cove, which is nestled between two beaches and includes 600 suites with balconies and expansive ocean views plus butler service. Private and posh beach cabanas imbued with Bahamian art surround the adults-only Cove pool. Guests here can access the newly made over Lapis Club--a concierge club on the 22nd floor that offers respite throughout the day with its breathtaking views of Paradise Island, daily breakfast, hors d'oeuvres and full bar. 
The Royal also recently renovated its East Tower, with the surrounding Paradise Island landscape serving as a muse for the calming blue and ivory color scheme in the guest rooms. The rooms are outfitted with modern furniture and windows that frame the ocean like a postcard. In the works is a renovation of the West Tower.  
---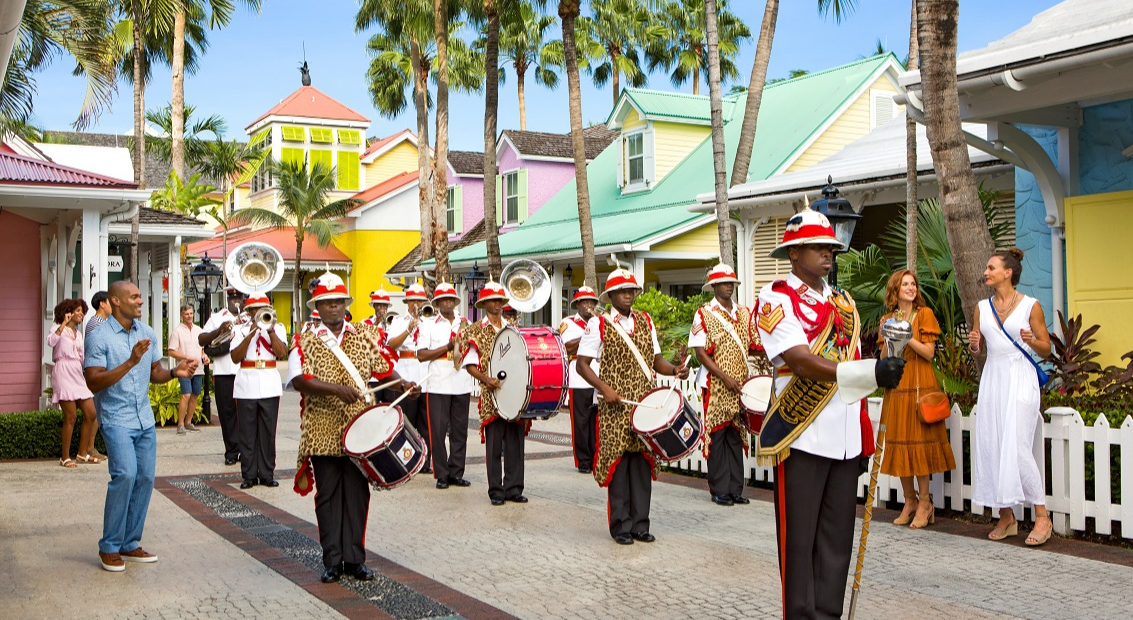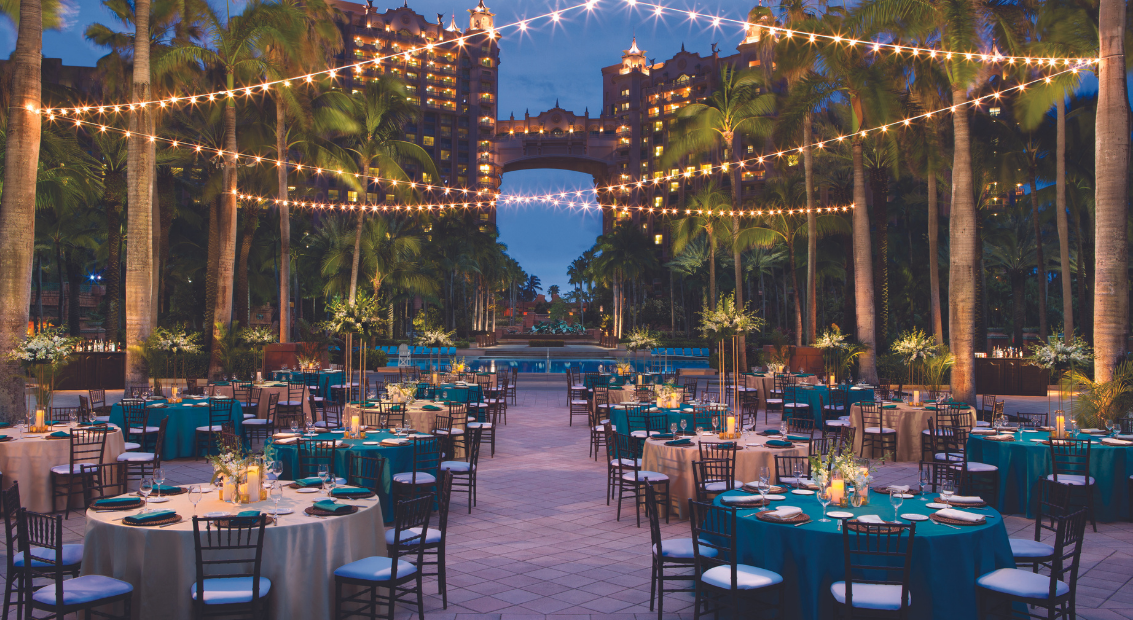 Local experiences at Atlantis Paradise Island (left); The Royal Deck group venue (right)  (Photos courtesy of Atlantis Paradise Island)
An Ideal Destination for Bleisure Travel  
Resorts and meeting planners have seen an increased interest in bleisure travel, which is the buzzword for a combination of business and leisure travel. For some travelers, this means bookending their trips with mini vacations. For others, it's inviting their families to join them on their business trips so together they can enjoy the resort's amenities—the pools, the restaurants, the waterpark. Atlantis Paradise Island is a prime bleisure destination because the resort is known for its standout on-site amenities, offering guests so much to explore without ever leaving the resort.  
For culinary enthusiasts, Atlantis has a wide range of dining options including Bahamian conch, ceviche, lobster rolls, and fish dishes at the restaurant Fish by José Andrés as well as Japanese fare at Matsuhisa's Nobu. Mediterranean dishes take center stage at Todd English's Olives and seasonal, plant forward meals are featured at Café Martinique. In total, the resort has 21 restaurants and 19 bars and lounges.  
Families especially love Aquaventure, which is the resort's 141-acre water park, which includes a mile-long river tubing adventure, plus 11 pools and nine well-designed waterslides. One of the most popular is the high-speed Challenger Slides that have dual slides Two people can race down the high-speed Challenger Slides on a pyramid designed to look like a Mayan temple.  
Unique to the resort is the world's largest open-air marine habitat with more than 50,000 marine animals in 15 exhibit lagoons. Guests can snorkel, scuba and dive with sharks. The world-class Mandara Spa offers plenty of R&R with treatments like coconut poultice massages, superfood facials and Caribbean coffee scrubs, as well as Bahamian-infused treatments topped off with a calming local bush tea. 
With so many different attractions, experiences, and dining options, groups have more than enough to keep them occupied without ever having to leave the resort grounds, seamlessly transitioning from business to pleasure during and after long days of meetings.  
---

Private group experiences (Photo courtesy of Atlantis Paradise Island)
A Hub of Unique Experiences 
A myriad of unique cultural and eco experience sets Atlantis Paradise Island apart.  
For example, attendees can get a pulse of the islands with authentic Bahamian experiences that can be tailored for groups of all sizes such as the complimentary opening reception entertainment with traditional Bahamian fire dancers, limbo dancers and Junkanoo rush performers. 
The year 2022 will mark the 15th anniversary of Dolphin Cay at Atlantis Paradise Island, a sophisticated marine-mammal habitat that opened as a haven for 17 dolphins and 10 sea lions that were stranded after Hurricane Katrina. Since its opening 15 years ago, Dolphin Cay has helped to rescue, rehabilitate and release injured and stranded dolphins, manatees and other marine animals. A portion of the proceeds from every interactive experience goes toward the Atlantis Blue Project Foundation, a nonprofit that provides funding for the creation and promotion of solutions for a wide range of marine conservation challenges - everything from coral reef degradation to marine species in decline. Additionally, Dolphin Cay maintains an on-site laboratory, pharmacy and operating suite to treat injured and stranded animals. 
---
COVID Safety and Seamless Travel  
Atlantis in The Bahamas is an easy-to-reach destination, and, once there, the team makes it seamless for travelers to comply with COVID travel requirements.  
Non-stop flights serve Nassau Paradise Island from a number of destinations across the U.S., including Atlanta; Baltimore; Boston; Charlotte, N.C.; Chicago; Washington, D.C.; Dallas; Detroit; Fort Lauderdale, Fla.; Houston; New York; Miami; Minneapolis; Orlando; Philadelphia and more. 
The resort also implemented the Atlantis Clean & Safe Promise to reassure traveler's safety. The property is offering complimentary COVID-19 rapid antigen testing for up to two guests in each room who are returning to the U.S. The rapid antigen test results are available within 30 minutes and documentation will be ready for guests to present at the airport for their journey home. For parties larger than two people, additional Rapid Antigen tests are available for a low cost. While COVID travel requirements are evolving, the U.S. currently requires international travelers to get a COVID-19 test no more than one day before you travel by air to the U.S., regardless of vaccination status or citizenship. Guests can schedule their departure test upon arrival at the property with Atlantis' on-site testing coordinator or online.  
For countries that require a COVID-19 RT-PCR test for re-entry, testing is available on-site at Atlantis and costs $165. 
---
Travel Requirements and More 
To learn more about travel requirements, visit https://www.bahamas.com/travelupdates. 
EDITOR'S NOTE: As of Jan. 1, 2022, the new room VAT throughout The Bahamas is changing from 12 percent to 10 percent.