When it comes to celebrating Independence Day, there is nothing better than some good old-fashioned barbecue.
While we know you're a pro at whipping up your favorite recipes, it's always fun to learn a new thing or two while mastering the grill. 
Banquet Chef James Burton of Pasea Hotel & Spa in Huntington Beach, CA, says the secret to perfecting brisket is all about the fat.
"I don't like to trim off the fat; I prefer to score it to allow good penetration of smoke and rub, but utilize the fat as a moisture additive," he said, adding that he cooks low and slow at 165 degrees Farenheit for 18 hours and also injects the brisket with apple cider vinegar about 10 times throughout the process to keep the moisture. 
When it comes to marinades and rubs, it's also important to keep moisture in mind, says Executive Sous Chef Andrew Vaughan of Terranea Resort.
"Fresh herb and vinegar marinades help denature the proteins in meat to give it a softer, more tender texture and infuses the meat with strong flavor," he said. Marjoram and rosemary are Vaughan's top picks. Other options include marinating the meat in garlic for 12 to 24 hours--that will pack an aromatic punch. If you're patient, some meat can be marinated up to 48 hours to intensify the flavors and help break down the structure of your favorite cuts, he added.
And if all else fails, you can always pick up a highly regarded packaged dry rub and spend your holiday on autopilot. Executive Chef Neal Cox of The Houstonian Hotel Club & Spa in Houston, TX recommends their own Tribute Smokin' Since '79 propeitary rub, sold in the hotel gift shop, which is a blend of herbs, spices and chilis. 
Read on for a few recipes to get you started, including a sauce, a rub and a pork shoulder that's worth the wait.

The Coeur d'Alene Resort, Casey's Famous Golden Jalapeno BBQ Sauce
---
When it comes to specializing in BBQ's and sauces, look no further than than The Coeur d'Alene Resort Executive Chef Casey Fassler. His previous experience includes opening his own food truck 'Casey's Smoke Shack' where he featured brisket, baby back ribs, smoked tri-tip and a divine philly cheesesteak. 
INGREDIENTS
1 cup of ketchup
1 cup apple cider vinegar
1/2 cup brown sugar
1/3 cup yello mustard
2 roasted jalapenos (skinned, seeded, minced)
1/2 tbsp Worcestershire sauce
1/2 tsp chili powder
1 tsp garlic powder
1 tsp onion powder
2/2 tsp kosher salt
INSTRUCTIONS
Add all the ingredients to a sauce pan over medium heat and bring to a simmer.
Allow ingredients to simmer for 20 minutes, stirring occasionally.
Remove from heat and refrigerate for at least 4 hours.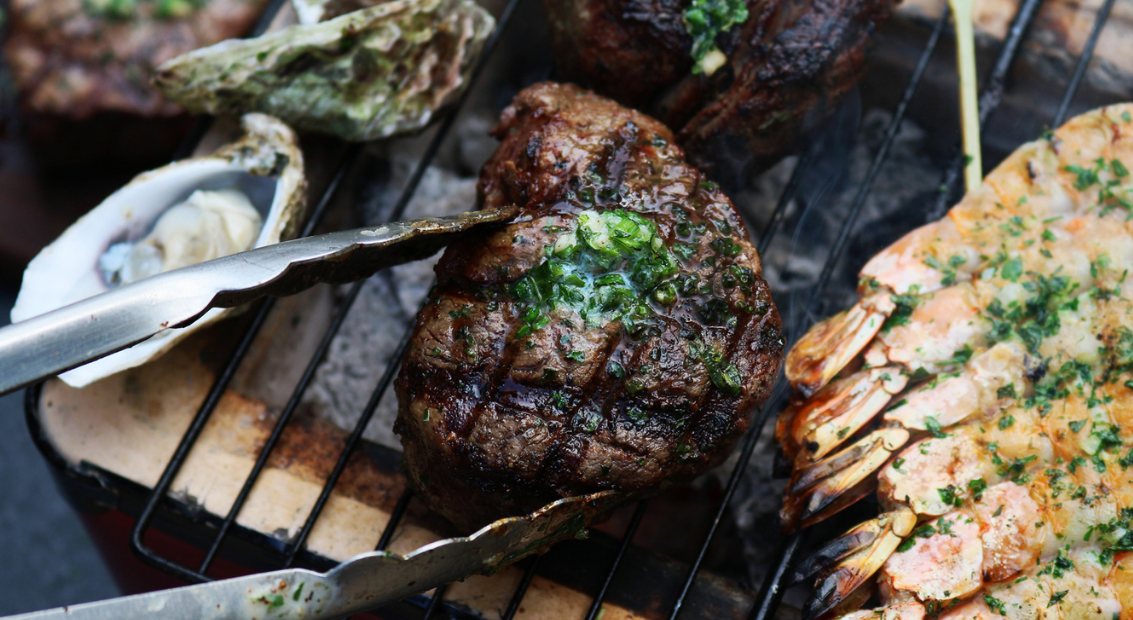 Terranea Resort
---
Executive Sous Chef Andrew Vaughan's Marjoram Rub Recipe from Terranea Resort
If you're looking for a perfect rub for your BBQ, we've got you covered with he Marjoram Rub recipe from Executive Sous Chef Andrew Vaughan at Terranea Resort. Chef Vaughan has collaborated with Celebrity Chef Bobby Flay and has more than 27 years of experience in the industry.
INGREDIENTS
½ cup fresh marjoram, chopped
¼ cup fresh thyme, chopped
½ cup smoked paprika
2 TB chopped garlic
2 cups ground fennel seed
2 cups red wine vinegar
2 cups water
2 cups olive oil
Sea Salt
Black pepper
INSTRUCTIONS 
Make paste with ingredients and rub on preferred meat
Allow to set for 24 to 48 hours on meat
Season with salt and grill