When you think about it, food is a tasty history lesson, a way to traverse cultures and periods of time while savoring dishes like short ribs braised with cacao, a revered ingredient once used in Aztec rituals, and blue crab chilpachole, a spicy seafood stew popular in coastal Mexico.
That's the idea behind the new Tasting Table experience at Grand Fiesta Americana Coral Beach Cancun, a resort that has earned a reputation among meeting planners for the distinct and authentic culinary experiences it offers.
"You can be assured that with the warmest of traditional Mexican hospitality, we are dedicated to providing incomparable quality in all cutting-edge cuisine, unparalleled service, and exquisite attention to detail," said Eva Lopez, Associate Director of Group Sales.
Welcome to luxury with no limits, where high-end hospitality meets an all-inclusive experience on one of Cancun's most exclusive stretches of sand. With 602 all-suite, all ocean-view accommodations, ample indoor-outdoor meeting space, a private beach, and exciting new culinary concepts, Grand Fiesta Americana Coral Beach Cancun is the consummate host for meetings and incentive groups.
Here, a taste of the amazing culinary experiences guests can enjoy while at this resort that excels when it comes to all things food and drink.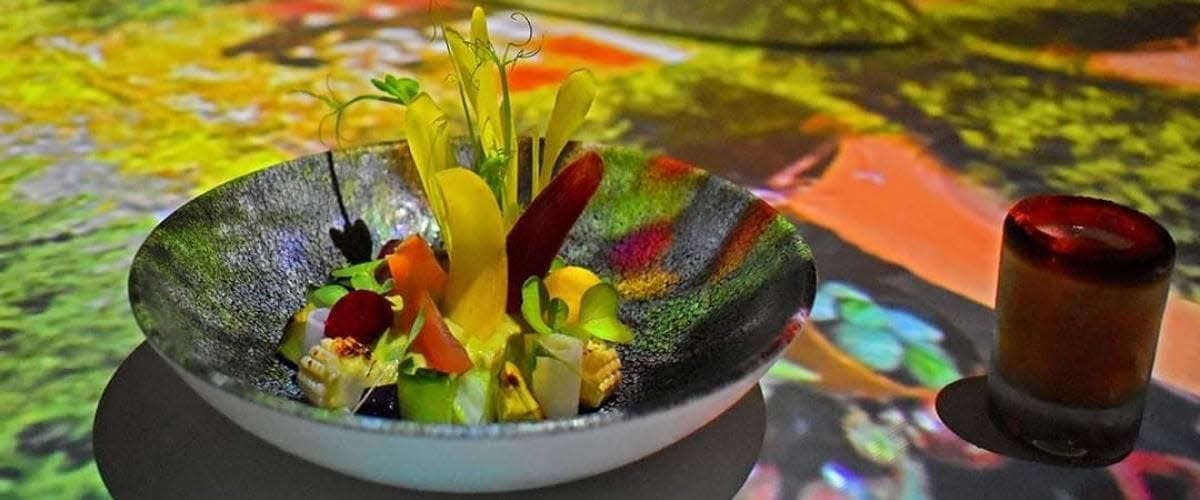 New Culinary Concepts That Debuted in 2022
Already, the resort has an impressive roster of restaurants with French and Mediterranean dishes at Le Basilic (one of a few resort restaurants in Mexico that has AAA Five Diamond distinction) and a wide range of agave drinks set to the soundtrack of traditional Mexican music at Tequila Bar at La Joya.
But now, Grand Fiesta Americana Coral Beach Cancun has introduced three more unique culinary offerings, including the anticipated debut of the Tasting Table, which is set in a private room perfect for small groups.
During the special experience, dining guests are led through a thoughtfully curated nine-course tasting menu that syncs up with historic time periods that are portrayed in the screen-wrapped room. Tech, history, and culture all collide at this 20-person communal table as dishes like the chilpachole and short ribs are served along with venison salads and regional citrus jelly, vanilla poached lobster and beurre blanc and a five-spice churro.
Throughout the gastronomical adventure, an engaging presentation guides diners through Mexico's history, from the prehistoric period to the modern day, with live music and actors bringing history to life.
Another new concept that's new to the resort's roster is Nah K'aax, which means "The Jungle House," in the Mayan language. This beachside boho-chic, Asian-Mexican fusion spot serves lots of seafood dishes like spicy tuna rolls; taco de canasta, which are street-style tacos with crispy crab and duck confit; and the must-try Rosarito shrimp tacos that are battered in a tempura batter made with a dark beer and topped with a chili mayo, cabbage, and cilantro.
With a laidback beach vibe, Nah K'aax is decorated with crafts from local artisans and hosts twice weekly fire shows.
For those who like to snack throughout the day, Grand Fiesta Americana Coral Beach Cancun also opened up La Antojeria, which translates to "Little Cravings." The spot serves small, authentic Mexican bites (think: pambazos that are similar to tortas and filled with chorizo; taco al pastor with grilled pork marinated in a traditional Mexican marinade and tostadas).

Culinary Traditions Guests Can Enjoy
In addition to catering and special events that the meetings and events staff at Grand Fiesta Americana Coral Beach Cancun can help your group carry out, there are several culinary traditions that the resort hosts, like steak nights and barbecue parties with reggae music.
"Le Basilic, our French-Mediterranean specialty restaurant, has been awarded yet again, the prestigious AAA Five Diamond designation – one of only eight restaurants in Mexico to receive this honor," Lopez said.
The recipient, since 2007 of the coveted award, Le Basilic has also been added to the list of 1,000 top restaurants in the world by "La Liste," the French global restaurant-ranking system, she said.
"This honor was based on hundreds of guidebooks and millions of online reviews," she said. "Our celebrated Maître Cuisinier de France Chef, Henri Charvet, and Executive Chef, Mariana Alegria, assisted by their exceptional culinary team, apply their gastronomic expertise straight from France to present a stellar menu sure to please every palate."
Guests can dance to nightly live music at the Lobby Bar or take salsa lessons. There's a chance to sample Mexican beers and premium tequilas at the Tequila Bar or feel like you've gotten a passport stamp in Italy at Tuscany Trattoria, which is set amongst Tuscan arts and antiques.
Other culinary concepts at the resort include Tuscany Terrace, where guests can share family-style pizzas and homemade pasta dishes in a more relaxed setting. Or Viña del Mar, which has a menu of international and Mexican cuisine, plus panoramic views of the Caribbean from the outdoor terrace. Coral Café is a European-style patisserie and bistro that serves light bites and sweet treats.
"With more than 18 consecutive years achieving the prestigious AAA 5 Diamond Award, and with one of the lowest index of staff rotation, we have a consolidated a team of professionals, who share their passion in hospitality," Lopez said. "With the goal to add value by designing personalized and 'unique' experiences to engage with meeting planners' objectives, our team of professionals is our most valuable and unconditional asset, and our key to success."
5 More Reasons to Book Grand Fiesta Americana
·      62,000 square-feet of meeting space, with spaces that can accommodate up to 1,700 guests.
·      Outdoor conference venues with scenic views of the turquoise Caribbean waters.
·      In-house AV and production professionals.
·      A state-of-the-art 40,000 square-foot spa with innovative treatments inspired by gemstone therapy, plus a 10-step hydrotherapy ritual.
·      602 all-suite views that come with ocean views and patios.