A funny thing happened on the way to 2022: Golf exploded. Tee sheets were filled from dew time to twilight; equipment--notably carry bags and push-carts--were about as easy to obtain as snow in Scottsdale in August; and lapsed golfers and never-golfers gave it a go in record numbers, be it a dedicated green-grass facility or a "golfertainment" outlet like TopGolf. Call it a collective thumbed nose at you-know-what. As the spigot opens on business and incentive travel, hopefully soon to be a gusher of a flow, golf is there, ready to assist.
"Will we see more golf going forward during meetings?" posed Kristin Hoffman, senior account executive with Destination Concepts inc., a DMC specializing in Southern California, from Santa Barbara on through to San Diego, and over the mountains to Palm Springs and the Coachella Valley.
"Yes, I do think so," she said, answering her own question. "People are showing more interest in outdoor activities and golf is a big part of that. We are adding more golf into the conversation because it has become more popular and was so strong this past year."
As you plan through 2021 and beyond, remember that all work and no play are no good. Following is a look at some stellar places to have that play when your clients have had enough of the work stuff.
Jump to region:  Atlantic & Caribbean / South & Southeast / Midwest & Northeast / Mountain West / Southwest & Mexico / Pacific Coast
---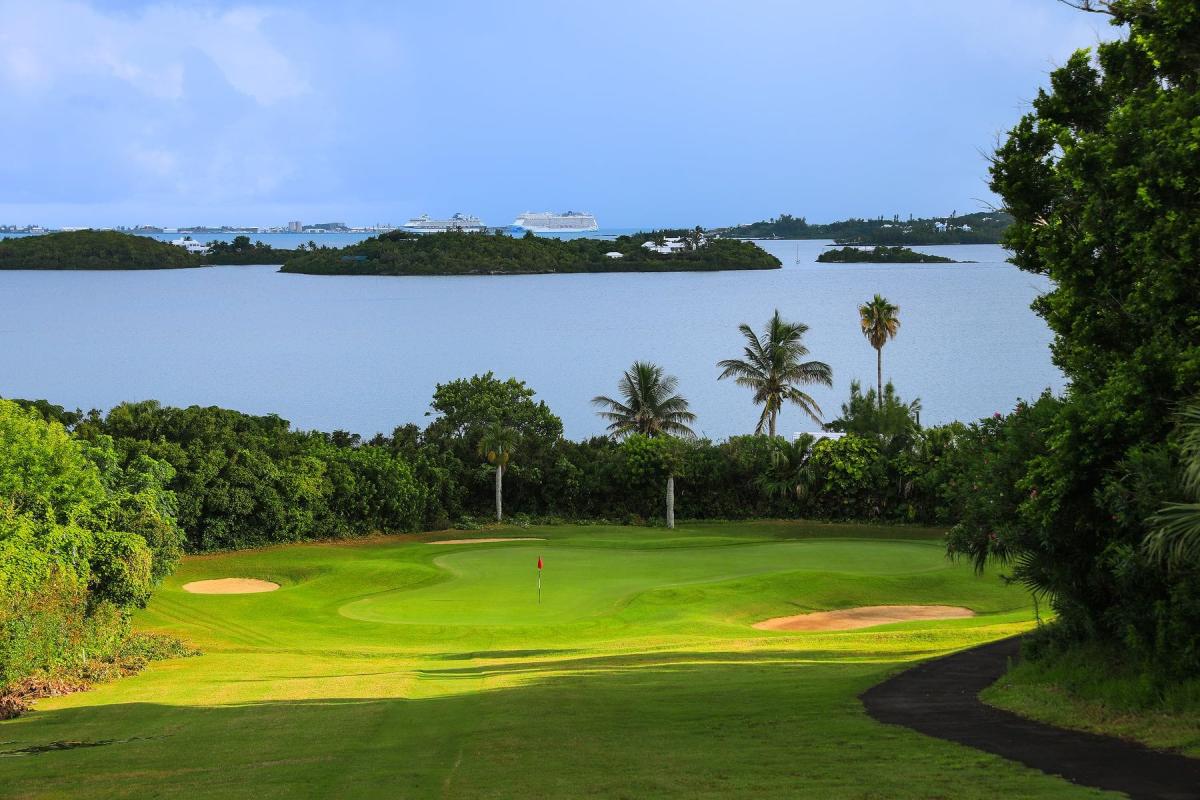 ATLANTIC & CARIBBEAN
Paradise Island, Bahamas 
Families, couples, groups, friends, all flock to Atlantis, Paradise Island, as do golfers, where they tackle the palm-shaded, breeze-swept majesty of Tom Weiskopf's Ocean Club.
Paget Parish, Bermuda
Paget Parish, Bermuda
Belmont Hills Golf Course is a sporty, 6,100 yarder that rewards laser-targeted tee shots. That it has billion-dollar ocean views goes without saying. The course is accessible to both the Elbow Beach Resort & Spa, as well as the Newstead Belmont Hills Golf Resort & Spa.
Southampton, Bermuda
Turtle Hill Golf Club is held up as one of the best 18-hole, par-3 courses in the world. Rankings or not, the views are drop-dead gorgeous and the elevation changes are elevator-esque.
Montego Bay, Jamaica
Half Moon Golf Club came of the hand of Robert Trent Jones, Sr., when he was at the peak of his prowess in the '60s. Since being re-tweaked, the walking course retains the Jones-ian call for both brawn and brain.
Hamilton Parish, Bermuda
Tucker's Point Golf Club is a visual exercise best expressed as the Pantone color wheel, including its sprawling greens and aqua water views. Played across a sizeable enough hunk of terra firma, players can air it out from on high, and with the Atlantic zephyrs in mind.
---

SOUTH & SOUTHEAST ATLANTIC STATES
Biloxi, MS
Fallen Oak is the leader by consensus in Mississippi golf, with immense shoulders and a natural tableau of oaks, pecans and magnolias; marshland, lakes and streams.
Coral Gables, FL
One of the pedestal luxury hotels in the country, The Biltmore is also home to the legend Donald Ross' 1925-destigned The Biltmore Golf Course, a study in movement and grace, as well as Jim McLean's Golf School.
Palm Beach, FL
With roots to 1897, vivid green, laced with water, kissed by sea breeze, the historic Ocean Course is Florida golf in a snapshot. It is complemented by the inland Rees Jones Course.
Braselton, GA
Have a go at all of the chateau's three woodland coursesthe watery and heavily bunkered Chateau; Woodlands, which is replete with visual trickery; and the nine-hole Executive.
Sea Island, GA
Seaside Course, Plantation Course and Retreat Course--barrier islands life is lightly paced, so don't rush your decision which to play. Eventually get around to all three. As with other golf resorts of this ilk, the experience is timeless.
Williamsburg, VA
Colonial Williamsburg's Golden Horseshoe Golf Club features three courses. The Gold Course is a rolling woodland play that binds yesterday and today as a mid-century gem brought modern. The Green Course and the family-friendly Spotswood nine round out the offerings.
White Sulphur Springs, WV
The Revolutionary War was in full boil when the first guests showed up in White Sulphur Springs, and since that time The Greenbrier grew to be a getaway spot of graceful decorum and 63 holes.
Williamsburg, VA
The PGA Tour visited for a long time and the LPGA Tour still does. You need to have a go at the River Course one of two onsite-- so-named because that's the languid James River o'er there.
Leesburg, VA
Close to D.C., yet a world away, sums up Lansdowne Resort and Spa, a restful retreat set within the Potomac River Valley. And for what really matters to those afflicted with the Great Scottish Obsession, it comes with 45 holes of estimable golf.
Key Largo, FL
First platted with nine holes in the '50s, Ocean Reef has grown to 36 with The Dolphin Course and The Hammock Course. Neither course is long 6,600 and 6,100 yards, respectively but don't go on autopilot on the watery challenges.
Fernandina Beach, FL
Oak Marsh is an early career offering by Pete Dye, with ribbon fairways and small greens cast between tidal marsh and moss-curtained oak. Guests have limited access to private Long Point.
ChampionsGate, FL
The large, green, pot-bunkered International Course, reminiscent of the Australian-Sandbelt courses, and the watery, rolling-turf U.S,-styled National Course provide visual diversity. The property also includes a lighted short course, mini-golf and the David Leadbetter Golf Academy.
Palm Beach Gardens, FL
The whole enchilada: That's PGA National, which soon will serve up six courses, from PGA Tour-hosting to par-3, with an additional practice loop to boot. Saying "championship" and "suitable for all" works here.
Ponte Vedra Beach, FL
Fittingly at this classic-era seaside retreat, the two courses are dubbed Ocean and Lagoon. Ocean is the longer of the two, and has just emerged from a near total redo with improved flow and sightlines.
Hilton Head Island, SC
All recognize the red and white stripes of the iconic lighthouse backing the 18th green of acclaimed Harbour Town Golf Links. But the game continues with an additional two tracksHeron Point and Atlantic Dunes--offering the same Lowcountry coastal golf experience.
Miami, FL
The Blue Monster. Anyone remotely conscious knows of this longtime PGA Tour-testing beast: long, wet, demanding and deservedly touted. An additional 54-holes grace the property.
---

MIDWEST & NORTHEAST
Kohler, WI
With six major championships hosted and a Ryder Cup coming in 2021, does multi-coursed Whistling Straits/Blackwolf Run need an introduction? In the pantheon of golf resorts.
Manchester Village, VT
Walter Travis laid down The Golf Club at Equinox nearly 100 years ago; modern great Rees Jones brought it to the fore more recently. The course plays like a great trusted friend.
Mashantucket, CT
Lake of Isles features two Rees Jones-designed courses, North Course and South Course. The North Course routes across a massive landscape of woodland and lake, rise and fall, providing vast dimensions.
Lake Geneva, WI
It's a tale of two courses: The long, tight Brute Golf Course, known for its massive, heaving greens; and the Highlands Golf Course, with broader shoulders and rewarding strategy from the tee.
Uncasville, CT
Golf academy, all-skills practice/training facility, Titleist and Callaway certified fitters and a parkland 18 with notable par 5s make for a complete golf getaway.
Farmington, PA
It's a double dose of Pete Dye. Mystic Rock for several years hosted the PGA Tour's 84 Lumber Classic, while Shepherd's Rock runs through the Allegheny Highlands. 
Brewster, MA
Set inside Cape Cod's elbow, this private/guest-only Nicklaus Design delivers emerald carpets turning and banking across a surprising bit of terrain and free-form bunkering.
---

MOUNTAIN WEST
Colorado Springs, CO
Grand golf at a grand resort on a grand scale, with the Rocky Mountains as a backdrop. The design, and later redesign, credits for both courses, The Broadmoor East Course and The Broadmoor West Course, go to two of the truly best in their respective eras: Donald Ross and Robert Trent Jones, Sr.
Coeur d'Alene, ID
Sure, there's a super-cool take-a-boat-over par 3, 14th hole Floating Green, but it's not the only game in town. Most of the routing dances through sentinel stands of conifers. The other par 3s are at least as good as you-know-what, and the course sports tour-like conditioning.
Sun Valley, ID
America's do-all resort offers multiple courses, including the rambunctious, smile-inducing, Sawtooth Putting Course, and the thrill ride of golf thrill rides, the ridge-shooting White Clouds nine, so dubbed because that's how high it sits. Sun Valley is also home to its signature Trail Creek Golf Course.
---

SOUTHWEST & MEXICO
Phoenix, AZ
Saddle up for dramatic shifts in elevation at the Arizona Grand Golf Course, tucked away in the Sonoran desert landscape of Phoenix's South Mountains.
Scottsdale, AZ
Mix-and-match play with the Valley of the Sun's chart-topping courses is available, but right out the back gate is The Stadium Course at TPC Scottsdale, the raucous home to the craziest show on tour.
Cabo San Lucas, B.C.S., Mexico
Great combatants on the course, Jack Nicklaus and Tom Weiskopf show off their skills as designers at Cabo Del Sol's Cove Club Course (formerly Ocean Course) and the Desert Course, respectively.
San Antonio, TX
This acclaimed resort serves up two courses penned by Arnold Palmer and the prolific design duo of Tom Weiskopf and Jay MorrishThe Resort Course at La Cantera and The Palmer Course at La Cantera--each braided through oak woodlands and rocky escarpments abundant with water.
Austin, TX
Don't get too focused on all that's going on in Austin and miss out on the Omni Barton Creek Resort & Spa's many attributes. Three courses are onsite, and a fourth overlooks Lake Travis a short drive that-a-way.
San Jose el Cabo, B.C.S., Mexico
Sand-to-sand is the play at Palmilla Golf Club, a jaw-dropping romp over desert arroyo, and a fast dive down to, and a climb back up from, the shore.
Litchfield Park, AZ
This old-school, parkland-style playland delivers a big package with its three coursesThe Gold Course, The Blue Course and The Red Course. Gold gets the notoriety as the exacting in a good way and lengthy bruiser.
The Woodlands, TX
The resort's two courses -- Panther Trail and The Oaks -- display all the telltale signs of Texas' Piney Woods region, with green corridors dancing through thick canopies of broadleaf trees and abundant water throughout.
---

PACIFIC COAST
San Diego, CA
Grand Del Mar Golf Club climbs, dives and banks across a bit of near-coast San Diego known as the "canyon of little cliffs." The course features broad shoulders and not a thing in the way of intrusions.
Indian Wells, CA
Amble across the road for 36 holes of desert-as-a-garden golf at Indian Wells Golf Resort. And when the sun goes does, it's "Shots in the Night," with laser-illuminated putting games, glow balls and lighted targets on the range.
Ojai, CA
If the Ojai Country Club is reminiscent of L.A.'s all-world Riviera Country Club, that's the point. The course was laid out by the same designers from that classic early 1900s era. Simply a joy to experience.
Carlsbad, CA
Few resorts available to mortals have richer pedigrees, as most everyone who is anyone in golf played here. Actually, with perfect weather, a coastal breeze and two courses-- Champions Course and Legends Course--no one is a simple mortal here.
Pebble Beach, CA
Choose one pet as your favorite? No. Choose where to play at Pebble Beach? Go ahead. You know the scene, you know the score, you ain't gonna make a bad choice.
Honolulu, Oahu, HI
The area to the west of Pearl Harbor the Ewa Plain is deep in courses, and Prince Waikiki's Hawaii Prince Golf Club leads the pack. The club has an older Hawaii vibe to it: warm, embracing, friendly.
San Diego, CA
Inland San Diego County is seated between desert and the Pacific. With warm-and-sunny assured, the only "worry" at Rancho Bernardo's golf course is splitting euc-lined fairways and mastering rollicking greens.
Newport Coast, CA
For all the golf greatness along the California coast to the north and south, it took The Resort at Pelican Hill to put beach-mad Orange County on players' near-beach golf radar, and it did so with 36-hole Pelican Hill Golf Club.
Napa, CA
Johnny Miller redid things at Silverado's two coursesNorth Course and South Course. We'll give the nod to North, if only to showcase how Miller kept timeless design cues like angles and visual illusion, and made them apt to the modern game of bombers.
Rancho Palos Verdes, CA
Embrace the short course. And in the case of The Links at Terranea, it's not because of the endless views of ocean throughout. Players walk here, taking on nine real holes that just happen to be par 3s.
North Shore, Oahu, HI
When in Oahu, go north to the land of Pipeline and Sunset Beach, and where you'll find fewer people, less frenzy and Turtle Bay's 36 holes. The Arnold Palmer design is notably notable.