ALHI recently partnered with Delos, a leading wellness brand, to launch the Delos Wellness Certificate for Meetings & Events, designed to teach meeting professionals how to incorporate best practices for creating healthy, productive meetings experiences.
We spoke with Sepideh Eivazi, Director of Global Accounts at Elevated Meeting Solutions, who recently completed the Delos Wellness Certificate for Meetings & Events course. Eivazi was instrumental in launching Elevated Wellness, a flexible and customizable health and wellness platform applicable to any meeting or event.  Born and raised in Iran, Eivazi moved to the U.S. when she was 20 years old and began her career in hospitality working in Convention Services, Operations and Sales at MGM Resorts. She was one of the first sales managers trained with Stay Well, a Delos product. On the personal side, she considers herself a "total health nut," and makes wellness a priority. Aside from event planning, she has her own tea company, Dawn of the Earth, where she curates custom tea blends.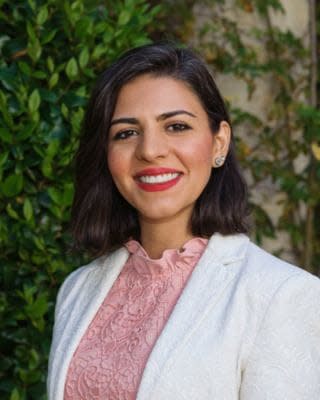 What are three things meeting planners should think about when considering incorporating wellness into their event?
Understanding a client's goals and expectations for a wellness experience is the first step. Then you format the program to achieve those goals and exceed the attendees' expectations. You always need to maintain clear and consistent communication with the client and ensure the budget aligns with the wellness experience you plan to create. Selecting a venue that will partner with you and has the capabilities to perform a wellness event is the most important. Stay Well rooms are a notable example of these capabilities as they utilize the latest wellness technologies to renew and refresh sleeping rooms and meeting spaces. One example is offering different lighting in the meeting space. Based on this study from the Mayo Clinic and Cleveland Clinic, we have the highest productivity at 11 a.m., where the sunlight activates an optic nerve in our eyes and Delos applied that concept in the meeting space to enhance productivity for the attendees. Imagine your attendees leaving a general session and feeling more productive the next day. That is truly remarkable! Meeting planners need to have a deep understanding of what wellness initiatives can be implemented for their client and the budget for these initiatives. Insight into food and beverage offerings that promote focus, concentration, and natural energy; optimal times to integrate breaks into the participant's schedule to hydrate, stretch and rejuvenate; bringing the outdoors in through biophilic design or active green walls. Implementing any of these will lead to happier and more engaged attendees.
From your perspective, how has the emphasis on the importance of wellness within the meeting planner community changed over the last five years?
Health, wellness and safety should have always been a focus for events, but it has gained significant interest in the past several years, and of course since the pandemic. Event leadership has seen the demand grow from their attendees and with new awareness of the importance it has become vital and necessary. It is now almost rare not to include wellness in some capacity for events moving forward.
It is no secret that we thrive best when our mental and physical health are aligned. Offering healthier environments where the attendees feel rejuvenated is something that speaks to me. More than ever employees are expecting to maintain a healthier lifestyle when they travel to attend conferences and it is our responsibility to provide that. As an event planner, we have a sense of responsibility to educate our clients and community as well as adapt to their needs by providing healthy options and experiences which can activate their senses such as taste, hearing, vision, touch, and smell to enhance their experiences.
The Elevated Meeting Solutions team, along with input from several wellness experts, spent two years developing "Elevated Wellness," a flexible and customizable health and wellness platform that can be incorporated into all events from small VIP BOD meetings to large corporate events. This platform addresses multiple health and wellness verticals with the direct intention of providing a healthier environment for our clients and their attendees, leading to a more engaged and successful event.
What do you see as the top trend going forward when it comes to wellness?
Hotels and venues are taking a more straightforward approach to wellness and are more driven to provide wellness amenities in all areas, which comes from a new demand from the consumer. Event professionals are using that alliance along with their own branded needs to partner for a perfect wellness outcome. For events, wellness goes beyond just a food and beverage presentation, it is all about trying to translate what the attendees' needs are and that can vary. Shorter meetings, more personal time. Wellness rooms that provide multiple attractions for any attendee needs. Practicing mindfulness has become a game changer for attendees to reduce stress and elevate their engagement. Offering more breaks where the attendees can refocus by activating body movements or encouraging them to stand periodically to stretch. Keeping them hydrated by providing hydration stations. Taking meetings outside in nature and using sounds and lighting to set desired moods. The possibilities are endless, and we are excited to showcase the impact of these endeavors.
Tell us about the Delos Wellness Certificate for Meetings and Events course?
Delos did a phenomenal job with timing, materials, and overall design and I was extremely impressed with the program as a whole. It was seamless and applicable to our day-to-day life as event planners. Overall, it was a fantastic experience and I am encouraging my whole team to become accredited and join me as ambassadors of wellness.
The course was informative, to-the-point, and hit all the relevant topics, from hydration to lighting. A lot of times courses try to make simple things more convoluted or introduce irrelevant terminology that you forget the next day. This course was very practical and relevant to my day-to-day and the events industry as a whole; it was easy to integrate the knowledge into informal conversations with my clients.
I really appreciated that the Delos Wellness Certificate for Meetings and Events included an entire module on Mind, exploring mental health, the physical impact of stress, and how biophilia can help with that. It's so important to reinforce that it's not only about eating the right thing; it's about feeding your brain the right thing.
What I love about Delos is that you have collaborated with institutions like the Mayo Clinic and Cleveland Clinic, and there is research and science behind every Delos product, program and service. When I speak to clients about health and wellness, they know this is something that I practice every day. It's not coming out of nowhere. So, there is also that element of trust.